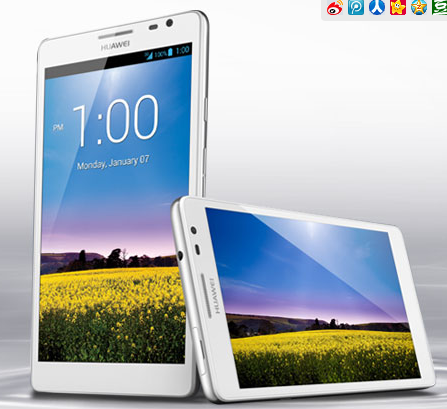 Who said that 5.5-inch Galaxy Note II is too big? The Huawei Ascend Mate just made the Samsung Galaxy Note II a dwarf. Why? Because the Huawei Ascend Mate packs a gigantic 6.1″ HD Screen! That's .6″ bigger than the Galaxy Note II. Geez, what's wrong with these manufacturers. They kept on creating smartphones with large screens and I think this one just won't fit out pocket anymore. It's also ridiculous to answer calls using phones with these kind of sizes. This is just too big for that. But let us look on the bright side. The 6.1″ HD display is great for watching movies and TV shows and it will be a breeze playing games on a Quad-Core powered smartphone with that large screen.
The phone got a plenty of battery juice which will be enough for 2 days according to Huawei. Don't worry about the large screen, you can type in the phone using only one of your hand with the One hand UI. I was a little bit disappointed with Huawei for not including a Full HD Display but 1280×720 is not bad. Here take a look at the specs of the phone. It's quite good.
Huawei Ascend Mate Specifications
Dimensions and Weight

163.5 mm x 85.7 mm x 9.9 mm

Display

6.1-inch HD IPS+ 1280 x 720 LCD touchscreen

Processor

1.5 GHz quad-core Hi-Silicon K3V2 + Intel XMM6260

RAM

Storage

Camera

8 MP Rear Camera with HDR and 1.0 MP front Camera

Bluetooth

NFC

Wi-Fi

Connectivity

Battery

Colors

Crystal Black and Pure White

Other features

Smart reading

Easy Panel

One Hand UI

OS

Price

Interesting, I would like try this one but I guess this phablet won't fit my goddamn pocket.
---
Subscribe to JAM Online to get the latest news about tech and other stuffs
Enter your email address:
Delivered by FeedBurner
---