PLDT and Smart Communications, Inc. (Smart) rolled out the Philippines' first carbon fiber cell site towers on urban rooftops to strengthen their network.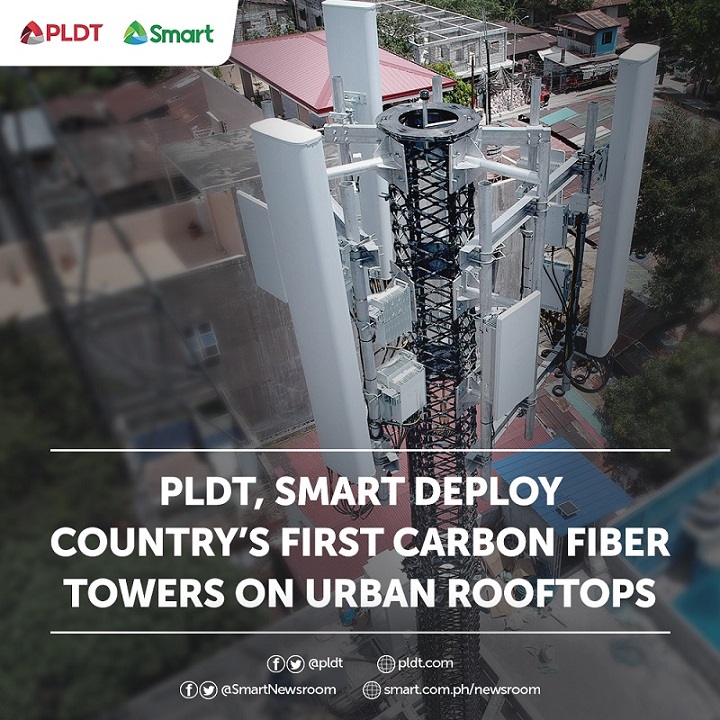 Known for being over 10x lighter than steel towers, IsoTruss carbon fiber towers are compliant with the National Building Code and are much easier to transport and install. It also requires almost no maintenance as this cutting-edge tower is made of non-corrosive materials.
With this, carbon fiber towers are ideal to be deployed on rooftops and coastal sites for they have a good impact on the environment. In fact, it contributes less carbon dioxide and occupies less land area.
BEEFING UP PLDT AND SMART'S NETWORK ROLLOUT
PLDT and Smart, on the other hand, explained that this will beef up their LTE and 5G rollout, especially in key areas where the demand for their network expansion is skyrocketing. These technologies also require lighter tower solutions that can support equipment, while still operating at full capacity.
This carbon fiber tower rollout is a part of PLDT and Smart's effort to expand their network across the country. Currently, Smart's mobile network covers 96% of the population, ranging from Batanes to Tawi-Tawi.
Meanwhile, PLDT's fiber infrastructure is the country's most extensive at more than 478,000 kilometers as of end-March 2021.