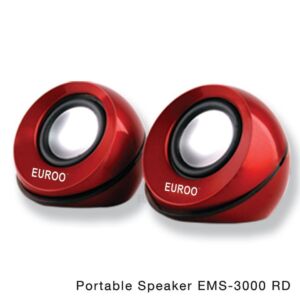 This will be the review of the second speaker that I borrowed a week ago. This is the Euroo EMS-3000, a better speaker than the one I previously reviewed, the EMS-2000. The EMS-3000 features a more modern design. The design of the body reminds me of our couch. And just like the EMS-2000, this speaker is dedicated for PCs, Macs, Tablets and MP3 players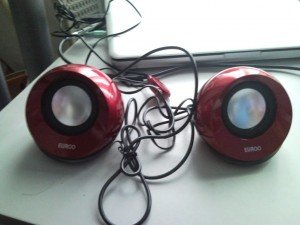 Euroo EMS-3000 Review
What's inside?
EMS-3000
For Laptop, Netbook, Mac, PC MP3 player
Compact Design for portability
Crisp and Clear Sound
Stereo Sound
USB Powered
Type: 2.0 Multimedia Speakers
Color: Metallic Red
Power: USB Powered
Watts: 2 Watts x 2 (RMS)
PMPO: 30 Watts
Frequency Response: 50Hz – 18Khz
In-Line Volume Control
Terminal: USB and 3.5 Stereo Plug
Speaker Size: 2 Inch x 2
Magnetically Shielded
Dimension: 75x80x60mm
The EMS-3000 is also made up of plastic but I feel that this one is much more solid than the EMS-2000. Yeah, it is pretty solid so I think these speakers can last for a long time. It feels a bit heavier than the EMS-2000 but that is not an issue for me because it is still light and portable.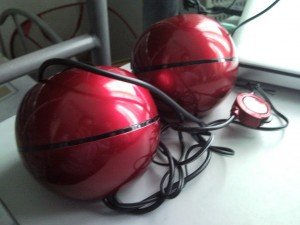 The back of the Euroo EMS-3000
You can control the volume of the speaker using the in-line volume control but I always max it out and just control the volume using my Mac or my iPod. Compared to EMS-2000, you can't remove the plug of the second speaker from the main speaker. But I don't think that those are deal breakers.
It is also powered by USB and there is no included charger for sockets but I think the iPod chargers will do. Audio quality is very nice. It has higher RMS than the EMS-2000 but I barely notice the difference of the two speakers. The EMS-3000 audio was loud, crisp and clear. Just like the EMS-2000, I watched Transformers 3 (Yes, I watched that again) and it was awesome. The gunfights and the action scenes audio were loud and clear. I was even a bit worried because the speaker was so loud at maximum volume our neighbor would be angry hehe.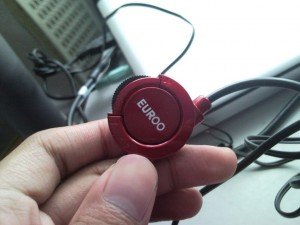 The In-line volume control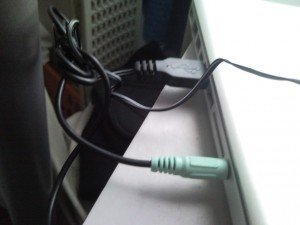 3.5mm Audio jack and the USB Connected on the Mac
Pros: Loud and crisp sound, portable, light, modern design
Cons: USB powered, I rarely use the in-line volume control
You can get this speaker for PHP699.00, a pocket-friendly price. Just add a P30 from EMS-2000's price and you can get the EMS-3000. It comes in 3 colors – White, black and red. Oh and I like the white one, I've been thinking of replacing my speaker at our condo with this one.
Rating: 9.5/10
For more information about Euroo just check out their Facebook page.
We're giving away a EUROO EMS-3000 speaker from Nov. 15 2011-Dec 15 2011 here! — http://www.jeromeancheta.com/2011/11/jam-online-giveaway-euroo-ems-3000.html
Thank you Philippe gadgets and accessories!
---
Enter your email address:
Delivered by FeedBurner
---