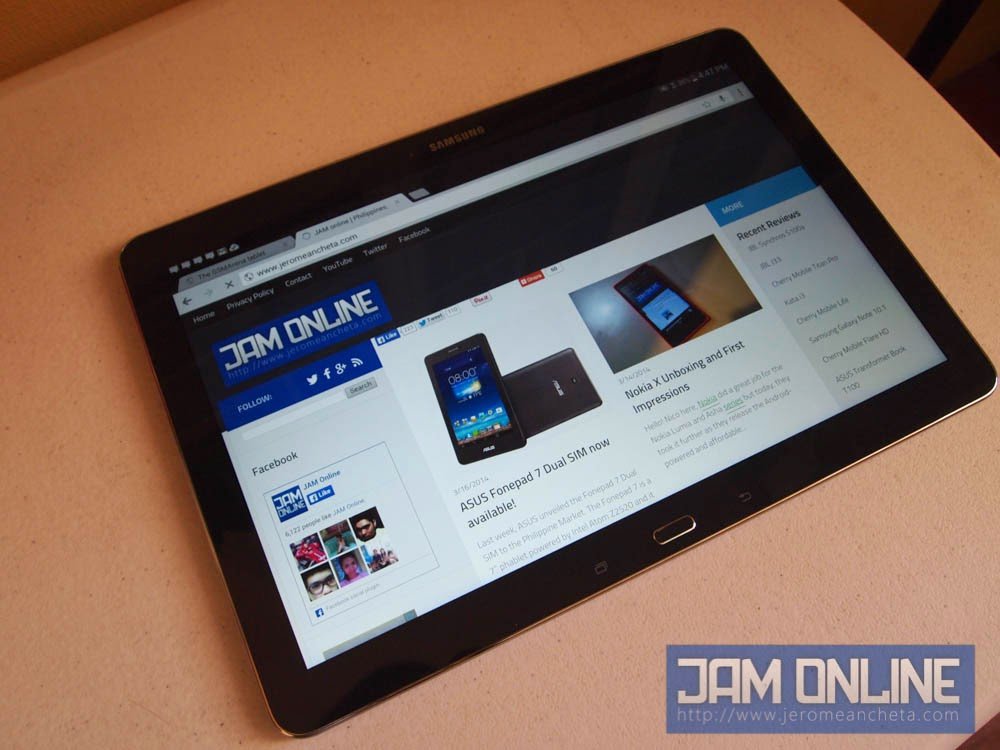 Samsung is ready to take on the corporate world with their new range of Android tablets — the Pro series. These series of tablets aren't just for the professionals, these tablets also come with power. Yes, all of these tablets comes with a punch and they're probably the most powerful Android tablets that are available right now.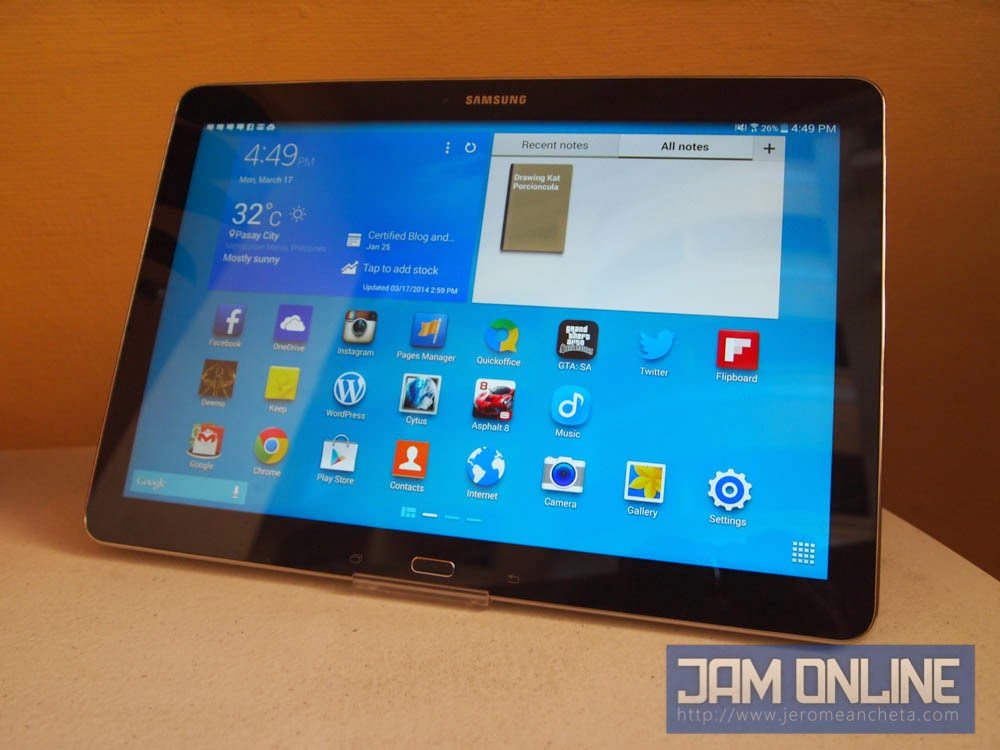 The Samsung Galaxy Note Pro 12.2 is one of the largest Android tablet that is on the market right now and yes, there's a 12.2-inch display which some might found as ridiculous and too big. But hey, I loved the 12.2-inch display of this giant tablet. Why? Because I could do multi-tasking in it and watching movies on it feels really great. However, the Samsung Galaxy Note Pro 12.2's display isn't Super AMOLED that's why if you compare it with a Samsung Galaxy Note 3, you'll see that there's a big difference in the colors. Despite not using a Super AMOLED display, the Samsung Galaxy Note Pro 12.2's display has a good viewing angles and it has a quite good sunlight legibility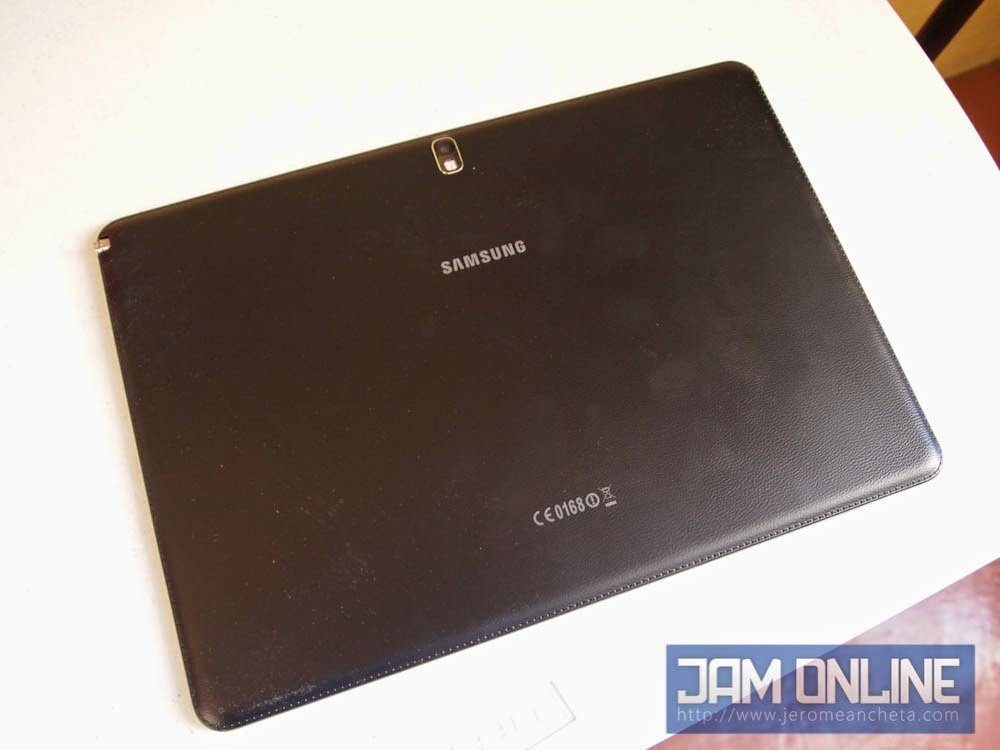 The design is very similar to the Samsung Galaxy Note 10.1 2014 and Samsung Galaxy Note 3. It has a faux leather back and again, it adds more grip thanks to the leather texture but unlike those devices, the Samsung Galaxy Note Pro 12.2 is harder to hold especially on one hand because of its large dimensions nevertheless the weight of the Samsung Galaxy Note Pro 12.2 wasn't that heavy.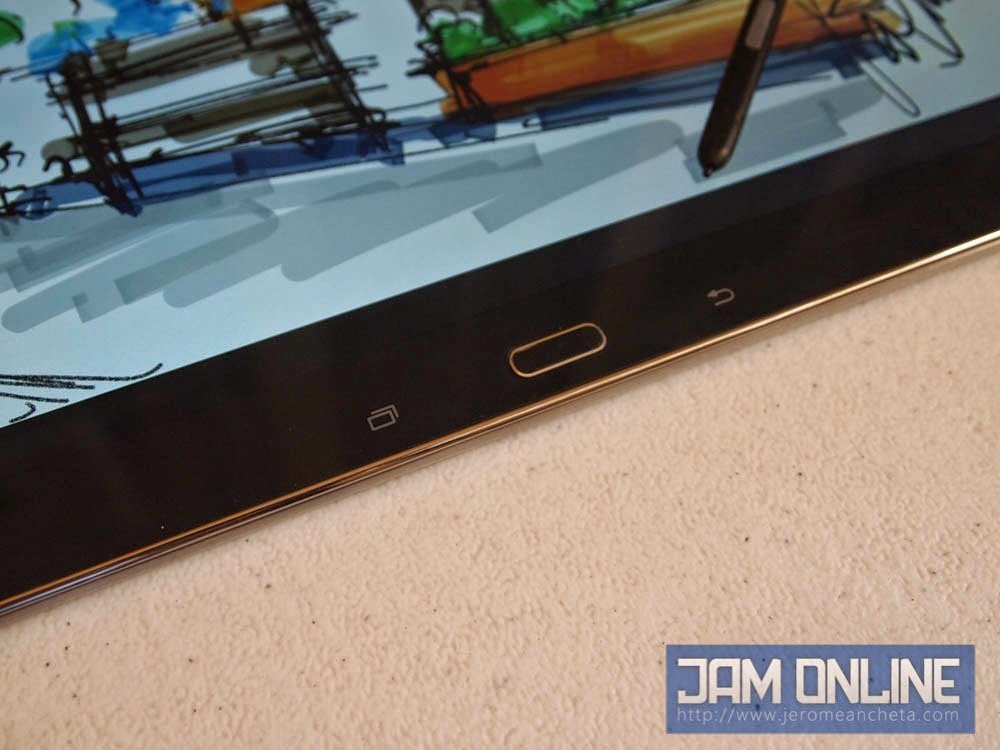 One thing that I hate in this tablet is the placement of the familiar 3 buttons of Samsung Android devices. Why do I hate it? It's because these buttons are placed in the middle. It's hard to reach it when especially when you're lying down and watching an anime on the tablet while you're on your bed. I always prefer the on-screen buttons for Android tablets but it has been Samsung's identity in their Android devices to put a 3 button-layout that is similar to their other Android devices.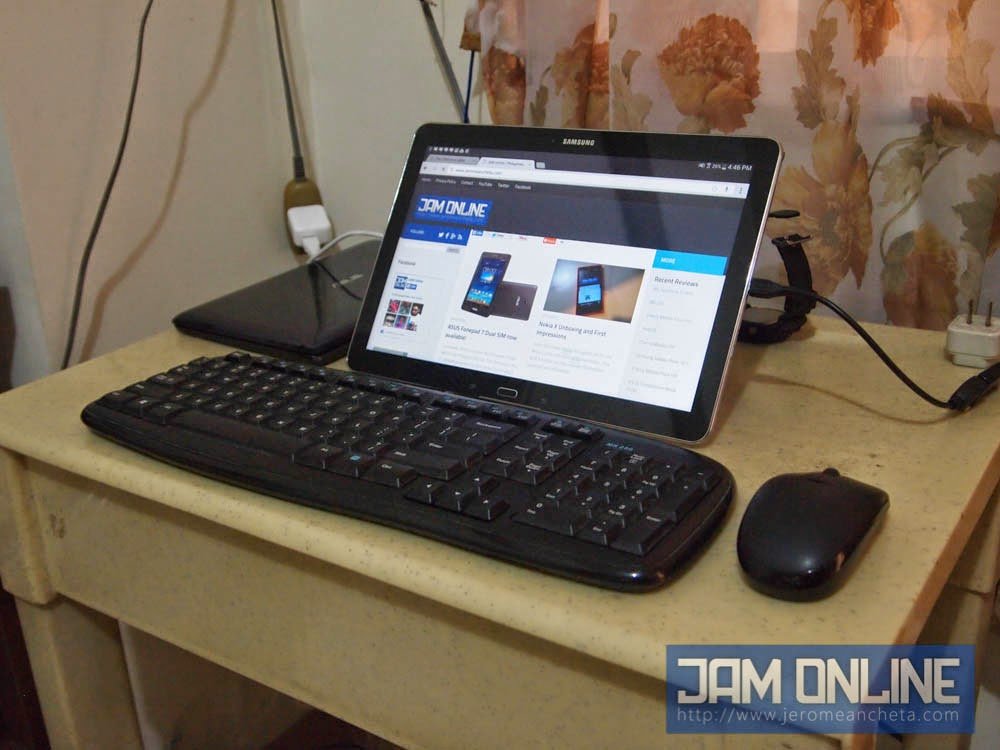 I was happy to discover that the microUSB port on the Samsung Galaxy Note Pro 12.2 was placed beside the tablet and not below which will probably be unusable when you placed it on a tablet stand because it is blocked. Since the placement was there, I was able to connect my wireless keyboard and mouse that is connected via USB OTG. An ultimate productivity tablet! and before I forgot, transferring files on this tablet would surely be fast thanks to the MicroUSB 3.0 port.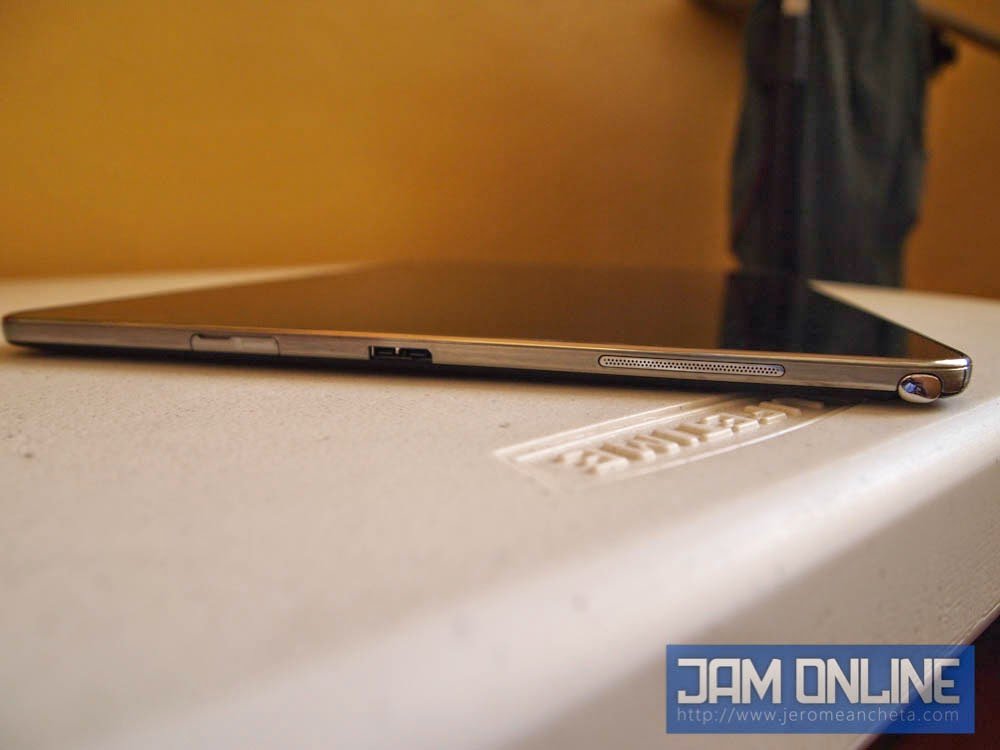 Unfortunately, there's no LTE and only the Wi-Fi version would be available in the Philippines. Inside this tablet is an Exynos Octa-core processor along with a 3 GB of RAM. There's a sufficient 32 GB of storage for your apps and media files and if you feel that the storage isn't enough, there's a MicroSD card slot for that.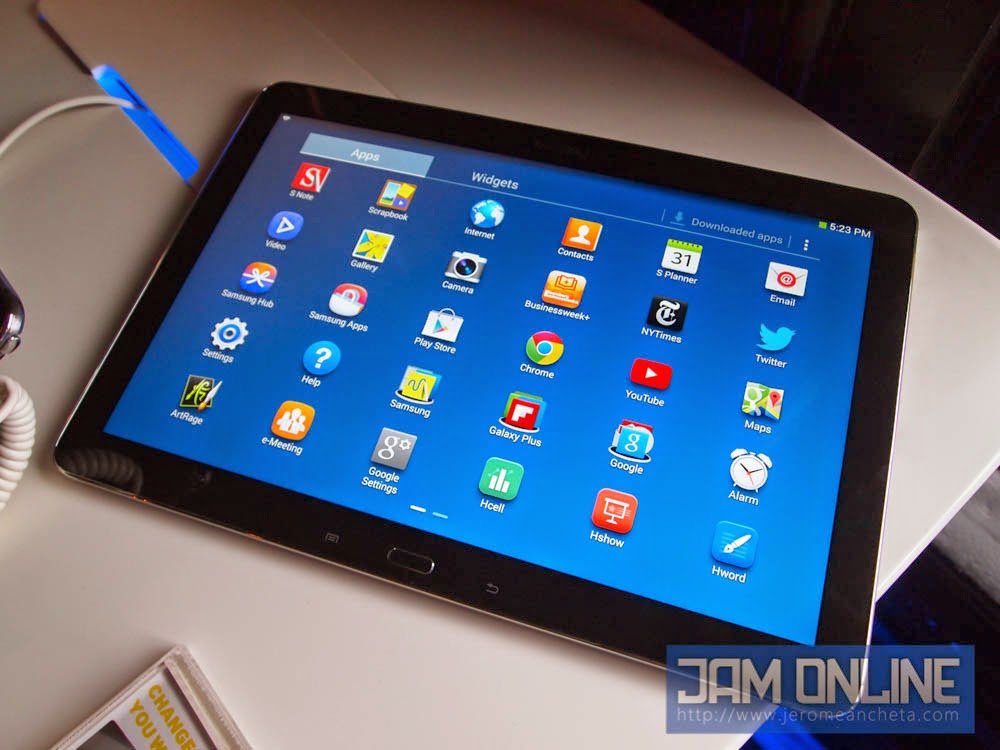 The battery life of the Samsung Galaxy Note Pro 12.2 was shorter than I expected. It managed to last up to 10 hours of heavy use on me which is basically up to a day of average use. Not really that bad but I was expecting that this tablet could last more than that because a lot of corporate guys would want a tablet that could last up to more than a day.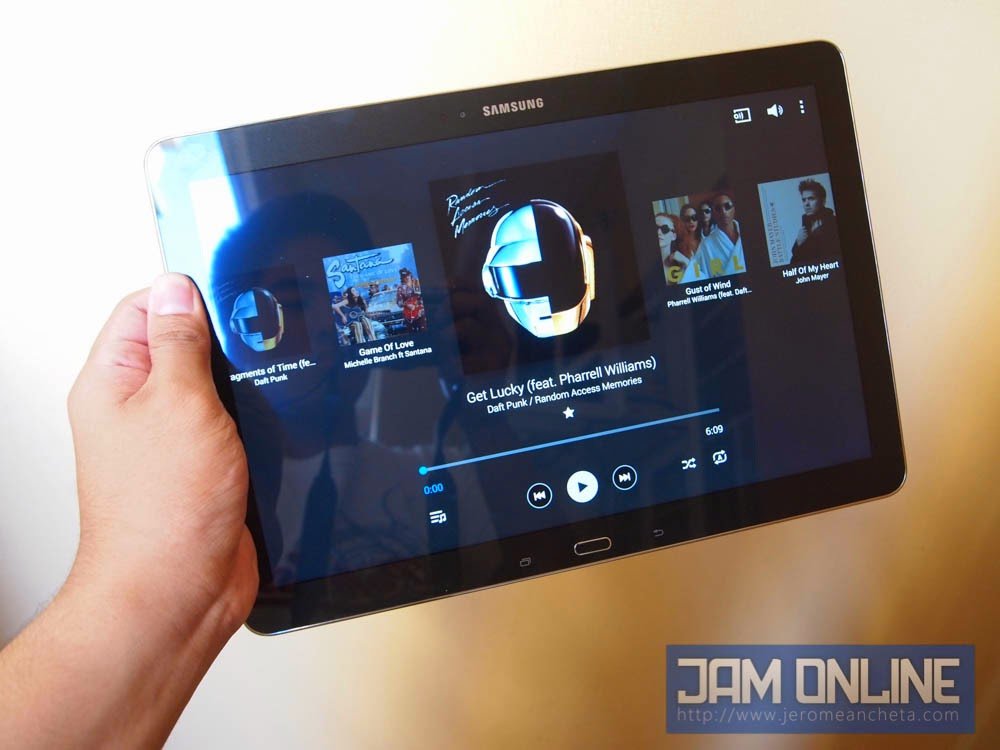 The audio quality of the tablet wasn't that bad but it isn't that loud compared to the other tablets. Again, this feature wasn't that bad but they should improve it on the next generation. This tablet wouldn't be called a Note with out the S-Pen and again, the S-Pen has a lots of use and features on the tablet but there are no significant new features on the Samsung Galaxy Note Pro 12.2's S-Pen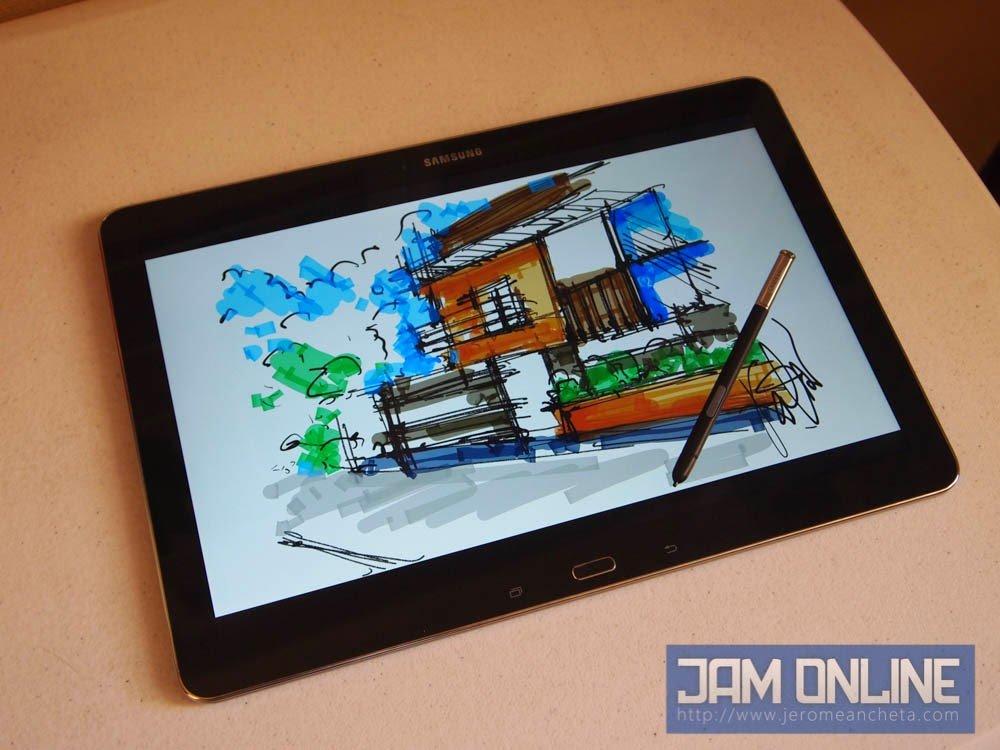 The Samsung Galaxy Note Pro 12.2 is powered by the latest Android Kitkat. The first thing that I noticed in this tablet is that the new Touchwiz UI now features a flat design and I felt that there were lesser bugs and slowdowns than the Samsung Galaxy Note 10.1 2014. Not only that, I also felt that the new Touchwiz design was much faster and more responsive.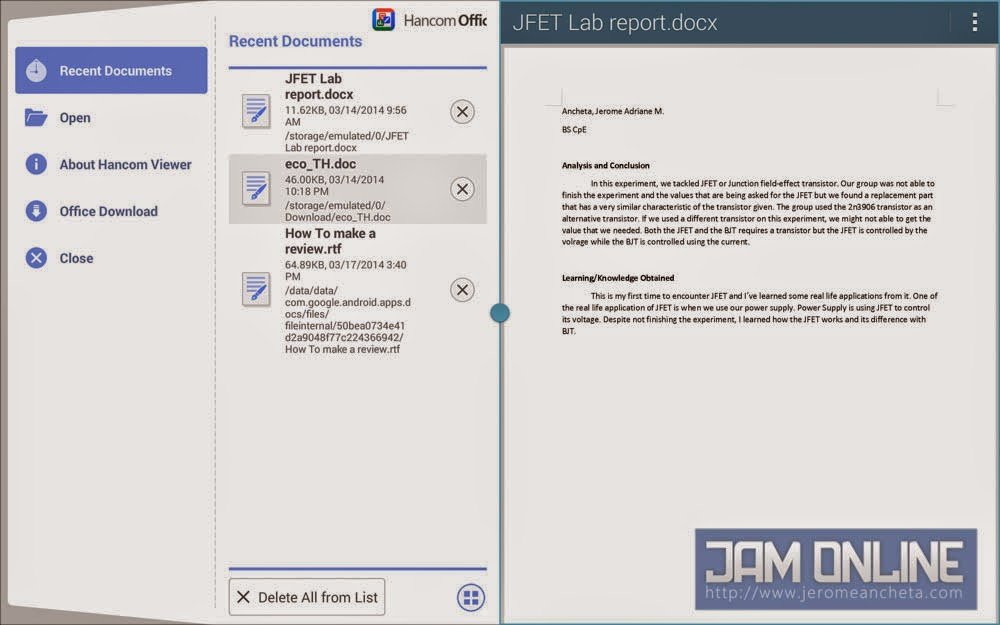 A lot of apps are added for the Samsung Pro Series tablets. One of my favorite apps on these devices is the Hancom office. The office suite allows you to edit your powerpoint, spreadsheets and your word files. The thing that I love in it is that It has a lot of features. I think, this is the best office suite that I've tried on an Android device.
Another thing to like in the Samsung Galaxy Note Pro 12.2 is that it comes with a remote PC app. So what does it do? With Remote PC app, you could control your desktop using your tablet however, the frame rates were bad but it doesn't disconnect that much. It's very useful especially for those people who are always on the go.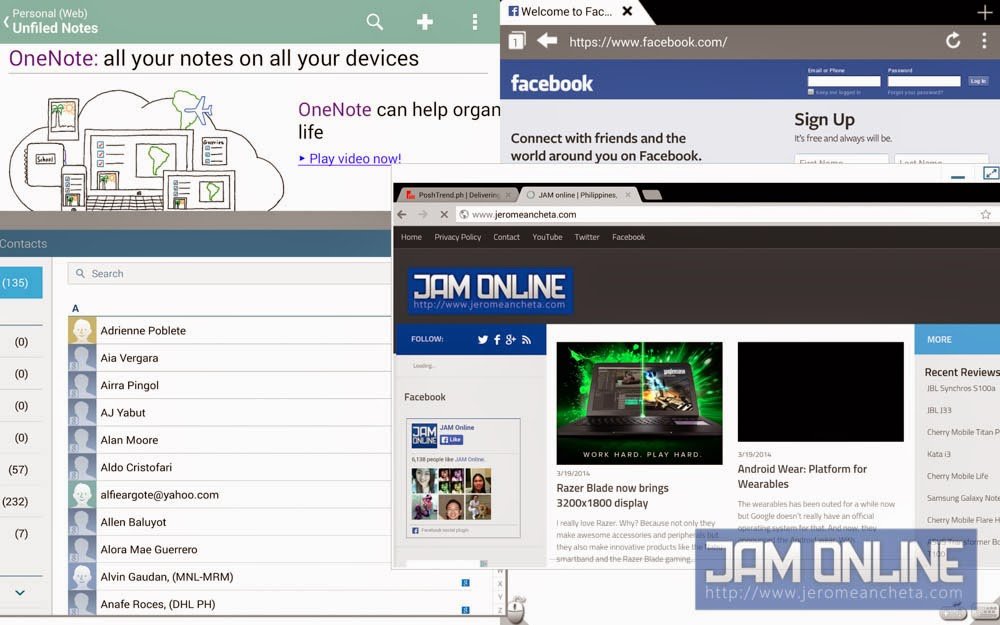 One of the notable features of the Samsung Galaxy devices is the multi-window feature which will allow you to have two apps running on 1 display. Since the Samsung Galaxy Note 12.2 has a large display, it was able to output four apps running at once and not only that, the Samsung Galaxy Note 12.2 could also run apps on window mode but of course, there are only a few selected apps that could do that.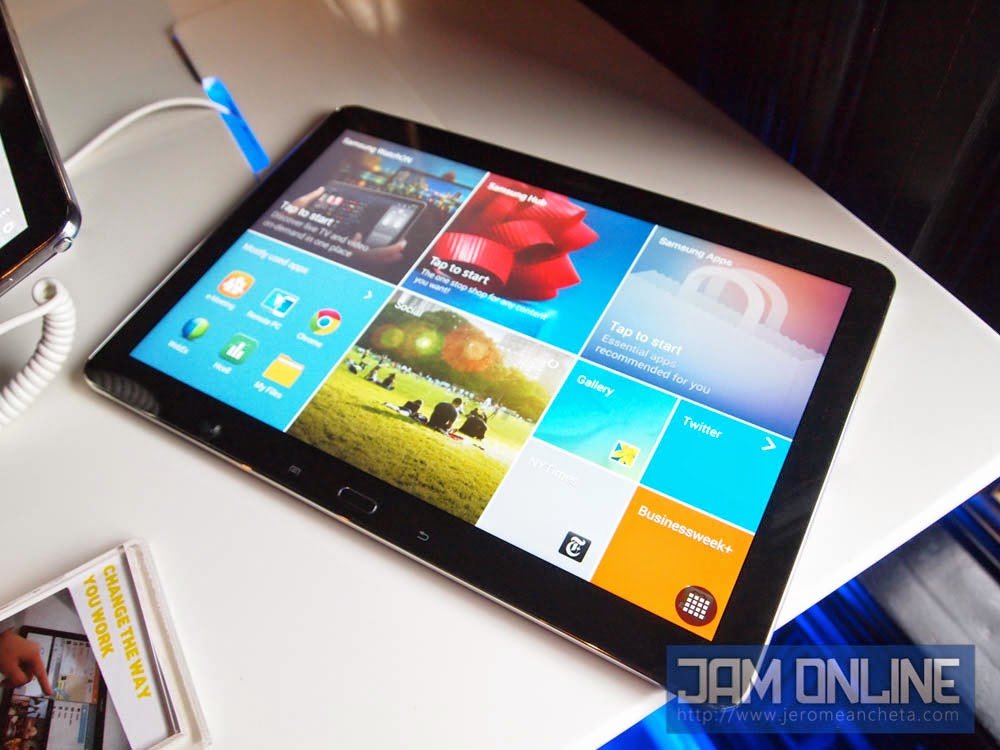 Samsung also introduced the Magazine UX on the Samsung Pro tablet series but I find it a little bit awkward to use and I just prefer using widgets over the Magazine UX. You can customise the sizes and the contents but the experience wasn't really that great.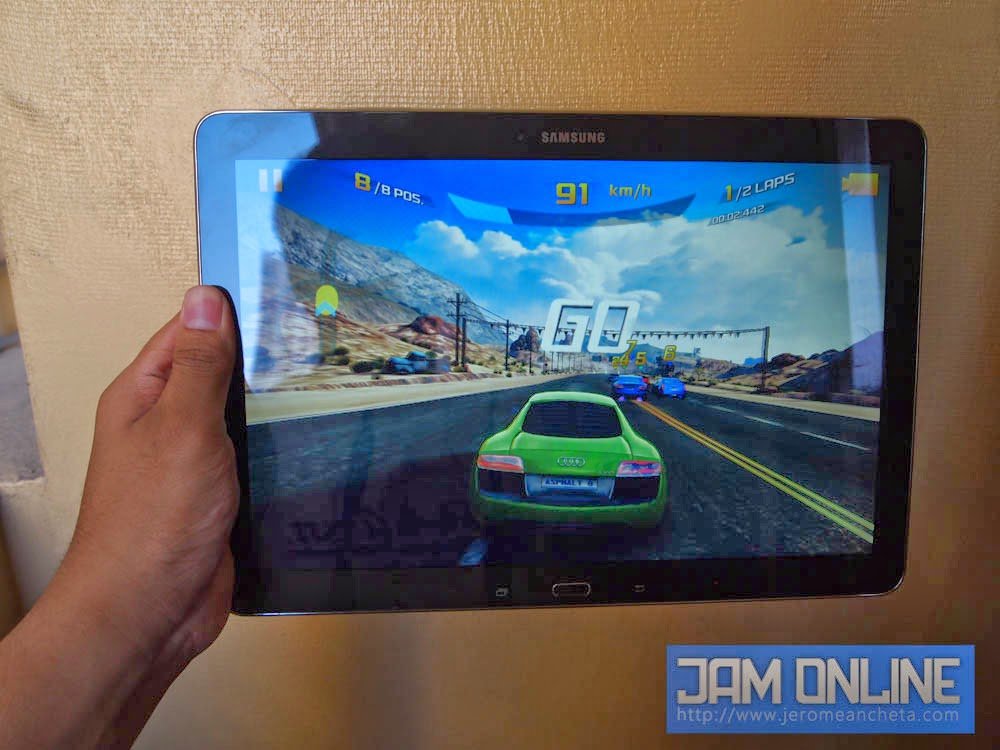 Since it is powered by the same processor that is powering the Samsung Galaxy Note 10.1, the Samsung Galaxy Note Pro 12.2 could run anything that you want on a tablet except when they have issues with the Exynos processor. I experience a few crashes on the tablet but the overall performance of the Samsung Galaxy Note Pro 12.2 was quite great. Here's the Antutu score of the Samsung Galaxy Note Pro 12.2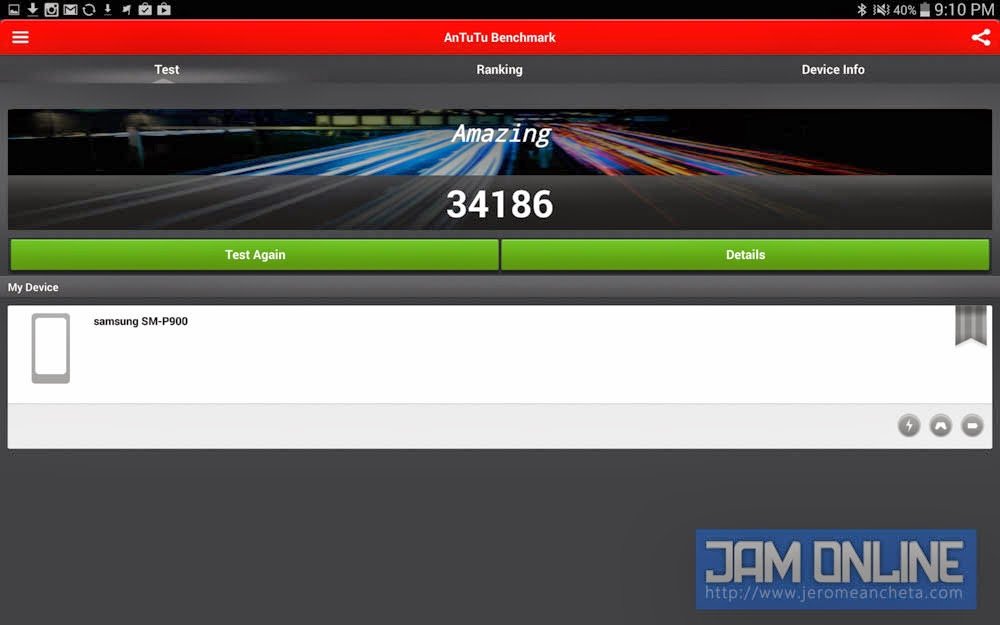 I'm not really recommending you guys to use the camera on a tablet but the camera of the Samsung Galaxy Note Pro 12.2 was good however, you might find it awkward to use especially when you're in a concert. Imagine using a 12.2" tablet just to take a photo. Damn. The image quality of my shots was better than the Samsung Galaxy Note 10.1.
This is the most productive Android tablet that I've used. I mean, I did a lot of things on this tablet that are related to blogging and school works but I believe the Samsung Galaxy Note Pro 12.2 still can't replace a full fledged laptop. The Samsung Galaxy Note Pro 12.2 isn't for everybody. Some people might feel that it's too big for their preference and the PhP 36,990 price tag isn't that attractive but those professionals who are on the go and to those people who wants a powerful tablet powerhouse with a large screen then you might want to look at this tablet but of course, you need a lot of kachings for this device.