Are you a Smart subscriber? If yes, then you're in for a treat!
Smart Communications, Inc. (Smart) announced its month-long GigaFest, where over Php919 million worth of data freebies and exclusive rewards will be given away for users.
The company announced that this is to celebrate the first anniversary of the GigaLife app on September 19, or 0919 – Smart's popular mobile network prefix.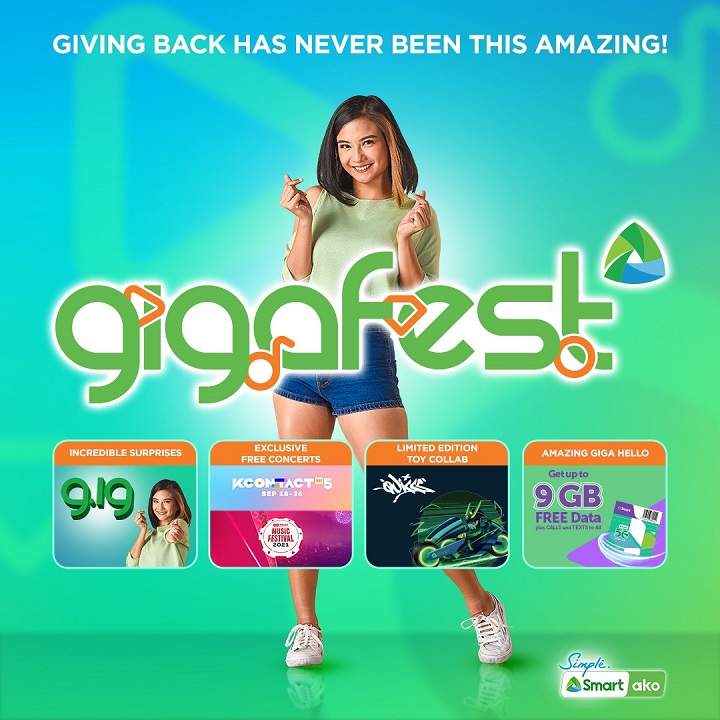 WHAT TO EXPECT
Smart announced its GigaDay Freebies on the GigaLife App, happening on September 19 from 9:19 A.M. to 1:19 P.M.
Those who are activating a new Smart Prepaid 5G-ready SIM will enjoy GigaHello freebies, which is inclusive of up to 9GB FREE data, calls, and texts to all networks. To avail, users simply have to top up Php100 worth of load offer via the GigaLife app.
Smart will also give subscribers an amazing concert experience via GigaPlay, slated on September 18 until September 26. This includes the 2021 iHeartRadio Music Festival. This will be graced by Billie Eilish, Coldplay, Dua Lipa, J Cole, Khalid, Maroon 5, and other global artists.
The festival will happen from September 18 to September 18 from 10:30 A.M. onwards.
Meanwhile, K-pop fans should expect to see their favorite artists, including AB6IX, ATEEZ, MAMAMOO, Park Jihoon, The Boyz, and more. It will happen from September 18 to September 26 during the 5th season of KCON:TACT.
On the other hand, Smart Signature subscribers will also get a chance to score the limited-edition Smart TEC5G toy, designed by world-renowned Filipino toy designer and artist QUICCS. Eligible subscribers will get an SMS notification, containing the complete mechanics of this exclusive one-day online sale.
Moreover, in partnership with Mobile Legends: Bang Bang developer MOONTON Games, Smart will be giving away skin and freebies.
So, who's excited for Smart's biggest fest this year?
Let us know what you think in the comment section below!