Shopee Philippines will be having its biggest flash sale at Shopee Brand Day on August 13, 2019 in where you can get 25% discount on the Realme C1 and the Realme 3 flash sale.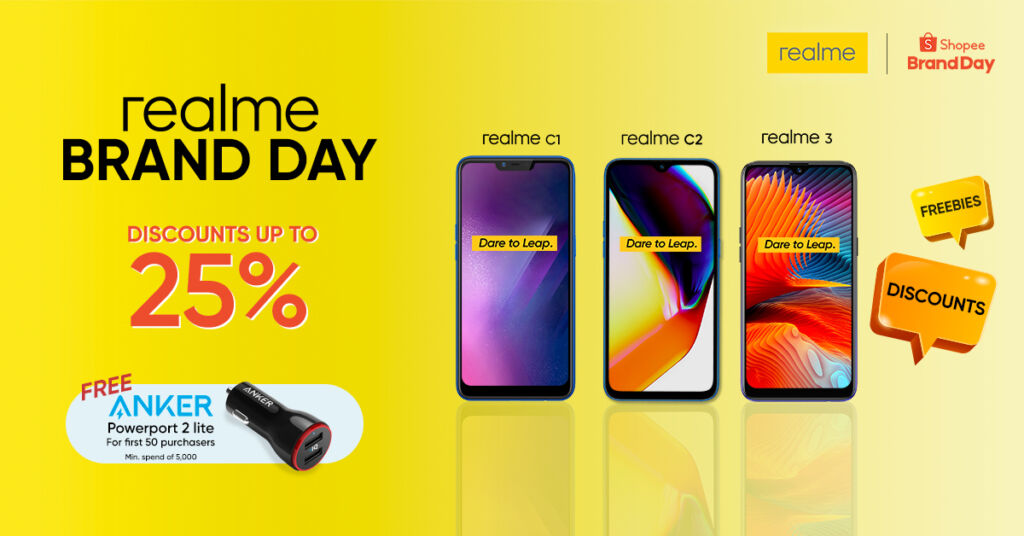 The entry-level king, the Realme C1, will be available for Php4,490 which is a Php1,500 down from its original price of Php5,990 with the promo voucher code REALMEXSHP10 and the first 1,000 purchasers will get another 10 percent discount on top of the initial price drop.
The Realme 3 will also be available in 3GB+32GB and 3GB+64GB variants and they'll be priced at Php6,090 and Php6,590 respectively thanks to the price cut of Php1,400 from the original prices of Php7,990 and Php6,990.
This Realme devices will come with special discounts during its first wave of flash sale from 12AM to 8:59AM while the second wave will happen from 12MP to 2:59PM and that will be for the 3GB+32GB variant of the Realme C1 while the 3GB+64GB variant of the Realme 3 will be on the final wave from 3PM to 5:59PM while the 4th wave of flash sale will be on 6PM-8:59PM will be for the Realme 3 3GB+32GB while the last wave will feature 3GB+64GB and will take place at 9PM to 11:59PM.
To get you some more, Shopee fans will also get a brand new Anker Powerport 2 Lite for the first 50 buyers and Realme will be raffling of a Realme C1 and Realme 3 at the Shopee P1 game.
If you want to buy one, head over to: https://shopee.ph/realmeofficialstore