The ADATA XPG SX8200 Pro has been present in the SSD market since 2018. Thanks to its price to performance ratio, it one of the most recommended m.2 NVMe. It is said to be a great alternative to Samsung's 970 Evo thanks to its price to performance ratio.
The ADATA XPG SX8200 Pro is priced at ₱8640 at PCHub (as of this writing) and performance peaks up to 3.5/GBs Read and 3GB/s Write with Random 4K numbers reaching up to 390,000 IOPS.
[table id=7 /]
Packed with Micron's 64L 3D TLC, the ADATA SX8200 Pro provides an SMI SM22626En controller giving better performance and more efficiency. The controller also brings support for NVMe 1.3 with end-to-end data protection and a RAID Engine for data integrity.
[table id=8 /]
The SX8200 Pro comes with a 5-year warranty along with an endurance rating that goes up to 640TBW (terabytes written) for the 1TB model. This is more than enough for the average gamer or PC enthusiast. The SMI also improved power consumption with the new SM22626EN controller. The SX8200 Pro supports multiple NVMe low power states and has an active rating of 0.33W and a slumber rating of 0.14W.
Going over to the design of the ADATA XPG SX8200 Pro 1TB drive, we see the Silicon Motion SM12262EN with IMFT 64-Layer TLC NAND Flash and NANYA DDR3 DRAM chip.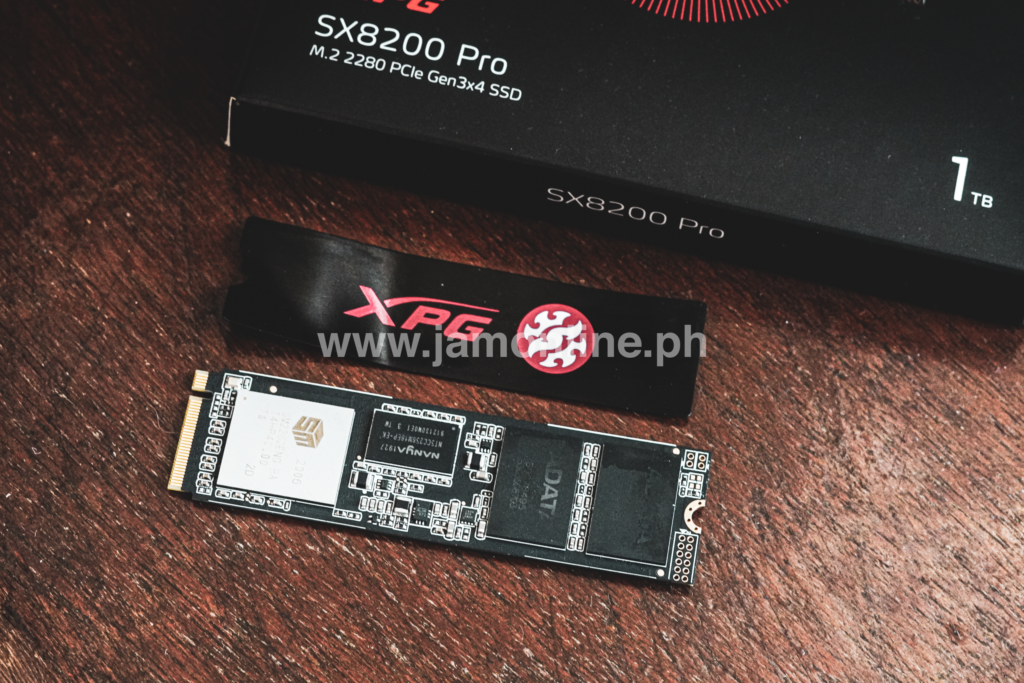 Once you flip it over, we are greeted with the double-sided M.2 2280 model. This particular model easily fits in most desktop builds but might not be applicable for notebook laptops that support thinner single-sided drives.
Going through the retail box, ADATA provides an optional matte black-and-red heat spreader to add more aesthetics but would not be necessary should your motherboard have its heatsink provided.
SOFTWARE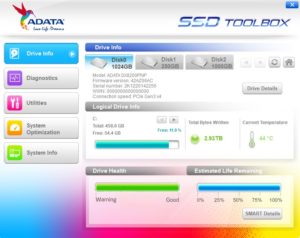 The ADATA SSD Toolbox comes free from to download from their website should you need it. The application allows for firmware updates, secured drive erasures, force TRIM service, run diagnostics, and more.
ADATA XPG SX8200 PRO M.2 2280 PCIe Gen3x4 SSD TEST
PCMARK8 Storage Test
Starting with the PCMark 8's Storage test, this synthetic benchmark replicates everyday disk access like photo editing and web browsing. The variations on this test regarding PCIe drives are quite small.

Crystal DiskMark
With our Crystal DiskMark, this replicates best-case, straight-line transfers of large files. This benchmark supports Native Command Queueing (NCQ) with a queue depth of 32 and represents the highest score of five runs.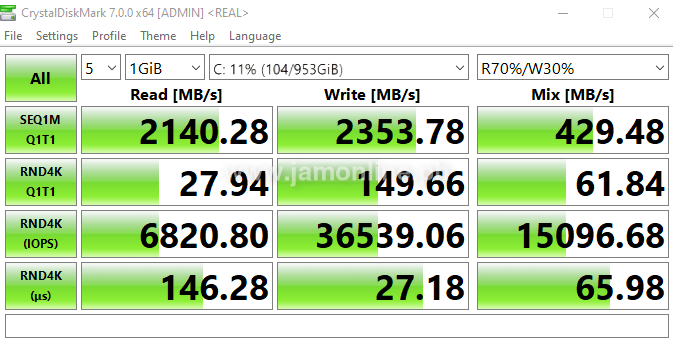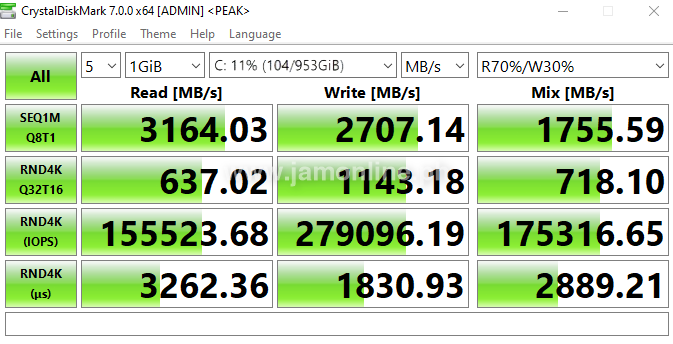 The ADATA SX8200 Pro 1TB drive maxed out at 3164.03MB/s read and 2707.14MB/s write in the standard sequential write test that was done at Q8T1. Random 4K Q1T1 performance is at 27.94 MB/s read and 149.66 MB/s write.
ATTO Disk Benchmark
ATTO being one of the longest drive benchmarks used until today is still relevant in the SSD market. ATTO gives an idea of transfer across a specific volume length. This test was done with default runs.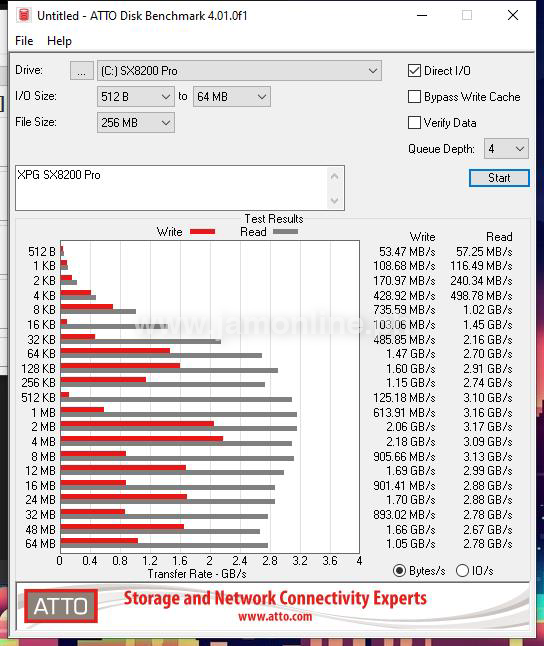 This benchmark shows the ADATA SX8200 Pro 1TB SSD speeds reaching up to 2.74 GB/s read and 1.15 GB/s write at Qeue Depth of 4. This is way below the rated read/write speeds of 3500/3000 MB/s.
AS SSD Benchmark
AS SSD benchmark gives a variety of results. There are now three tests that are found within the tool.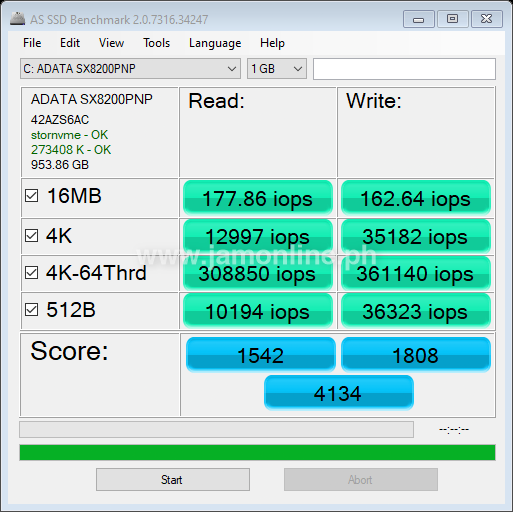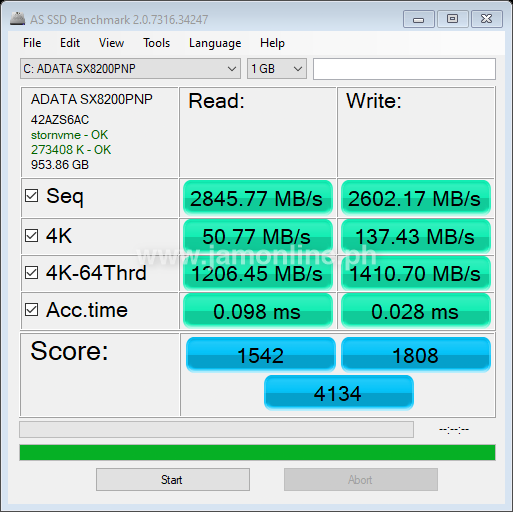 The ADATA SX8200 Pro gives an overall score of 4,134 points with sequential read speeds of  2845.77 MB/s read and 2602.17 MB/s write. While the 4K random results are at 50.77MB/s read and 137.43 MB/s write.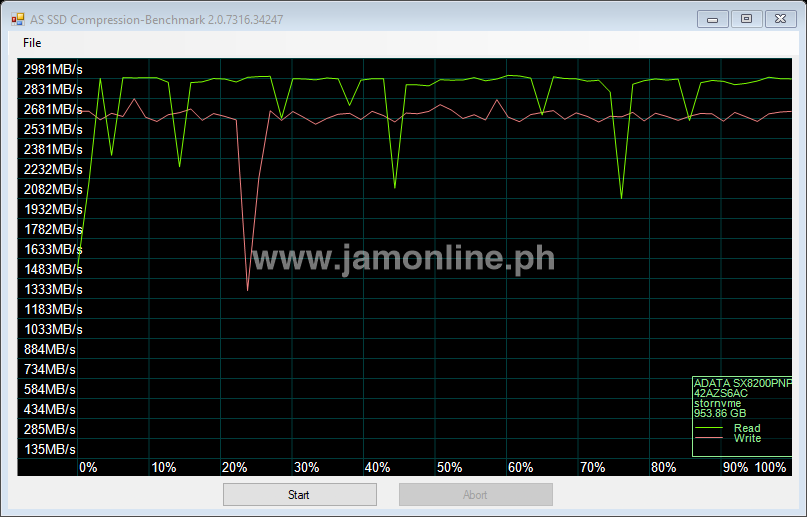 For this chart, a straight line would be ideal as you wouldn't want any compression performance loss.
FINAL FANTASY XIV LOADING TIME
On this part of the review, we use the Final Fantasy XIV – Stormblood Benchmark which represents 5 Scenes and total loading times. This would give a representation of how fast each scene would load when booting up games and transitioning levels.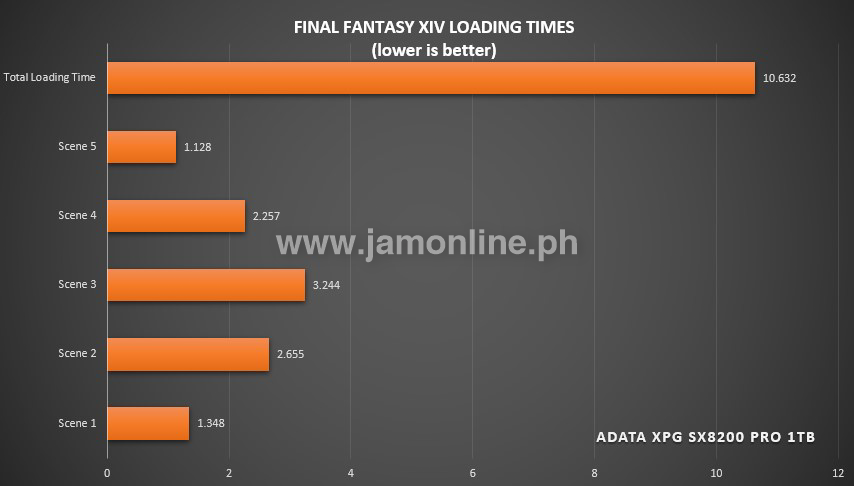 Final Thoughts & Conclusions
It is great to see that the ADATA XPG SX8200 Pro is equipped with the SMI SM2262EN controller. Our performance results give outstanding performance results. The key takeaways here are that the performance, availability of various capacities, 5-year warranty, and value. At ₱8640 for the 1TB version, it is a great price for a high capacity SSD that is reliable.