There are a lot of great gaming notebooks out there in the market but one of my favorite ones out there is the ASUS ROG Zephyrus G14 because the gaming notebook is a balance of everything that we need. It doesn't have a bulky profile, it's a powerful one, and the price of the notebook feels just right.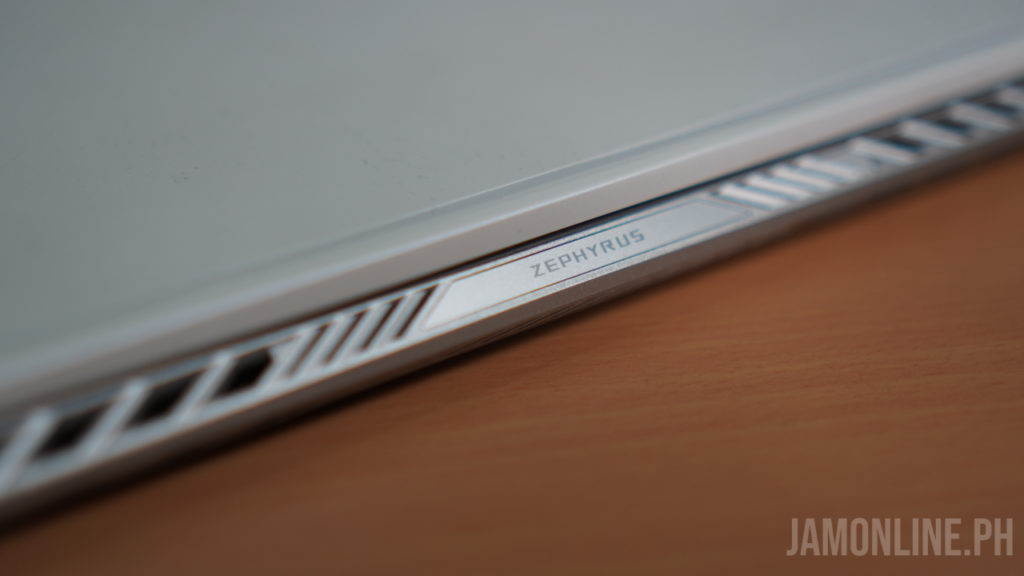 Simple and solid design
One of the strengths of this notebook is the design and build quality the one that we got comes with Moonlight White color we do love the AniMe Matrix Display at the lid of the notebook. There's the magnesium-aluminum lid on the notebook and it does feel premium and it does feel solid.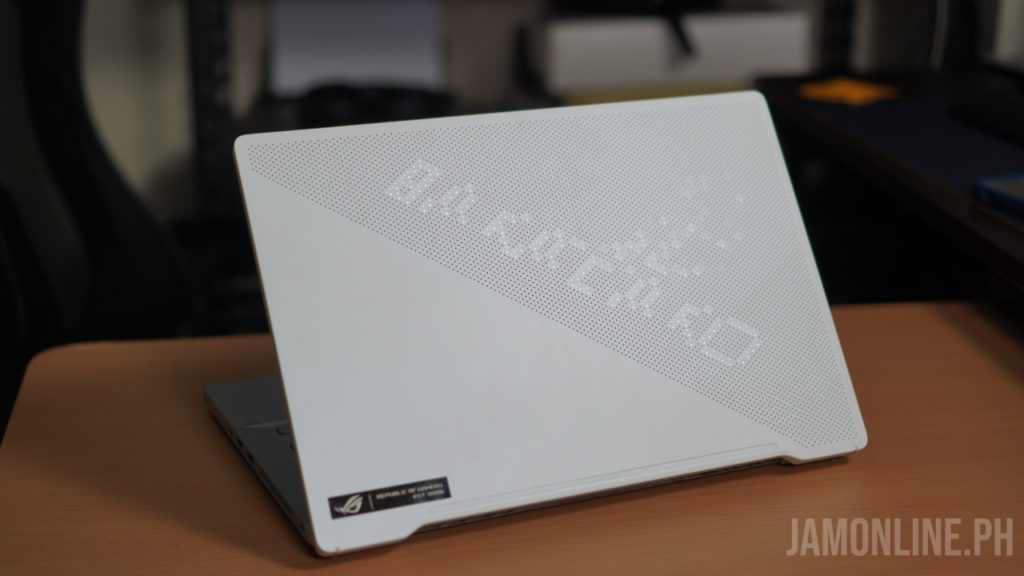 The simplicity and less complicated design on the ASUS ROG Zephyrus G14 makes it a really attractive notebook and actually, the norm on gaming notebooks is that they're less edgy and complicated and they're more simple yet functional.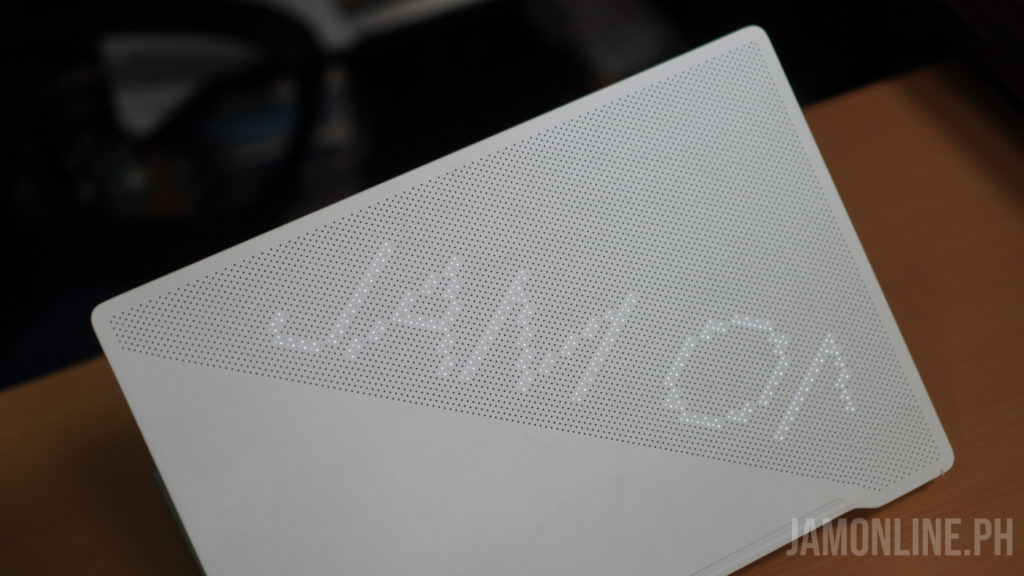 Well, the unit that we got comes with AniMe Matrix display at the back and we do love the lights that we're getting in here and it's customizable so we can write anything that we want at the lid of the notebook. The software for the AniMe Matrix is really excellent even for a first generation notebook with this feature.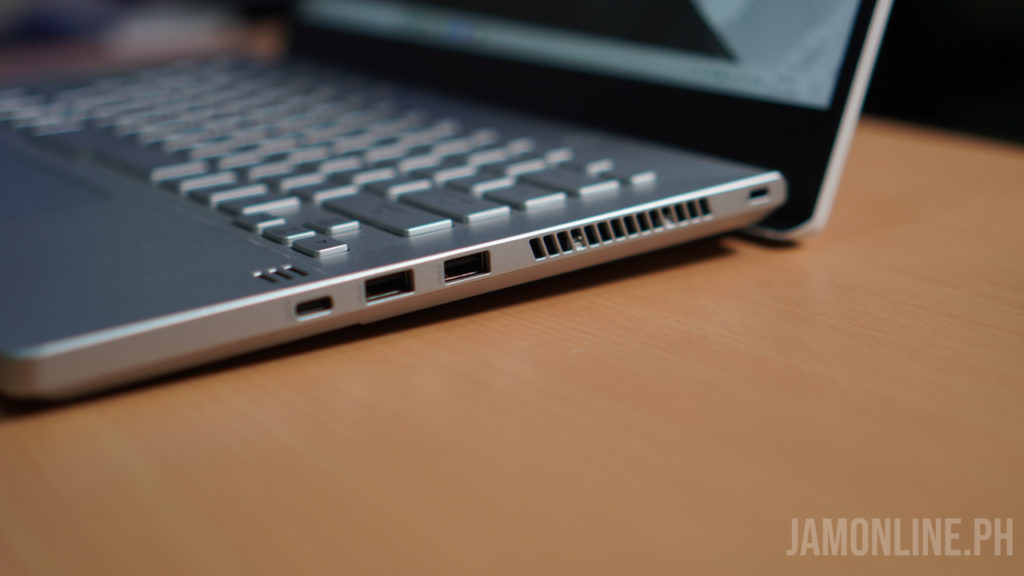 For the ports, thankfully ASUS didn't compromised on this one as we got here all the ports that we need including an HDMI port, 2x USB-C ports, 2x USB-A ports, and a 3.5mm jack and if you're curious about Thunderbolt 3, well, it isn't here because Thunderbolt ports are made for Intel devices so no, there's no way to use an eGPU on this one.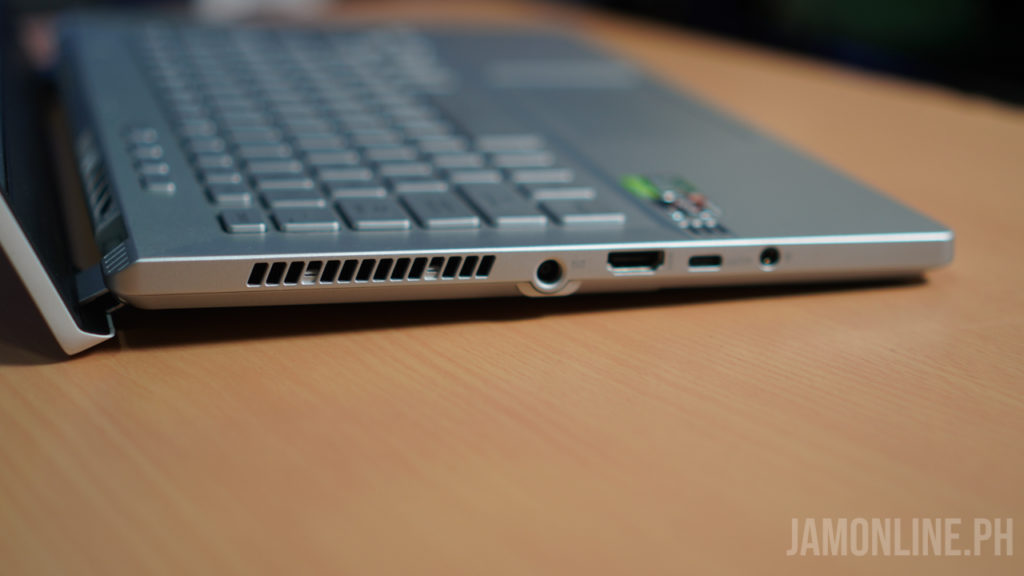 A fine and comfortable keyboard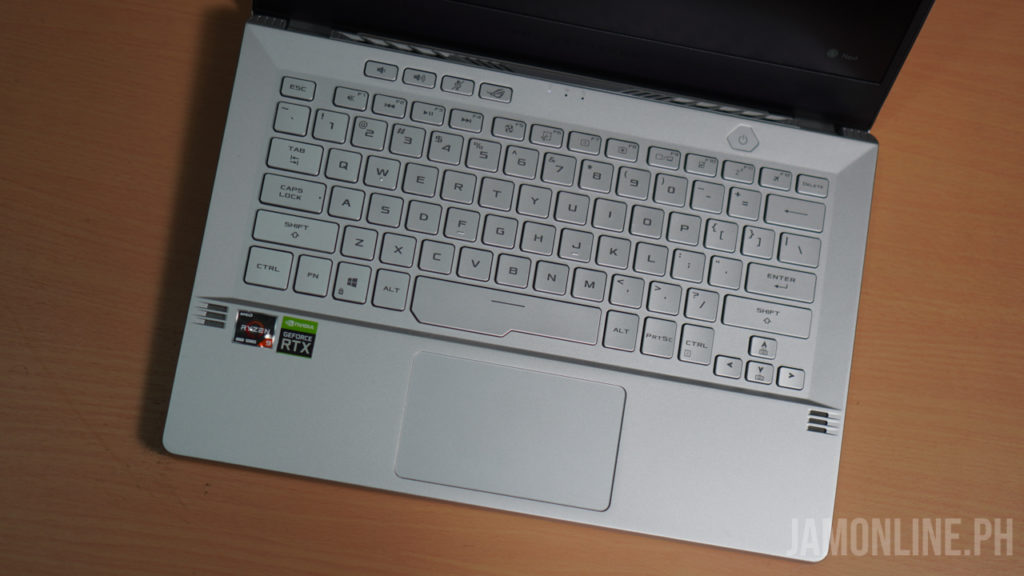 Another advantage of owning the ASUS ROG Zephyrus G14 is the keyboard. We got here a fine keyboard with an LED-backlit keys. Unfortunately for RGB fans, there's no RGB on this one but hey, it does look awesome despite not having that as the combination of the AniMe Matrix lid and also the white-lid does look fine.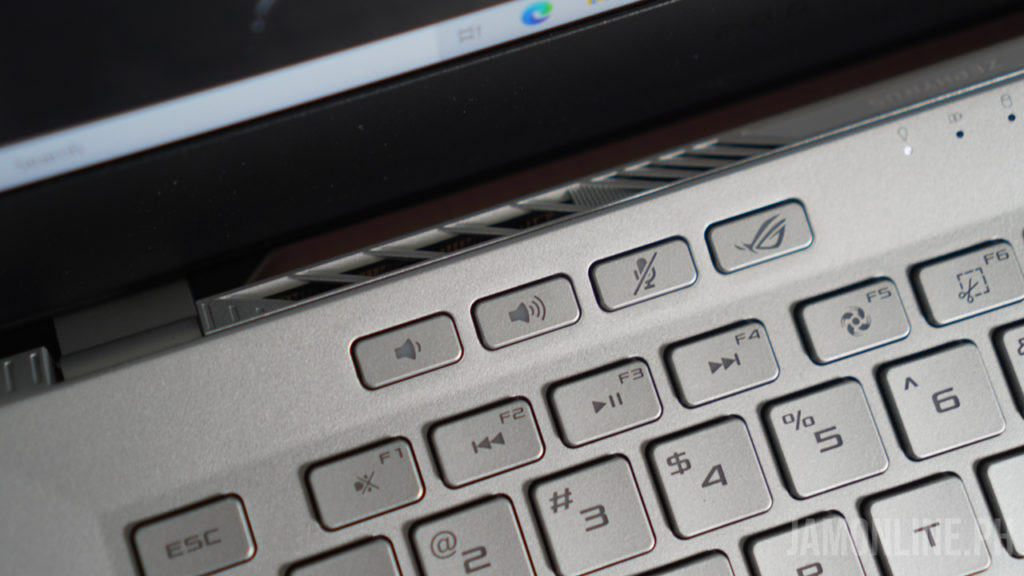 With regards to typing, the key travel on this one was just fine and of course, the keyboard layout of this one was good. Typing on the ASUS ROG Zephyrus G14 is a breeze and I actually love typing on this one. For gamers, you might want to use an external keyboard for this one as we don't have here a numpad.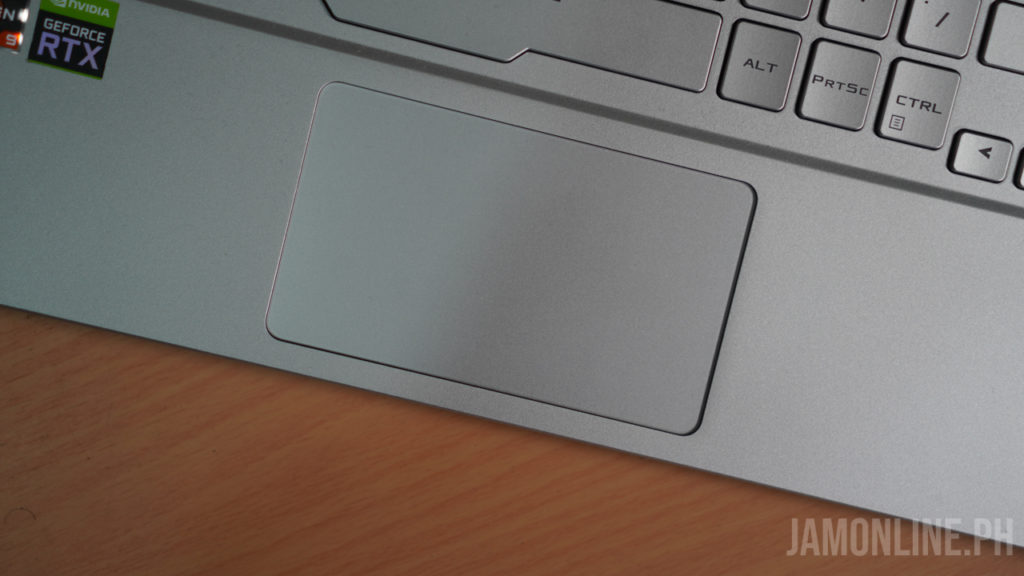 The touchpad of the notebook isn't that big nor small. It's just the right size for most people who are gonna use the notebook for work or for school but if you're planning on using the notebook for gaming, well, better use the included mouse on this one.
Display for gaming and productivity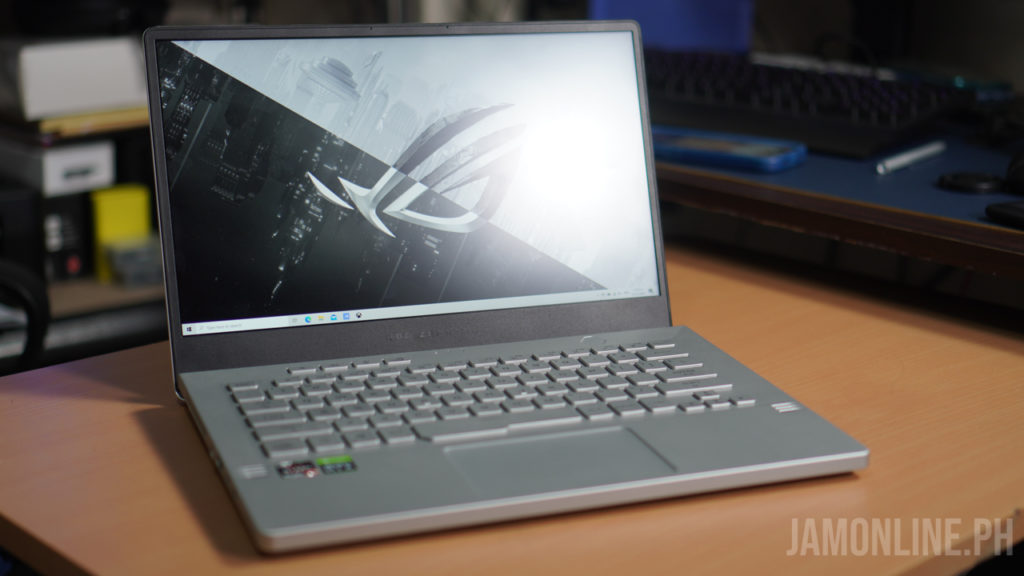 The ASUS ROG Zephyrus G14 features a 14-inch display and the bezels at the top and the sides of the notebook is thin which is why the notebook might be a dealbreaker for those who are working at home but don't worry, the ROG Eye would be a better webcam pair for this notebook. But hey, this is ROG so do expect to use this more for gaming rather than for school or work right?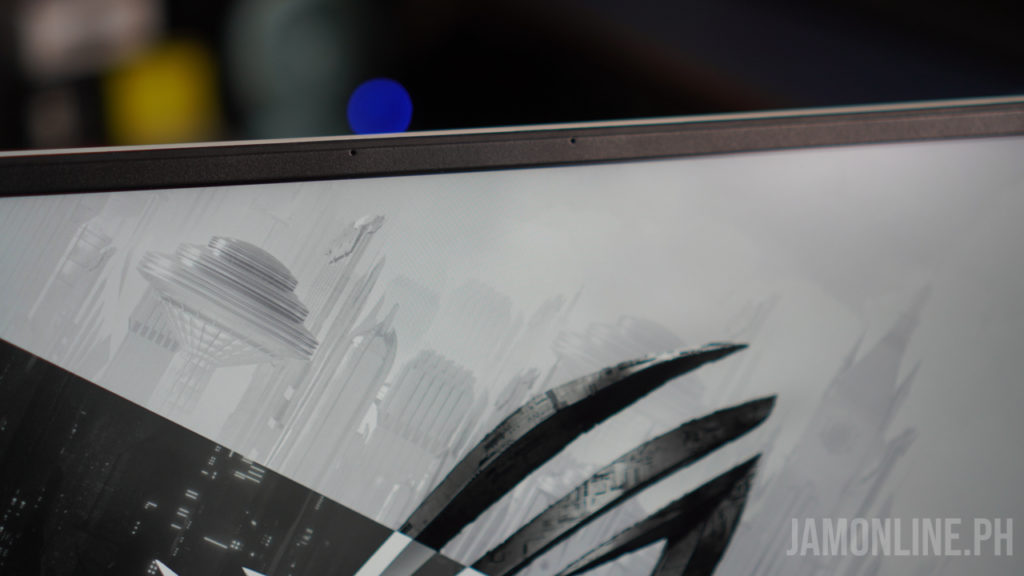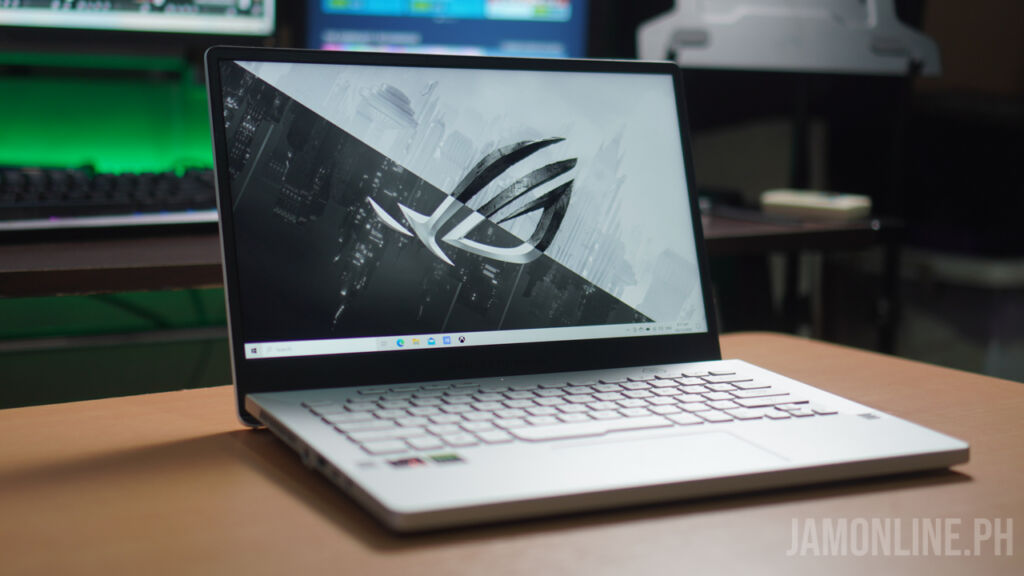 When it comes to the display, the 14" panel comes with 120Hz refresh rate with AMD Freesync as expected and of course, this one comes with 100% sRGB coverage which is a plus for most content creators as you can have a better colors on this one. Honestly, gaming on the notebook's display was fine and since we're getting here a 120hz refresh rate, playing games on the 14" display wasn't really that bad. Viewing angles on this one is pretty good too so the ASUS ROG Zephyrus G14 would be a good pair for gaming at home.
Powerful notebook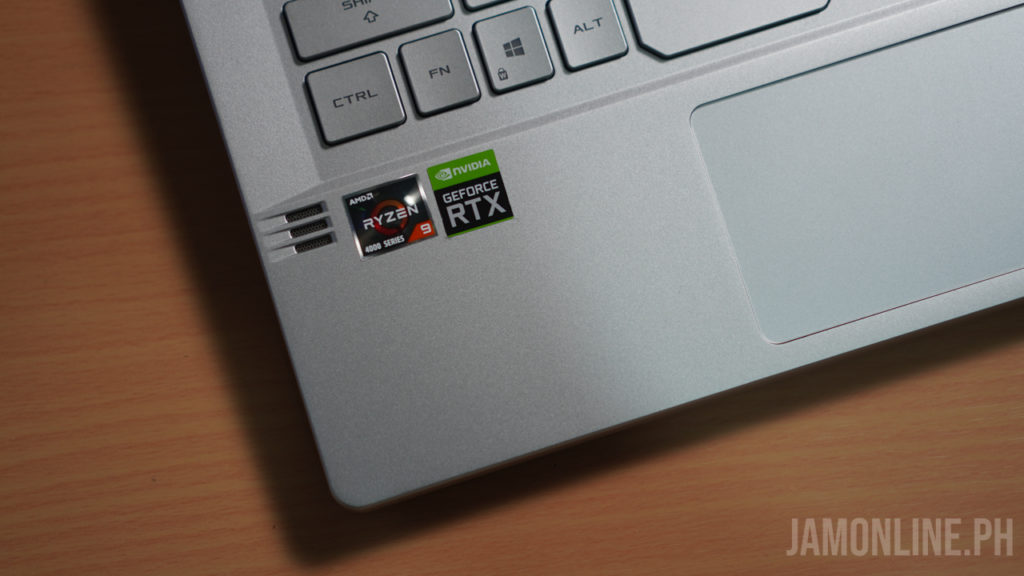 One of the most interesting aspect of the notebook is their usage of the AMD Ryzen processor inside along with the Nvidia RTX GPU inside specifically the AMD Ryzen 9 4900HS and the Nvidia GeForce RTX 2060 Max Q inside. The notebook also comes with 16GB of RAM and also a 1TB M.2 NVMe PCI-E SSD and boy, we do love the power that we're getting.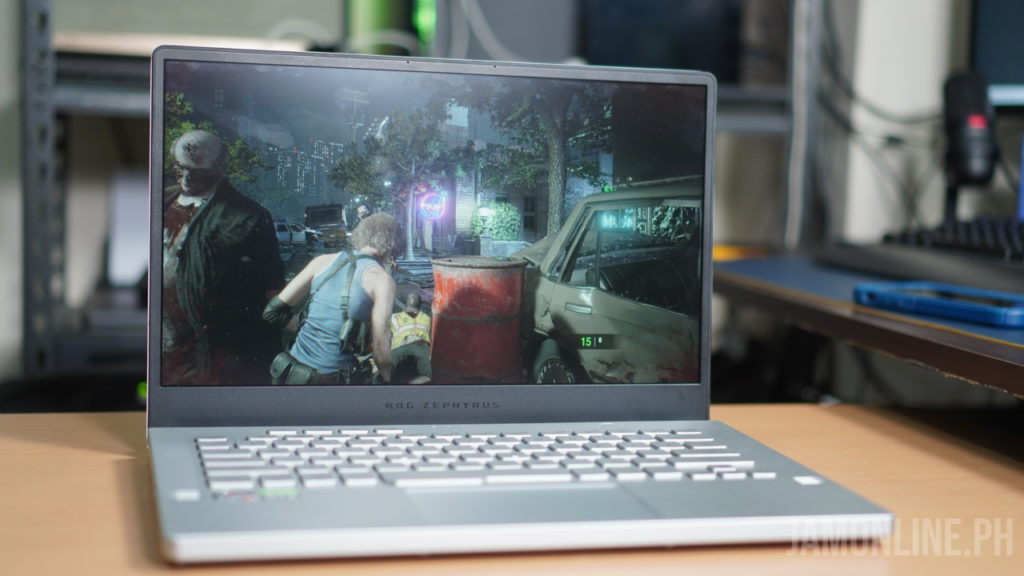 Well, we better get down to the benchmarks immediately, we're getting here a really good score on both the AMD Ryzen 9 4900HS processor as proven below:
Surprisingly, the benchmarks we ran on the notebook has exceeded my expectations and if you're planning on using this one for video editing and also for photo editing, you would definitely love the power inside this one.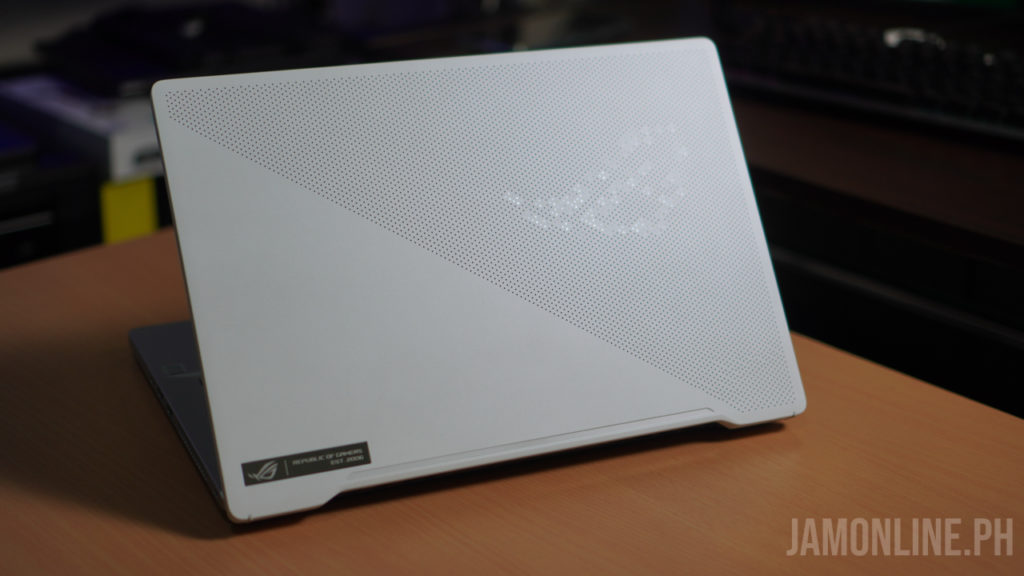 As for gaming, this one wouldn't disappoint as the RTX 2060 Max-Q GPU and also the AMD Ryzen 9 4900HS was really good. In our benchmarks for these games, we tried games with ray-tracing to test out its power and boy, we love it.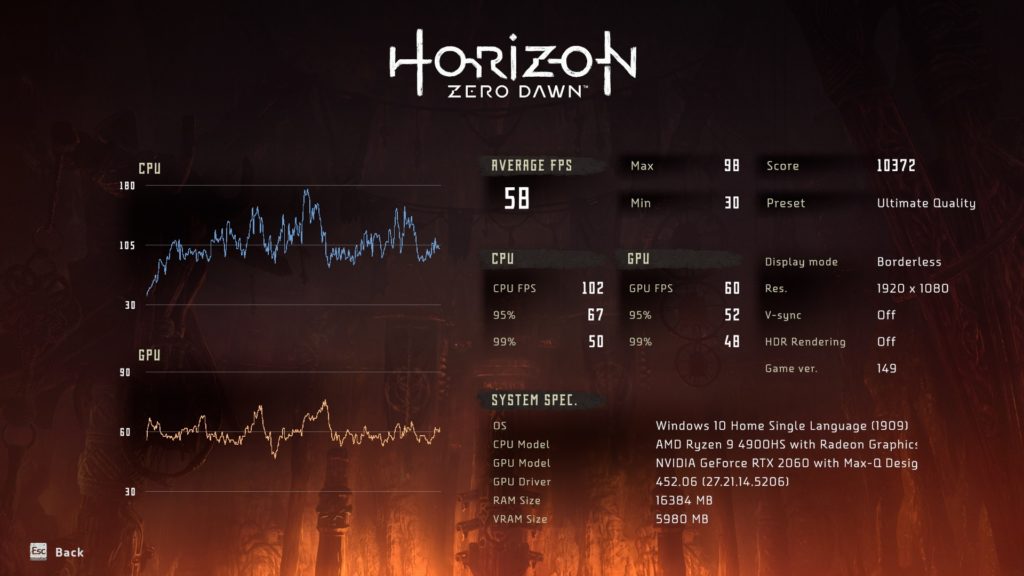 For Horizon Zero Dawn, the notebook didn't had problems running this at the ultimate quality and it didn't break a sweat running it at 58fps along with the Shadow of the tomb raider at 74 fps without ray-tracing.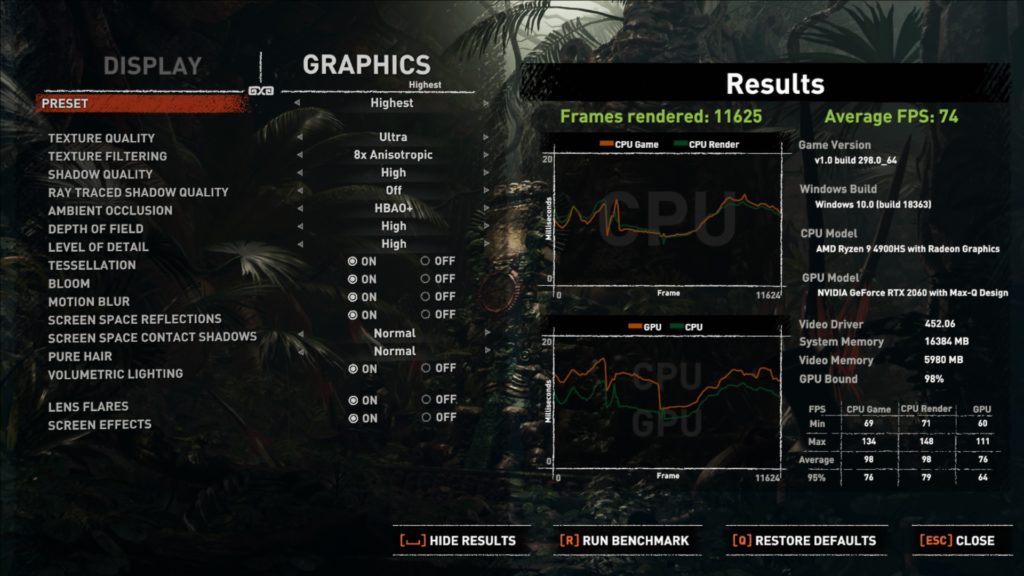 However in Watchdogs 2, we noticed that the game ran pretty well without the ray-tracing but once we maximize the settings with ray-tracing on, the average FPS in the game dropped from 81 to 33. So if you're planning on playing the latest games with ray-tracing, you might want to set it at medium ray-tracing for this one.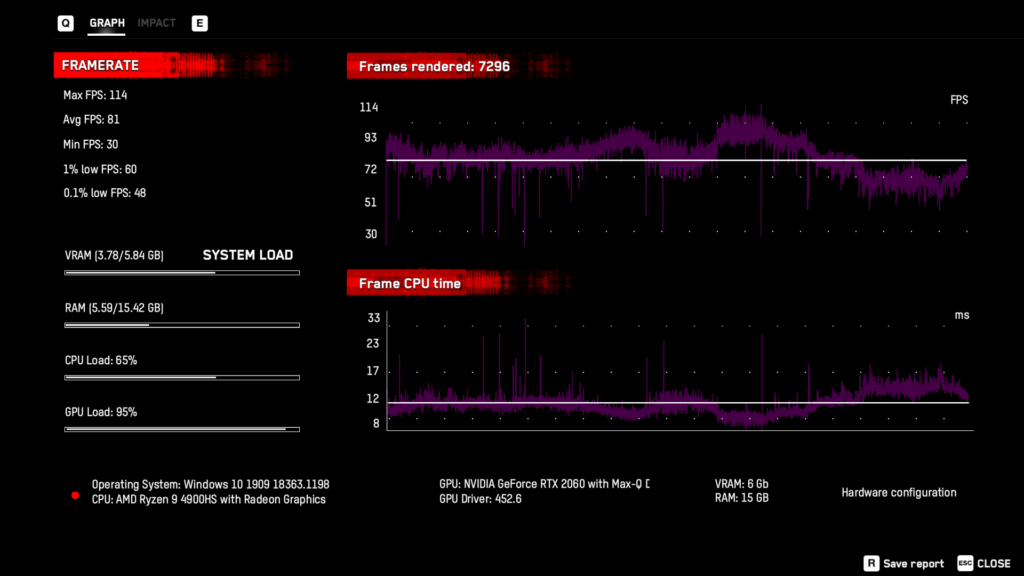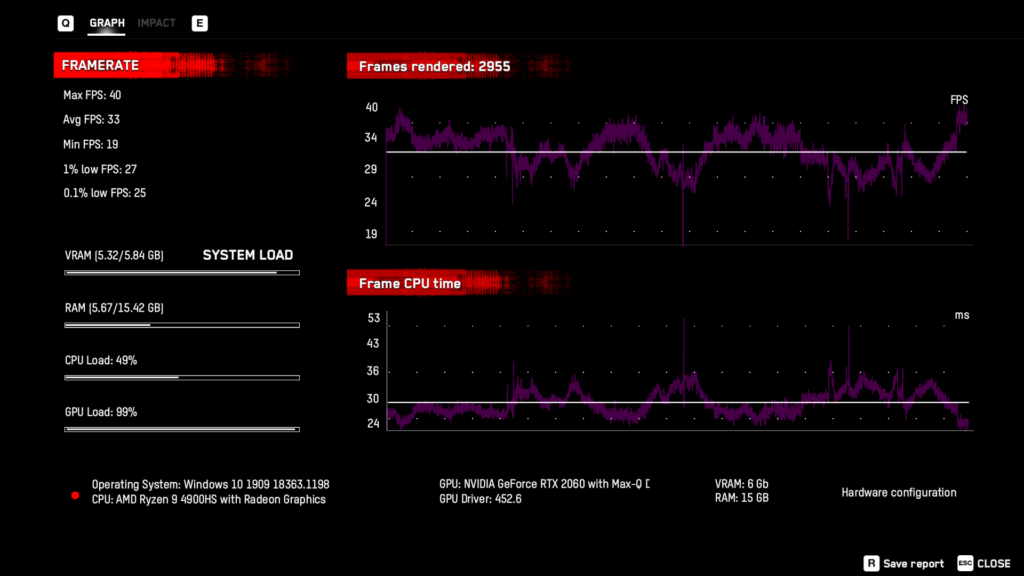 We also notice that the ASUS ROG Zephyrus G14 does get a little bit hot for comfort in my usage. For basic usage and also for light tasks, the notebook won't heat up and the fans weren't that loud but once you hit gaming on this one, you would definitely feel how hot this thing is and also you can hear the fans kicking in. But hey, at least we're getting a pretty good performance for its size ;).
Verdict
The ASUS ROG Zephyrus G14 is a great notebook. It's a must have when you're looking for a notebook that can fit your gaming needs and also your WFH or school needs. It does have a balance of beauty and power thanks to the magnesium-aluminum build and also the AniMe Matrix along with the AMD Ryzen 9 processor and Nvidia RTX GPU inside.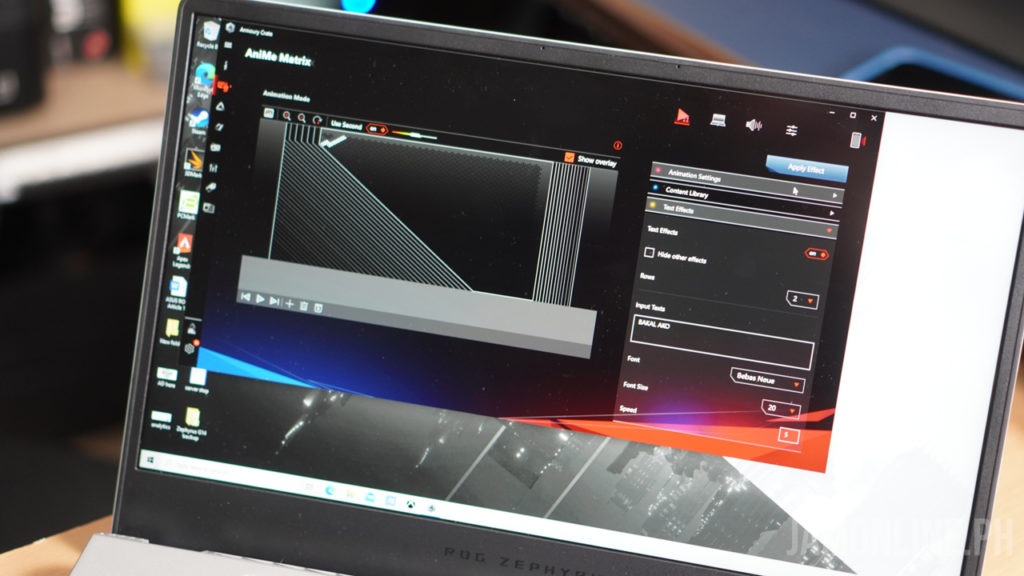 The best part about this one is that despite being powerful, we still got here a decent and a body that is meant to be portable. It doesn't have the perfect temperatures but the ASUS ROG Zephyrus G14 definitely ticked the needs of most gamers who needs a notebook that they can also use for work.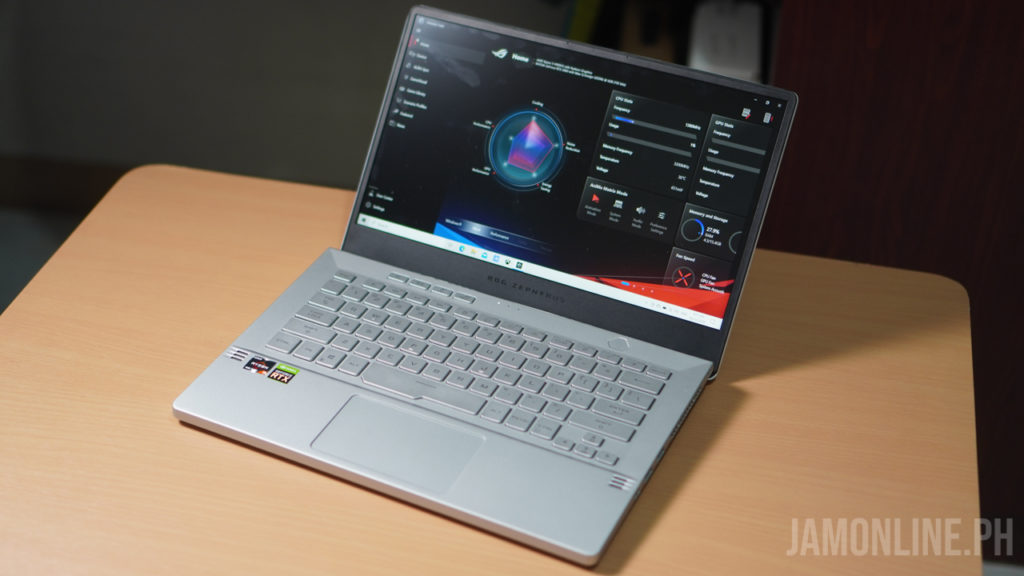 It's an awesome notebook with a cool AniMe Matrix LED, a powerful CPU and GPU, and of course, a portable design.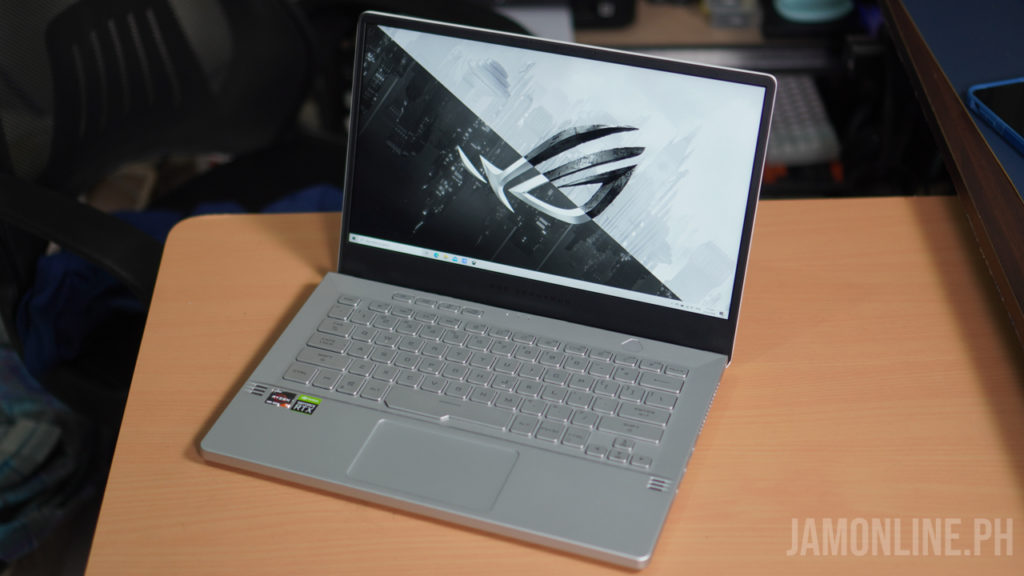 The ASUS ROG Zephyrus G14 isn't that cheap but you'll definitely get a lot of power and features for this one.