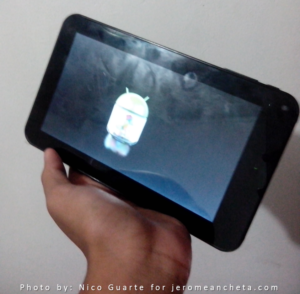 (This is a Very Old Eken Tablet and still Upgradeable to JB)
Hey guys, NicDroid (Nico Guarte) here! Do you still have that unused old tablet in your closet? An extra tablet that is just lying around and just collects dust in your house? A tablet like the one pictured above? I have the Top three tips to put those unused tablets into a good use. Check it out after the break.
Your Apps are not compatible for most common games today or your tablet has a MIPS Processor but it can still play your favorite HD movies? You can still use it as a HD TV Player with a HDMI Cable (depending on what tablet, but It's the usual Mini HDMI to HDMI Cable). Connect It to the TV plus add a USB Gamepad and connect it to the OTG-Enabled Port/OTG Cable (make sure that the old tablet is capable of that, If it's not, you can always root and install USB Drivers). Download Some Famicom, GBA, SNES, N64 and Even Arcade Emulators, Configure it and voila!
2. Digital E-Book
If your tablet was born in the AGE OF RESISTIVE TOUCHSCREEN. I'm sure that the newer games will never be compatible to your tablet, I have one of those and I just use it as a Digital E-book reader full of fictions and music pieces.
3. Use it as a Portable Hotspot (Best for 2.3 and Higher)
If you have an old broadband stick, OTG-Enabled tablet (The USB Broadband must be compatible to the tablet) and Android 2.3 tablet or Higher, You can use the tablet as a portable hotspot by navigating to Settings>Tethering & Portable hotspot and tap "Set up Wi-Fi Hotspot" and set your password with an ironic name like "Free Wifi". Make sure that the network is registered to Supersurf or something like that. For My Old Eken W70, It lasts up to 5 hours with 10 connections.
There you have it, This might help revive your aging tablet or make it useful again. Later Bros.
Note: This was written by Nico Guarte with a little edit by Jam Ancheta. Don't forget to follow him on twitter @i_am_nicdroid and check out his blog at http://nicdroid.blogspot.com/