the Audio-Technica ATH-PRO700MK2 review
Having a good headphones is very crucial to DJs and people who creates and mixes videos and audios. And when it comes to headphones, Audio-Technica is one of the best brand you should consider. Today, I'll give you a short review of the Audio-Technica ATH-PRO700MK2, one of the best headphones for DJ in the market right now.
So what is the tech specs of this headphone?
Type: Closed-back Dynamic
Frequency Response: 5 ~ 35,000 Hz
Maximum Input Power: 3,500 mW
Cable: 1.2m Coiled Cord (Max. 3.0 m) and 1.2 m Straight Cord
Connector: Ø6.3 / Ø3.5 mm gold-plated stereo plug
Accessories (Optional): Carrying pouch, Detachable cable x 2, 6.3mm adapter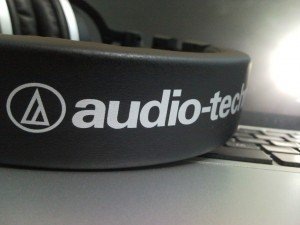 The logo of Audio-Technica at the upper part of the headphone
Honestly, Audio-Technica ATH-PRO700MK2 is one the best headphones I tried so far. I've tried a lot of headphones before and Audio-Technica ATH-PRO700MK2 is on my top 5 on my must-have headphones list. The packaging is so awesome, it took some time to figure it out how to open the package hehe. Inside this package are a small pouch for the headphone, 1 coiled wire for DJ use and a straight wire for home and street use. Oh and there is a 3.5mm to 6.3mm converter on the coiled wire so no worries about headphone jacks, you can use it anywhere.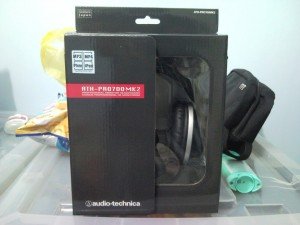 Nice package isn't it?. Oh just nevermind the things behind it!
Build
This headphone is a bit heavy for me. But hey, with those specs I believe that this weight is worth it. The headphones is made purely out of black and silver color. This gives the headphone a more professional look. There is an Audio-Technica logo earpiece so you can brag about that it and yeah, The logo is cool and stylish.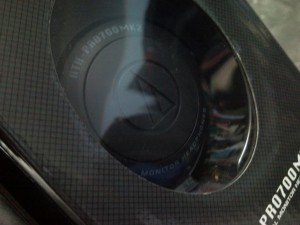 The Audio-Technica Logo at the earpiece
The headphone is sturdy and solid so I think whatever you do, it will not break easily. Oh and about the comfort?, You'll love the soft padding of the Audio-Technica ATH-PRO700MK2 but when you use it for an hour, sometimes your ears and cheek bones will be numb for a bit.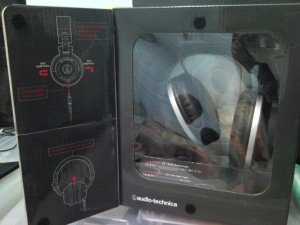 There are 2 included cables in the box, a coiled one and a straight cord. Both cords are 1.2m but the coiled cord can be stretched up to 3.0m and both ends of the coiled cord can be screwed with the Ø6.3 mm stereo-plug while the other end can be screwed to the headphone so it won't be easily trip unlike any other headsets and headphones. The straight cord is for street use, only one end of it can be screwed while the other end is just 3.5mm audio jack and no, you can't screw the Ø6.3 mm stereo-plug. When it comes to length, the cable is just right for me, even if you're a tall guy. Just like the headphone's body, the cable is solid and so thick so I don't think that you can break or torn it easily compared to the plain old white headset of the iOS products.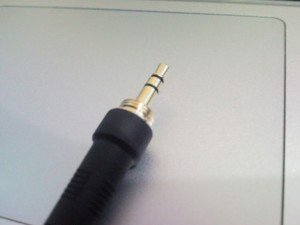 The 3.5mm audio jack where you can screw the 6.3mm plug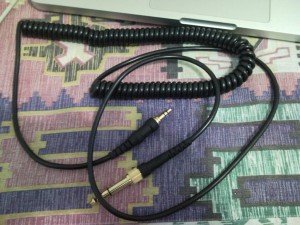 The coiled wire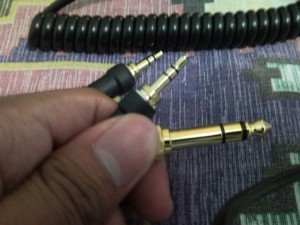 Both ends of the coiled wire with the 6.3mm plug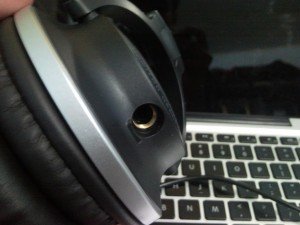 This is where you screw your audio jack
I use this headphone everyday for 2 weeks and I must say that the quality is superb. The 53 mm driver suffice my audio needs. But I felt that it lacks some bass but the quality is still impressive. I tested this headphones by playing some FLAC files and of course my personal favorite, John Mayer songs. I also watched a HD movie using this headphone. And yeah, the explosions, the gunfights and all of the things that is similar to that were awesome. (Yeah, I watched Transformers 3 with this headphones). And just like what I told you earlier, it is very impressive. A must have for DJs.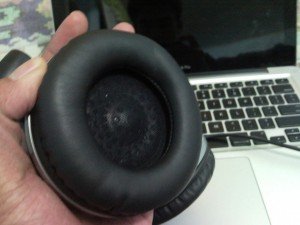 the 53 mm drivers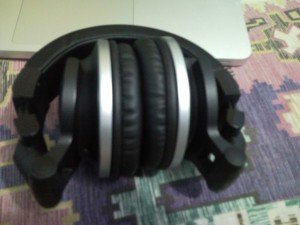 yes, you can do that to your headphones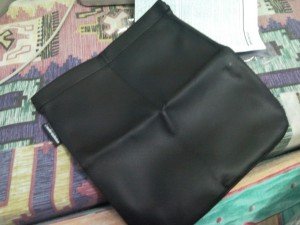 The pouch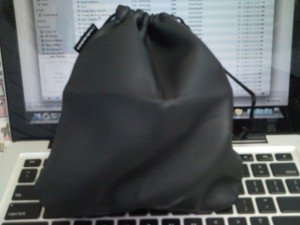 Inside is the headphone
Pros:
Nice packaging, 2 included cables, pouch, very comfortable padding, professional look and nice audio quality
Cons:
All in all, I love this headphone. I wish that I own a headphone like this. For its price, I think it is really worth it. I recommend this headphone for people who loves music so much but beware, this headphones has a hefty price tag. You can get it for
P12,499.00
.
Thank you Philippe Gadgets and Accessories for lending me a review unit
---
Enter your email address:
Delivered by FeedBurner
---