Brother Philippines has announced their new loyalty program for their customers, the Customer+ loyalty program which was held in Makati Shangri-La. So what is this Customer+ Loyalty program? This program helps consumers and businesses to get updates support which helps create life-long customer relationship with the brand.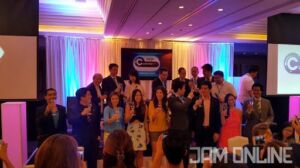 The Brother Customer+ Loyalty Program offers training sessions for new and some 7,000 plus existing Brother printers and multifunction center customers in Metro Manila. Like what I've said earlier, this program sends regular updates on machine information, servies, survey, and special trade-in offer given two years from the time customers become Customer+ members. 
Brother Philippines President Glenn Hocson said, "Our customer loyalty program has been in place for some time now; and in running the program silently, the customer feedback that we've gathered helped us improve the program to be more structured and to serve our customers better. This improved program is what we are formally introducing today as 'Customer+'." He also mentioned that the program is part of their customer-first orientation, as reflected in their mantra "At your side"
Actually, this is a good move by Brother. Not only they can attract more customers with this program but it can also help improve the relationship of consumers and businesses who are already using Brother Products.