Father's Day is just around the corner, and it's the perfect time to honor and celebrate the incredible dads in our lives. If you're looking for the ideal Father's Day gift, CHERRY has curated a list of 5 exciting tech gifts that will impress and delight any tech-savvy dad. From smart home security to immersive entertainment solutions, these gifts from CHERRY will make this Father's Day memorable.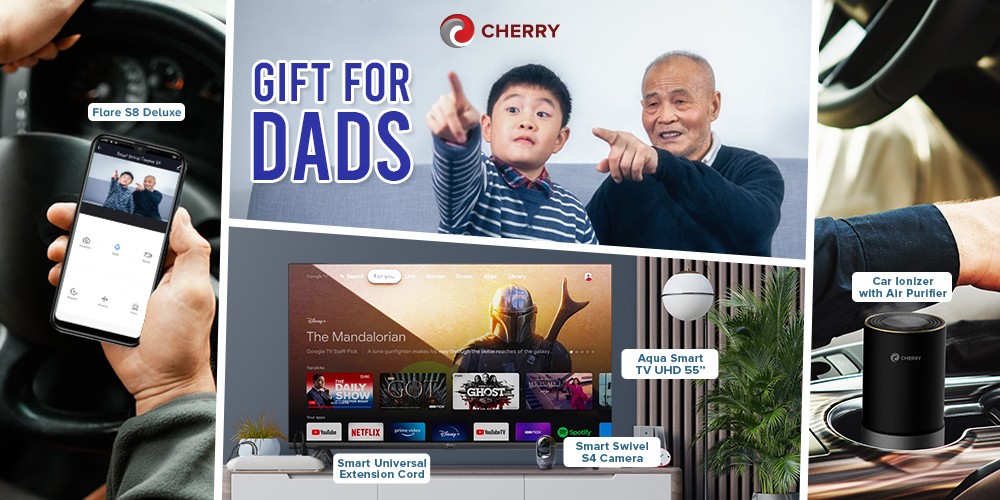 Dad Kept Us Safe and Sound
Give your dad the gift of peace of mind with the CHERRY Smart Swivel S4 Camera. This high-quality security camera offers full HD video quality and a broad view angle, allowing dad to monitor your home remotely. With intelligent auto-tracking, two-way audio, and 24/7 live security camera feeds, dad can ensure the safety of your family wherever he is. Pair it with the CHERRY Flare S8 Deluxe smartphone, featuring a 6.26-inch HD+ TrueView Teardrop Display, and you have a complete home security solution. The CHERRY Smart Swivel S4 Camera is priced at Php1,649, while the CHERRY Flare S8 Deluxe is available for Php3,999.
Home Is Wherever You Are
Upgrade your dad's home entertainment experience with the CHERRY Aqua Smart TV. This smart TV allows seamless streaming of favorite movies and TV series, eliminating the need to wait for program schedules. With multiple size options and attractive pricing, the CHERRY Aqua Smart TV is a smart choice for any living room. Choose from the 55-inch 4K UHD model with the latest Google TV operating system for Php29,999, or opt for the 43-inch Full HD model with 74W power output at Php19,999. For space-saving needs, the Android TV OS-powered 32-inch model with HD resolution. It also has a 60 Hz refresh rate is available for Php11,999.
I Know Dad Will Fix It
Help dad manage energy consumption and protect devices with the CHERRY Smart Universal Extension Cord. This innovative extension cord features timers and schedules to conserve energy, universal sockets for high-power plugs, and 5V USB ports. With internet connectivity and the CHERRY IoT Solutions App, dad can control devices remotely. They can also use voice assistants like Siri, Google Assistant, and Amazon Alexa for added convenience. The CHERRY Smart Universal Extension Cord is priced at Php1,619, offering a smart and energy-efficient solution for the whole family.
Little Scraps of His Wisdom
Show your dad you care about his well-being with the CHERRY Car Ionizer with Air Purifier. This compact device cleans the air in your car with its 4-stage filtration system, including HEPA and carbon filters. With 360-degree coverage and variable fan settings, it ensures fresh and clean air during every drive. The portable design fits perfectly in a cup holder, making it easy to use and store. The CHERRY Car Ionizer with Air Purifier is available for Php2,500, providing a healthier and more enjoyable driving experience.
From smart home security to immersive entertainment and energy-saving solutions, CHERRY offers a range of products that combine functionality and style.
Make this Father's Day truly special! Visit Cherry Shop PH at www.cherryshop.com.ph and select the ideal gift for the tech-savvy dad in your life.