Get ready for an exciting mid-year sale as CHERRY officially joined one of the biggest sales this year in the Philippines. From June 6-8, 2023, shoppers can enjoy big discounts on a wide range of CHERRY products during the 6.6 Mid-Year Sale on Shopee.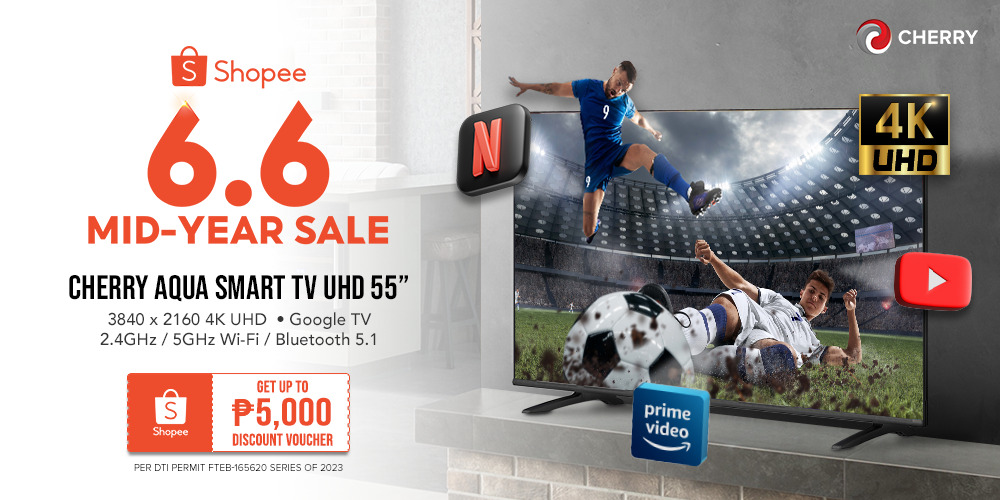 Upgrade Your Home Entertainment with CHERRY Smart TVs
If you plan to revamp your home entertainment setup, CHERRY's Smart TV lineup is worth considering. These TVs offer an enhanced viewing experience with attractive discounts and enticing features.
Let's take a look at the options:
The CHERRY Aqua Smart TV is available in three sizes, each priced attractively. The 55-inch model offers a stunning 4K UHD resolution and features the more recent Google TV operating system version. Enjoy a sweet spot selection of features, including a 7-day catch-up function and a voice remote. During the 6.6 Mid-Year Sale, you can also avail of a Php5,000 discount voucher when purchasing the 55-inch model.
For those looking for a slightly smaller option, the 43-inch model offers Full HD resolution and a power output of 74W. It's a perfect choice for cozy living rooms or bedrooms. Take advantage of the sale and enjoy a Php3,000 discount voucher.
If space-saving is a priority, the 32-inch model is an excellent choice. Powered by Android TV OS, it offers HD resolution and a 60 Hz refresh rate. Grab this compact and feature-packed TV during the sale and receive a Php2,000 discount voucher.
Prioritize Health and Hygiene with CHERRY Products
In today's world, taking care of our health and ensuring cleanliness is more important than ever. CHERRY offers innovative products to assist you in maintaining a healthy lifestyle and staying protected.
Cherry Food Cleaner
Start living a healthy life with the Cherry Food Cleaner, designed to keep your food clean and fresh. Equipped with Hydroxyl purification technology, this device effectively removes dirt and disinfects vegetables, fruits, and meat. With just one click, your food is ready to be served or stored. During the 6.6 Mid-Year Sale, you can purchase the Cherry Food Cleaner for only Php2,999.
Cherry Ion Personal Air Purifier
Meanwhile, for additional protection in your daily routine, the Cherry Ion Personal Air Purifier is a must-have. This portable wearable air purifier emits up to 200 million negative ions within a 3-foot radius, helping to protect you from germs, airborne viruses, dust, and mold. Avail of the exclusive sale price of Php1,499 (original price: Php3,398) and receive a buy one, get one free offer.
Grab Affordable Smartphones, Tablets, and Laptops from CHERRY
If you're in the market for affordable yet feature-packed smart gadgets, CHERRY has many options available. From smartphones to tablets and laptops, here are some noteworthy deals:
The Flare S7 3GB smartphone offers a quad-camera system with 13MP + 2MP front and rear cameras, allowing you to capture stunning photos. During the sale, you can purchase the Flare S7 3GB for only Php2,999 and receive a FREE Cherry Ion Personal Air Purifier.
Turn heads with the Flare S8 smartphone, which boasts vibrant colors and a 6.26-inch HD+ TrueView Teardrop Display. With 3GB RAM and 32GB ROM, it provides ample storage for your apps and files. Own the Flare S8 for Php3,199 during the sale.
For those who require more storage, the Flare S8 Prime is the perfect choice. With 64GB ROM and 4GB RAM, you can store all your wonderful moments and enjoy a seamless multitasking experience. The Flare S8 Prime is available for Php4,499 and has a FREE Feature Phone.
Gaming enthusiasts will be thrilled with the Flare S8 Max. This smartphone features a powerful 6000mAh battery, a 16MP main camera with a 2MP depth sensor, and a 13MP front camera for stunning selfies. Its large screen, MediaTek Helio P23 CPU, and 4GB of RAM make it ideal for multitasking and enjoying mobile games. DGrab the Flare S8 Max for Php4,999, which includes a FREE Game Controller and Tempered Glass.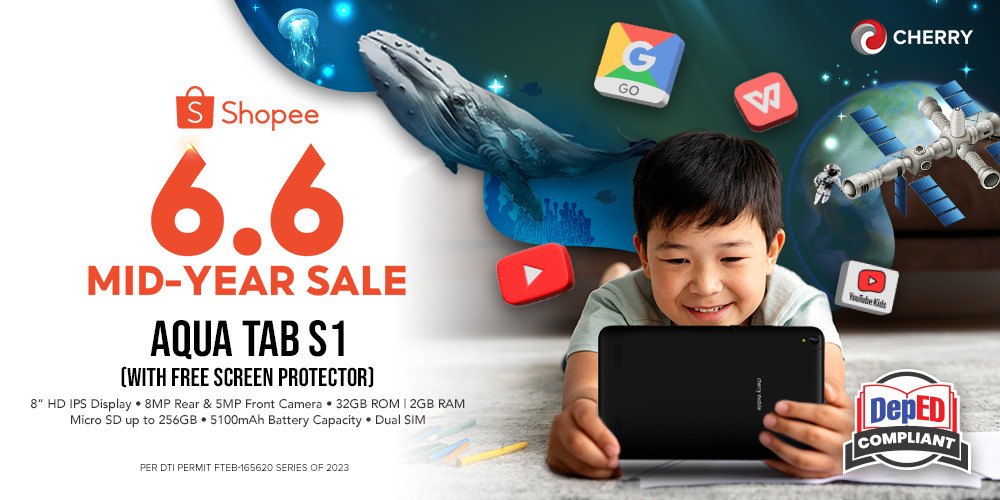 Aqua Tab S1
Meanwhile, if you're in need of a tablet, the Aqua Tab S1 is a fantastic option. It boasts an HD IPS Display, 2GB RAM, and 32GB internal storage that can be expanded up to 256GB via MicroSD. During the 6.6 Mid-Year Sale, you can purchase the Aqua Tab S1 for Php6,666 and receive a FREE Screen Protector.
Avita Pura Laptops
The Avita Pura 14-inch Windows Laptop is a perfect choice for those who prioritize style and functionality. With its vibrant colors and compact design, this laptop stands out from the crowd. Additionally, it features a 14-inch full HD display and an AMD A9 Processor. It also comes bundled with a Cherry Flask, Mouse, and Bullguard Internet Security. The Avita Pura 14-inch Windows Laptop is available for Php17,900.
Meanwhile, if you're working remotely or need an affordable laptop for basic tasks, the AVITA Essential 14-inch is an excellent option. With an Intel Celeron N4000 CPU, this laptop is also perfect for completing reports and researching. In addition, its sleek design and cloth-like cover add a touch of style. You can purchase the AVITA Essential 14-inch for Php16,000 during the sale and receive a FREE Cherry Flask and Laptop Backpack.
Stay Connected with Cherry Roam
If you have future travel plans, staying connected is essential. Cherry Roam offers convenient and reliable pocket Wi-Fi options to keep you connected wherever you go. Take advantage of these deals during the 6.6 Mid-Year Sale:
Cherry Roam 5G U50: Experience ultra-fast and smooth connection with Cherry Roam 5G U50 pocket Wi-Fi. Get the Cherry Roam 5G U50 for Php16,000 and receive a FREE Portable Neck Fan or Cherry Ion Personal Air Purifier.
Cherry Roam G3: Enjoy high-speed Internet and connect up to 5 devices simultaneously with the Cherry Roam G3 pocket Wi-Fi. During the sale, you can purchase the Cherry Roam G3 for Php6,990 and receive a FREE Portable Neck Fan.
Cherry Roam TI Style: This sleek and portable pocket Wi-Fi can fit conveniently into any small pouch. It also doubles as a power bank to charge your devices on the go. Grab the Cherry Roam TI Style for Php2,490 and receive a FREE Portable Neck Fan.
So, don't miss out on the fantastic deals and discounts available on CHERRY products during the 6.6 Mid-Year discount offerings on Shopee.