Huawei is joining the fun this March 3, as the tech giant announced its 3.3 Super Sale wherein it will offer up to 40% discounts, vouchers, and amazing freebies when you buy their select products.
Hottest gadget deals await Huawei fans as consumers can get some of its smartphones, laptops, tablets, wearables, and TWS earphones at much competitive price tags.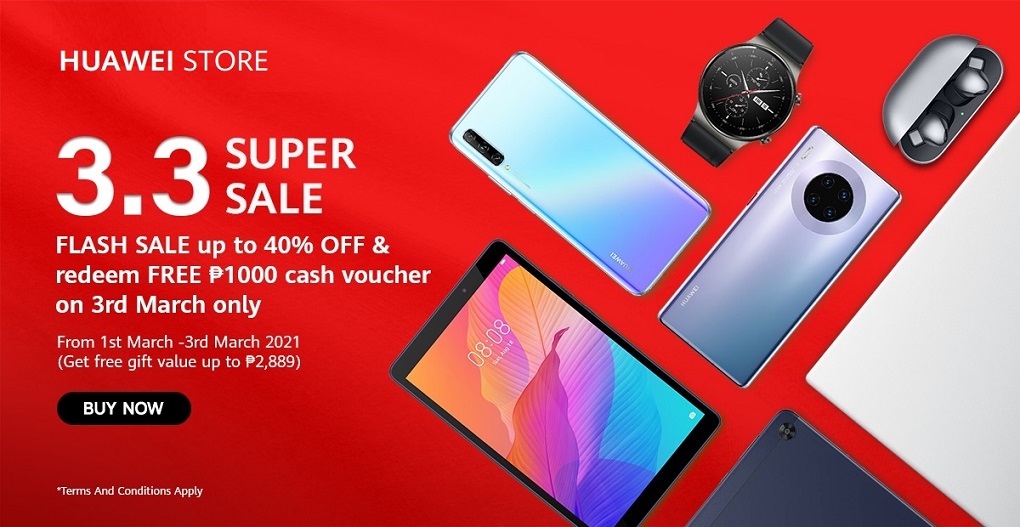 To name, some of the most promising Huawei devices will slash its price, including the Huawei P40 Pro 5G, Mate 30 Pro, Freebuds Pro, MateBook D 15, MatePad, Nova 7i, and Watch Fit.
Here are the amazing offers you don't want to miss:
Huawei MateBook D 15
Ryzen 5/Ryzen 7 processor
Radeon Vega 8 graphics
Super-fast SSD storage drive
Freebies: Bluetooth speaker and a laptop bag worth Php2,889
Promo price: Php35,499 (from Php39,999)/Php39,499 (from Php42,990)
*With no freebies: Php29,999 for the Ryzen 5 variant
Huawei MatePad 10.4
10.4-inch display
4GB RAM
64GB storage
Freebie: Bluetooth speaker worth Php1,499
Promo price: Php18,499 (from Php20,990)
Huawei P40 Pro 5G
6.58-inch Overflow display
Kirin 990 5G processor
8GB RAM
Ultra Vision camera system
Freebie: Wireless Charging Table Lamp worth Php2,499
Promo price: Php45,799 (from Php50,990)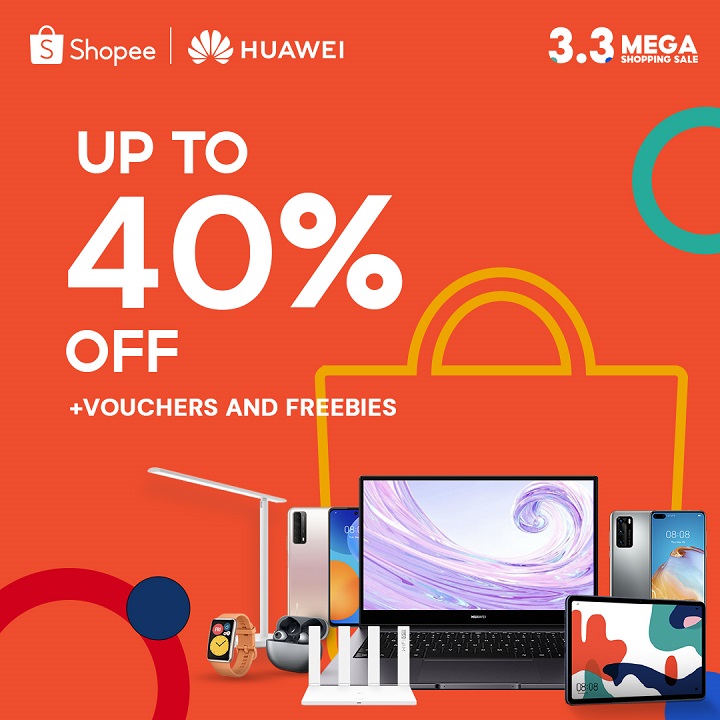 Huawei Mate 30 Pro
Horizon display
8GB RAM
256GB internal storage
SuperSensing Cine Camera
Promo price: Php34,399 (from Php42,990)
Huawei Nova 5T
Kirin 980 processor
8GB RAM
128GB internal storage
48MP five AI cameras
Promo price: Php14,399 (from Php15,990)
Huawei Y Series
Great display
AI cameras
Super Charge Feature
Up to 4GB RAM
Up to 64GB internal storage
Freebies: Notebook worth Php299 for the Huawei Y7; Umbrella worth Php499 for the Huawei Y7a
Promo price: Php9,599 for the Huawei Y9s (from Php11,999); Php5,899 for the Huawei Y7 (from Php 6,990); Php7,499 for the Huawei Y7a (from Php 8,999); Php7,999 for the Huawei Y7p (from Php8,999); and Php5,970 for the Huawei Y6p (from Php 5,990)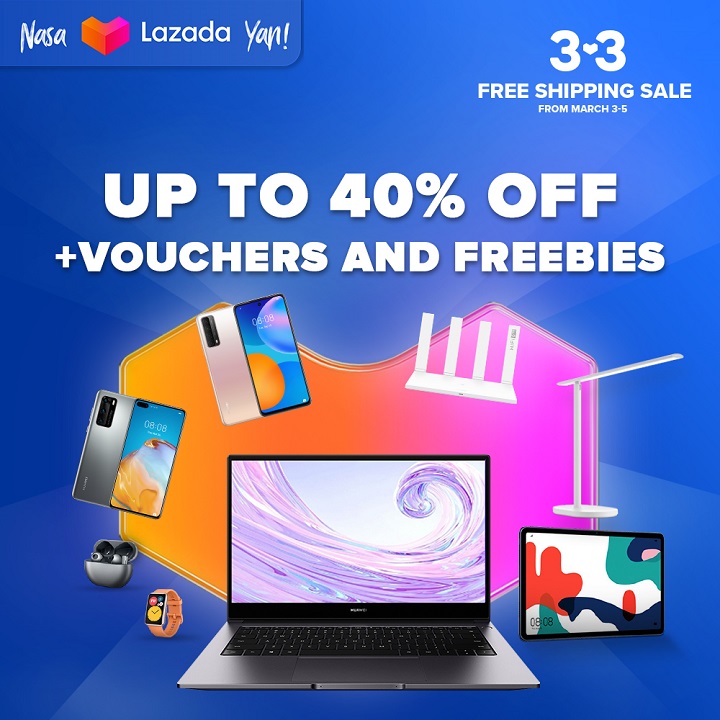 Huawei FreeBuds line
Active Noise Cancellation
High-quality 10mm drivers
Freebie: FreeBuds Pro case + umbrella worth Php1,898 for the FreeBuds Pro
Promo price: Php6,899 for the FreeBuds Pro (from Php 7,999); Php 5,399 for the FreeBuds 3 (from Php 8,990); and Php 3,990 for the FreeBuds 3i (from Php 5,990)
Huawei Watch GT Series
AMOLED touchscreens
Health Monitoring
Week-long battery life
Freebie: Bluetooth speaker worth Php1,499 for the Watch GT 2 Pro
Promo price: Php5,909 for the Watch GT 2e (from Php6,990); and Php11,399 for the Watch GT 2 Pro (from Php11,999)
Watch Fit and Band 4 Pro
Heart rate monitor
GPS
Week-long battery life
Freebie: Notebook worth Php299 for the Watch Fit
Promo price: Php2,399 for the Band 4 Pro (from Php2,990); and Php4,449 for the Watch Fit (from Php4,999)
What's more, consumers who will buy the devices will also get their chance to receive shopping vouchers from Lazada and Shopee. Both stores will offer limited-time Php100 vouchers, exclusive livestream vouchers worth Php500, and Php1,000 vouchers for every Php5,000 minimum purchase.
Enjoy these promos at Huawei's official online store, Lazada, and Shopee this March 3!
Sounds like a deal? Share this news with your friends!