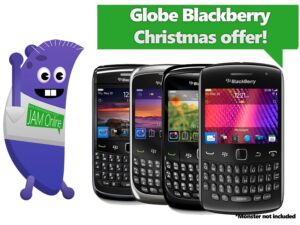 Cellphones are very essential these days. We use it to communicate, easier using messengers like BBM, browse the internet and more. Cellphone has a lot of uses but I won't enumerate all of it. I have to be honest with you guys, I've been eyeing on a Blackberry phone because of the affordable BB social and BB max on Globe which costs P300 and P600 respectively. (For a student like me I think that's is soooo affordable my friends!). And at Globe, for P600 a month, not only you can register for BB Max but you can also get a new Blackberry phone. Yep, you read it right. For 600 pesos
Something Affordable
Why is it affordable?. Well, just look at this table below:

Like what I told you earlier, the Blackberry 8520 is free at Unlisurf combo Plan 599 with unlimited mobile surfing. While the Blackberry 9300, 9360 (My personal favorite) and 9780 is free at Plan 999, Plan 1799 and Plan 2499 respectively. And the thing that I like about this is that they offer a consumable amount and you can choose from their freebies!.
What's so special about Blackberry?. Well, the Blackberry Social and Blackberry Max are one of the services that I like about Globe and Blackberry. In Blackberry Social you can get
unlimited
browsing in your social networking sites and BBM for only P300 a month (That's already a steal my friends) while in Blackberry Max you can get unlimited internet for P600. Yep for P600 only, that's way cheaper than the others which offers P1200 per month.
That's unlimited internet for unlimited fun

Something Exciting
Well, this is really exciting. For an affordable plan, you can get an unlimited surfing and a new Blackberry phone. Blackberry offers a lot of exciting features like BBM and an affordable services. I suggest that you get a new Blackberry phone plan from Globe. Why? because this promo will last up to December 31 2011 only.
If you think that Blackberry phones are too expensive, think again because Blackberry offers a lot of services. Browsing on the Blackberry is way cheaper that the others. Oh and BBM is great too. Why? because once you are connected to internet (including Blackberry social and Blackberry Max.) you can send messages, pictures and more for free as long as they have BBM on their Blackberry phones.
This plan is great especially for students like me. They're affordable and yet we can get a phone and an unlimited internet. For more information just visit their link here: http://www.globe.com.ph/web/globe/blackberry-christmas-offer?utm_source=socialmedia&utm_medium=promo&utm_campaign=blackberry_xmas
---
Enter your email address:
Delivered by FeedBurner
---