Metrobank has just marked its 61st year of service. To express gratitude to its loyal customers for their unwavering trust and support over the past six decades, the bank has unveiled a host of enticing offers throughout its birthday month. Whether you're just starting your financial journey or looking for exclusive cardholder deals, Metrobank has something special in store for you this September.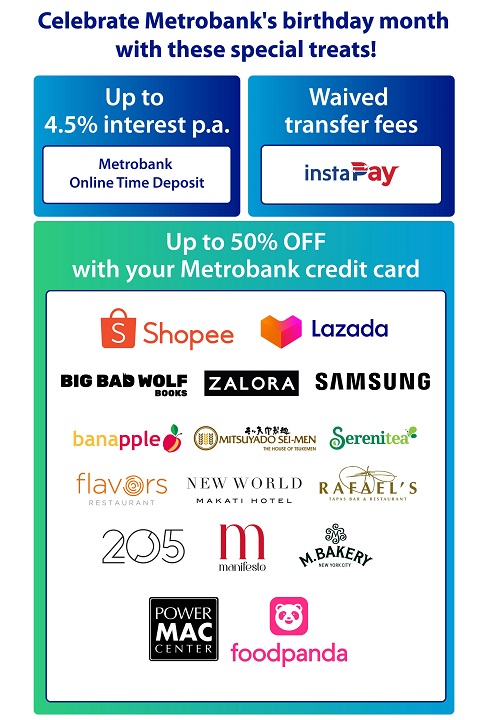 For the On-the-Go Urbanite
Urbanites who are always on the move can now enjoy seamless banking transactions with the all-new Metrobank App. This user-friendly app allows you to perform essential transactions effortlessly, anytime, and anywhere. Metrobank has recently introduced new features to enhance your on-the-go lifestyle.
The app now features a QR payment option, enabling users to send and receive money quickly by scanning or uploading QR codes. Additionally, Metrobank is waiving InstaPay transfer fees for transactions up to PHP1,000 until December 31, making fund transfers even more convenient.
For the Beginner Investor
Entering the world of investments can be intimidating, but Metrobank offers low-risk investment options designed to ease your journey. With Metrobank's Online Time Deposit (OTD), you can watch your money grow steadily at an interest rate of over 4% p.a.* This option is perfect for beginners, providing guaranteed returns while benefiting from the security and reliability of a trusted bank.
Setting up your OTD account is simple. If you're already a Metrobank accountholder, ensure you have a Metrobank Online account, and you can open your OTD from the bank's online platform. If you're not a Metrobank accountholder yet, you can download the Earnest app to open a savings account and set up your OTD account from there.
For the Deal-Hunter
No Metrobank birthday celebration is complete without exclusive deals for its cardholders. This month, Metrobank credit cardholders can revel in a slew of offers and rewards that will enhance their shopping and dining experiences.
Special FriDeals for Online Shopping
Get your weekend off to a fantastic start with FriDeals. Every Friday during the promo period, use your Metrobank credit card and the code MFRIDEALS to enjoy up to 20% OFF at various partner websites, including foodpanda, Lazada, Shopee, and ZALORA.
Discounts When You Dine Around the Metro
Satisfy your culinary cravings with special discounts of up to 50% at partner restaurants, including New World Makati, Holiday Inn & Suites Makati, Manifesto, Rafael's Tapas Bar and Restaurant, 205, Serenitea, Mitsuyado Sei-men, Banapple, and M Bakery.
Flexible Payment Options and Rates for Gadget Upgrades
Upgrade your tech game with up to 15% OFF and 0% installment for 24 months when you purchase the latest gadgets from Power Mac and Samsung.
Exclusive Access at Big Bad Wolf Cebu
Bookworms are in for a treat as the Big Bad Wolf Book Sale returns to Cebu. Enjoy 0% installment for three months on a minimum single-receipt purchase of PHP3,000 with your Metrobank credit card.
Metrobank Exclusive Payment Lanes
Metrobank cardholders can take advantage of dedicated payment lanes during the Big Bad Wolf Book Sale.
Don't have a Metrobank Credit card yet? You can easily apply for one at the event. Qualified applicants may receive up to 300,000 welcome rewards points or PHP15,000 in cashback for select cards and accumulated spend amounts.
This September, let Metrobank's birthday treats empower you to achieve your financial goals, no matter where you are on your financial journey. Perform everyday transactions on your app, kickstart your investments, and leverage exclusive deals customized to your needs with Metrobank's special offers.
For more information, visit Metrobank's website.