PayMaya was well-known for its convenient e-wallet features. But upon its recent relaunch last April, it now offers users an all-in-one money app experience – allowing you to complete all your financial transactions in just one app.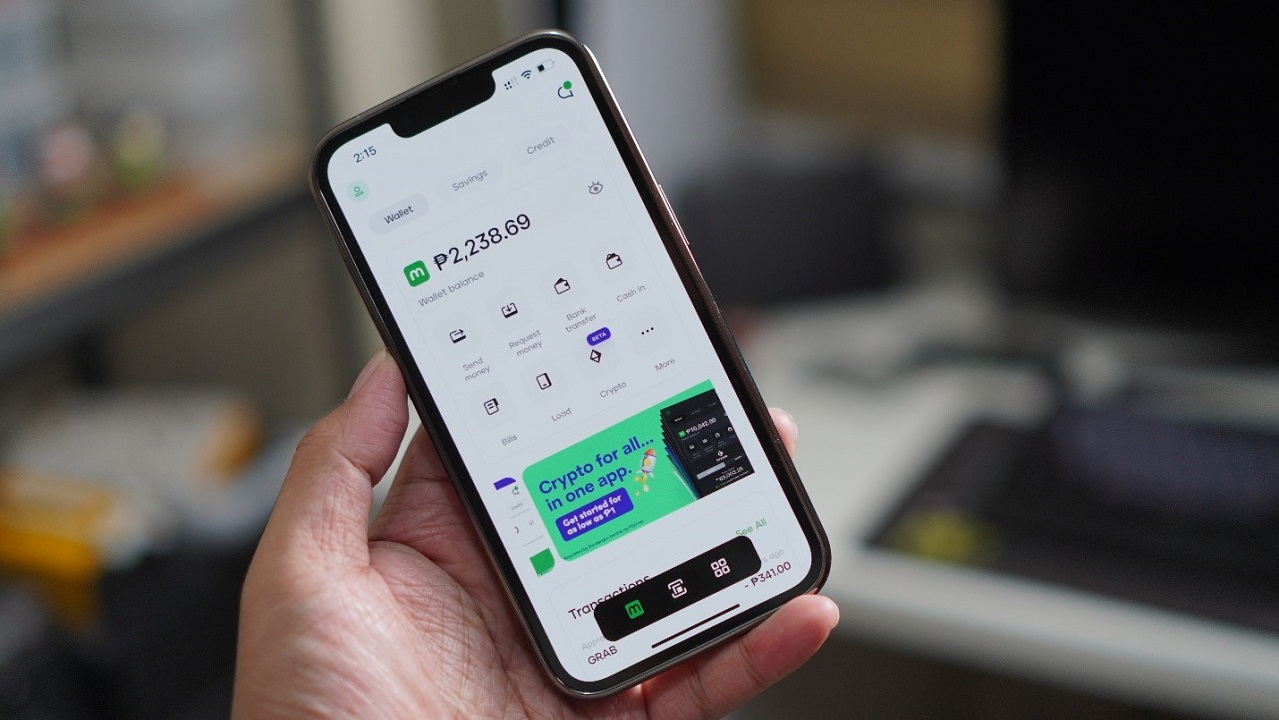 From being an e-wallet, Maya is now powered by BSP-licensed Maya Bank which allows the app to offer you more financial services to help you save, spend, grow, and master your money.
Whether you want to invest in crypto, save with one of the highest interest rates in the market at 6%, enjoy a credit line of up to P15,000, or simply use your wallet for your purchases – your Maya app is your trusted partner for all things money.
Here's a quick guide on enjoying everything Maya has to offer:
ENJOY HASSLE-FREE FEATURES WITH MAYA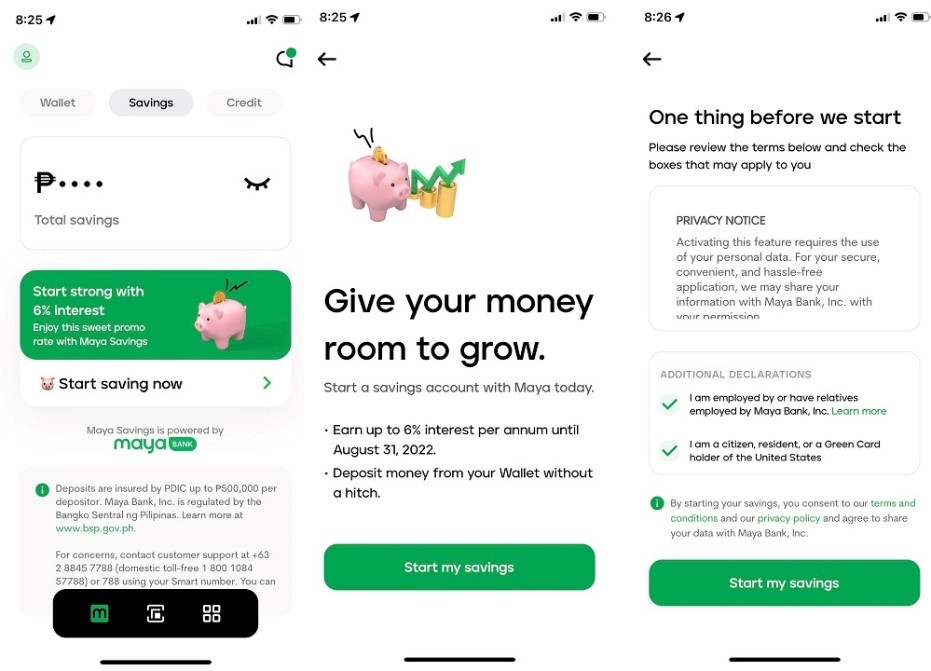 Users can enjoy a 6% introductory rate for savings when they use Maya. It is one of the highest rates available, allowing users to get a seamless experience in-app when saving their money. Moreover, unlike its competitors, Maya's savings feature is powered by Maya bank, its own BSP-licensed digital bank.
Just recently, Maya announced the launch of its newest feature, Personal Goals. This new offering lets you save up for multiple purposes at the same time. So if you want to save up for a new gaming laptop, a small business, or a vacation, you can easily save up for all three goals and track the progress of your savings for each. To top it all off, you can still enjoy a 6% interest rate on your savings with Maya.
How to sign up for Maya Savings:
1. Upgrade your Maya account by simply tapping the 'Upgrade' button on the app's home page.
2. Fill out the requested details, submit a video selfie, and (1) one valid ID
3. Go to the Savings tab. Tap Start my savings.
4. Key in the one-time pin sent to your mobile number
Once done, your Maya Savings is now all set. Then, you can already deposit any amount from your existing wallet and enjoy 6% interest rates.
How to set your own Personal Goals:
1. On your Maya app, go to Savings.
2. Tap personal Goals
3. Select the mood that best fits your particular goal.
4. Key in the goal name, due date, and goal amount. Hit continue.
5. Check your goal details, then tap confirm. Key in the OTP.
6. Deposit money to start your ipon goals and enjoy 6% interest rate!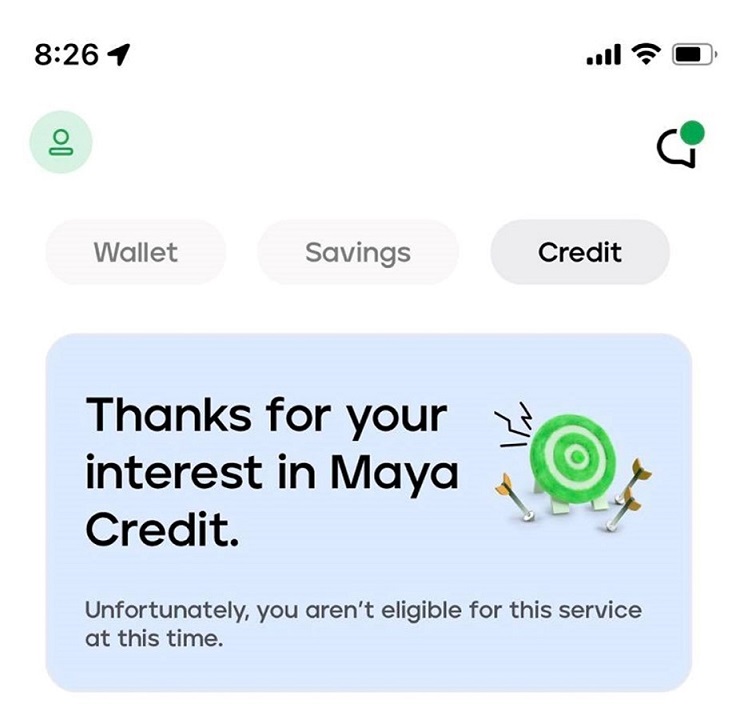 Tight budget? Money problems? Worry no more, as you can instantly get up to Php15,000 credit line with Maya Credit. You can use this to pay your bills, buy groceries, buy a load, or even purchase a new phone. What's even more exciting is that users can access Maya Credit as fast as a minute upon registration.
How to enjoy Maya Credit:
See if you're eligible to use Maya Credit
1. Go to the 'Credit' dashboard
2. Read and agree to the Maya Data Privacy Policy
3. Choose 'Sign up for Maya Credit'
4. Your screen will flash if you're already eligible for Maya Credit
5. Those who are not yet eligible will need to have an upgraded account and actively be using the Maya app for (6) six months to qualify for Maya Credit
How to Activate your Maya Credit
1. Those who are eligible for Maya Credit can access the feature by simply tapping the 'Activate Now' button
2. Review your credit limit, billing end date, and email
3. Ensure to confirm your billing end date as you won't be able to edit it later
4. Verify your email where Maya will send your billing statement
5. Read and agree to the Terms and Conditions and Legal Forms/Statements
6. Enter the OTP
7. Maya will notify you once your Maya Credit is activated
8. Once activated, you'll see your granted credit limit. You can also view your account details and see a sample of how your bill is computed.
How to use Maya Credit to Transfer to Wallet
1. Go to the Credit dashboard
2. Tap 'Transfer to Wallet'
3. Enter the amount of credit available to use/transfer to your wallet
4. Confirm transfer
How to Pay Maya Credit Bill
1. Head to the Credit dashboard
2. See the summary of your bill
3. Tap 'Statement' to see your complete billing statement
4. Click on the 'Pay Now' button
5. Your amount due and account numbers will be auto-filled
6. Tap 'Continue' to pay your bill using your Maya Wallet funds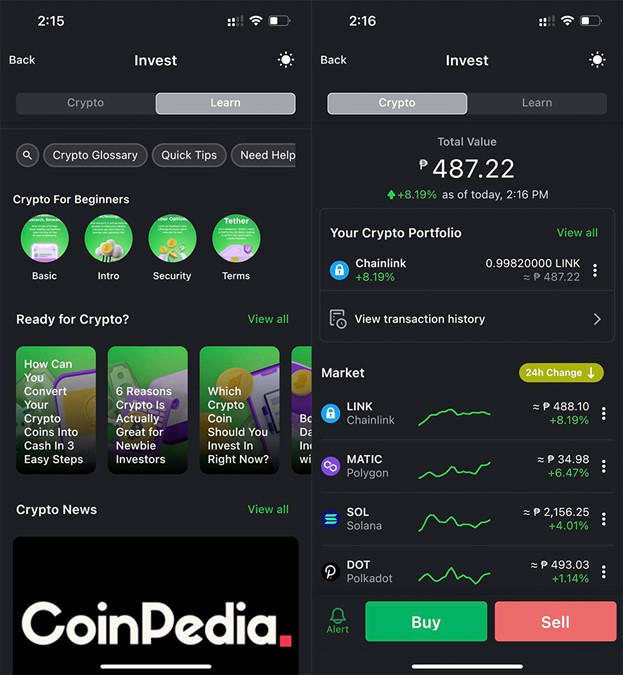 Want to start your crypto journey but don't know where to start? Maya is the key!
Maya also introduced its Crypto feature, allowing users to buy, sell, hold, or spend their crypto earnings – all in just one app. Now, you don't have to download a third-party app to enjoy invest on crypto – you just need Maya.
Maya is also perfect for beginners who are just starting their crypto journey. Maya has a Learn tab which you can use as a guide when investing. You can start buying crypto for as low as P1, and you have 15 crypto coins to choose from – so you have more options in building your crypto portfolio.
How to enjoy Maya Crypto
Buy Crypto via Maya
1. Click on the 'Crypto' icon on the Maya homepage
2. Tap 'Buy' and select the desired cryptocurrency
3. Input the desired Philippine Peso (PHP) amount you want to spend. Then, Maya will show the equivalent cryptocurrency value based on an estimated market price.
4. Tap 'Next'
5. A pop-up message containing a confirmation message will flash on your screen. On this tab, you will see the amount in PHP you will be spending and the amount of cryptocurrency you will be receiving through this transaction.
6. Confirm your purchase and slide to buy.
Sell Crypto via Maya
1. Select 'Crypto' on the Maya homepage
2. Tap 'Sell' and select the desired cryptocurrency
3. Choose a percentage value to sell a part of your currently owned asset. Maya will show the equivalent PHP value based on an estimated market price.
4. Tap "Next" on the upper right hand of the screen.
5. A Confirm Sale tab will pop up. On this tab, you will see the amount of cryptocurrency you will be selling and the amount of PHP you will be receiving through this transaction.
6. Confirm your transaction and slide to sell.
Meanwhile, you can access your used-to-be PayMaya wallet through the Maya Wallet feature and enjoy all the features you've come to love – including Send Money, Buy Load, Pay Bills, and more. Here, you can still enjoy FREE cash-in to over 90,000 touchpoints nationwide. This gives users a much more affordable online experience than its rival, requiring additional fees when using its cash-in service.
With Maya's all-in-one money experience, completing your everyday financial transactions has never been this easy and seamless. Download the app now and experience it for yourself!