Ninja Van Philippines marked its five years of excellence in the country, as it shared its milestones and newest services to empower MSMEs amidst the pandemic.
With almost nationwide coverage and around 7,000 estimated riders and drivers, Ninja Van Philippines has been actively allowing customers to ship and receive parcels in the country.
This allows the company to enjoy record-breaking growth.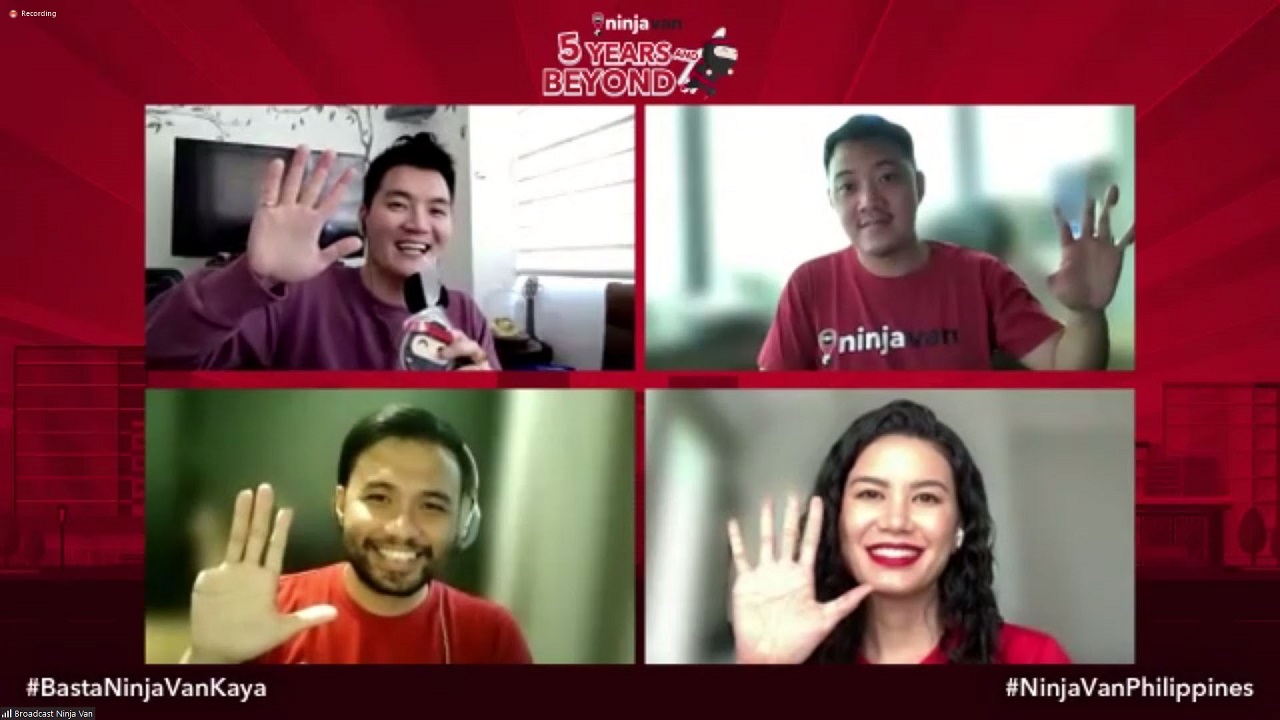 NINJA VAN PHILIPPINES' IMPRESSIVE GROWTH IN THE COUNTRY
As more Filipinos choose to shop online for safety and convenience, Ninja Van Philippines has seen a 150% growth in parcel volumes in the past 12 months. The company also shared that they are currently processing billions of pesos of Cash-on-Delivery (COD) payments monthly.
The company now has over 300 hubs, stores, and stations warehouses—with the biggest one having a total area equivalent to 17 Olympic-sized swimming pools. This is something they are proud of as they started in just a condominium unit, which serves as their first office and warehouse.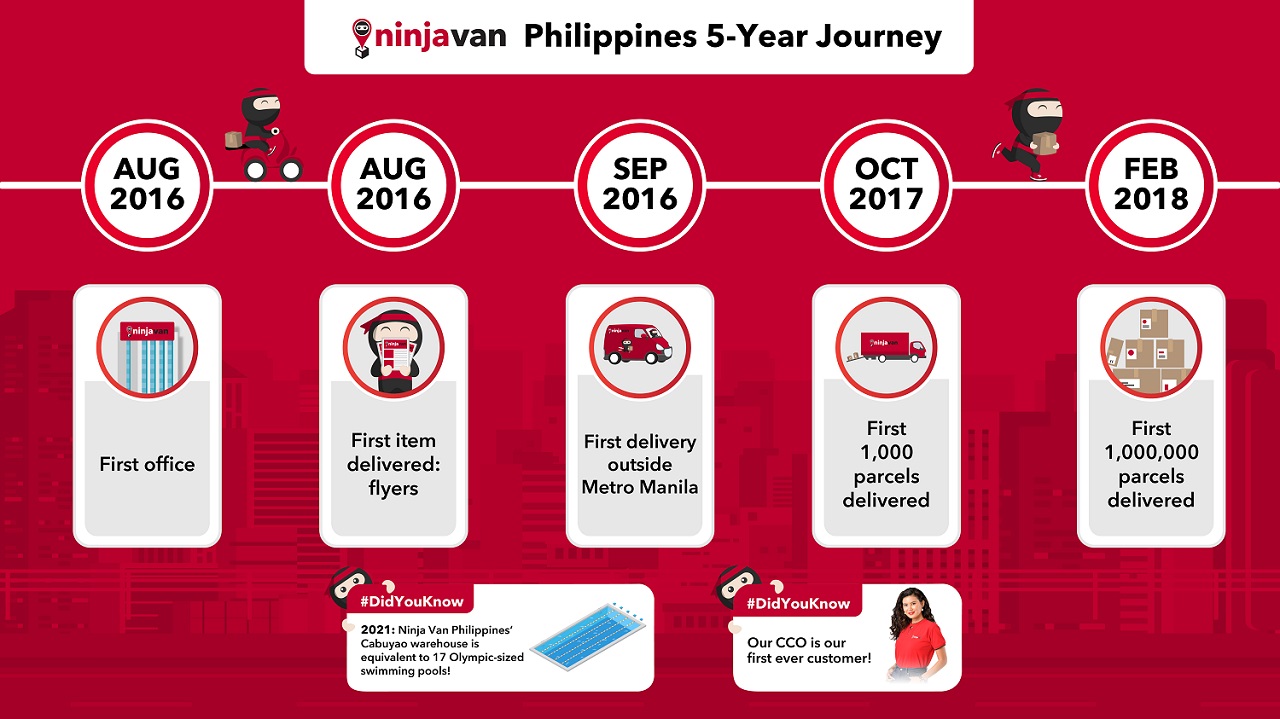 They also reached 1 million total deliveries in 2018 and launched Ninja Direct the following year. This strengthened their position as one of the country's leading logistic providers that focuses on delivery speed with more value-added services.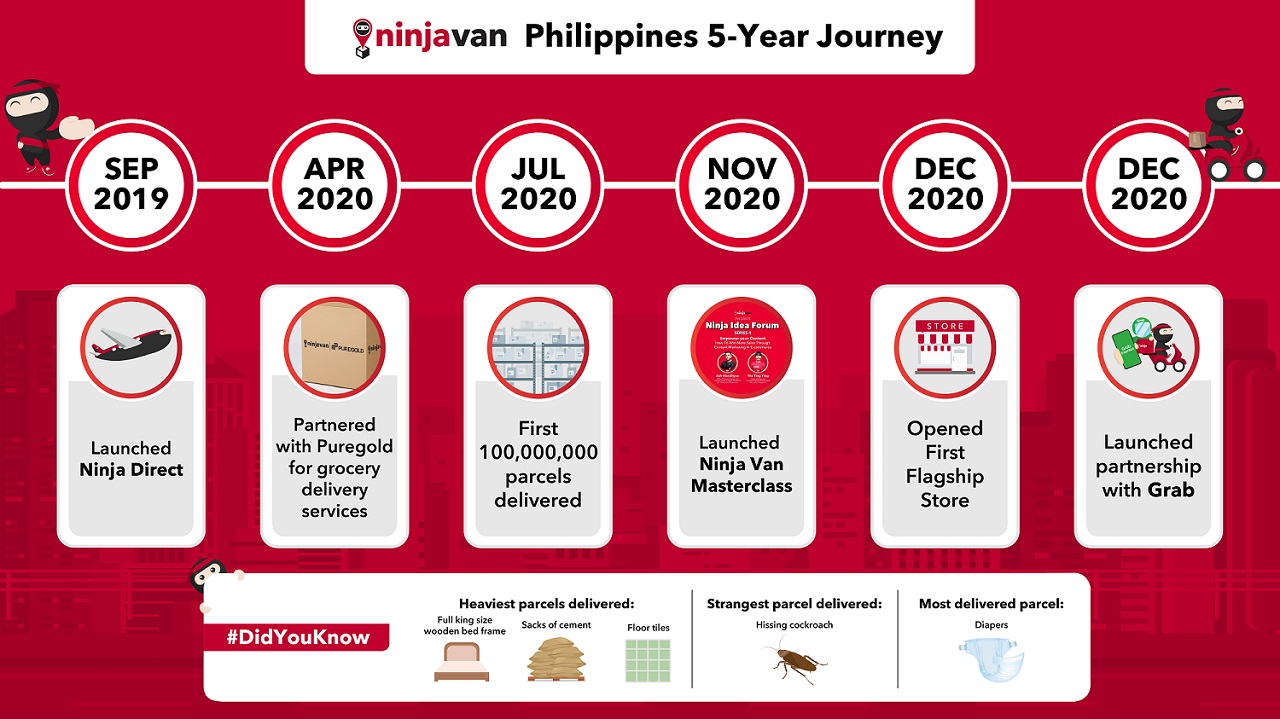 To upgrade their customer service, Ninja Van Philippines launched their new services, such as the COD Advance, Ninja Direct, and Ninja Point. They also launched the Ninja Blog to launch community learning sessions, such as Ninja Masterclass and online bazaars to help online sellers.
NINJA VAN PHILIPPINES: BEYOND 5 YEARS
Meanwhile, the company also shared that they are planning to increase automation in their process to improve operations quality and achieve 100% coverage nationwide.
This will come from the funds that Nina Van has successfully secured in a Series E funding round, which involves participation from both existing and new investors. The funds from this round of investment amounting to USD 578 million will be allocated towards Ninja Van's infrastructure and technology systems as well as its suite of micro-supply chain solutions to help Southeast Asian businesses optimize e-commerce opportunities.