Want to buy a new smartphone while making sure that you'll get the best value for money?
Here's a piece of good news for you!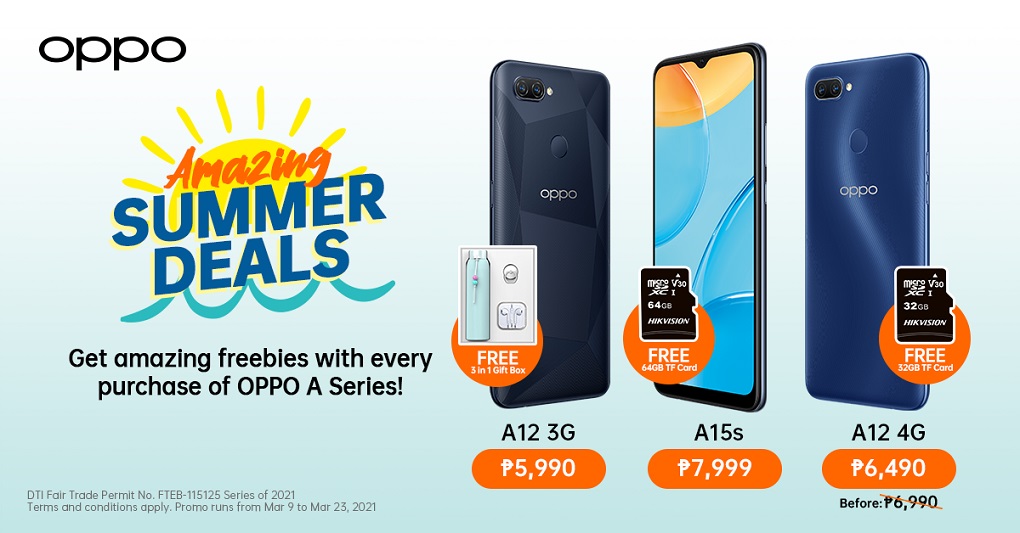 OPPO announced the Amazing Summer Deals promo, wherein you can get a cool freebie when you buy one of their participating smartphones. These include A12, A15s, Reno5 4G, and Reno5 5G.
Here are the bundles:
OPPO A12 3GB – FREE 3-in-1 gift box
OPPO A12 4GB – FREE 32GB HIKVISION TF card
OPPO A15s 4GB – FREE 64GB HIKVISION TF card
OPPO Reno5 4G – FREE TG113 Bluetooth speaker
OPPO Reno5 5G – FREE TG113 Bluetooth speaker
In case you missed it, the A15s is a best-value smartphone that features impressive offerings for its price.
One of its selling points is its 13MP AI triple rear cameras, allowing users to capture great photos. Under the hood, it is loaded with 4GB RAM, 64GB storage, and an Helio P35 processor.
You can score the OPPO A15s for the price of just Php7,999.
Meanwhile, the OPPO A12 is available in a 3GB variant and 4GB model. It sports a 13MP dual rear camera setup, 4,230mAh battery, and up to 64GB internal storage.
Consumers can get the OPPO A12 for Php5,990 (3GB) and Php6,990 (4GB).
On the other hand, you can go for a flagship-like smartphone through the Reno5 series. This allows you to enjoy amazing specs that can support heavy mobile usage, such as gaming.
To make this possible, OPPO packed it with 8GB RAM and 128GB storage. It has a great camera section, too, as it boasts a 64MP AI quad-rear camera.
The OPPO Reno5 is tagged at Php18,999 (4G) and Php23,999 (5G).
The promo runs until March 23.
Sounds like a deal? Share your thoughts with us in the comment section below!