Smart Communications Inc. has partnered with Maya to launch "Power Savings," an exclusive promo that enables postpaid subscribers to grow their savings faster. Under the exclusive promo, running from January 16th to February 28th, Smart Postpaid subscribers with Plan 999 and above, who have upgraded their Maya Savings account, can earn an interest rate of up to 7% per annum credited daily – from the base interest rate of 4.5% – one of the highest in the market.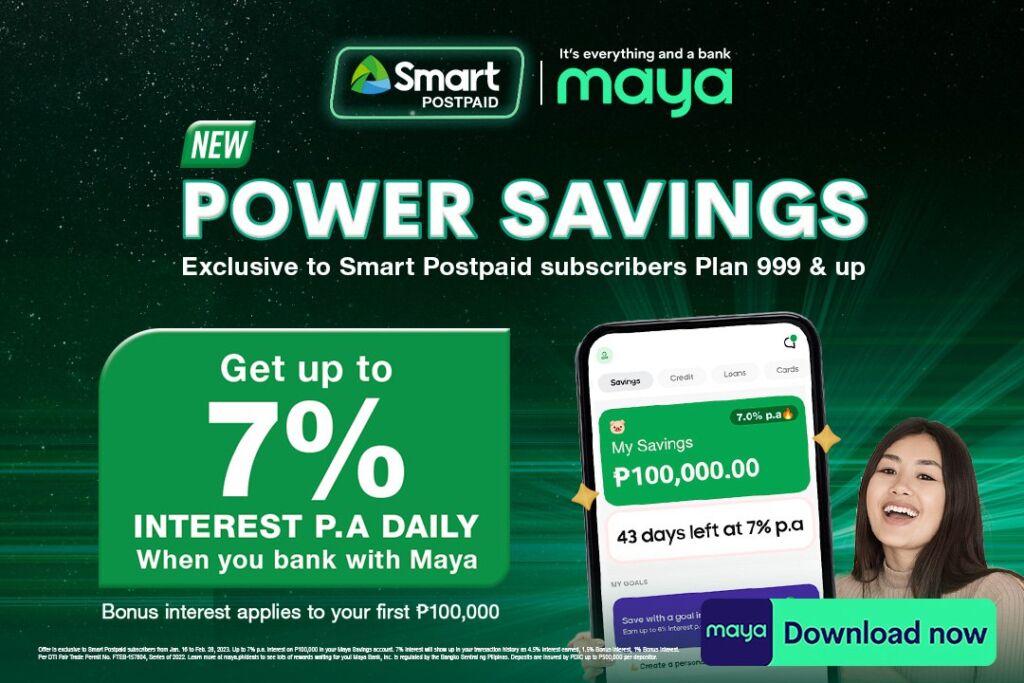 This gives qualified postpaid subscribers a unique opportunity to grow their money faster and extra cash daily to help them achieve their financial goals. Moreover, subscribers can enjoy FREE InstaPay transactions when they transfer funds from other banks to Maya and switch to Maya Savings.
To avail Power Savings, eligible Smart Postpaid subs simply have to join Maya and upgrade their account. First-time users can get up to PHP 60.00 Welcome Reward upon upgrade. Then open a Maya Savings account and go to "Missions" in the app, look for "Smart Postpaid Exclusive" mission and enter the unique Smart Postpaid code (to be sent by Smart via SMS). Spend a minimum of PHP 999.00 using Maya on paying for their Smart Postpaid bill or any other bill, scanning to pay, paying with Maya card or shopping online. (Tip: Cash in at least PHP 1,500.00 via InstaPay and get a PHP 25.00 service fee cashback) and enjoy the daily 7% saving interest rate (for up to PHP 100,000.00 end-of-day deposit balance). All Maya Savings account holders may also avail of the FREE Maya Card, inside the app.
It's as easy as that. So what are you waiting for? Download the Maya app now!