Smart Communications, Inc. (Smart) has once again solidified its position as the Philippines' Fastest and Best Mobile Network. This award marked the third consecutive reporting period where it has received this prestigious recognition from Ookla, a globally renowned leader in network measurement and connectivity intelligence.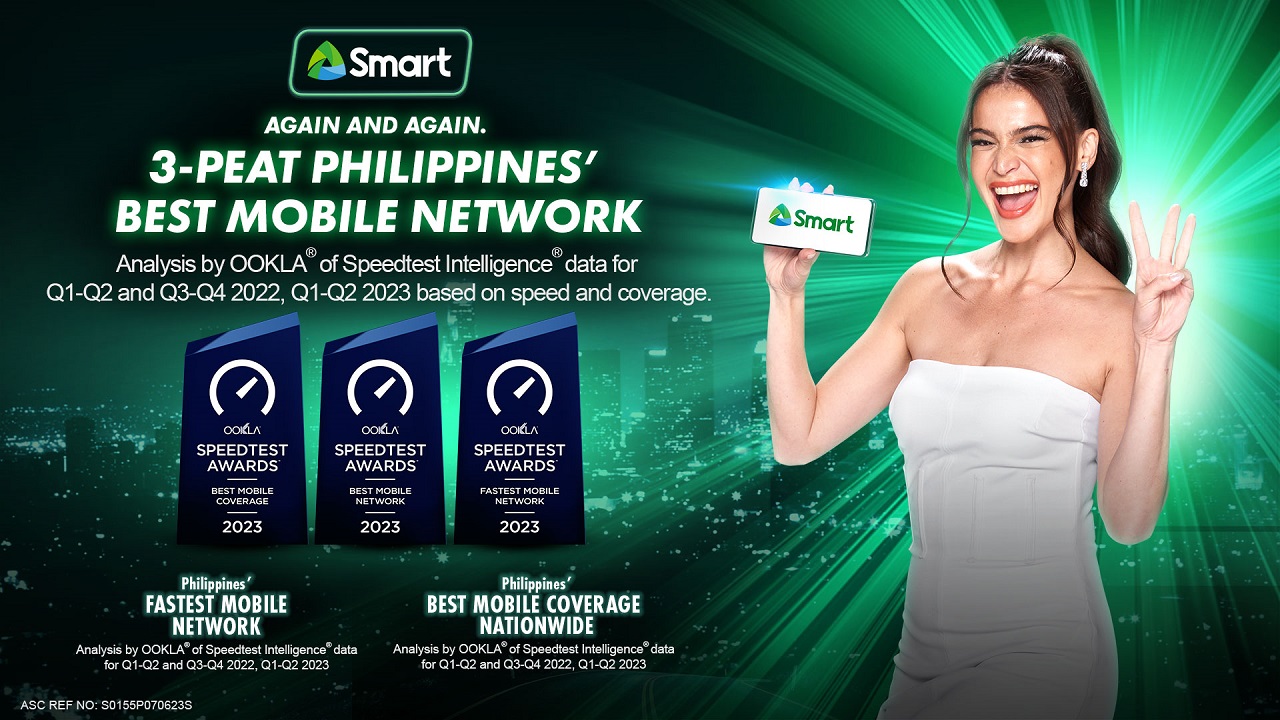 Continued Excellence in Mobile Connectivity
Ookla's latest analysis for Q1-Q2 2023 reaffirms Smart's outstanding performance in delivering the fastest mobile speeds and best mobile coverage to customers, earning the coveted "Best Mobile Network" award. This achievement also marked a significant milestone for the mobile operator, as it has secured this esteemed title in three consecutive reporting periods.
Endorsement from Ookla's CEO
Stephen Bye, President, and CEO of Ookla, a division of Ziff Davis, congratulated Smart for its exceptional accomplishment, stating, "This remarkable feat showcases Smart's dedication to enhancing connectivity in the Philippines and ensuring consumers receive the best possible internet experience."
Speed and Coverage Scores that Speak Volumes
Ookla's latest report also revealed the superiority of Smart's Speed and Coverage Scores. Smart emerged as the 'Fastest Mobile Network' with an impressive Speed Score of 64.25, outshining its closest competitor's Speed Score of 39.04. This Speed Score was derived from Smart's median download speed of 34.08 Mbps and a median upload speed of 7.34 Mbps, surpassing its competitor's median download speed of 22.52 Mbps and median upload speed of 5.38 Mbps.
Leading in Mobile Coverage
Smart also takes the lead in the 'Best Mobile Coverage' category with a Coverage Score of 786, surpassing its closest competitor's Coverage Score of 769. The Coverage Score evaluates both the number of locations an operator offers service and the quality of service in each location, highlighting Smart's commitment to providing wide and reliable coverage to its customers.
Meanwhile, the 'Fastest Mobile Network' award is based on more than 2.4 million user-initiated tests, while the Coverage Award draws from over 3.7 million scan counts. These numbers underscore the extensive and data-driven evaluation carried out by Ookla to recognize Smart's excellence in mobile network performance.