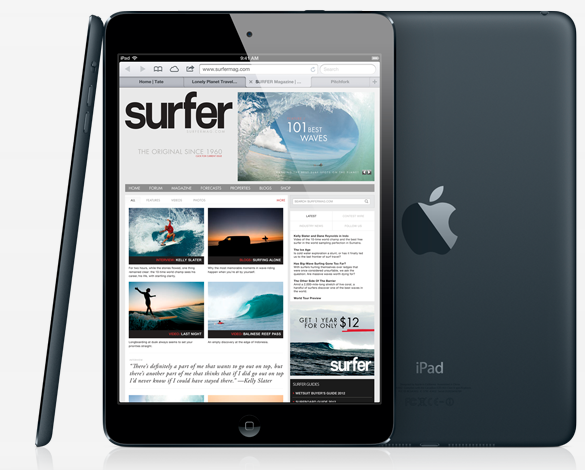 Here we go. The iPad Mini is here. The iPad Mini is expected to dominate the much affordable and smaller tablet segment. As expected, it will have a 7.9" screen. So what does the new iPad mini have to offer? Aside from the 7.9" screen which is larger than the Nexus 7 and the Samsung Galaxy Tab 7.0, which are both affordable. The iPad Mini's 7.9" display has a resolution of 1024 x 768 which is similar to the iPad 2. I was quite disappointed not to see a resolution larger than 1280×800. The iPad Mini comes in two colors – White & Silver and Black & Slate. Yeah, just like the iPhone 5. The device is powered by the A5 processor which can be found on the iPhone 4s. Yeah, that's another disappointment. I was hoping that this iPad Mini would be powered by at least A5x which can be found on the 3rd generation iPad.

Other features that can be found on the tablet are the 5 megapixel rear camera and the 1.2 megapixel front camera. Well nothing special about those things. Oh and these iPads also sports a lightning connector so if you still have those old iPod or iPhone cables. You might want to ditch them very soon. There's optional LTE too if you want and of course, there's the Nano-Sim tray for that. The iPad Mini is much thinner too at 7.2mm. I think that's thinner than my SGS3.
It's nice to see that Apple had decided to go on the below 10" tablet market. I'm sure that some people would prefer this size over the bigger Retina iPad which was also updated to today. I was quite disappointed to see that there's still the small resolution display and they put in the old A5 processor. They should've at least made it to A5x. The starting price is kinda steep too at $329 (P14,000-P15,000). The iPad Mini isn't available yet here in the Philippines (Check the Apple PH Online Store) but if you got some friends or relatives in the US, the pre-order will start at October 26 (US) and expect it to be ship by November 2. Well let's hope that the iPad Mini would arrive in the Philippine shores very soon.
---
Subscribe to JAM Online to get the latest news about tech and other stuffs
Enter your email address:
Delivered by FeedBurner
---