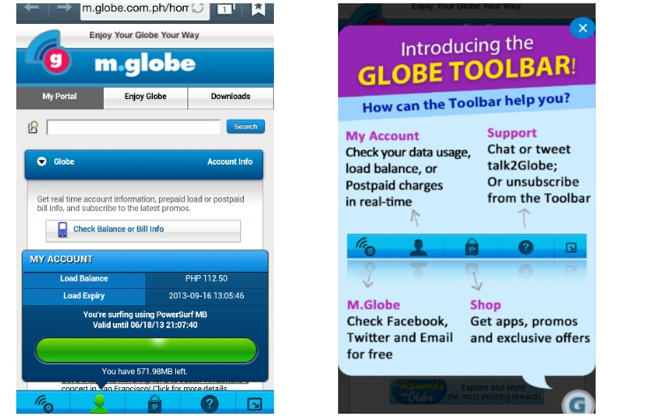 Are you using Mobile Internet on your phone? Did you notice the letter G below the browser of your phone? Don't worry, it isn't a malware or something that can harm your smartphone. It's a new service from Globe that allows you to check out your remaining load balance and the MB left from your PowerSurf Plan. But that's not all, because this service offers some perks too. Check it out after the break.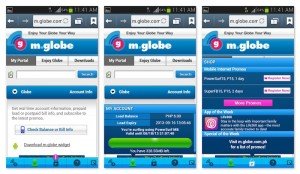 You don't need to worry about anything because the Globe Mobile Toolbar is free of charge and you don't need to download anything on your phone to have it. It will just appear in your phone's default browser when you connect to the internet using Globe. For first-time users, they'll show you an introduction on what's inside the Globe Mobile Toolbar. The Globe Mobile toolbar features M.Globe, the mobile portal of Globe that allows you to check your Facebook, Email and Twitter for free. There's also Shop in the toolbar that gives you access to exclusive Globe promos and offers. Lastly, the Support menu gives you easy access to talk2Globe via chat or twitter.
But my favorite feature of the Globe Mobile Toolbar is the Data Usage Gauge. Why? Because I can surf and at the same time know how much data I can still consume. This eases the worry out of me of going over my MB allowance without me knowing. Whenever I have a small data left, I just register for another PowerSurf promo before it runs out.
As a tech blogger, I really find this useful because I can surf and blog worry-free now that I know how much data I have.
To discover the best PowerSurf plan for you, visit http://surf.globe.com.ph/profiler/index