Whenever you hear the Nvidia GeForce® GTX 1080 SLI 8GB GDDR5X inside a laptop. Most of you would probably think that it's already insane to have that hardware on a laptop considering that most games and heavy applications would run smoothly on a single Nvidia GeForce® GTX 1080 SLI 8GB GDDR5X graphics card. But how about when you have two of it on a single laptop? Yes, that's possible with the MSI GT83VR Titan SLI. And today We'll review this beast.
Design and Construction
For starters, the MSI GT 83VR does have an odd design to some people but we have seen this laptop design on other brands. So basically, this laptop packs a Cherry MX switches in its keyboard and on the side, we got the touchpad of the notebook which also serves as the Numpad of the laptop.
So yeah, it's a downer for some as you can't feel the mechanical switches on the num pad but it does save a lot of space for vent. So how does it switches to the num pad? It's easy. Just press the Num at the upper left of the touchpad and it will automatically transform in a num pad from the touchpad.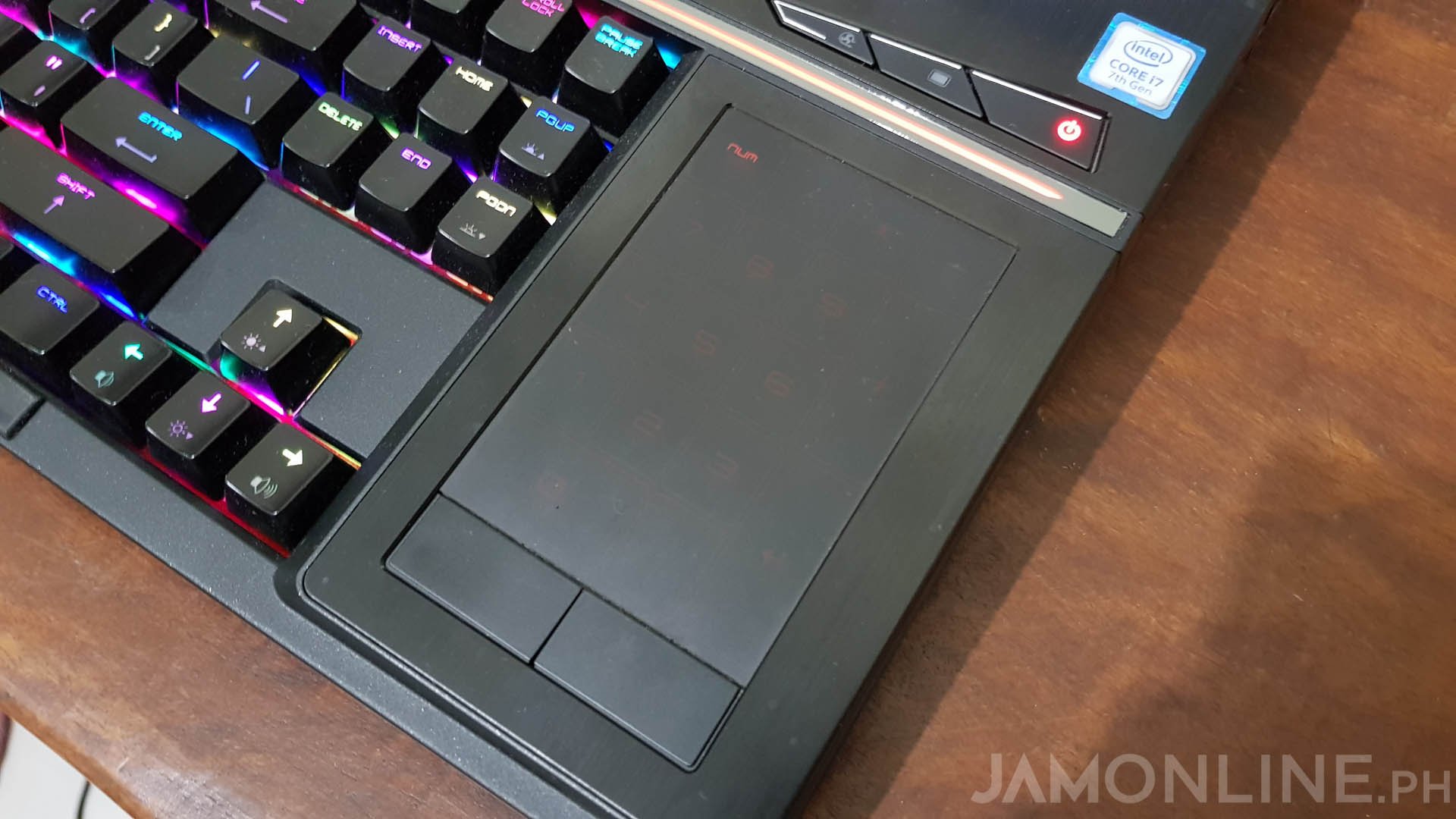 Without a doubt, the notebook is big. It's large. But of course, it means that the notebook is a beast. It has a very thick profile and it's also not portable. It packs a Blu-Ray drive just above the vent on the side and then there's the Card Reader, USB 3.0 ports, digital audio port, mic and headphone jack.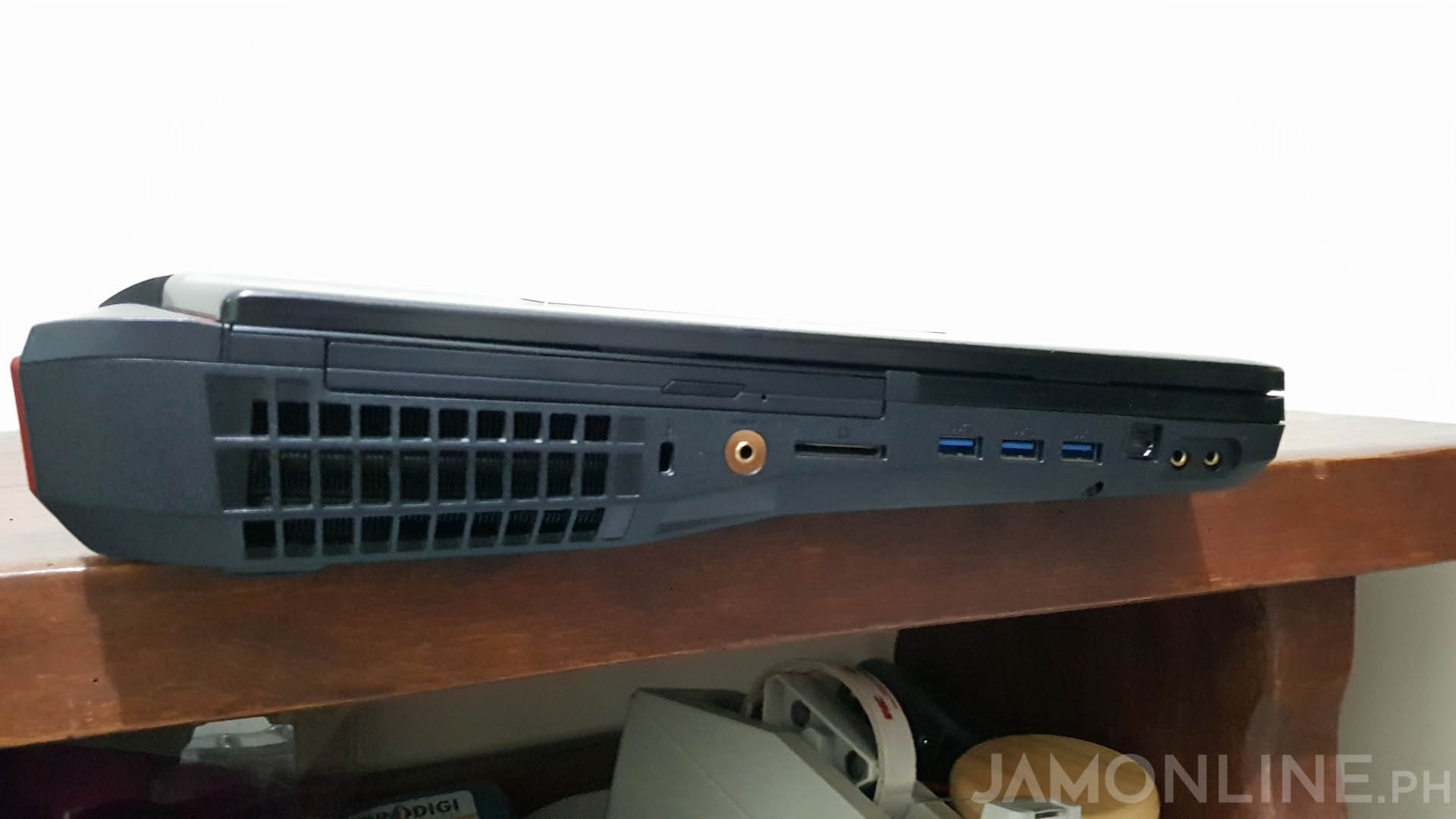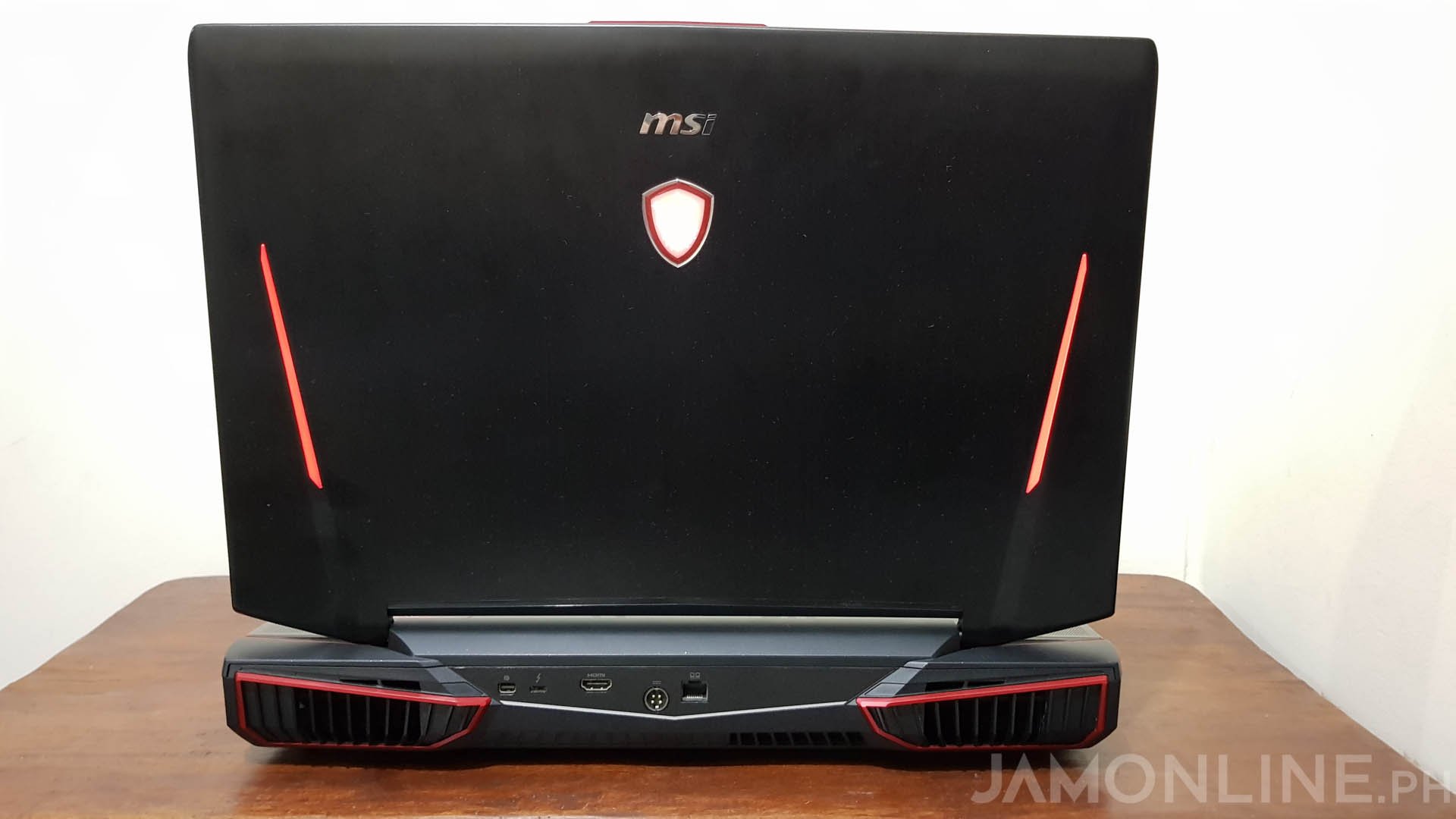 The body of laptop is made of aluminum with a brushed metal look and when you open it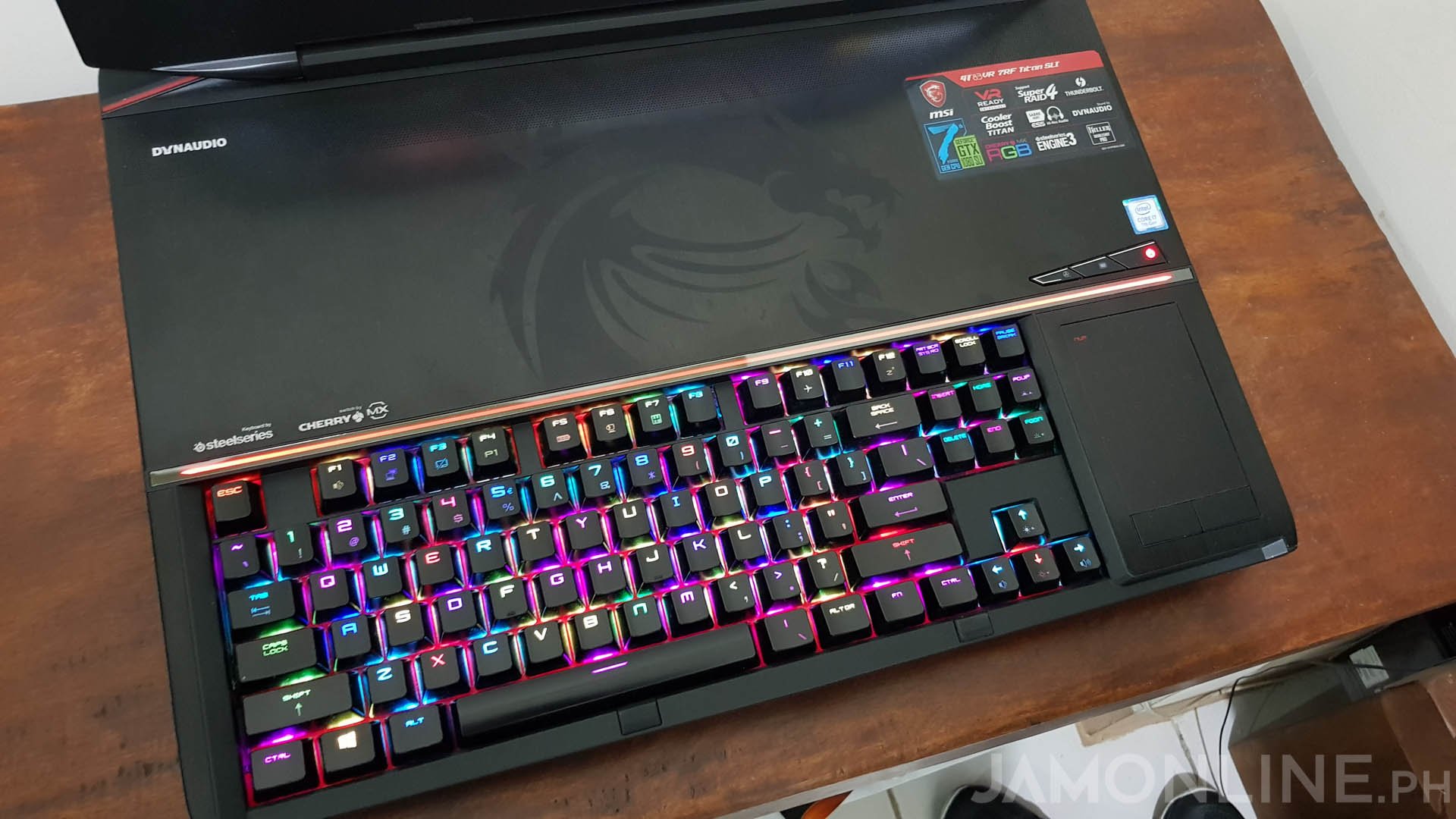 The laptop is a real beast and the best thing I love about this notebook is its Cherry MX Silver Switches on the keyboard. The keyboard is shallower and it's great for gaming as the switches are softer but not as good as the Cherry MX Blue switches (That I love and I'm biased by the way). But nonetheless, the keyboard of the notebook was good and very comfortable whether you're using it for gaming or for typing.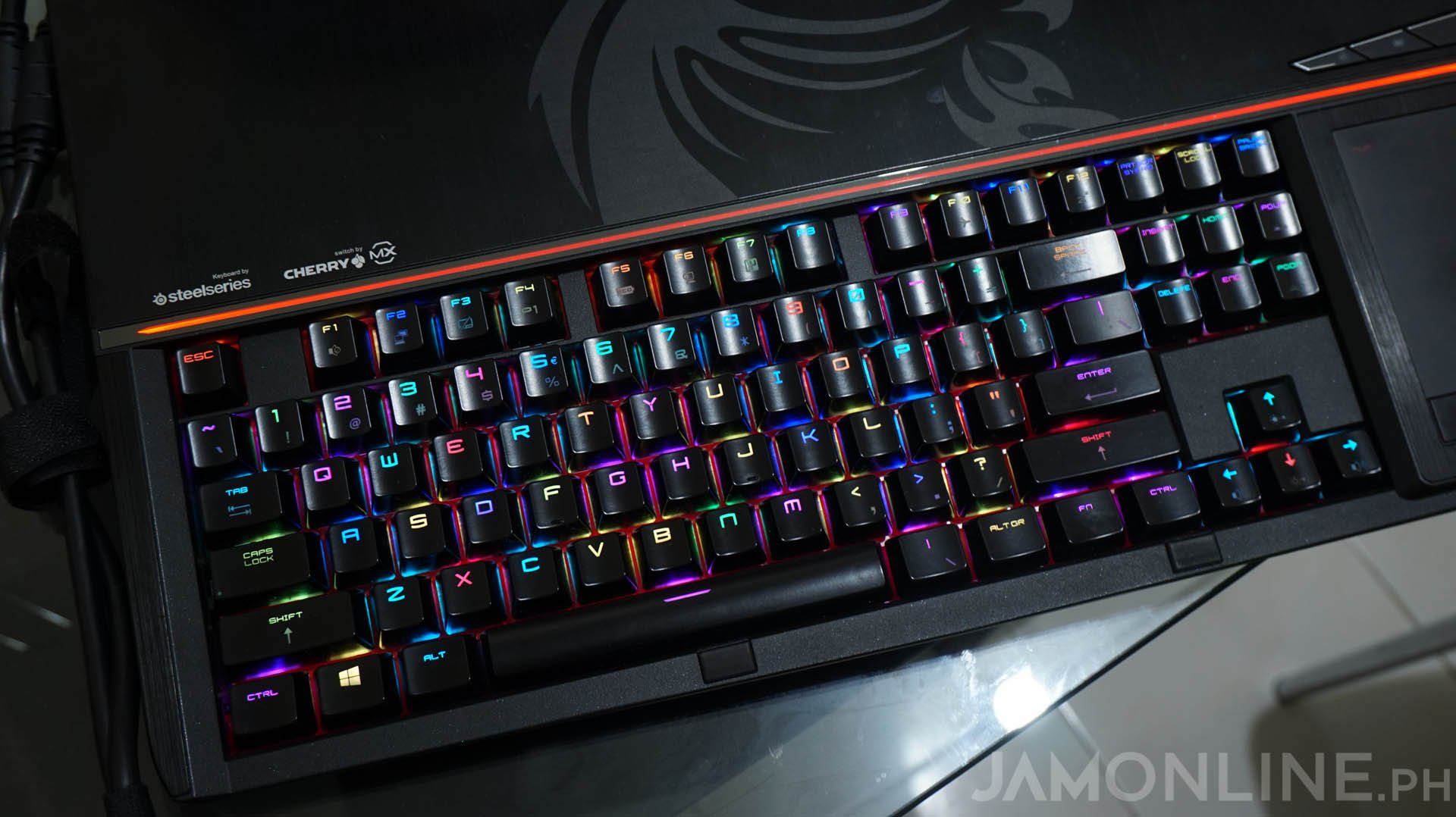 Oh, and yes, we do have an RGB lighting on the keyboard that you can customize using the SteelSeriesEngine software and there are a lot of different presets that are built in for the RGB backlighting of the keyboard. However, I do have a little problem. Since the keyboard is placed at the edge of the notebook, there's no palm rest when typing on the keyboard and it's a little bit tiring on the wrist after typing on the keyboard for a while.
The notebook also has a tall touchpad and it's pretty good when using for browsing the web or just normal usage unless you want to use the num pad. I still suggest that you get a mouse for this one (Well, if you could afford a laptop like this then I'm pretty sure that you can afford a mouse for your MSI GT 83VR).
The gaming notebook is thick and heavy. One of the reasons for that is to give way for a better cooling. Remember. This notebook not only have a powerful processor but it also packs dual GTX 1080 inside. So yeah, it pretty much requires lots of power and also produces a lot of heat but it's cool when playing games. The keyboard and the touchpad don't heat up too much but on the top of it is where the heat is high.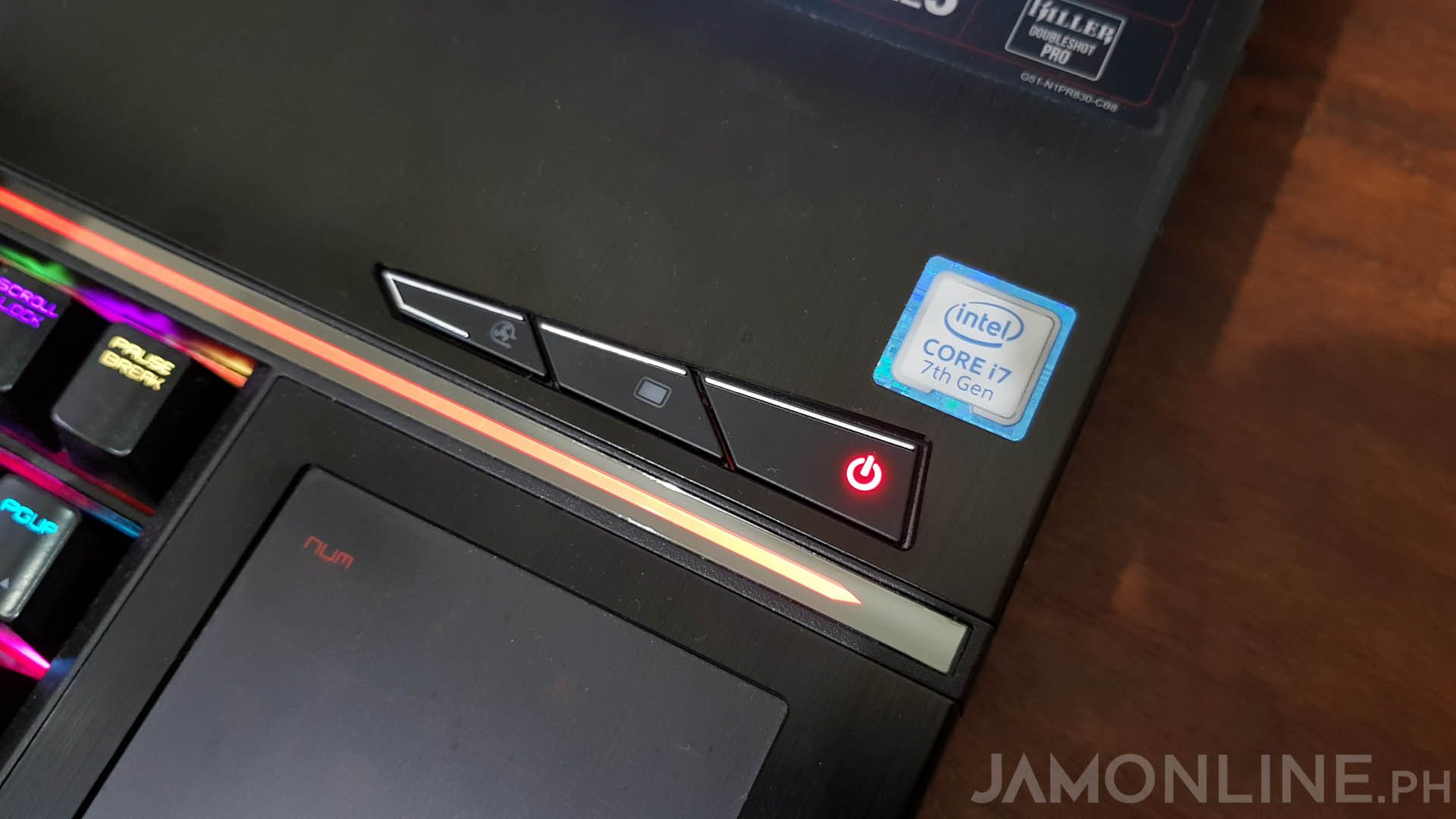 Oh and don't worry about its heat because all you need to is to press one of the three buttons at the top to activate its max fan speeds.
Fantastic Audio
The audio of the notebook is probably one of the best features of the notebook. The notebook has a Nahimic Audio Enhancer that lets you control and boosts the audio and voice performance of your gaming notebook. And yes, the Nahimic software was really flexible and the audio quality of the notebook was really top notch. Not only that it was loud enough to be heard in a big room but it also crisp and clear enough. Again, the audio of the notebook is really good and I'm pretty sure every user would appreciate it.
No G-Sync or 4k Display here
Ok, so what we have here is a massive 18.4-inch display. It's a lot smaller compared to Acer's gigantic 21-inch curved display on a notebook but this one is still massive. Unfortunately, despite being the flagship notebook of the brand today, the MSI GT83VR Titan SLI doesn't have a 4K display or at least a G-Sync to have a buttery smooth gaming. But for its Full HD display, it's just fine and well, however, I still wished that this one would really have at G-Sync in it. The colors were just fine in case you want to use the notebook for photo and video editing
The Battery Life
I don't see any reason why we should talk about this. I mean, look at its specs. Look at its hardware. Do you think that this one would last long even not on gaming? C'mon. This notebook was able to last 2 hours of continuous web usage however if you're planning on using it for gaming. Don't expect it to last more than an hour.
This is a beast
Everyone would agree that this one is a beast. Let me refresh your minds with its hardware. The notebook that we are reviewing packs a pair of Nvidia GeForce® GTX 1080 SLI 8GB GDDR5X and an Intel Core i7-7820HK processor and 32GB  RAM.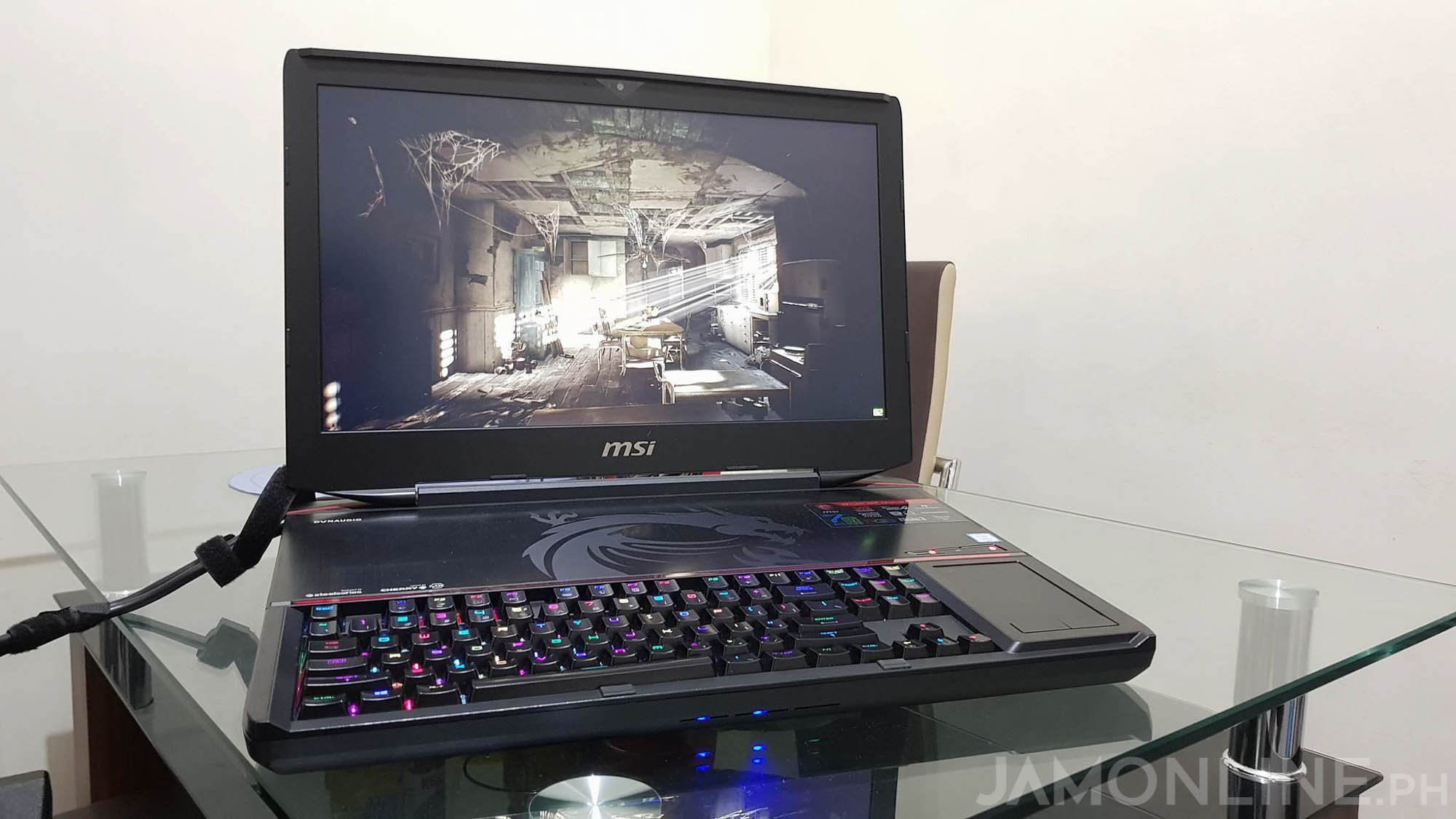 This notebook is more powerful than the 96% of computers in the world. Yep. It is. That's how powerful the MSI GT83VR is. And yes, any games you would fit into this laptop would run well. It will run fast and it will run without any problems on this one (Unless you have cracked games that have some feisty bugs)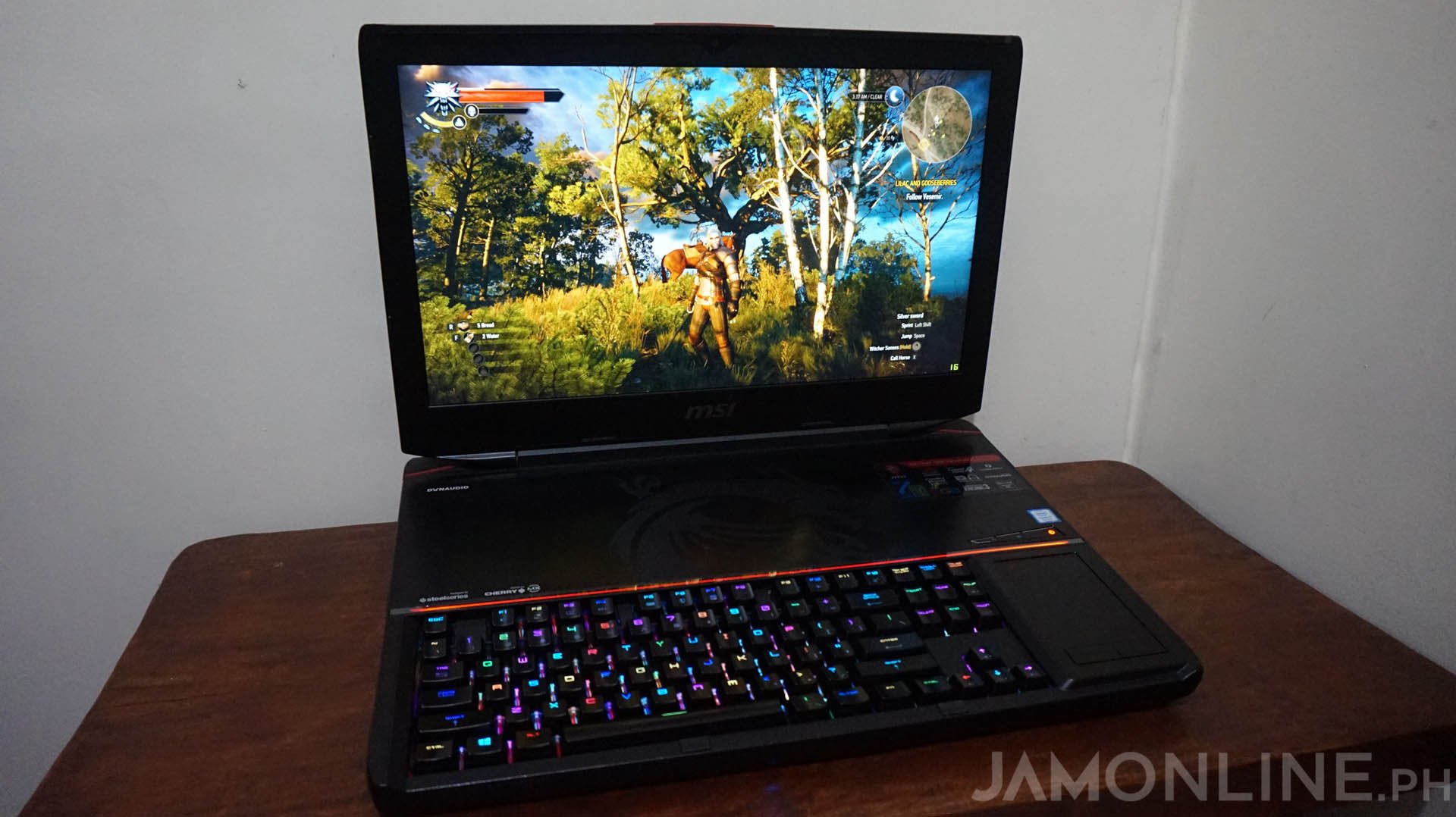 In case you're doubtful of what I'm saying, check out the benchmarks of the notebooks below.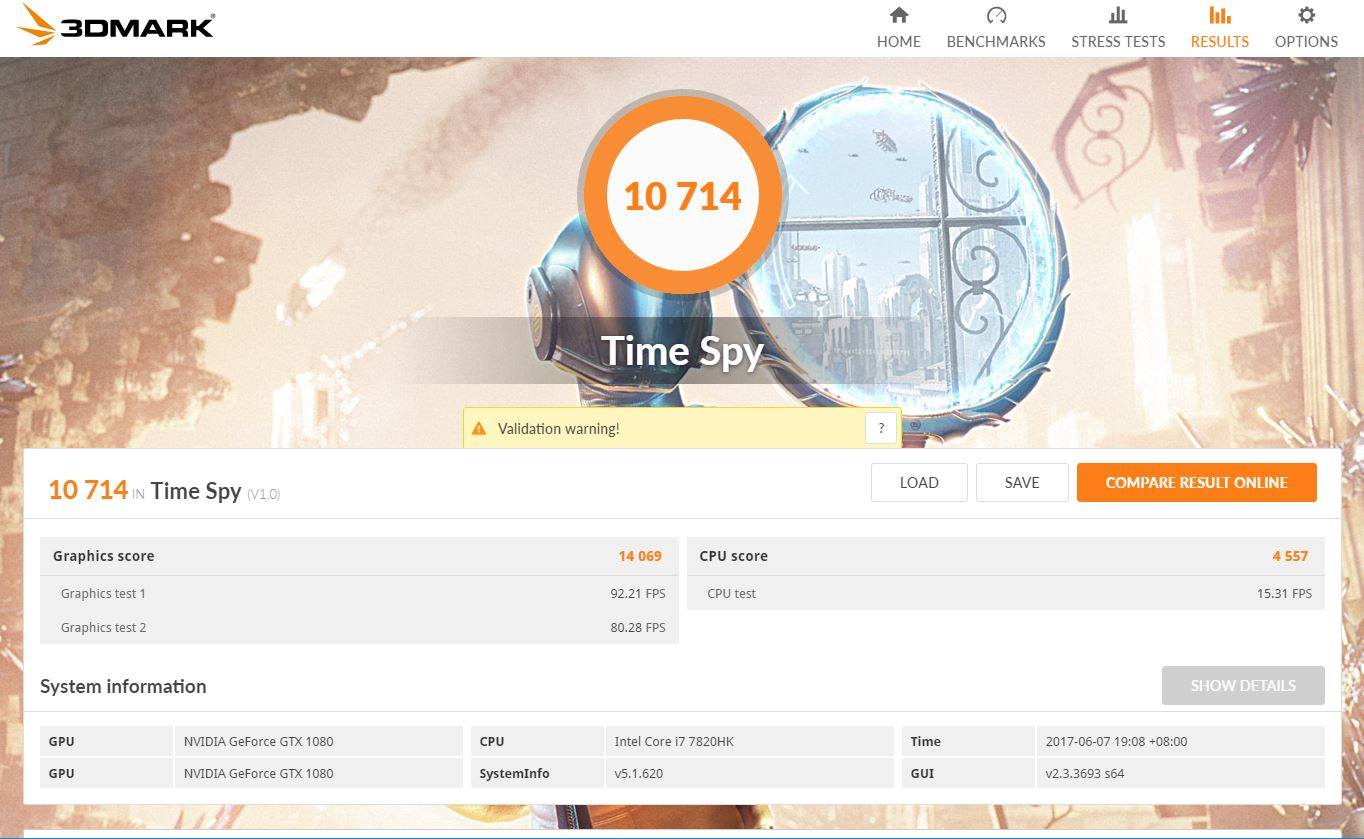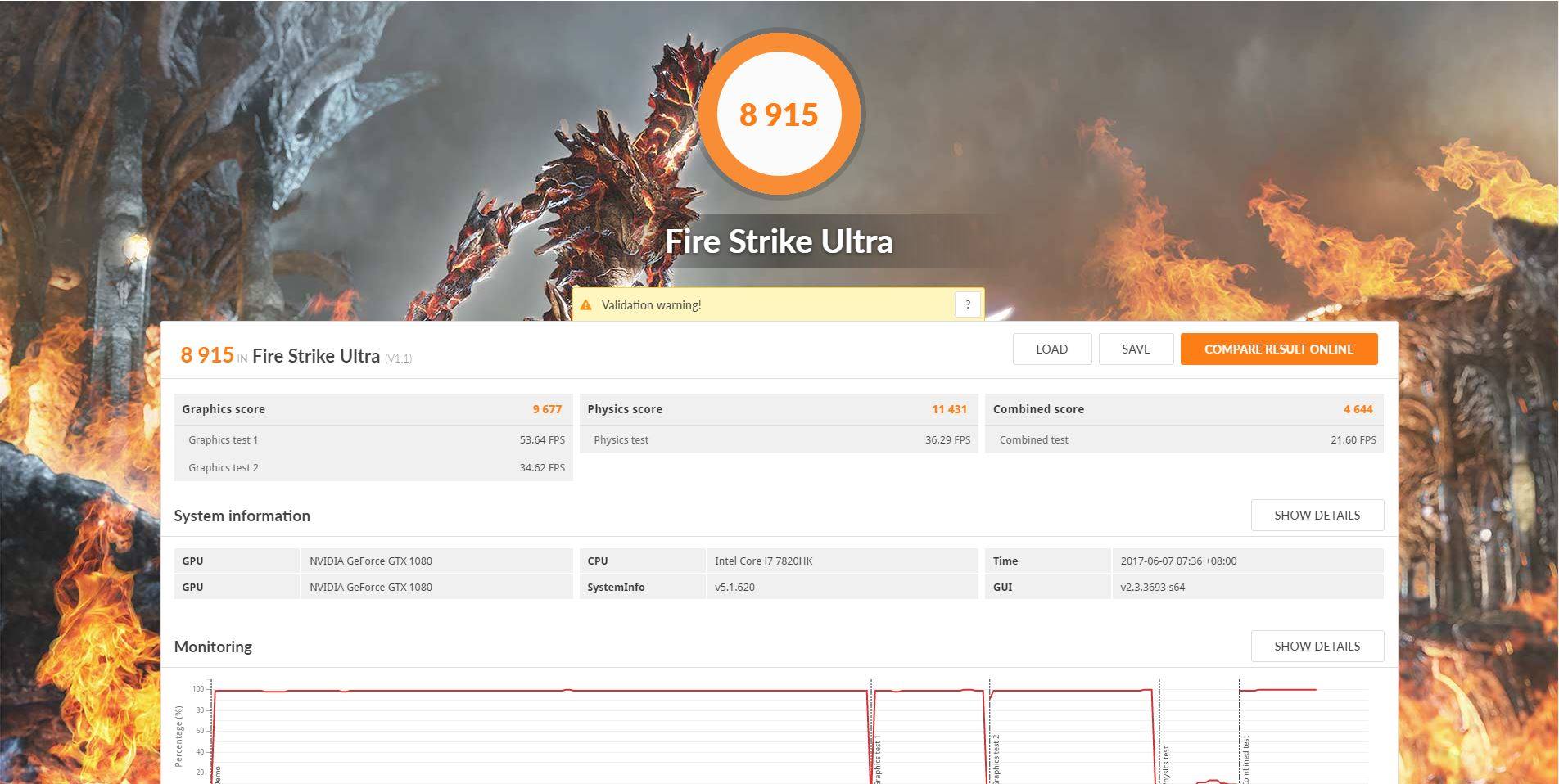 In case you are not convinced with the benchmarks. I was able to run these games without problems at the highest possible settings at 1920×1080. Check out the FPS of the games below.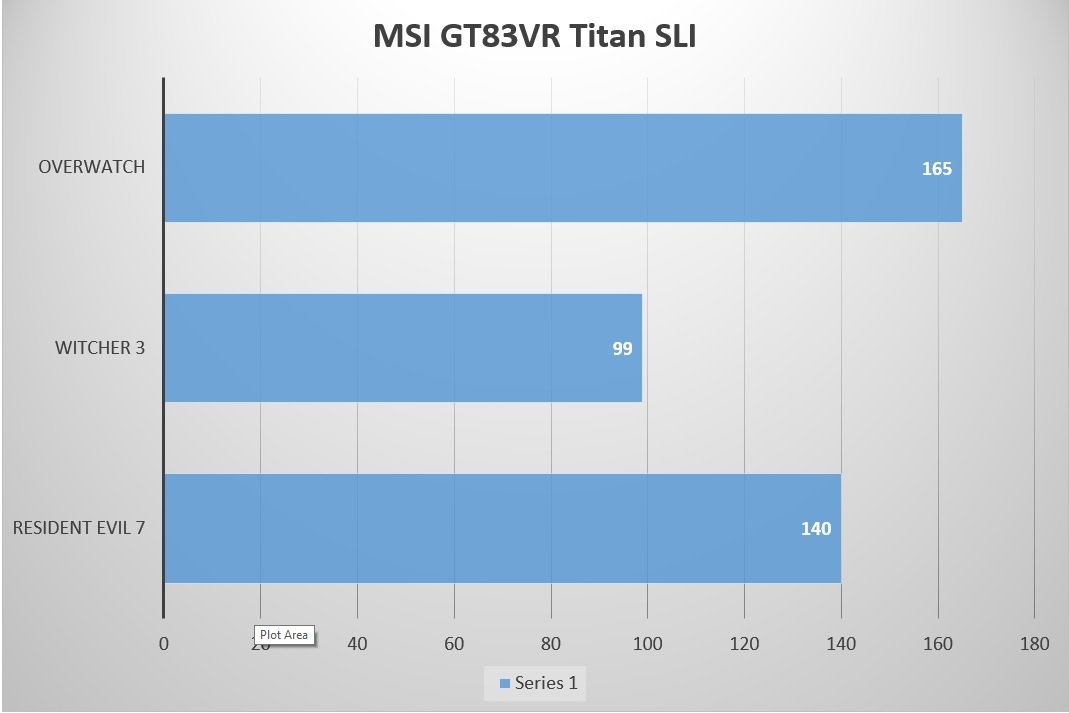 I know, pretty amazing, right? Those numbers are pretty good.
The MSI GT83VR Titan SLI has a lot of pre-installed software and I'm pretty sure that you'll want to uninstall a lot of them but some of them are useful including the MSI Dragon center in where you can find all the things that you need to adjust for the SteelSeries Engine, Nahimic and much more. The SteelSeries Engine application lets you adjust the colors of the notebook and yes, there are a lot of presets that comes with it. The RGB colors of the notebook are very much customizable depending on what you want.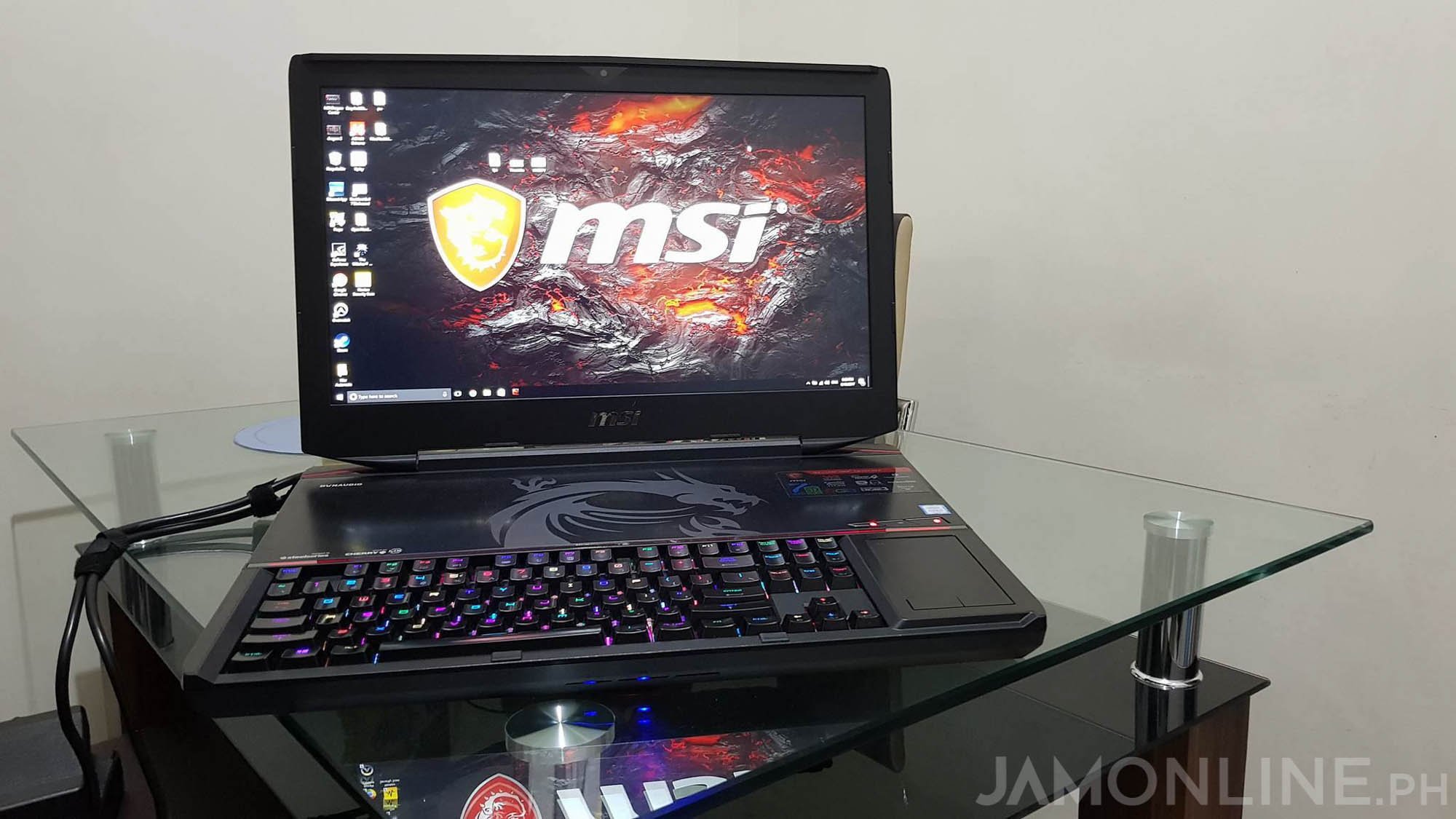 Overall this notebook is a beast. The MSI GT83VR Titan SLI got a pretty mechanical keyboard and it is actually pretty fine and not just that, it also has an RGB lighting which is very customizable. It also packs a powerful Intel Core processor inside and a pair of Nvidia GeForce® GTX 1080 SLI 8GB GDDR5X which you would probably rare to see anywhere and a pretty good thermal. It's very powerful but that one comes with a price, it is thick and it is really heavy. Despite its behemoth performance and a lot of features, I still have some gripes about it including the lack of 4K display or a Gsync display
If you have the money to splurge for a laptop like this then why not. If you don't have the money, well, just sell off one of them because we all have two kidneys anyway.