ASUS and Republic of Gamers Philippines has just announced the ASUS/ROG Cool for School Promo that is happening until August 31, 2021 and you can get bundles that are worth up to Php18,000+ worth of exclusive bundles ranging from Nespresso Mini Essenza, TUF Gaming Monitor, TUF Gaming Router, Philips Hue Ambiance Starter kits, and their ROG Slash collection. You can also enjoy discounts of up to Php2000 off on selected laptops, desktops and gaming backpacks.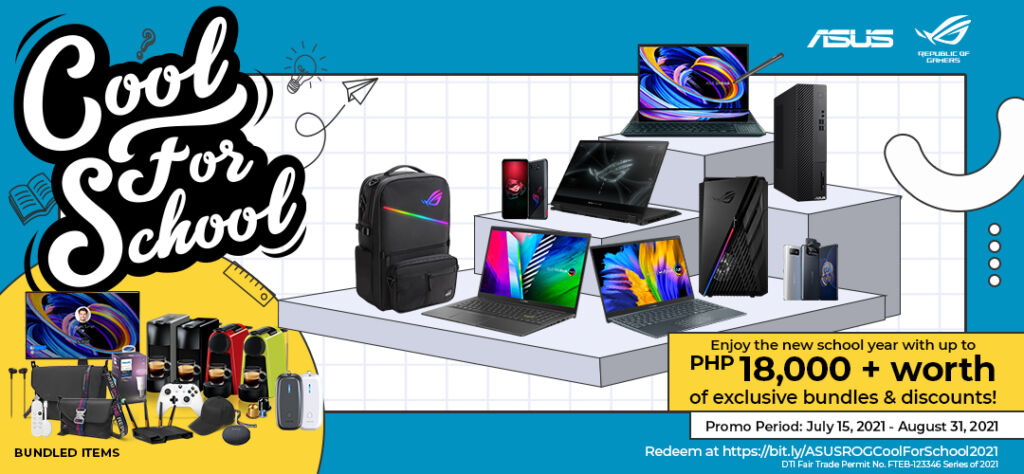 With this promotion, You can get freebies when you buy a ZenBook and VivoBook laptops and also the Zenfone 8 and the Zenfone 8 Flip phones.
SERIES
PROMOTION
ALL ASUS ZENBOOK
NESPRESSO MINI ESSENZA WITH FREE COFFEE CAPSULES WORTH PHP 7,500
ALL ASUS VIVOBOOK
AVICHE M5 WEARABLE AIR PURIFIER WORTH PHP 2,500
ZENFONE 8
ZENFONE 8 FLIP
JBL GO 3 WORTH PHP 2,300
ALL ASUS X SERIES LAPTOP WITH INTEL CORE I5 AND I7 PROCESSORS
PHP 2,000 DISCOUNT
ALL ASUS X SERIES LAPTOP WITH INTEL CORE I3 PROCESSOR
PHP 1,000 DISCOUNT
With the ROG products, you can enjoy different freebies including Chromecast 4K with Google TV and even the TUF AX3000 WiFi router and ROG Slash Collection. You can also get a free ROG Cetra II Core Headset when you purchase an ASUS ROG Phone 5 Classic!
SERIES
PROMOTION
ROG ZEPHYRUS S17 GX701LXS/LV
ROG ZEPHYRUS S15 GX502LXS/LW
ROG ZEPHYRUS M15 GU502LW/LU
PHILIPS HUE WHITE AND COLOR AMBIANCE STARTER KIT 9W, GOOGLE NEST HUB WORTH PHP 18,000+
ROG FLOW X13 SUPERNOVA EDITION
ROG XG MOBILE GPU WITH RTX 3080
ROG SLASH CAP, ROG SLASH SLING BAG, XBOX CONTROLLER WORTH PHP 8,500+
ROG FLOW X13
ROG SLASH CAP, ROG SLASH SLING BAG WORTH PHP 2,500+
ROG ZEPHYRUS G14 GA401IVC
ROG SLASH CAP, ROG SLASH MESSENGER BAG, CHROME CAST 4K TV, GOOGLE NEST MINI WORTH PHP 8,500+
ROG ZEPHYRUS G15
ROG ZEPHYRUS G14 GA401IV/IU/IH/II
CHROME CAST 4K TV, GOOGLE NEST MINI WORTH PHP 4,500+
ROG STRIX SCAR 17 G732LXS/LWS/LV
ROG STRIX SCAR 15 G532LWS/LW/LV
ROG SLASH CAP, TUF AX3000 ROUTER, XBOX CONTROLLER WORTH PHP 13,000+
ROG STRIX G17 G712LV/LU
ROG STRIX G15 G512LV/LU/LI
GOOGLE NEST MINI, PHILIPS HUE WHITE AND COLOR AMBIANCE BULB 9W WORTH PHP 4,000+
ROG PHONE 5 CLASSIC
ROG CETRA II CORE WORTH PHP 3,300+
ROG RANGER BACKPACK (RGB BP3703)
PHP 1,000 DISCOUNT
ROG RANGER BACKPACK (BP2500)
PHP 500 DISCOUNT
If you want to know more about the ASUS/ROG Cool for School promo, you can head over to this link to know more about the mechanics and the participating stores: For the complete mechanics and list of participating products and stores, check out: https://bit.ly/ASUSROGCoolForSchool2021