Lenovo has recently unveiled their 5th generation Yoga devices for their consumers and yes, it's arriving here in the Philippines soon. So what are these devices? Well, they're the Yoga 6 series, Yoga 7 series, and the Yoga 9 series but of course, there's the Ideapad series too that is arriving in the Philippines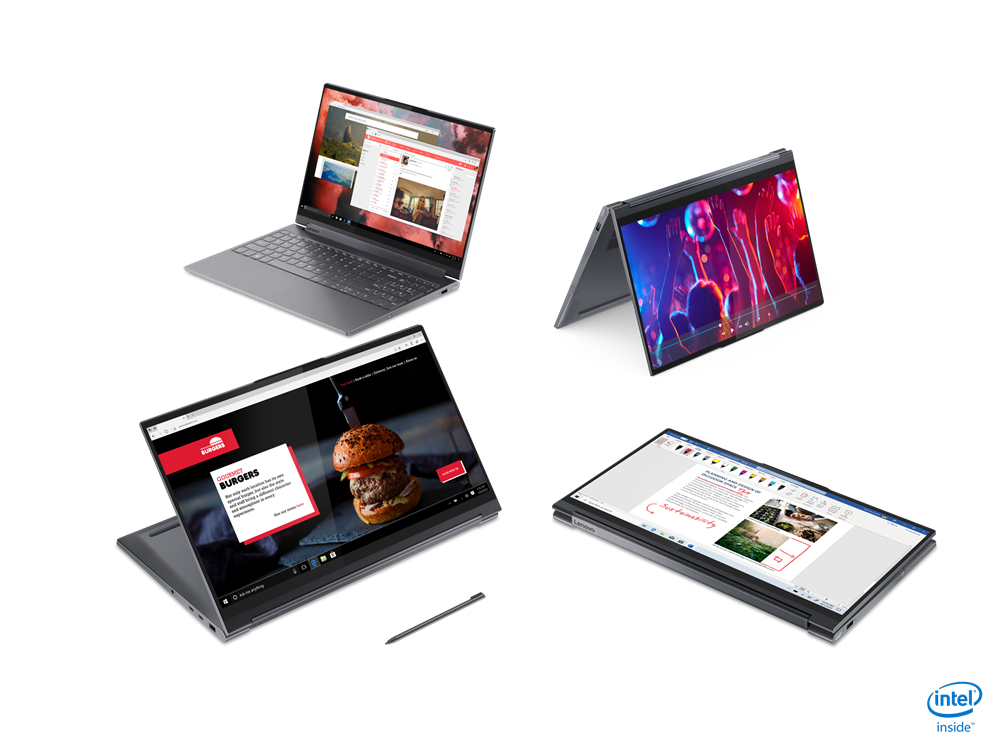 Ideapad 3 and 5 series
The Ideapads are known to be pocket-friendly but they're also known to have a decent specifications inside that can run most work from home stuff and also most basic stuff. The Ideapad Slim 5i that starts Php42,995 while the IdeaPad Flex 5i comes with an SRP of Php49,995. It also comes with a Lenovo digital pen so you can write anywhere on the display.
But of course, they also have the more Ideapad 3i with Intel Core i7 that comes with a price of Php44,995 or you can opt for the affordable one with Core i3 and MX GPU for Php29,995.
Lenovo Yoga 6
The Yoga 6 is one of the portable Yoga devices out there and it comes with a Ryzen 7 4700U Mobile processor along with AMD Radeon graphics and up to 1TB of SSD with its 13″ chassis. Not only that because this one can still last up to 18 hours of computing despite the powerful hardware inside.
Yoga 7 series
The Yoga 7 series comes in different variants ranging from the Yoga Slim 7i Pro that packs a slim body and the latest 11th gen procesor inside paired with MX450 GPU and also a 14″ 2.8K dispaly with a 90Hz refresh rate then there's the Yoga Slim 7i Carbon that comes with a MIL-STD 810G certification and it brings a 966g weight thanks to its carbon fiber body and then there's the Core i7-1165G7 processor and up to 16GB RAM, 1TB SSD and a 16:10 QHD panel.
Then there's the Yoga Slim 7i that packs a 13.9mm thinbody with 13″ display and also a 16:10 aspect ratio with a 2560×1600 resolution while the Yoga 8i comes with a price of Php59,995 and it packs the latest Intel Core i7-1165G7 with XE graphics inside along with 16GB RAM and 1TB PCIe SSD.
Yoga 9 Series
Lastly, there's the Yoga Slim 9i and the Yoga 9i that both starts at Php99,995. Both devices runs on the latest 10th generation Intel Core i9 HK-series mobile processor with Intel Xe graphics.
There's a 14″ display on the Yoga Slim 9i notebook and it features an aerospace-grade aluminum chassis and also n edge-to-edge Glass Palm Rest, fingerprint-resistant smart sensor touchpad and a smart sense keyboard that auto-adjusts the white backlighting based on the ambient lighting conditions.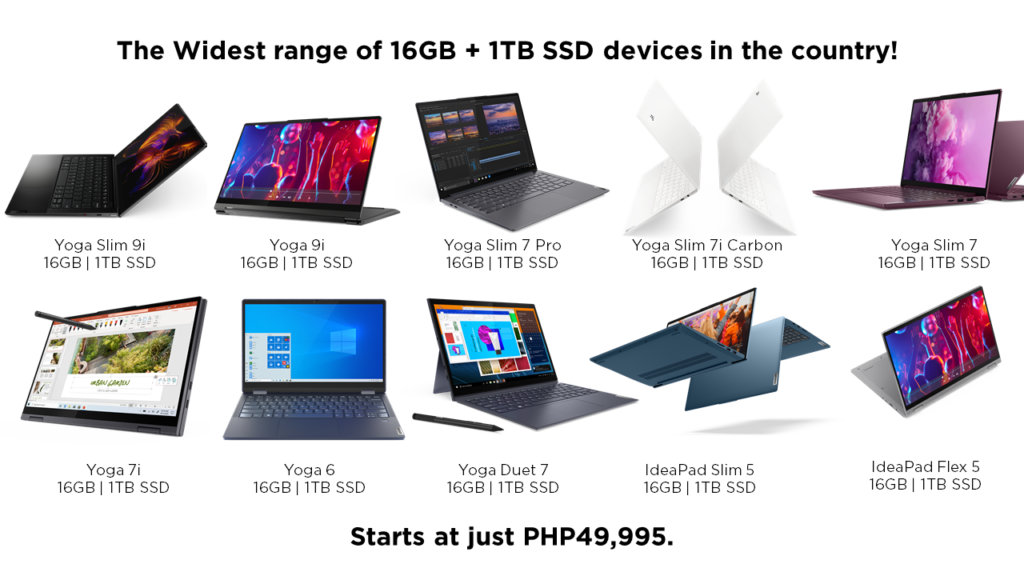 Lenovo X Herschel holiday collection

Just like last year, Lenovo is bundling Herschel products to treat their customers and they're giving away up to a total of Php70,050 worth of freebies.
For Yoga 6, 7, and 9 series, you can get a Lenovo X Herschel Stowaway Jacket worth Php10,995, Gibson Travel Bag worth Php7,495, and Spokane Sleeve worth Php3,495 plus Lenovo accessories for free.
While for those people who are buying the Ideapad 5 and 3 series or IdeaCentre Desktops and AIOs, you can get a free Stowaway Jacket and other accessories while certain models of the IdeaPad 3 will come with a free Stowaway jacket and Fifteen Hip Pack worth Php2,495 among other freebies while the Smart Tab M8 and M10 FHD comes with a free Fifteen Hip Pack.
The Lenovo Presents: Herschel Holiday Collection Exclusive Made for Lenovo runs from November 1, 2020 to January 31, 2021.