Having a work from home setup means getting your own PC or laptop for work. For some, the company delivers or the employee gets to take home a PC or a laptop from the office. Others are given a budget to spend to get either a PC or a laptop. And some unlucky workers shell out money from their personal device. Whether you're given a budget or is unlucky and only willing to spend the least amount possible, we've got a selection of budget laptops for you to choose from.
NOTES:
Don't expect superb performance due to the limited budget
Prices listed are SRP unless stated
Based on VillMan Computers pricelist and Promos.
Laptops under the Php 20,000 price point are good for Microsoft Office and Internet-based tasks
Items listed are in no particular order, however, we will highlight the best choice among the five laptops mentioned.
LENOVO Ideapad S145 14″ Laptop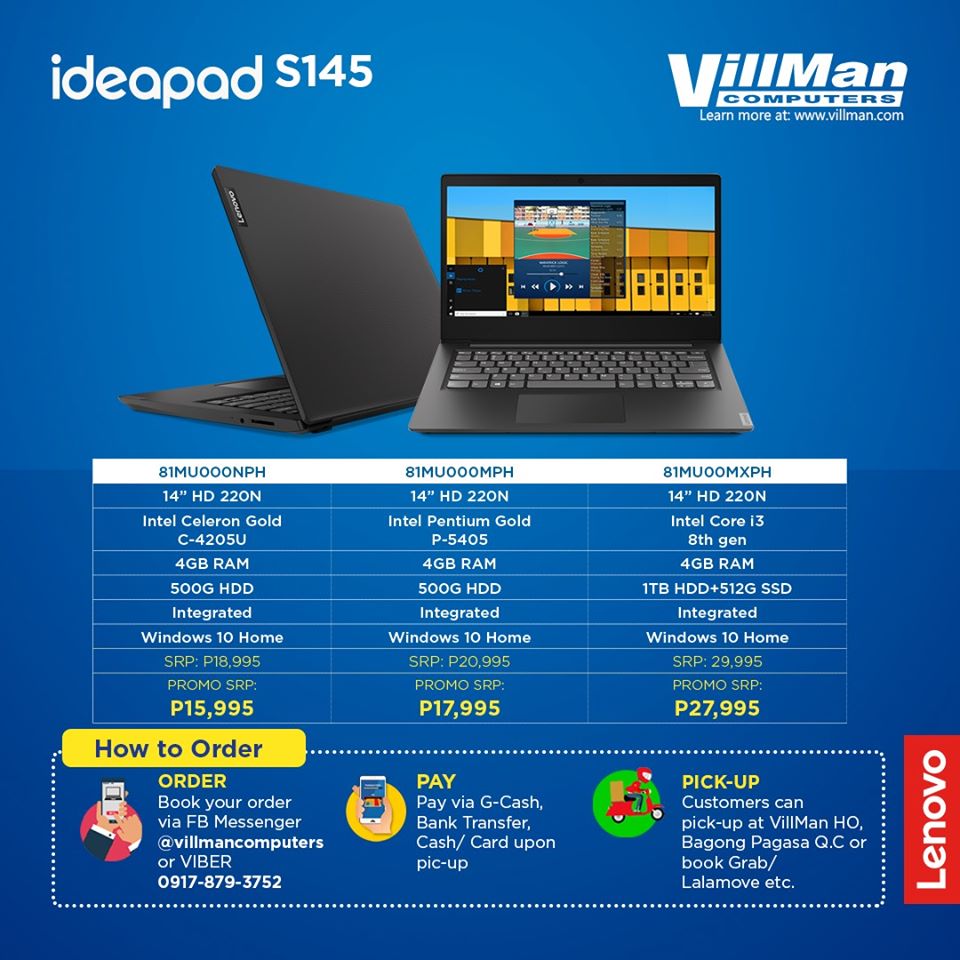 The Lenovo Ideapad S145 is one of the best budget laptops available to date. It has different SKUs as low as Php 15,000 to as high as Php 45,000 depending on the CPU, memory, and storage configuration. Our recommendation is to go for the Lenovo Ideapad S145 81MU000MPH for only Php 17,995. It sports a 2-core/4-thread Pentium Gold CPU paired with 4GB Ram and 500G HDD. With its low price, you have an extra budget to upgrade the laptop to either an additional 4GB ram for a total of 8GB or opt-in for a 128GB or 240GB SSD.
HP 15s 15.6″ Laptop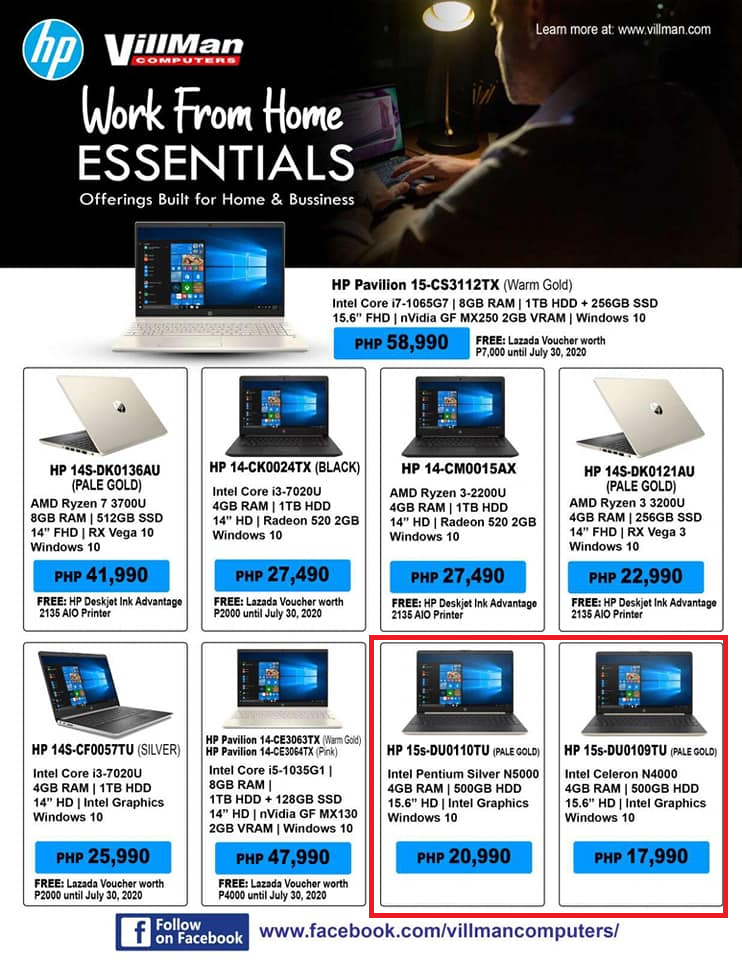 The HP 15s is the probably the cheapest 15.6″ Intel-powered laptop available in the Philippines. Sporting an Intel Celeron N4000 processor with 4GB RAM and 500GB storage isn't definitely attractive, it's main strength is the bigger screen. It's ideal for people who have trouble in smaller screens and for those who can't find the mouse cursor 99 percent of the time. If your workload requires multiple windows opened at once, then going for the DU110TU model for Php 20,990 is worth it thanks to the quad-core processor. If not, go for the cheaper DU0109TU model at Php 17,990.
Acer Aspire 5 14″ Laptop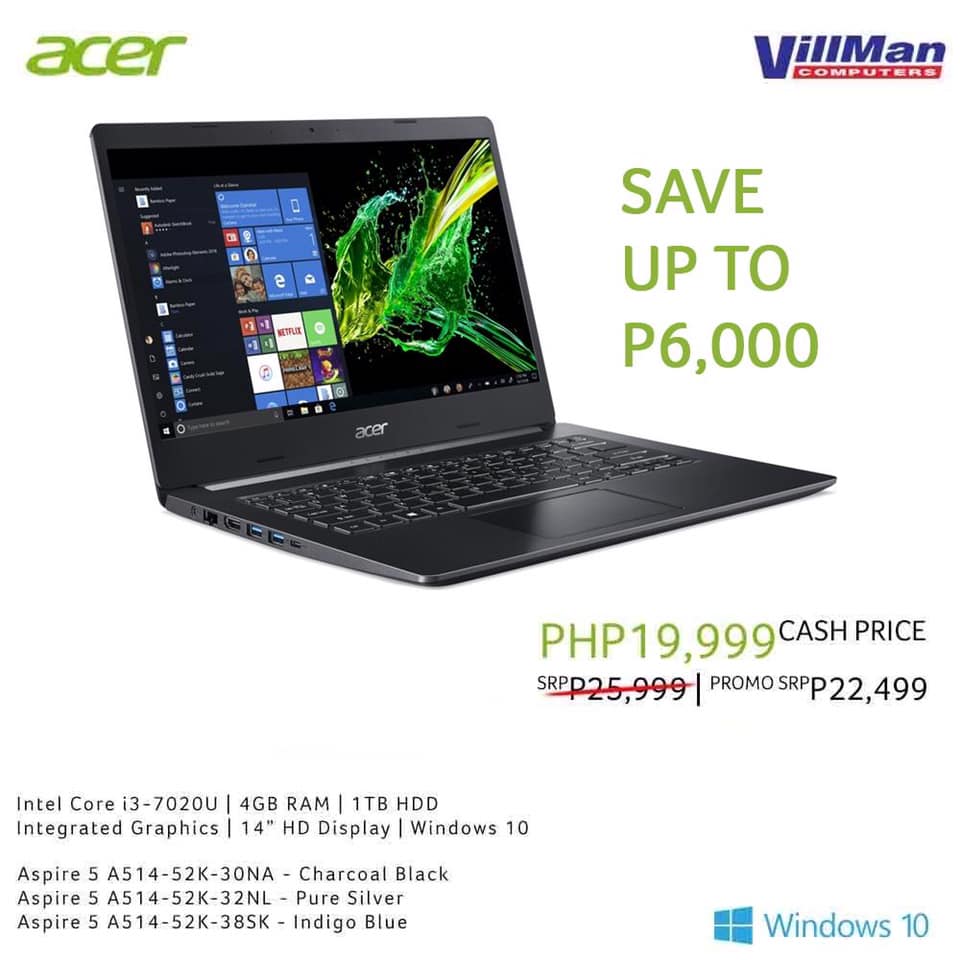 Acer is undoubtedly the first brand that comes into mind when it comes to budget laptops. Representing the brand is the Aspire 5 14″ Laptop that packs an Intel Core i3-7020U processor paired with 4GBs of RAM and 1TB HDD for storage. At just 1 peso less than our max budget of Php 19,999, the Acer Aspire 5 is the only laptop in the list that sports a Core series CPU and 1TB of storage.
ASUS Vivobook X441NA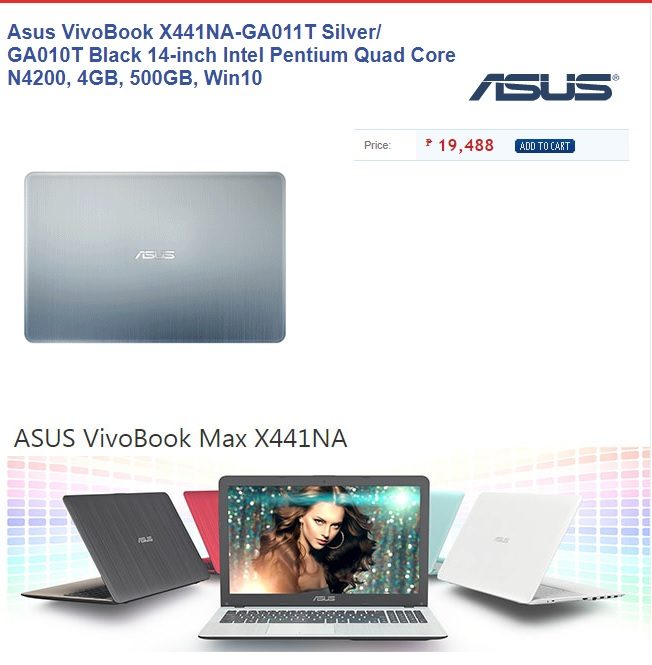 ASUS' budget laptop offering comes in the form of the Vivobook Max X441NA. Its the only laptop that has a lot of color options available. It is Intel Pentium Quadcore processor is slightly more powerful than the HP 15s but it sports a smaller chassis and screen. Unlike other laptops listed, there's not enough extra budget to get an additional 4GB Ram or 128/240GB SSD.
Lenovo Ideapad 130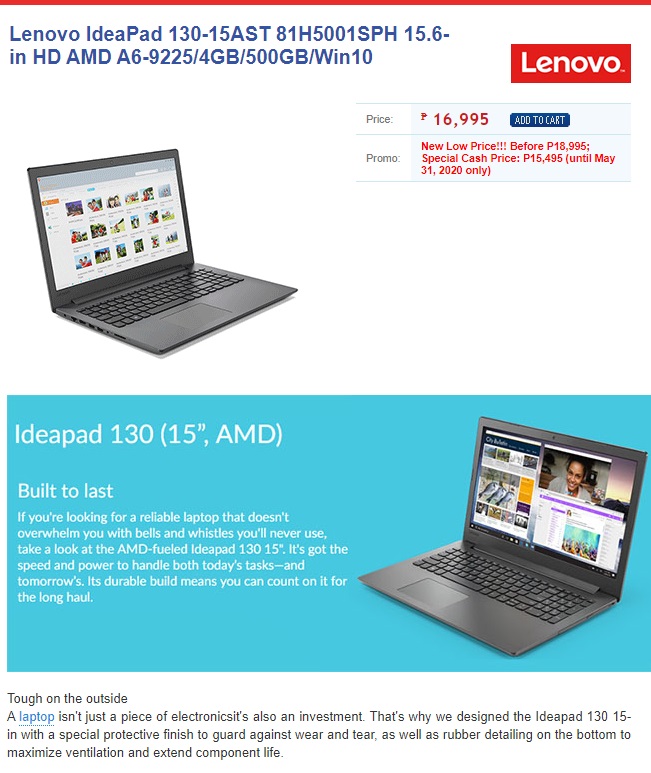 Lenovo grabs another spot but this time, in a bigger chassis and is sporting an AMD processor. The Ideapad 130 is a slightly older model but takes the crown in terms of value for the promo price of Php 15,495. The AMD A6-9225 is not as strong as the Intel Core i3 but when paired with an additional +4GB ram(8GB Total) and an SSD, the Lenovo Ideapad 130 makes a well-rounded contender that addresses almost all flaws by the other products mentioned.
Which one is the best?
We have two answers for the best laptop on the list provided that there are two scenarios. First is if you're going to max out the Php 20,000 laptop via upgrades, then the laptop to get is the Lenovo Ideapad 130. The second scenario is if the user maxing out the Php 20,000 without any third-party upgrades. The best well-rounded laptop without spending the leftover budget goes to the Lenovo Ideapad S145 because of its wide variety of configurations. It is also the cheapest laptop in the list as it has a Php 13,500 model.