The 8-month campaign of ASUS ZenFone's PixelMaster Master Class is coming to an end. As a celebration of its success, ASUS Philippines launched its first ever Nationwide Mobile Photo Marathon, the PixelMaster Grand Prix.
In collaboration with the ZenFone's PixelMasters, they are inviting all PixelMaster Master Class students, ZenFans and ZenFone users to participate in the said activity.
The PixelMaster Grand Prix will be led by the respected and celebrated PixelMasters themselves namely:
Ricky Ladia for Travel Photography
Arlene Donaire for Visual Story Telling
Jasper Tejano for Street Photography
Emir Kahn Bautista for Wedding Photography
Dail Deri for Conceptual Photography
Ken Go for Portraiture
Jay Ermitano for Documentary Photography
Nicco Valenzuela for Landscape Photography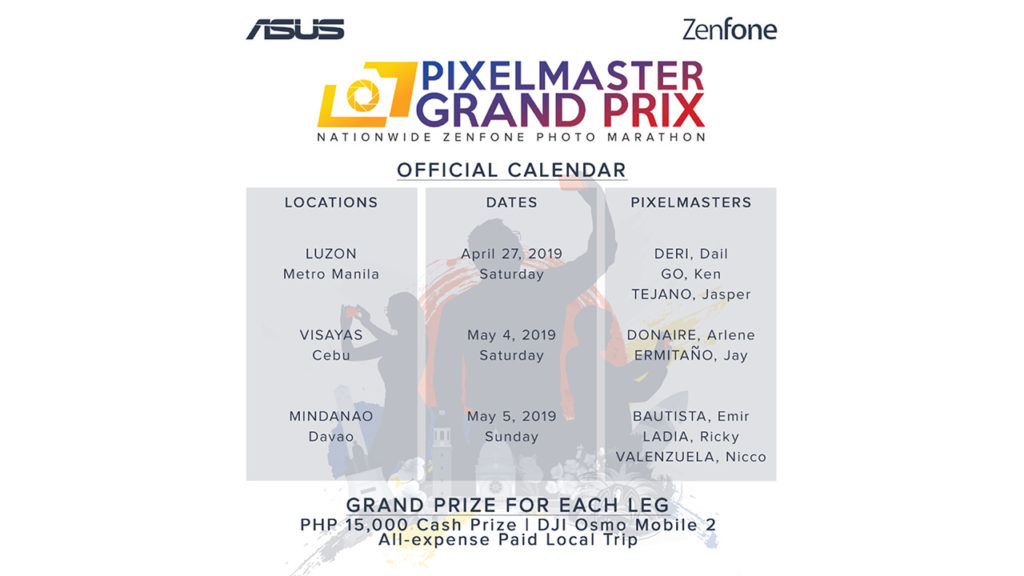 The mobile photo marathon is set to begin this April 2019 and is open to all ZenFone users – from the first generation to its current, and some lucky non-ZenFone users as well.
Winning participants of each leg get a chance to win exciting prizes, with over Php 50,000.00 worth of prizes up for grabs.
Registration is FREE! The registration period is on-going until April 20, 2019. To know more about the mechanics of the ASUS' Nationwide Photo Marathon head on to http://www.asuspixelmasterclass.com