Our smartphones are our go-to device for documenting everyday moments. The desire to post amazing photos in all available platforms caused the intensive demand for professional camera features to be embedded on a smartphone. Besides, who would like to carry a heavy photography device around while enjoying the holidays?
The emergence of multi-camera setups increased offering different capabilities which cater consumers who are no longer looking at the camera resolution of a smartphone. Of course, the fact that a smartphone that features different capabilities compared to the hi-res ones enables the user to create unique shots.
The latest Vivo V15 Pro, an AI-powered Triple Camera is packed with everything a consumer needs to document everyday moments in life and bring them to life. It features a 48 Million Quad Pixel Sensor, an 8MP AI Super Wide-Angle Camera, and a 5MP dept camera.
Light up your night with powerful main camera
The Vivo V15 Pro's main camera comes with a huge aperture and a 48 million quad pixel sensor to take night shots that easily light up all the details. The "four-in-one pixel" technology combines four adjacent pixels into a single 1.6μm large pixel, delivering high-quality 12MP photos.
Its AI Super Night Mode boosts night photography performance as it instantly captures multiple photos at different exposures and combines them to improve brightness and clarity.

Left: With AI Super Night Scene, Right: Without Super Night Scene
See more with V15 Pro's AI Super Wide-Angle Camera
The AI Super Wide-Angle Camera can capture views up tp 120 degrees. Imagine taking a shot of iconic sights in a snap without the need to worry of not getting every single detail of the scene. In a just a tick, it enables the AI Super Wide-Angle feature to expand its camera vision, capturing more details in a single shot.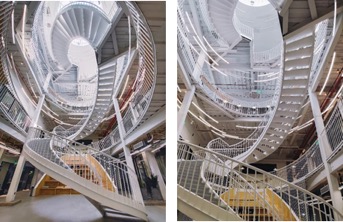 Left: With AI Super-Wide Angle, Right: Without AI Super-Wide Angle
Make photos pop with realistic Bokeh effect
The 5MP Depth Camera partnered with AI settings can help create a realistic bokeh effect using a series of algorithm that identifies the background. The AI algorithm will blur the background to make the subject pop – perfect to boast in all social media platforms.
Flawless portraits and selfies in a snap
One of the most commonly taken shots are portraits. But we all know that it is not always that we find the best angle unless of course, you are a professional model. Good news though, using the Vivo V15 Pro, it takes care of that with a series of intricate AI features that can always help consumers to look their best. The Vivo V15 Pro examines the current position of its subject, then guides the user to effortlessly produce perfectly-portrait shot.
The AI Body Shaping feature even allows the user to adjust their body shapes according to their likings, such as creating a slimmer waistline, enhancing bustline or longer legs.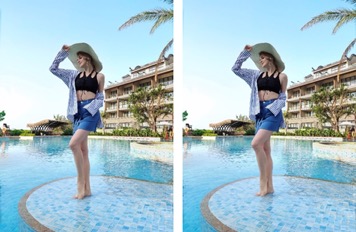 Left: With AI Body Shaping, Right: Without AI Body Shaping
Struggling with the ideal lighting for a selfie? V15 Pro's AI features can transform the 2D image into a 3D model, allowing more natural editing to face shape and lighting. The AI Face Beauty and AI Face Shaping functions can smoothen skin and tweak facial features, while AI Selfie Lighting adds the most appealing lighting effects to create a flawless selfie on the go.
The Vivo V15 packs all the AI features and capabilities you will probably need to capture an album of perfect photos. Now, users can truly rely on a smartphone and leave their heavy photography device at home.