The world's smartest water bottle has arrived in the Philippines and you can get it at Digital Walker and Beyond the Box. With the HidrateSpark PRO, you can improve your water intake and even track your water consumption and it will even glow when it's time for a drink.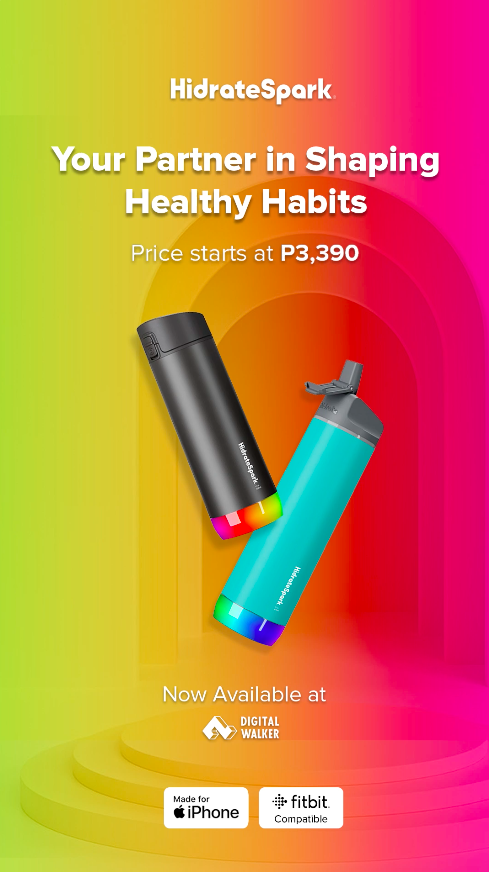 The HidrateSpark PRO comes in stainless steel vacuum insulated material so you can keep you drinks cold up to 24 hours and it's also lightweight, shatter, and odor resistant thanks to the Tritan plastic.
So what can this smart water bottle do? a lot actually. It reminds you to drink throughout the day and you can also customized the pattern and the color of the lights and you can also sync it to the HidrateSpark App via bluetooth so you can track everything that you do with the water bottle.
In case you lost it, you can also use the Find My Bottle feature that shows the location of the bottle and it can also sync with your Fitbit health and fitness devices. The bottle also comes with a carry loop so you can bring it anywhere you want and there's the protective spout cover as well to protect it from dirt and germs.
If you want to get it, it's available in 17oz and 21oz variants and they are priced at Php3,390 and Php3,690 respectively. You can get it in Black, Fruit Punch, Sea Glass, Deep Blue, Brushed Stainless Steel.
You can get it at: