ASUS has recently announced that they're the official hardware brand of PUBG SEA Championship, this year's biggest eSports competition in Southeast Asia.
Playerunknown's Battlegrounds or PUBG is a 100-player battle royale shooter game and it's the biggest game on Steam right now. In PUBG SEA Championship, a four-man squad has a chance to represent their country and also the region at the first PUBG Global Invitational that will be held in Berlin Germany this July 2018 with a total prize pool of $2 million.
Elimination matches will happen in key Mineski iCafe to determine which squad will head to the National Finals that will be held at SM North EDSA Sky Dome on June 9-10.
In line with this, ASUS ROG also supports the PUBG community by giving away 4 ROG PC sets worth Php500,000 to the top squad of the country final on top of the prizes that they'll be able to get from the tournament.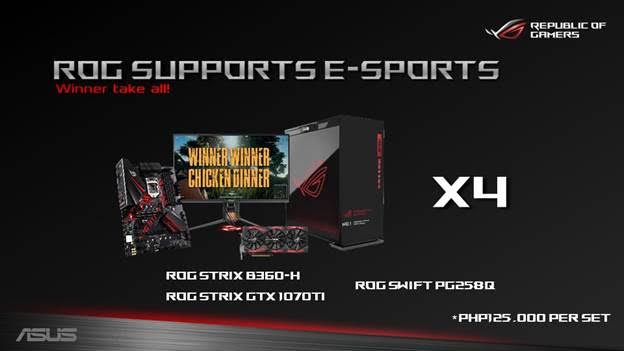 The ROG PC Set will come with ROG Strix B360-H, ROG Strix GTX 1070ti, and ROG Swift PG258Q. With that set, I'm pretty sure that PUBG can run smoothly and without flaws.
If you're interested in joining the PUBG SEA Championships, the qualifiers will be held at the following dates:
National Qualifiers
Philippines: May 5 – June 3
Indonesia: April 28 – May 13
Malaysia / Singapore: May 5 – May 27
Thailand: May 7 – June 10
Vietnam: June 16
National Finals
Philippines: June 9 – 10
Indonesia: May 19 – 20
Malaysia / Singapore: To be announced soon.
Thailand: June 22
Vietnam: June 16
Regional Finals
SEA Finals: June 23-24, 2018 in Thailand