Building a PC is required these days whether it be work, school, or play. The Covid-19 pandemic caused the PC market to boom at the same time crash. There is an artificial shortage thanks to logistics getting delayed not to mention the lack of manpower in customs clearing. The rise in prices forced consumers to either bite the bullet, settle for lesser PC specs, or waiting for a sale. If you're number three, then Lazada's 7.15 Mid Year Bounce Back Sale is something you shouldn't miss.
HOW TO SAVE MORE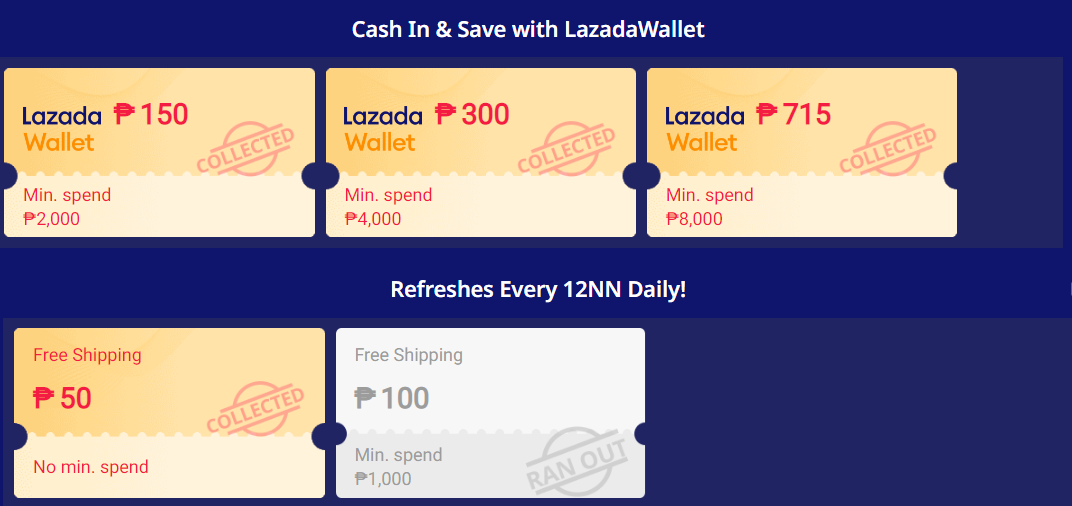 What good is any sale guide without some lifehacks to save more money or get more for less, right? What's great about Lazada is there are many ways to get discounts and vouchers. Be sure to check your respective credit card companies to see if there are any Lazada 7.15 offers. Click on store pages to redeem store-exclusive vouchers. And lastly, participate in Lazada games and check the 7.15 sale homepage to get vouchers.
Pro Tip: Don't check out all items at once. Mix and match items to get a certain sum that meets a specific voucher. If you have a friend who's not buying anything from Lazada, you can use his/her account to purchase your items and use practically the same voucher.
Here are some notes:
Product Prices are based on Lazada stores
Products must have at least 1 review for verification and security
Products listed are qualified on Lazada's 7.15 Mid Year Bounce Back Sale
Stocks are surely limited during sales, we do not know how many units are on sale
30K Lazada Gaming PC Build
| | | | |
| --- | --- | --- | --- |
| | Model | Orig Price | Sale Price |
| CPU | Ryzen 5 3500 | 6,450 | 6,256.5 |
| Mobo | ASUS EX A320M Gaming Motherboard | 3,150 | 3,087 |
| Memory | Avexir 16GB(8GBx2) 3200Mhz | 4,400 | 4,085 |
| GPU | MSI RX 5500 XT Mech 4G OC | 9,780 | 9,350 |
| Storage | Kingston A400 480GB SSD | 3,550 | 2,999 |
| PSU | EVGA 600W Bronze PSU | 2,883 | 2,795 |
| Case | Rakk Haliya | 1,995 | 1,935 |
| | TOTAL | 32,208 | 30,507.5 |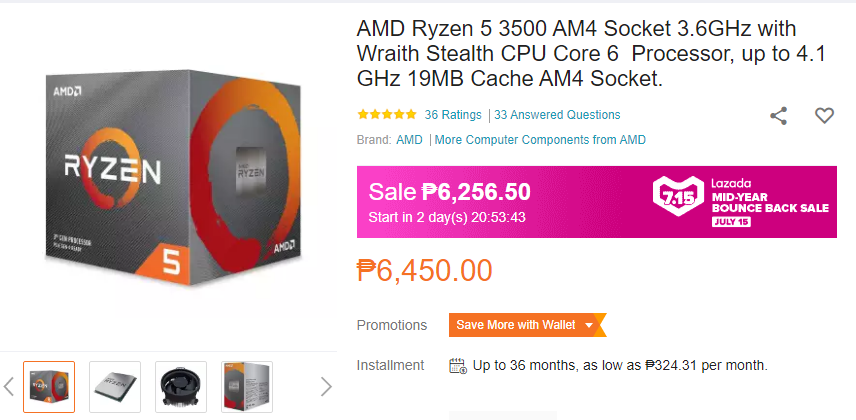 At a Php 30,000 budget, the usual choice is the Ryzen 3 3300X or the Ryzen 5 3600 processor. Unfortunately, both processors have risen in prices to the point where we need to adjust the total build to Php 40,000 for the 3300X and Php 50,000 to the Ryzen 5 3600. Luckily, we happen to stumble upon the Ryzen 5 3500 from EasyPC. Its performance sits in between the two processors mentioned earlier, making it a great at 1080p gaming.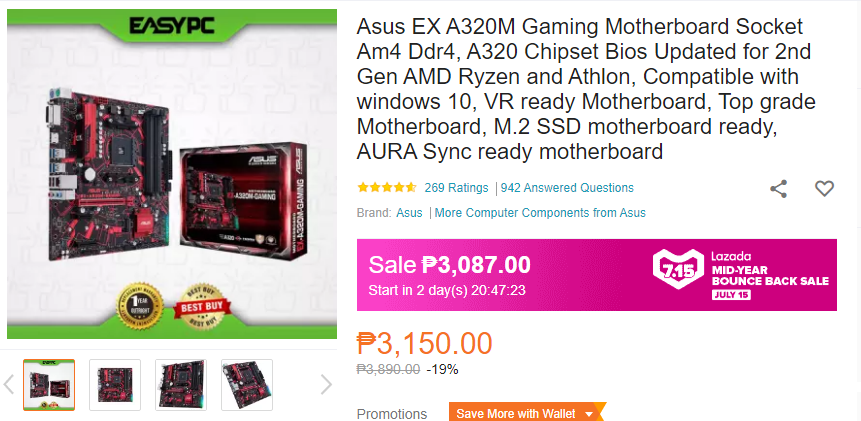 AMD B450 chipset motherboard prices have gone up from an average of Php 4,000 to around Php 5,000 to Php 6,000. As a result, we're forced to settle with either the MSI A320M or the ASUS EX A320M Motherboard. We chose the ASUS EX A320M because of its superior build quality and it has VRM heatsinks for our Ryzen 5 3500.
Ryzen processors work best with high-speed and dual-channel memory. We picked the Avexir Core 2x8GB 3200Mhz RGB memory kit as it's the most price-friendly and 16GB kit available as of writing. If you've never heard of the brand, Avexir is a long-standing brand and one of the pioneers of putting LEDs on RAM modules. 8GB kits are priced around Php 2,500 to Php 3,000 depending on the speed. Spending Php 1,000 more guarantees the best possible CPU performance for the Php 30k budget(Lazada-wise).
There's not much graphics cards available in Lazada except when you count for the shady, "ships from China", China branded GPUs. Don't get it wrong that we don't trust Lazada, if it's our own money we would've risked it to get as much savings possible. But per our rules, these GPUs don't have any ratings thus eliminating them as our choices. At Php 10,000 pricing the MSI Radeon RX 5500 XT is the most reasonable GPU to get at Php 9,350. If you have an extra Php 2k-4k to spend, we recommend getting the GTX 1660 or GTX 1660 Super.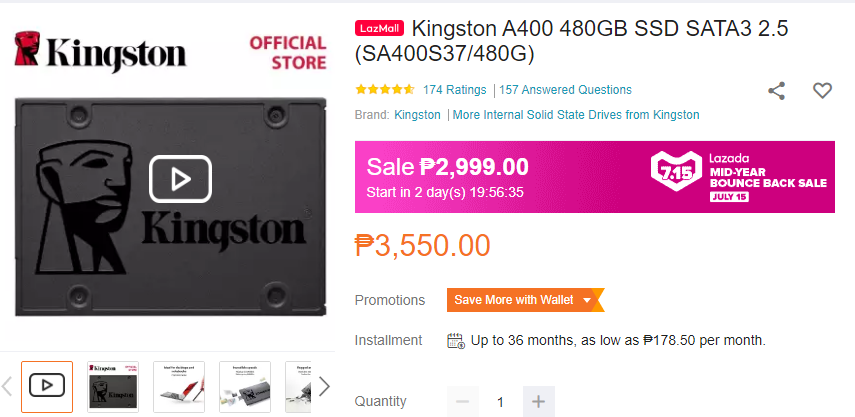 With a limited budget and price selection, the Kingston A400 comes on top as our choice of storage for our Lazada 30K Build Guide. 1TB HDDs are available at Php 2,400 but spending the extra 600 pesos for an SSD makes a day and night difference in your day to day tasks. You can add a hard drive in the next Lazada sale if you need to expand your storage later down the road.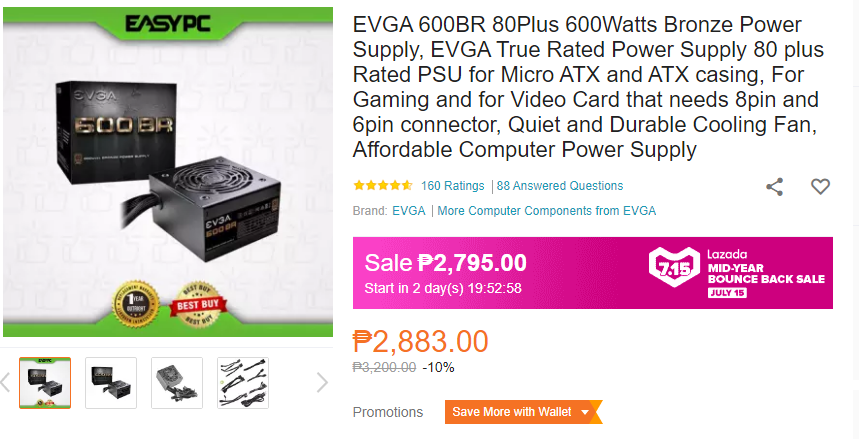 Power Supplies suddenly ran out of stock since the start of the community quarantine. Luckily, we were able to find a decent power supply in the form of the EVGA 600w Bronze Rated power supply. It's more than enough to run our Ryzen 5 3500X and RX 5500 XT. This PSU will surely last a long time inside your case thanks to EVGA's superior build quality.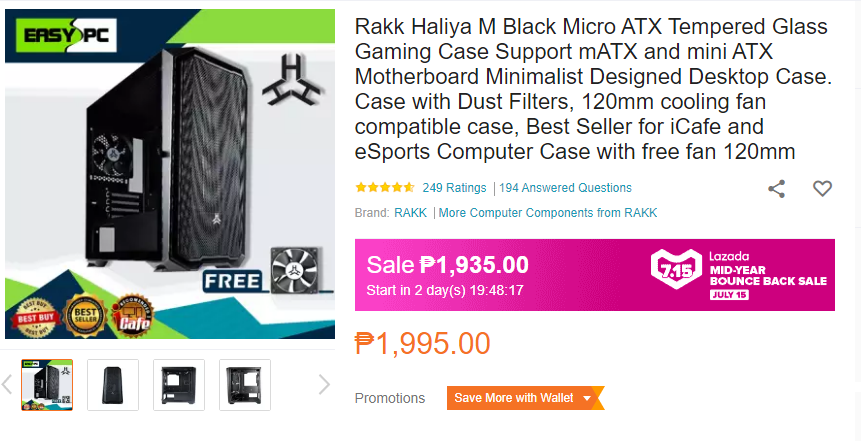 Choosing a case for your PC build is mostly and commonly influenced by your taste or preference. Budget-wise, there isn't any much of a selection to choose from especially the stock shortage on some brands like Tecware and Aerocool. The next best thing we could find is the Rakk Hailya mATX case for Php 1,935. There's a full-size ATX variant available for Php 400 more.