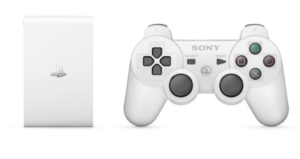 UPDATE: List of PS Vita Games that can be played on the PS Vita TV
Okay. So we have a Sony Playstation Vita, a handheld console and the successor of the Playstation Portable and then there's the Playstation 4, a next-gen console that is connected to the TV. And now, there's a new member of the Playstation family lineup, the PS Vita TV. The Playstation Vita TV can play some of your favorite PS Vita games, PS1 and PSP games on your TV using a Dualshock 3 controller and yes, it's ready to take on the OUYA and Apple TV because it also offers entertainment services and it can also do Remote play for your Playstation 4 that is on your wishlist. Freakin awesome right? Want to know more? Check it out after the break.

There are Japan specific apps that will be available on the PS Vita TV and there's LiveTweet twitter client too. I believe the PlayStation Vita TV could help increase the sales of the PS Vita and its games. If you already have a PS Vita game cards, you can use it directly on the PlayStation Vita TV but not all PS Vita games would work on the PS Vita TV since some Vita games requires a touchpad and a touchscreen. Here's a video of what we can expect from the Playstation Vita TV:
That's a one good product from Sony! PS4 gamers would surely love this especially the remote play. I'm actually eyeing for one because I really want to play classic Playstation and PSP titles on our TV. Unfortunately, no word if this tiny console would arrive here in the Philippines. The PS Vita TV is pegged at $100 and you need to add $50 more for that DualShock 3 controller.
If you want to know the games that supports the Playstation Vita TV, check the list at this link: http://www.jp.playstation.com/psvitatv/game/psvitalist/
Source: Sony