ASUS ROG is known for creating different gaming laptops whether that's an odd one that works like the ASUS ROG Zephyrus Duo or something that is really powerful and functional like the ASUS ROG Strix Scar but they all have a similar problem – they are bulky and heavy and it seems that the ROG team has found a way to have something that is light and also powerful and that's the ASUS ROG Flow X13.
ASUS ROG Flow X13 Specs
AMD Ryzen 9 5900HS
Nvidia GeForce GTX 1650 GPU 4GB GDDR6
13.4″ 16:10 4K WQUXGA Display, 60Hz, IPS, Pantone Validated, Touchscreen
16GB LPDDR4X RAM, 4266MHz
1TB M.2 2230 PCIe 3.0 x4 SSD
1x ROG XG Mobile Interface (PCIe 3.0 x8)
1x USB-A 3.2 Gen 2, 2x USB-C 3.2 Gen 2, 1x Audio Combo Jack, 1x HDMI
WiFi 6, Bluetooth 5.1
720p HD webcam
52Wh Battery
100W USB-C power adaptor
299 x 222 x 15.8mm, 1.3kg
Windows 10 Home
ASUS ROG Flow X13 Review: Design and hardware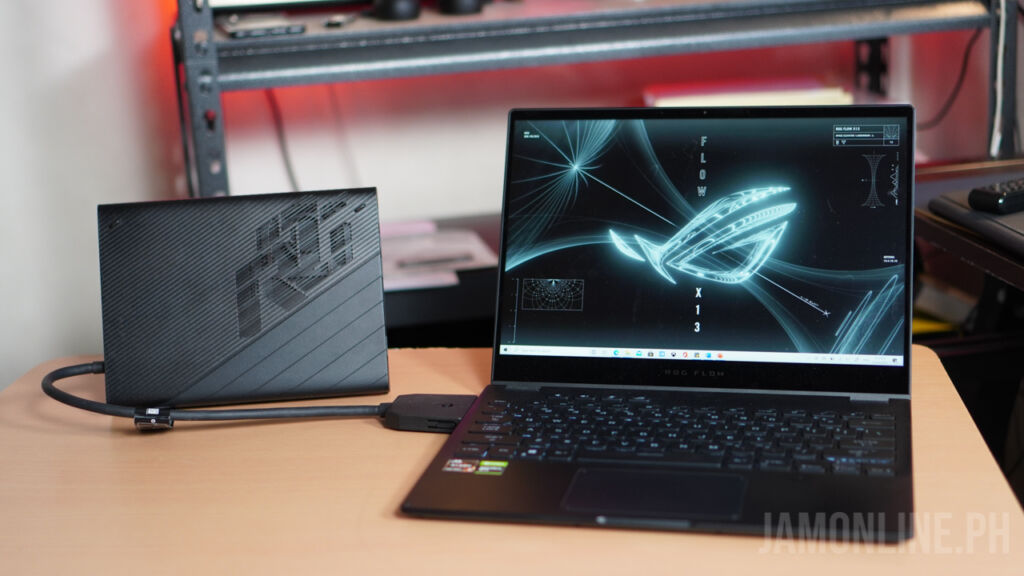 If you're buying the notebook, it's a must that you have the ASUS ROG XG Mobile with you and yes, the combination of the notebook and also the XG Mobile will cost you an arm and a leg but with this duo, you'll get a really powerful notebook but still features an ultra-slim notebook. How thin? Only 0.62" thick. Yep. That slim.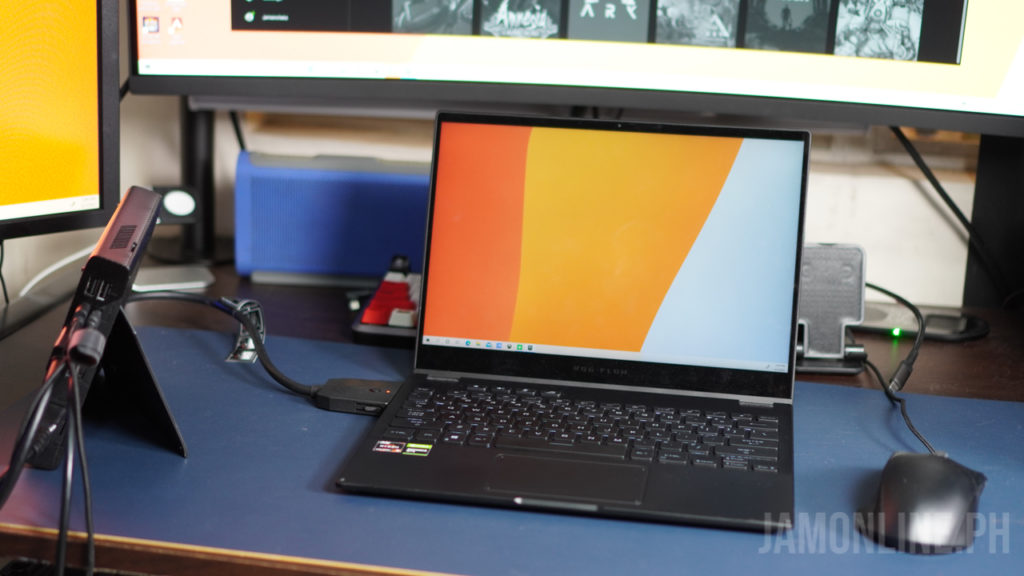 Unlike the other ASUS ROG notebooks that we've seen before. The ASUS ROG Flow X13 is also a convertible notebook that you can twist up to 360-degrees. This makes the notebook perfect not just for gaming but also for productivity. There's a touchscreen display too and it supports ASUS Stylus so you can sign your documents on the notebook or draw with it.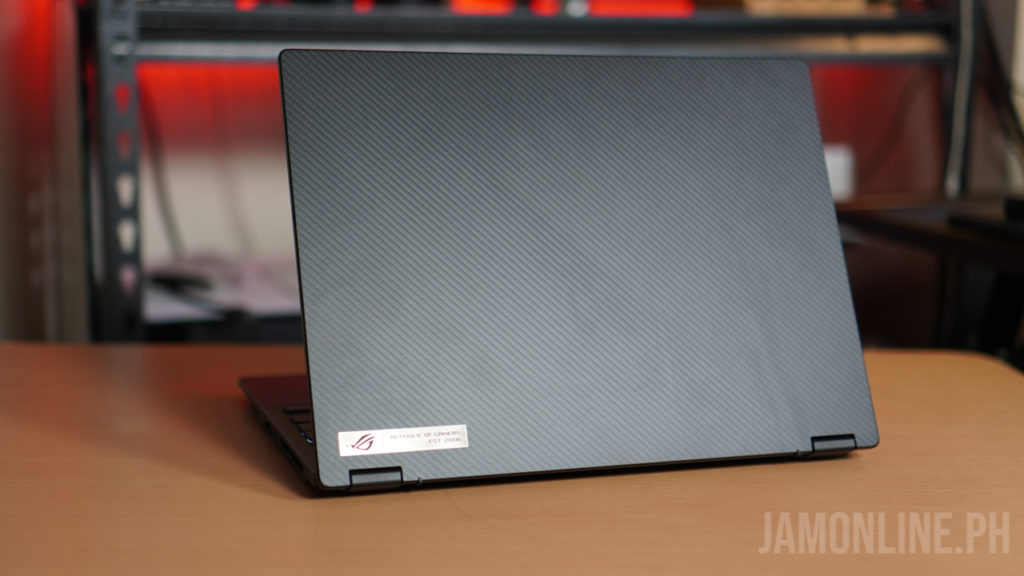 As for the body and lid of the notebook, it comes in a magnesium alloy cover which is sturdy and also lightweight. I actually appreciate that the notebook features a minimalistic ROG design instead of those too edgy gaming looks. It also has a wave pattern with a subtle half-slice on the lid. For the logos, there are the small and minimalistic ROG logos on the lid and also on the keyboard palm rest of the notebook.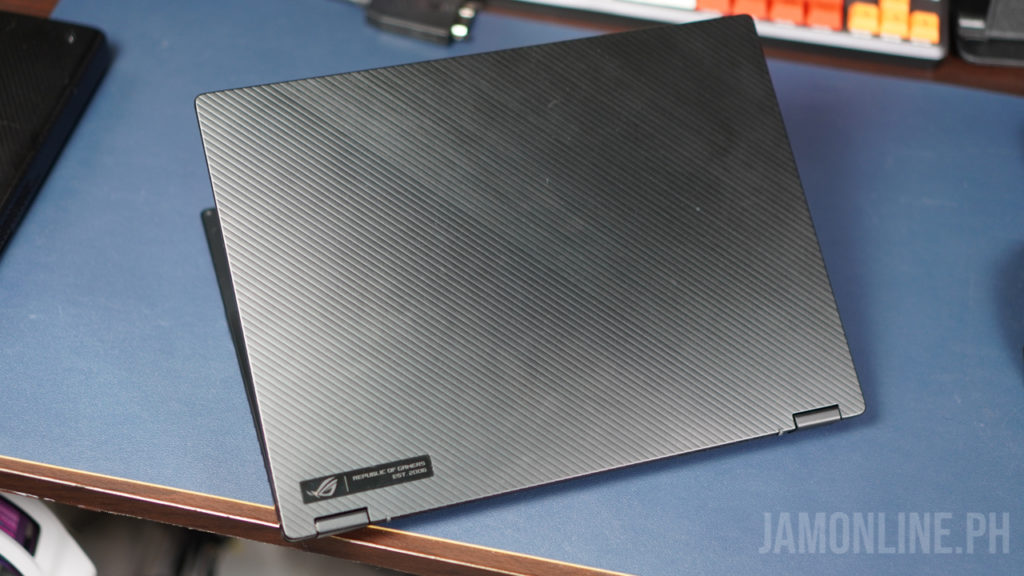 For the ports, there's not much to see on this one but we got here a USB 3.2 Gen 2 Type-A along with the USB 3.2 Gen 2 Type-C with DP1.4 and PD on one side and also a proprietary PCIe 3.0 x8 and USB 3.2 Gen 2 Type-C on the other side along with the HDMI 2.0b and also the 3.5mm audio combo jack. This is already perfect for me as I only need one USB Type-A port most of the time when I'm outside for my mouse or drive then I can use the USB type-C for other stuff. Unfortunately, no card readers here for content creators. Another cool thing about the notebook is the power button also serves as the fingerprint scanner on the smartphone unfortunately, there's no IR camera on this one.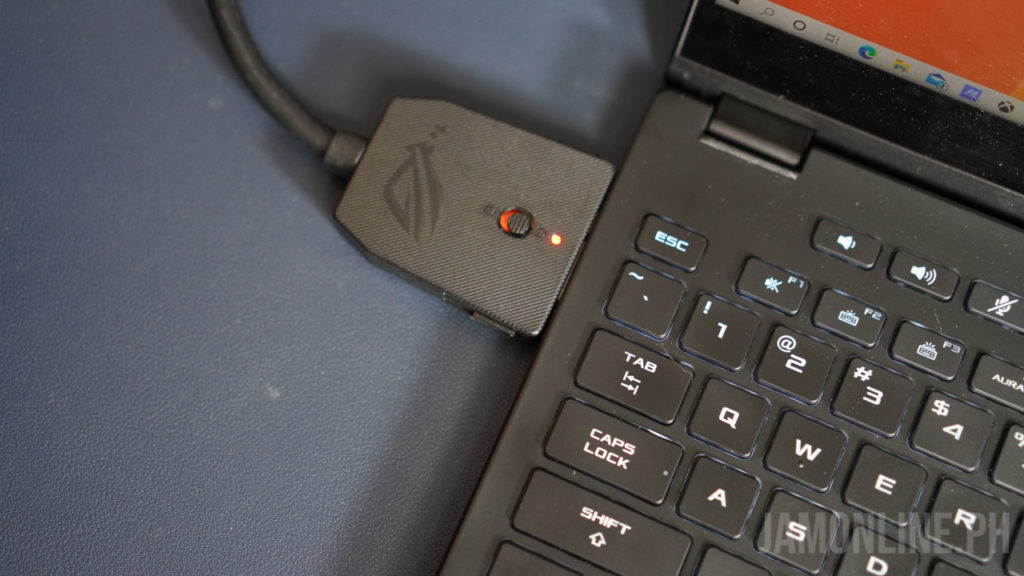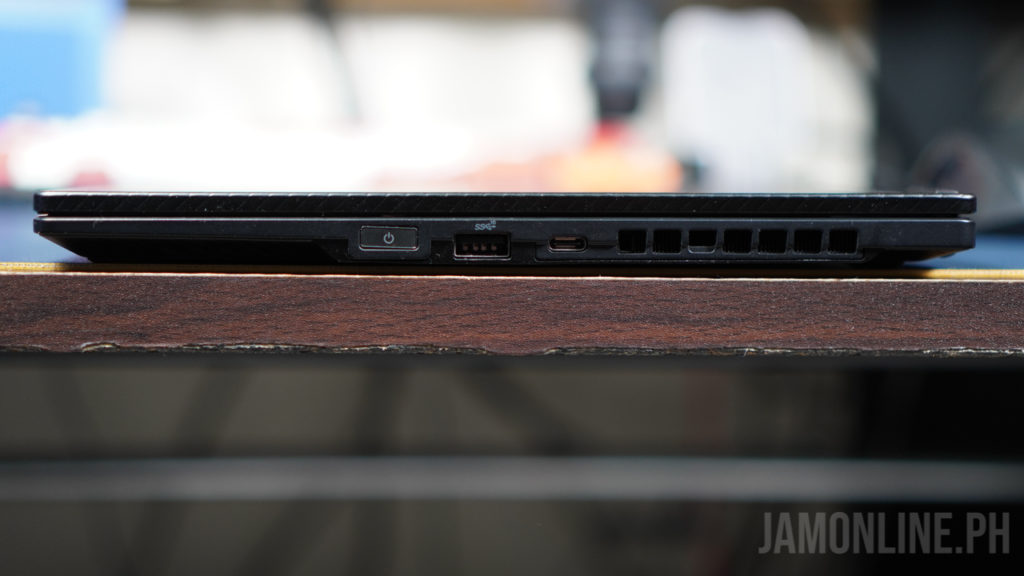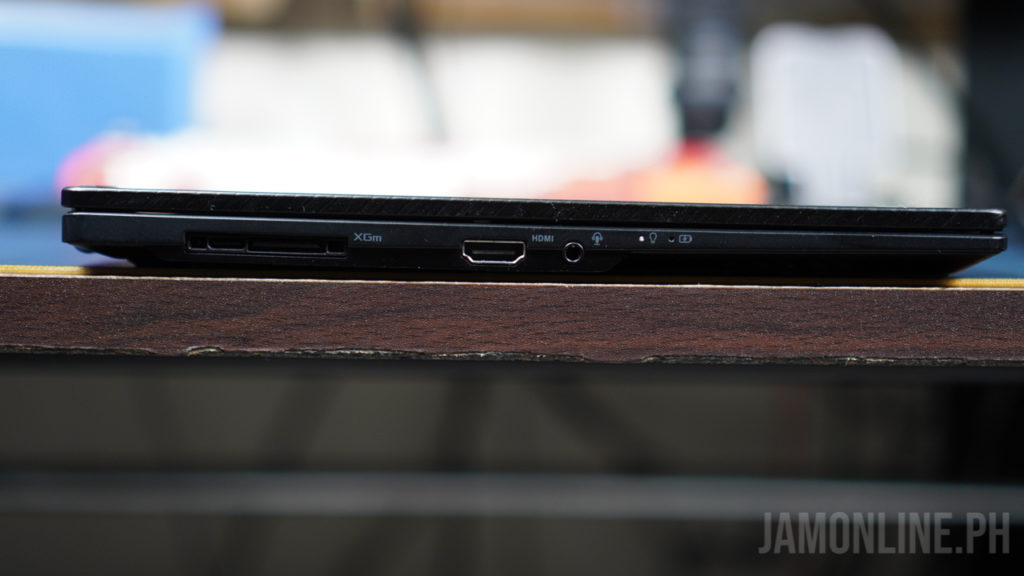 At the top of the notebook is a 720p webcam so you can still use the notebook for Zoom calls and Teams and despite that, the bezel on the sides and at the top of the notebook is thin enough for my usage.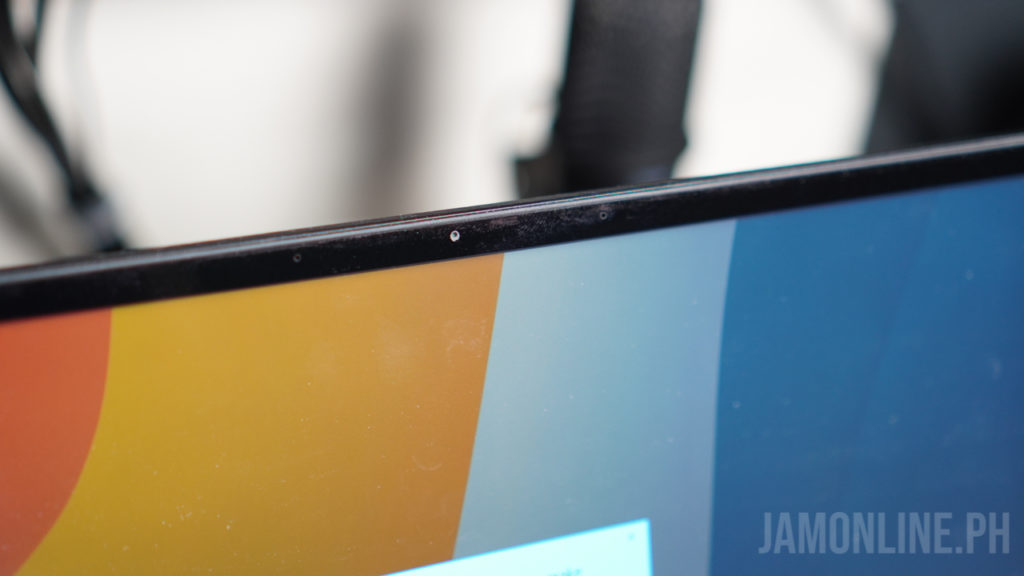 The USB Type-C port on the notebook is also the port for the charger as the notebook comes with a 100W USB-C charger. But once you have the ROG XG Mobile, you don't have to use that one anymore.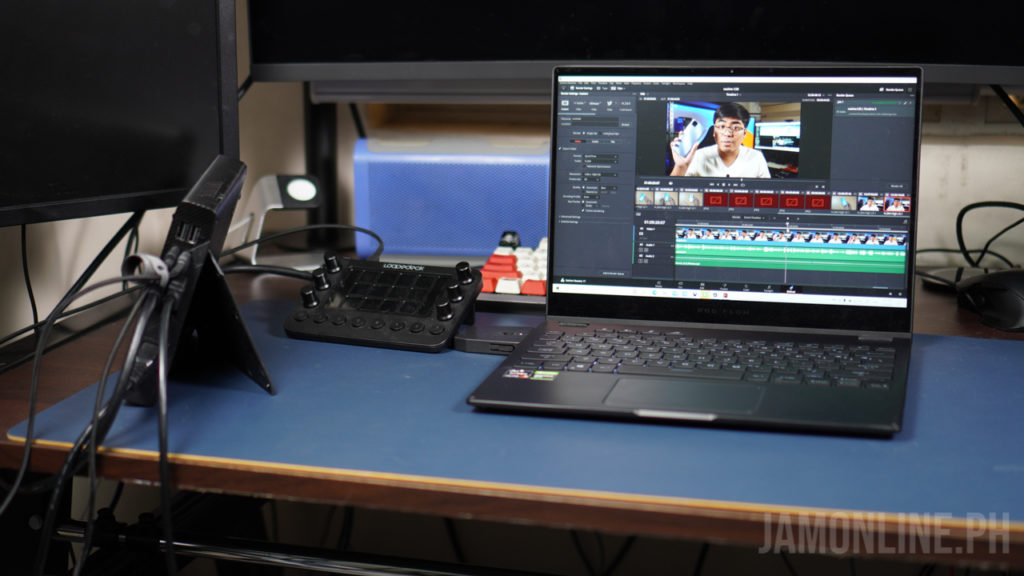 For watching videos, you would definitely appreciate the speaker as this one offers a pretty good audio quality but I still suggest that you use your headphones or speakers for this one to get better quality.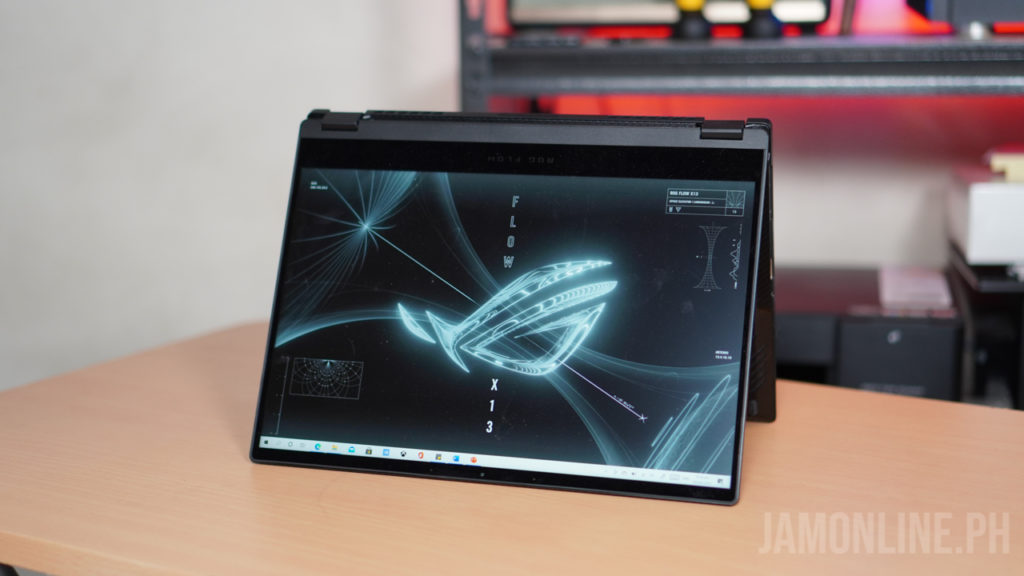 ASUS ROG Flow X13 Review: Keyboard and touchpad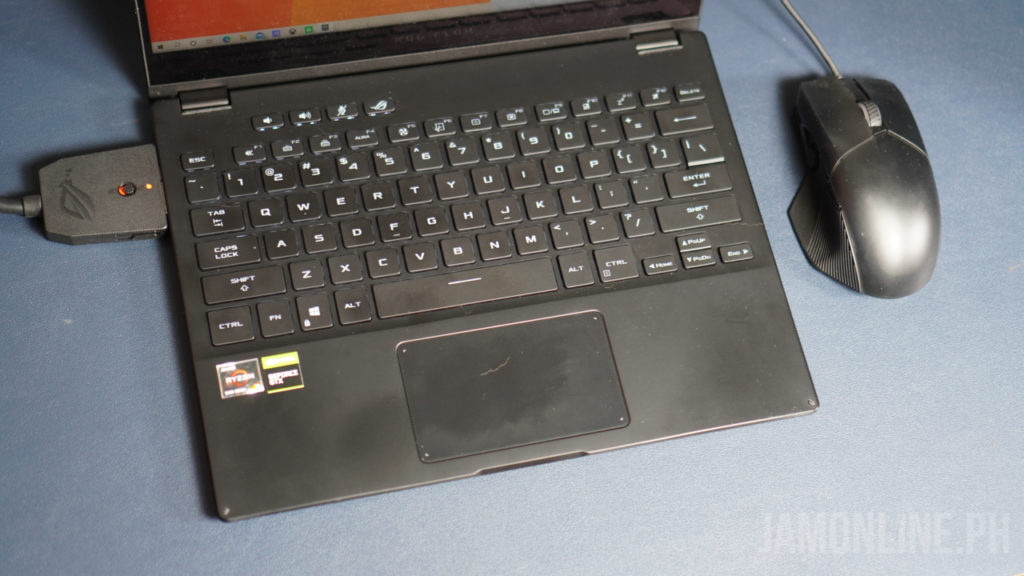 The keyboard unmistakably came from ASUS ROG and as for the experience, well, this one is overall pretty good even for gaming. There's enough travel distance on this one and the strokes were pretty responsive on this one so whether you're typing or you're gaming, the keyboard of this one won't be a problem to you.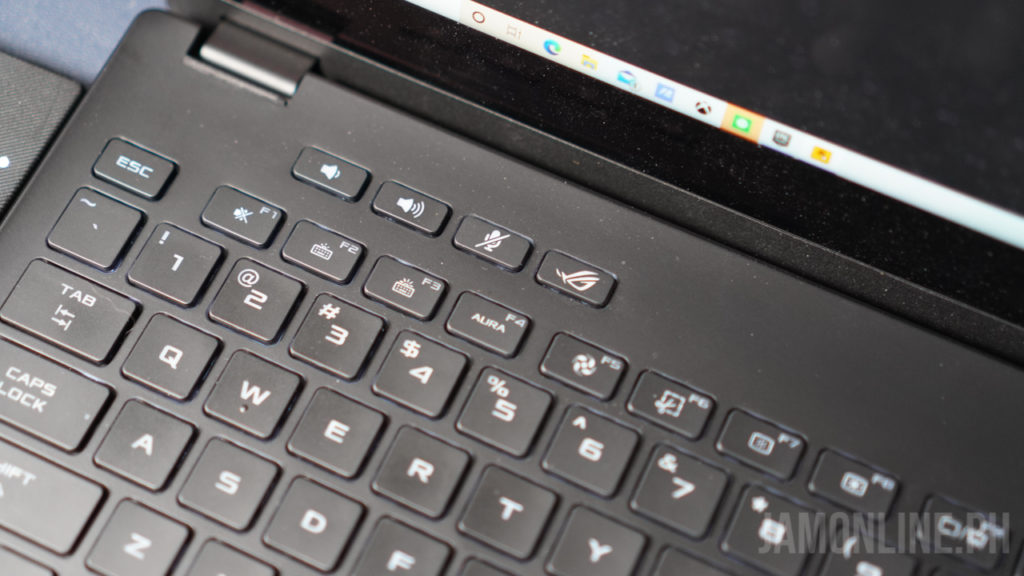 There's a white backlight on the keyboard too and unfortunately, there are no RGB lights on the keyboard but you can still customize the lighting effects on the ASUS ROG Flow X13. There are dedicated buttons too for the volume, mic button, and for the ROG Armoury crate app in where you can see every status that you need on the notebook.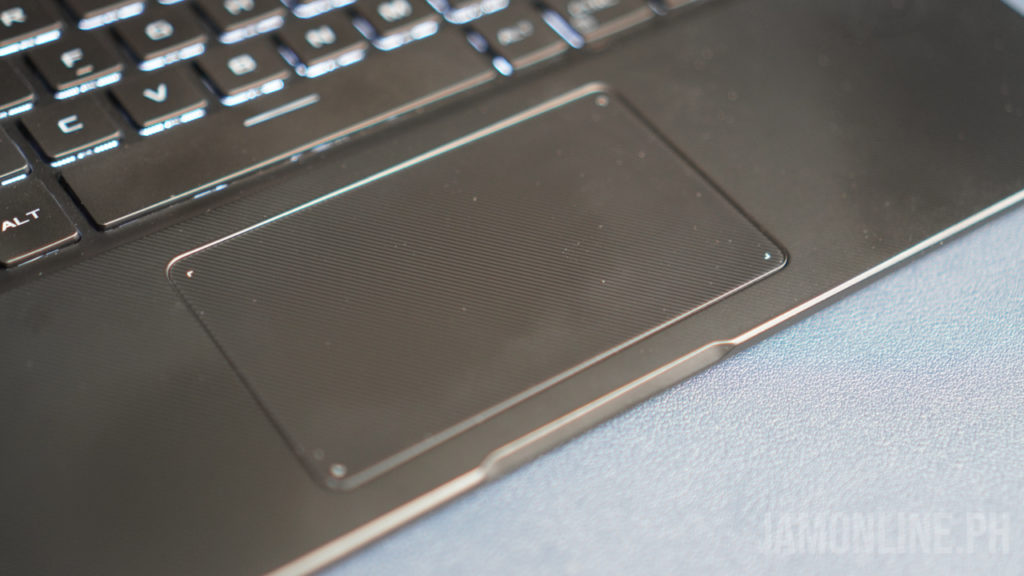 For the touchpad, the size is just a decent size. It's enough for normal usage for work and office. It's responsive and also precise but it isn't glass so it isn't the best touchpad but just a fine one for your everyday use of the notebook.
 ASUS ROG XG Mobile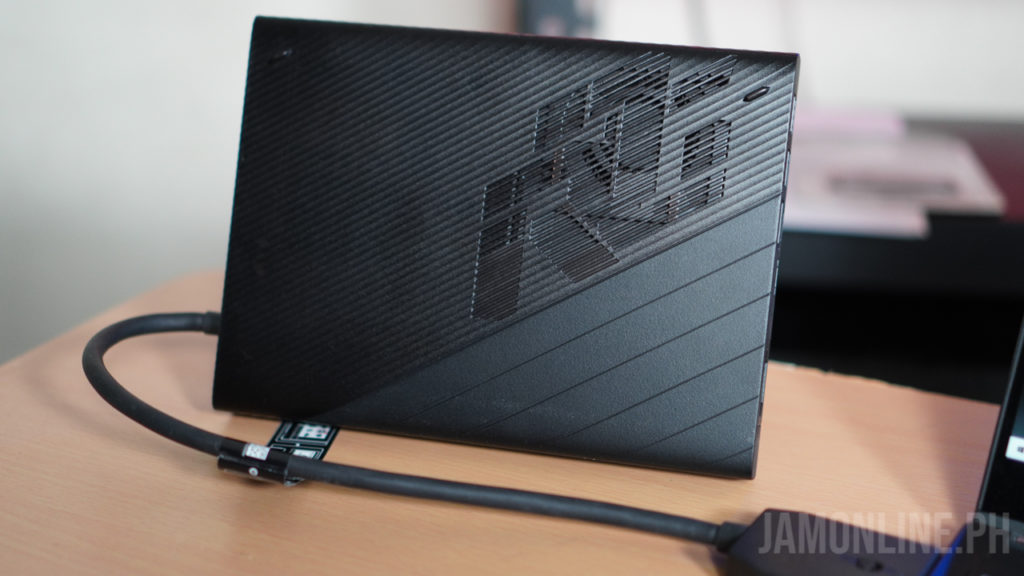 There might not be enough ports on the ASUS ROG Flow X13 but once you plug in the ROG XG Mobile to the PCIe 3.0 x8 and USB 3.2 Gen 2 Type-C, you'll get all the ports that you need for the notebook. The XG Mobile comes with either RTX 3070 and RTX 3080 GPU inside and it comes with different I/O ports including 4x USB 3.2 Gen 1 Type-A ports, 1x SD card reader, 1x RJ-45 LAN Port, 1x HDMI 2.0b, and 1x DP 1.4. Basically, all the ports that you need, and then there's the 280W Power Supply too to power up the GPU.
The one that I got comes with GeForce RTX 3080 GPU and it's clocked at 1810MHz and comes with a power of 150W.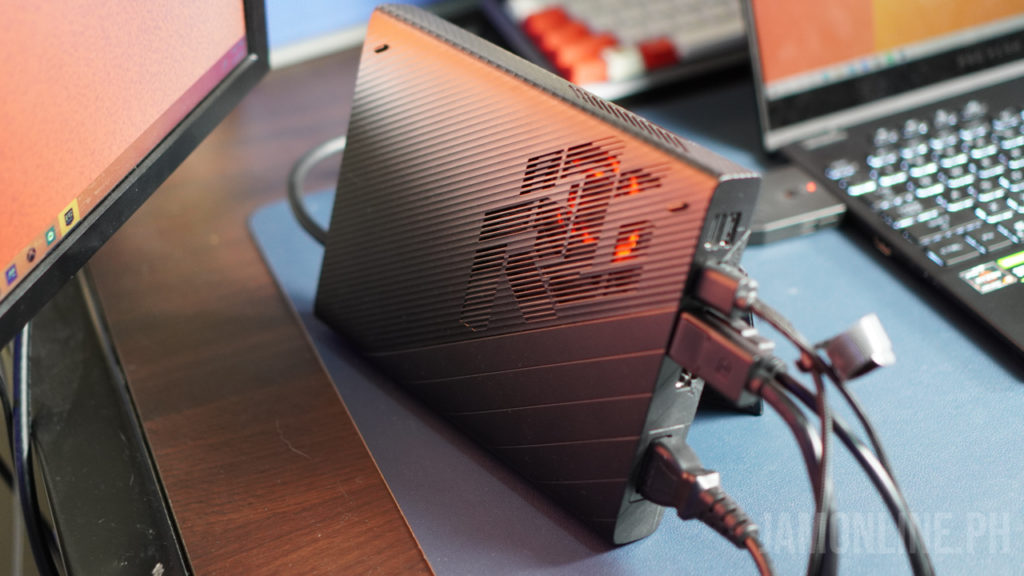 Unlike other eGPU, this one is portable as this one is lightweight at 1kg and the dimensions is really small at 20.8 x15.5 x 2.96 cm. There's a fan on the XG Mobile that helps in the thermal of the XG Mobile in case you're playing games or doing some heavy tasks on the notebook. To improve it, even more, there's a built-in stand too with some cool design on this one.
ASUS ROG Flow X13 Review: Display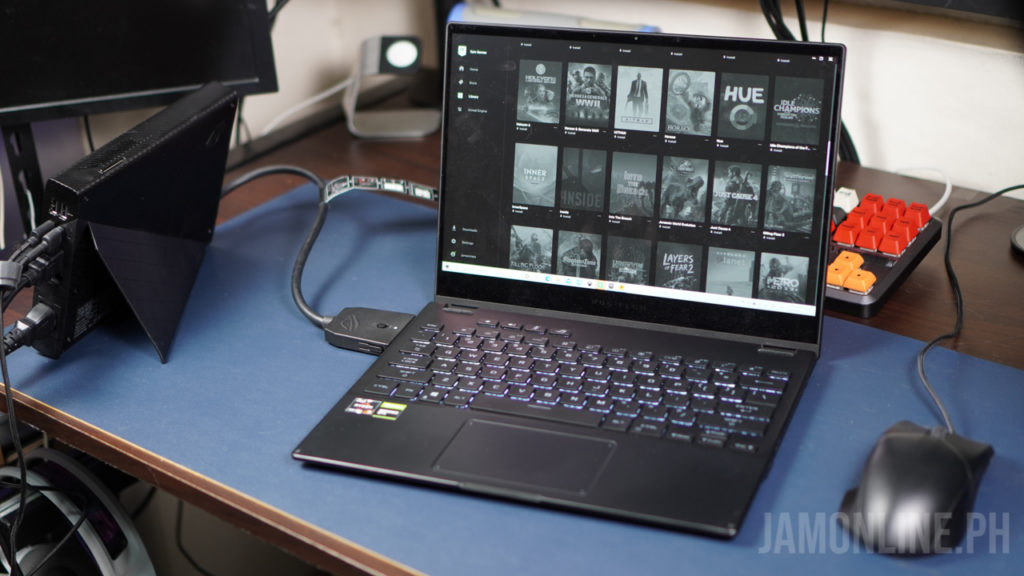 The ASUS ROG Flow X13's display is a creator's dream. There's the 4K panel on this one with a 60Hz refresh rate and the colors were pretty good and again, this one is a touchscreen display. It's Pantone Validated too which is why editing photos and videos on the display of the laptop was really good.
Since we got here more accurate colors and a 4K panel, this one is more optimized for content creation rather than gaming as we only got here a 60Hz refresh rate which isn't ideal for a gaming notebook. There's a 16:10 aspect ratio too which is perfect for productivity use and more space for windows for me instead of 16:9.
ASUS ROG Flow X13 Review: Battery Life
The battery life on the ASUS ROG Flow X13 is pretty solid. We got here 6 hours of battery life in normal usage of the notebook which is enough for my daily usage but of course, when you play games on the notebook, do expect shorter battery life on this one.
ASUS ROG Flow X13 Review: Armoury Crate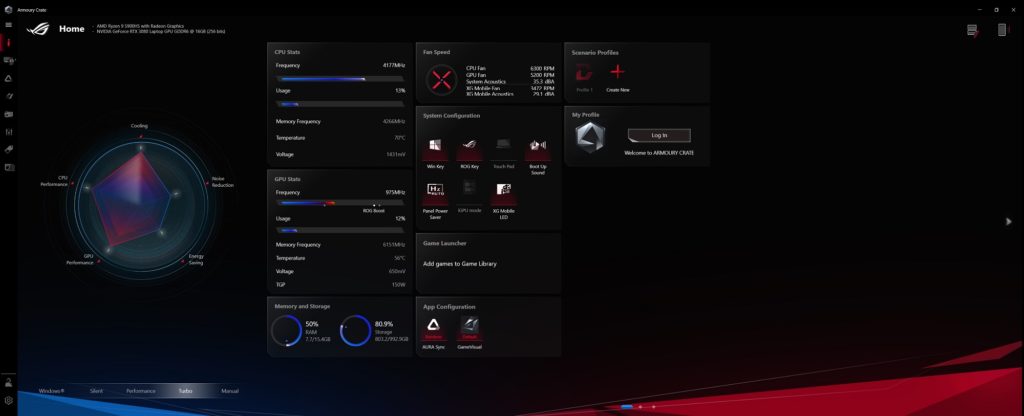 The ASUS ROG Flow X13 comes with some preinstalled apps but the one that you would really use is the Armoury crate. You can add profiles for the notebook and check out the resources like CPU usage, GPU, Usage, memory, and even storage. But the most useful for me is that I can control the performance of the notebook here and its fans.
Since this is ASUS, we also got Aura Sync and again, you can control the keyboard lighting on the notebook.
ASUS ROG Flow X13 Review: Performance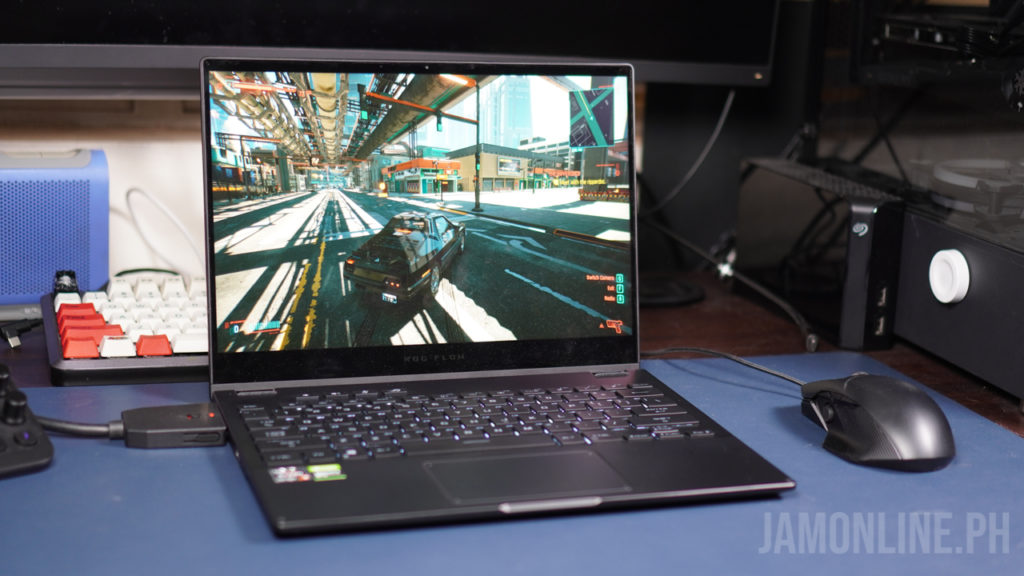 Here's the interesting part on the notebook – the performance. The one that we got comes with AMD Ryzen 9 5800HS for the processor and it comes with a dedicated GTX 1650 Max-Q GPU and for its size, and thickness, the ASUS ROG Flow X13's GPU is already pretty good and as for the thermals, it isn't the best one but it doesn't get too uncomfortably hot when in normal usage. As for the performance, well, it's really good even on the GTX 1650 Max-Q. Check out the benchmarks that we got on different applications.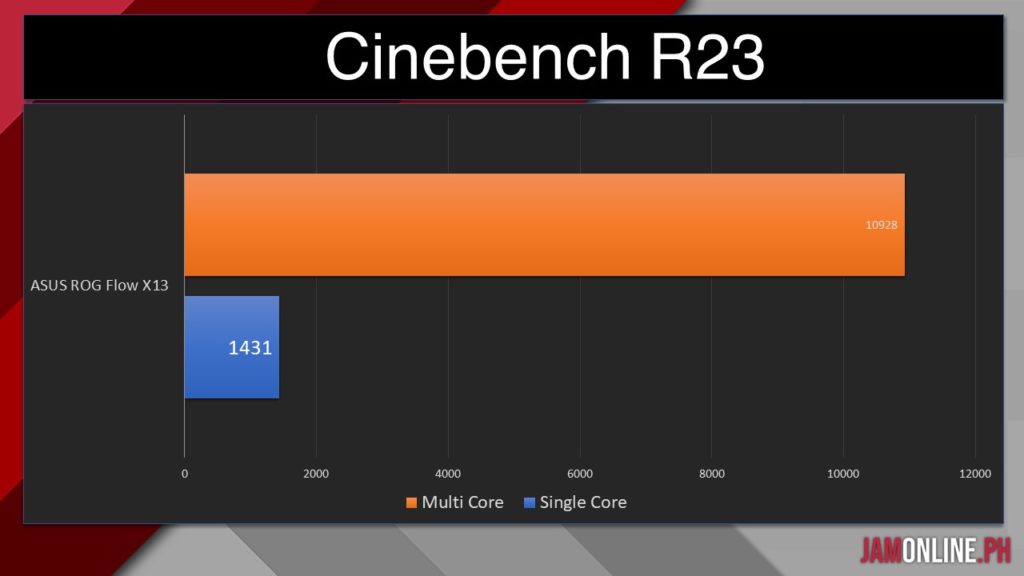 In Cinebench R23, we can clearly see that the AMD Ryzen 9 5900HS processor inside the notebook is clearly powerful and it can beat even other desktop processors that are available in the market right now. This one looks promising.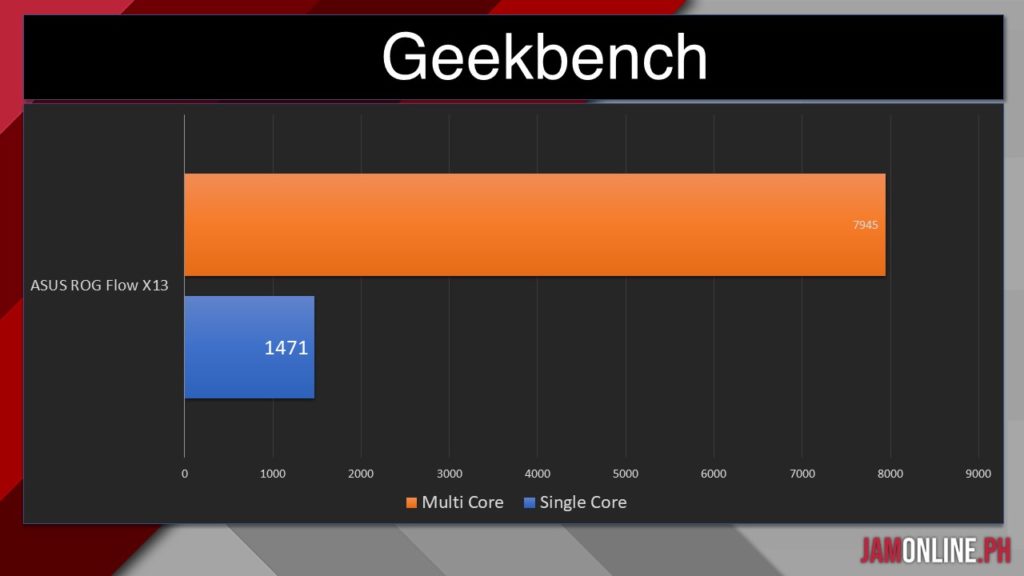 In GeekBench, the ASUS ROG Flow X13 further proves that the processor inside it is really powerful as we got a really high score.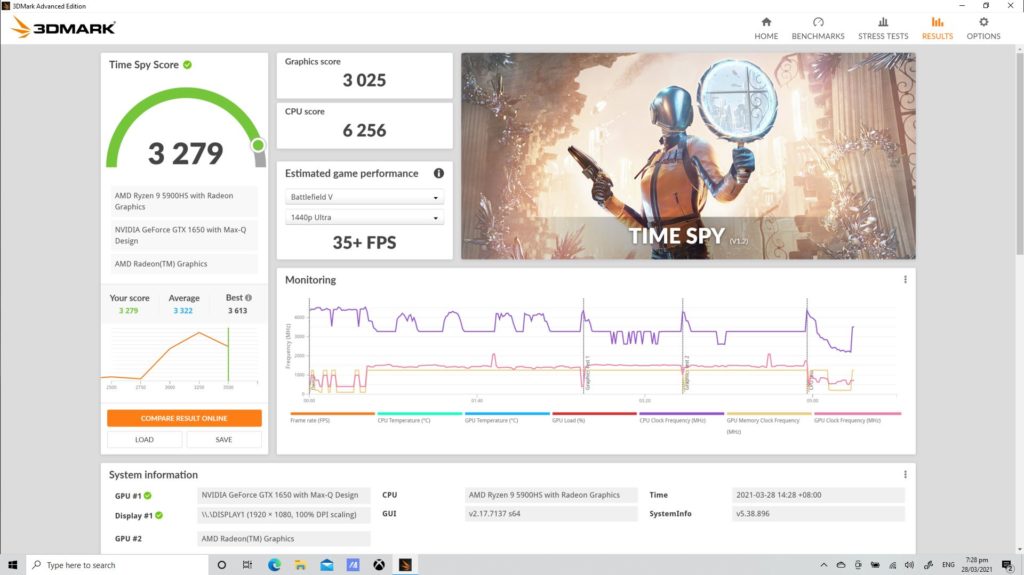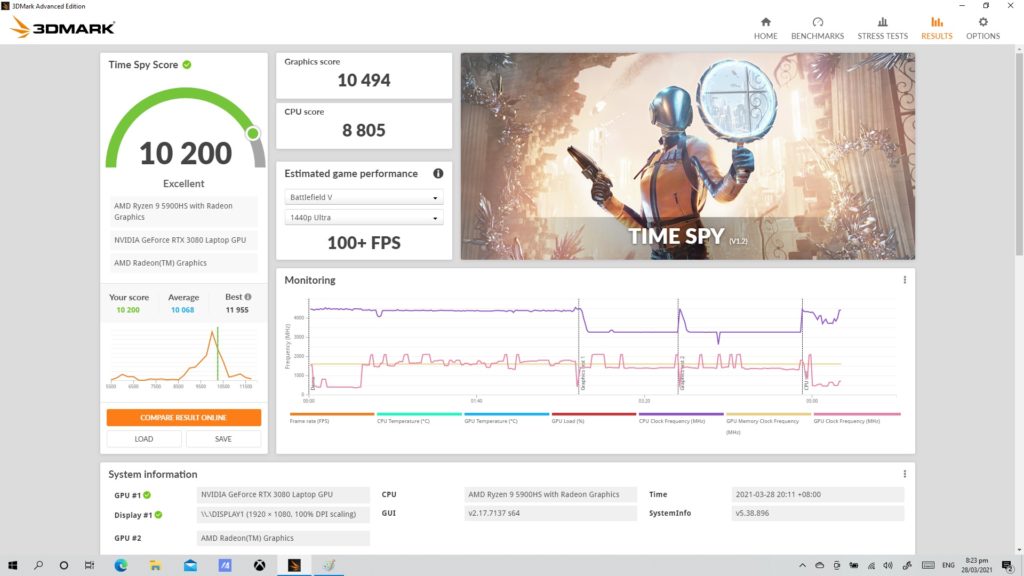 While in 3DMark Time Spy, the ASUS ROG Flow X13's dedicated GTX 1650 GPU is powerful enough for some games but plugging in my XG Mobile gives us a really powerful performance and handling every game that we need on the notebook. The RTX 3080 on the XG Mobile gives us 3x more performance base on this benchmark.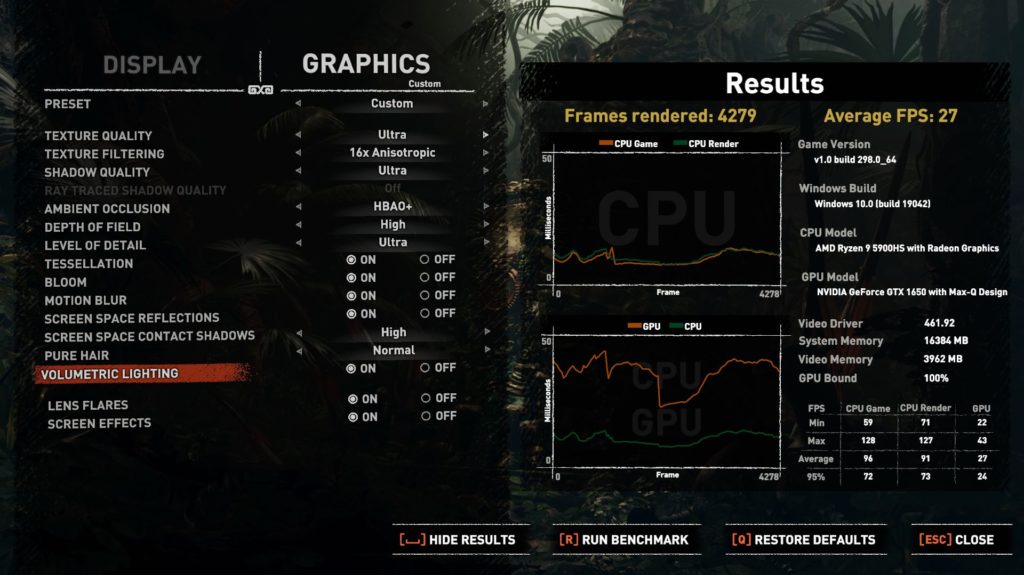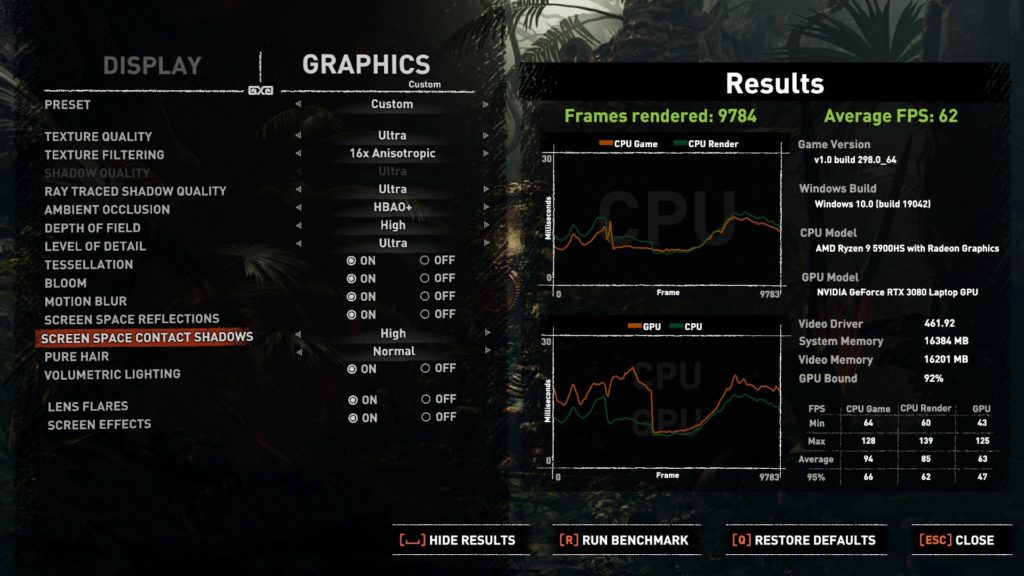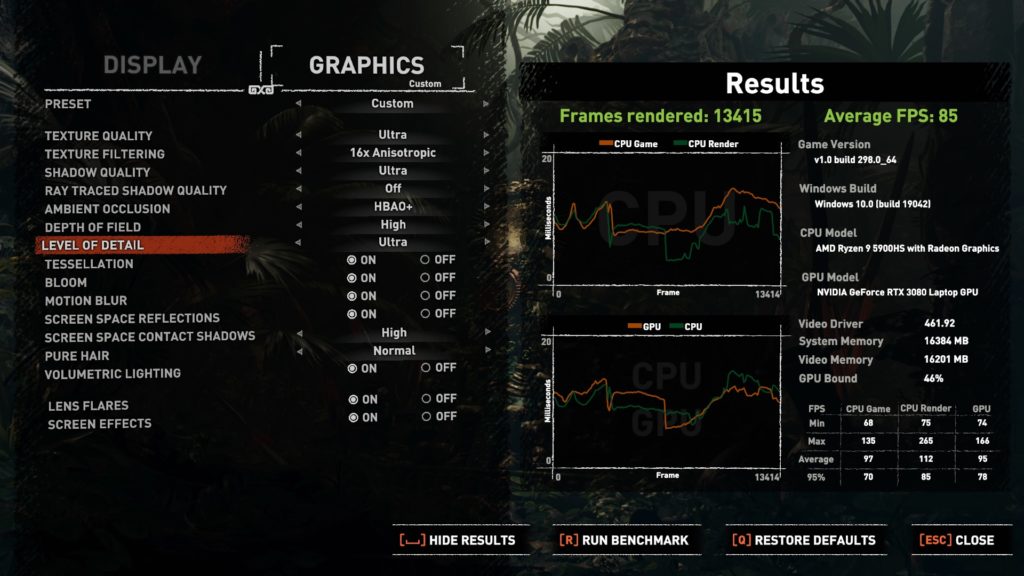 For gaming, we tested it at different games and the difference between the GTX 1650 and the RTX 3080 is just drastic. So if you're planning on gaming on this one, be sure to get an XG mobile for the ASUS ROG Flow X13.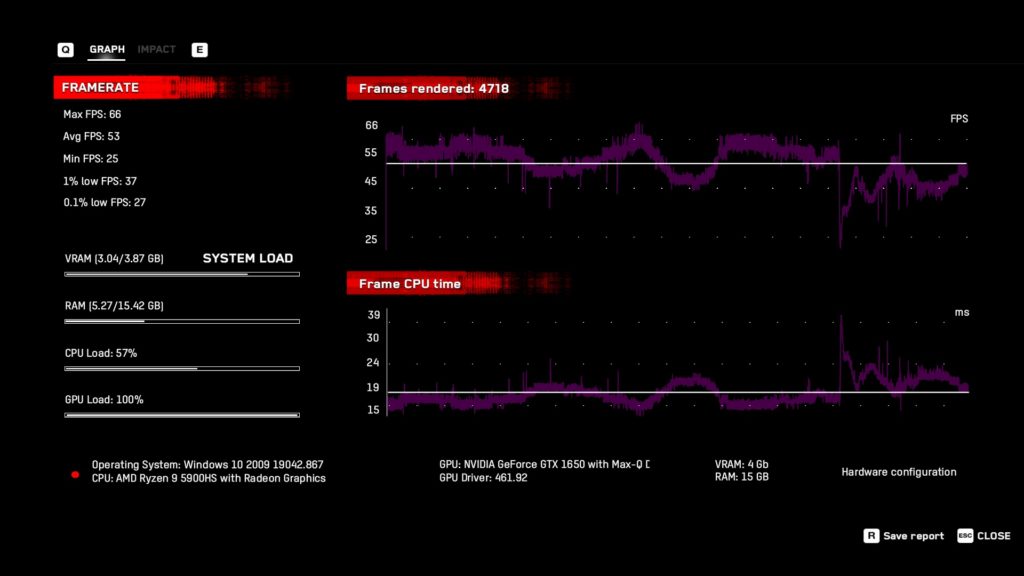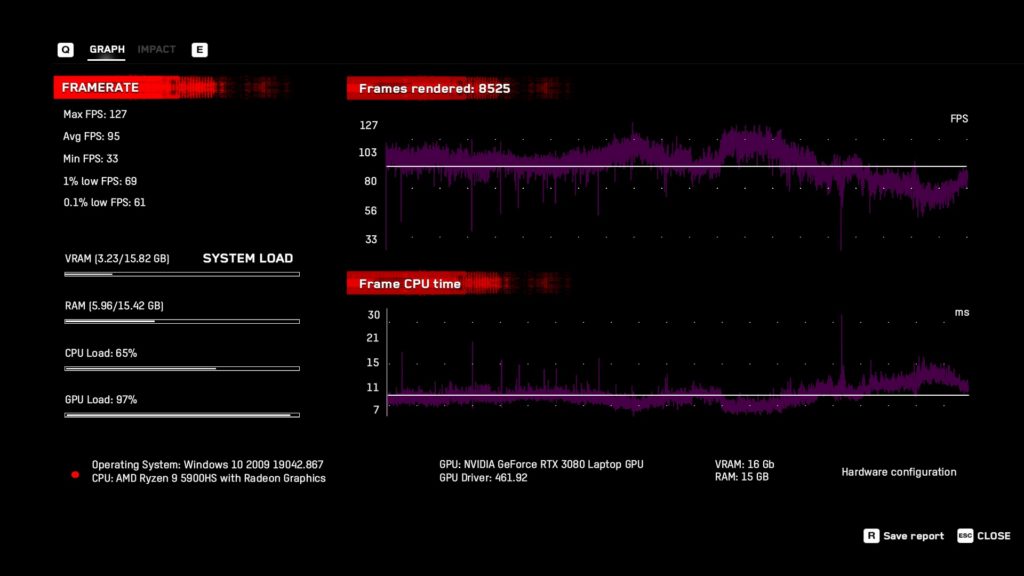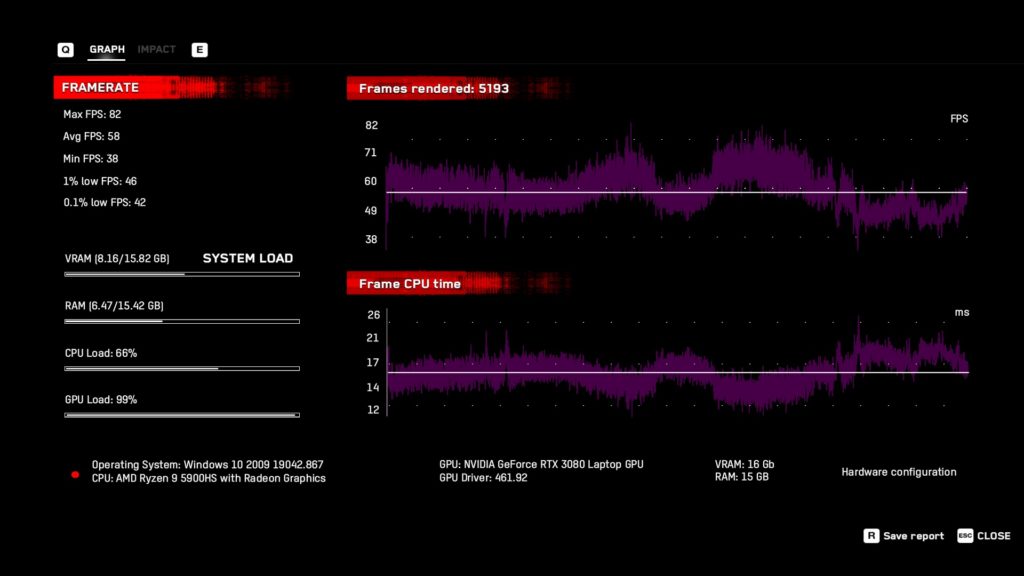 The performance of the notebook has also improved when I use it in tent mode instead of laptop mode as the airflow is way better and it offers better thermals thus, improving performance.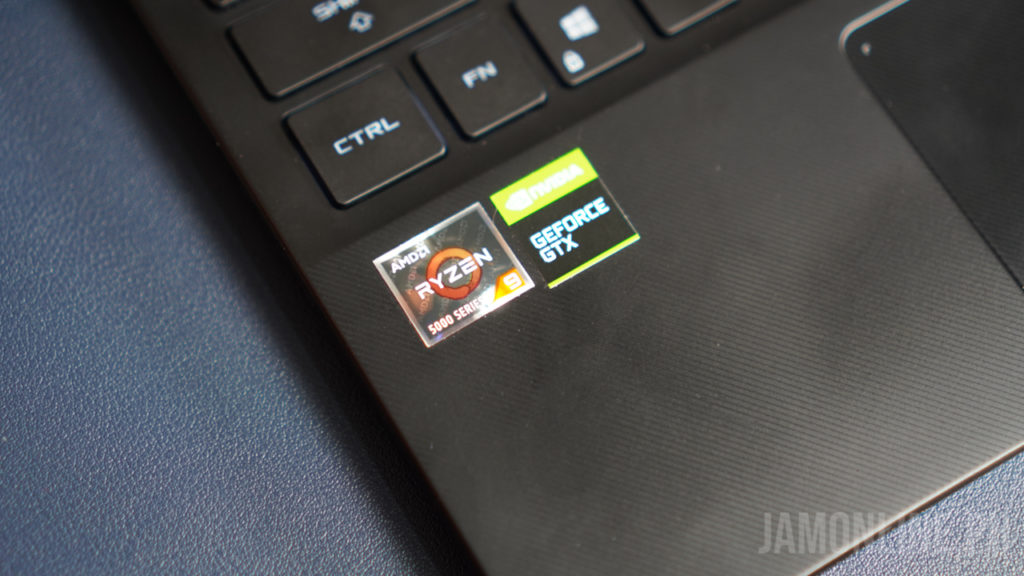 ASUS ROG Flow X13 Review: Verdict
Overall, the ASUS ROG Flow X13 is promising. It's the future of slim gaming notebooks. The XG Mobile is a good start and we might see more notebooks that will support this external GPU. The form factor of the notebook is flexible whether you're a gamer or you just want to use it for daily usage and it's jam-packed with everything that we love on a notebook – stylish, powerful, and also portable.
The ASUS ROG Flow X13 might come in a complete package but this one is still a little bit expensive for some people as the notebook doesn't come with the XG Mobile yet. But again, it's a great laptop and I definitely love using this one.
The ASUS ROG Flow X13 starts at Php89,995. The ROG XG Mobile starts at Php69,995