A lot of us are still looking for a decent notebook that we can use at home and also at work since most of us are working at home or having their classes at home and if you're looking for one and you're the type of person that wants a decently priced notebook with enough power and stylish design then you might want to check this one out — the ASUS Vivobook S14.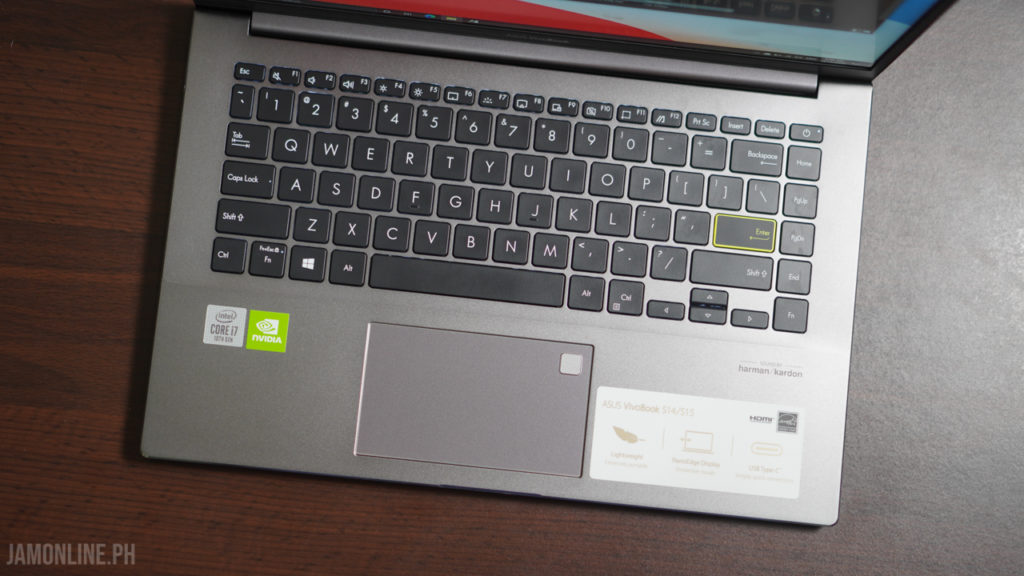 Design and hardware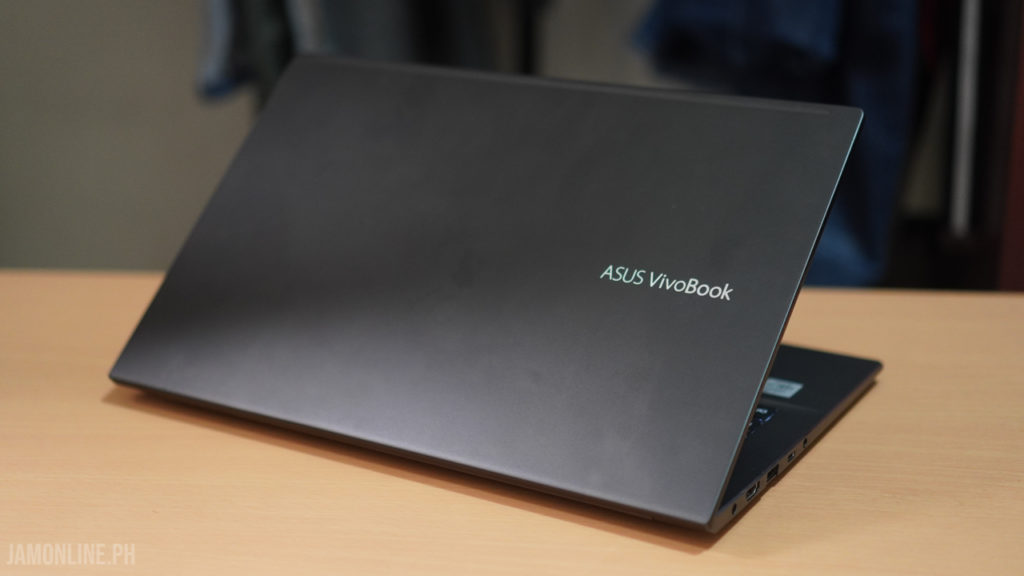 One of the main highlights of this notebook is its design. We got here a vast amount of available colors for the notebook but what we got is the simpler and subtle one which is black but don't get me wrong because this one is still beautiful.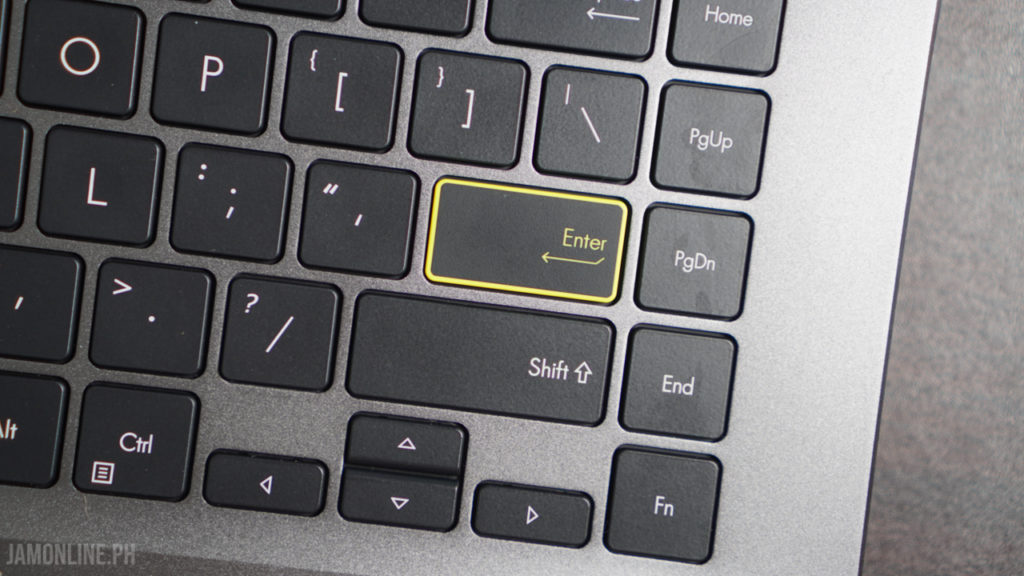 First, we got here a metal chassis, and to add to that beauty is the diamond-cut edges on the notebook and with its colors, it's really bold and striking compared to other notebooks in the market. There's a color-blocking enter key too which is a small detail but it's definitely a beauty in the notebook.
At the lid of the notebook is a clean and sleek design. Yes, it's made up of metal and then of course there's the ASUS VivoBook logo on the side that looks pretty cool to me and cleaner compared to the logos that are in the middle and then thin line too at the top of the lid.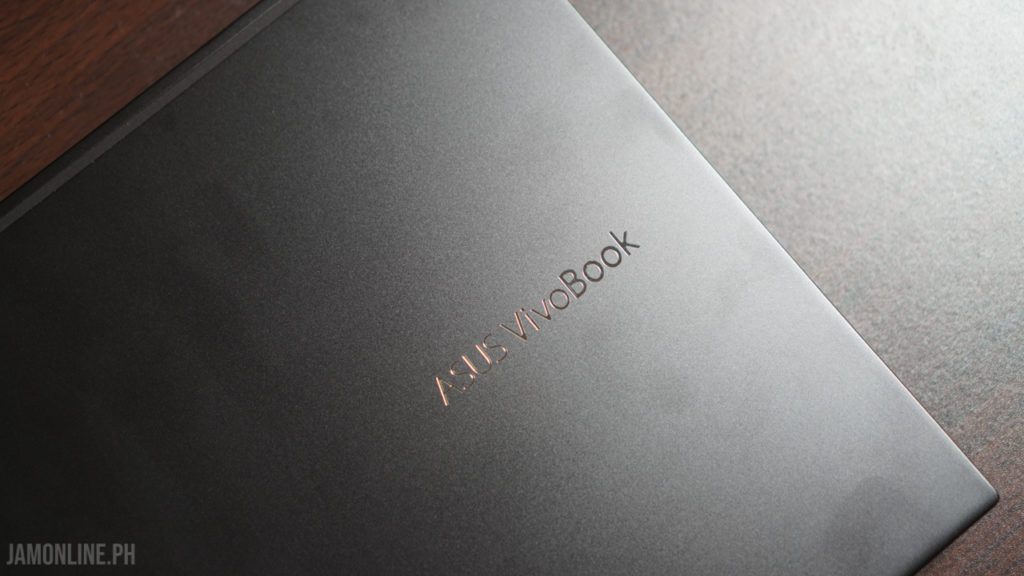 The ASUS VivoBook S14 weighs at 1.4kg and it's light enough to be brought anywhere and since we're working at home, the 0.62-inch thickness and also the 1.4kg doesn't really bother me. Thanks to the small bezel on the notebook, we got here a pretty compact body too on a 14" display.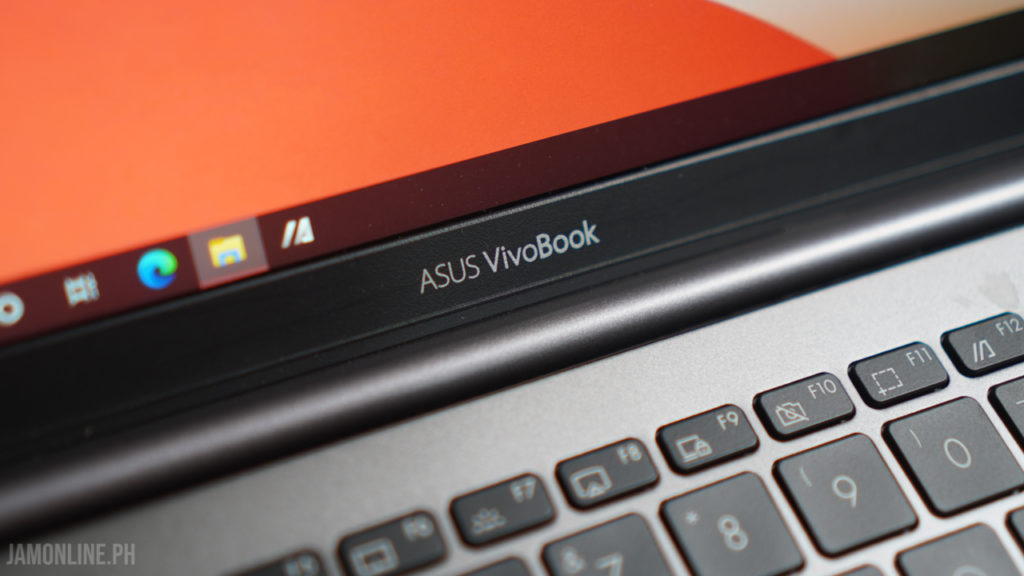 Another welcome addition on this notebook is the fingerprint scanner which is located on the touchpad of the notebook and in my usage, I was pretty happy with what we're getting on this one as this one is fast. Unfortunately, there's no support for face recognition unlock on this notebook.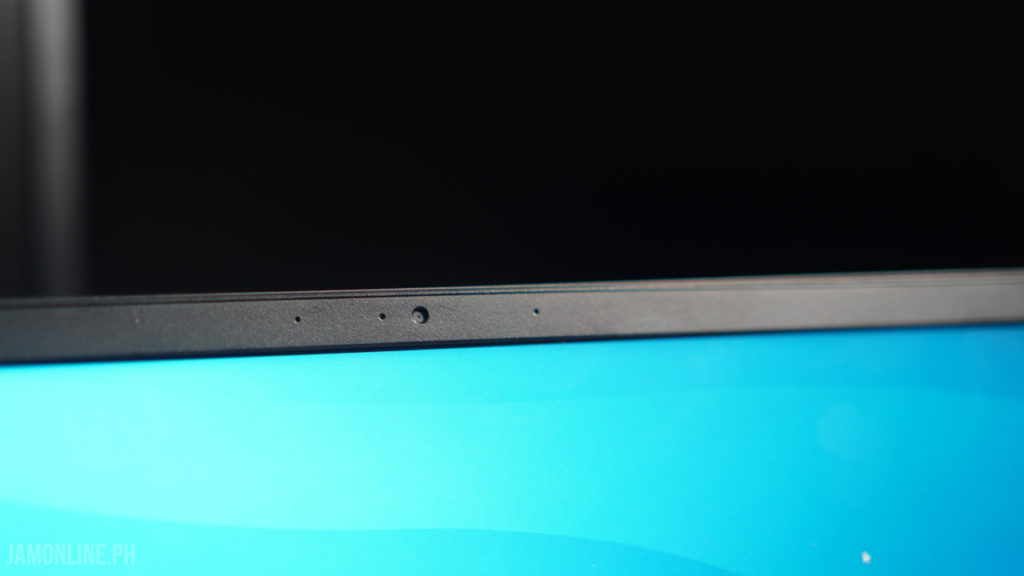 Speaking of face recognition, there's the HD camera on top of the display of the notebook and the quality wasn't that great but if you just want a webcam on your notebook for online school or for other stuff then ok, this one will just satisfy your needs.
Ports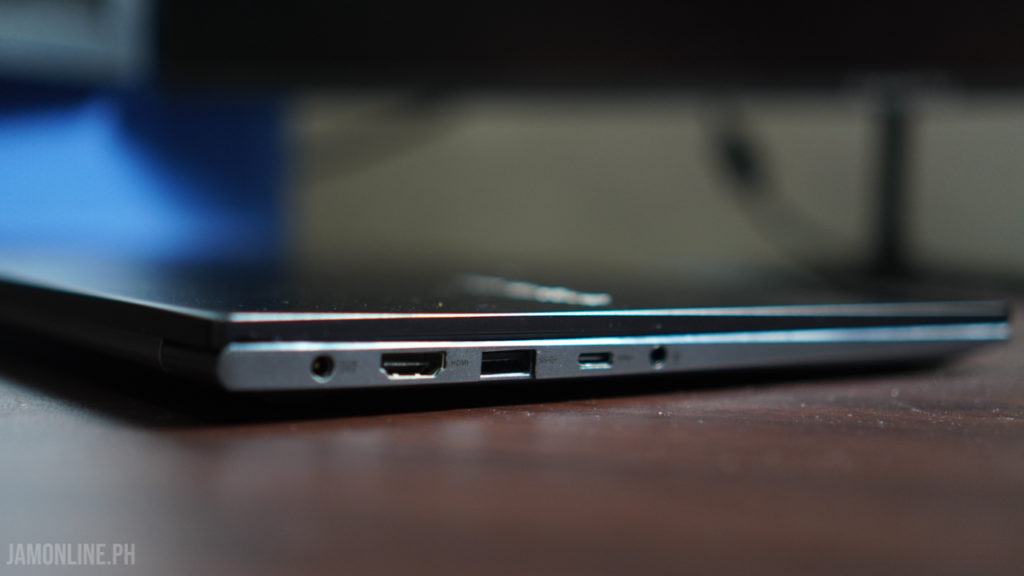 As for the ports on this one, there's plenty of that here as we got here an HDMI port, a 1x USB 3.2 Gen 1 Type-A, 1x USB 3.2 Gen 1 Type-C, and audio combo jack on one side and then there's the 2x USB 2.0 and the microSD card reader on the other side. Basically, there's everything that you need in this notebook.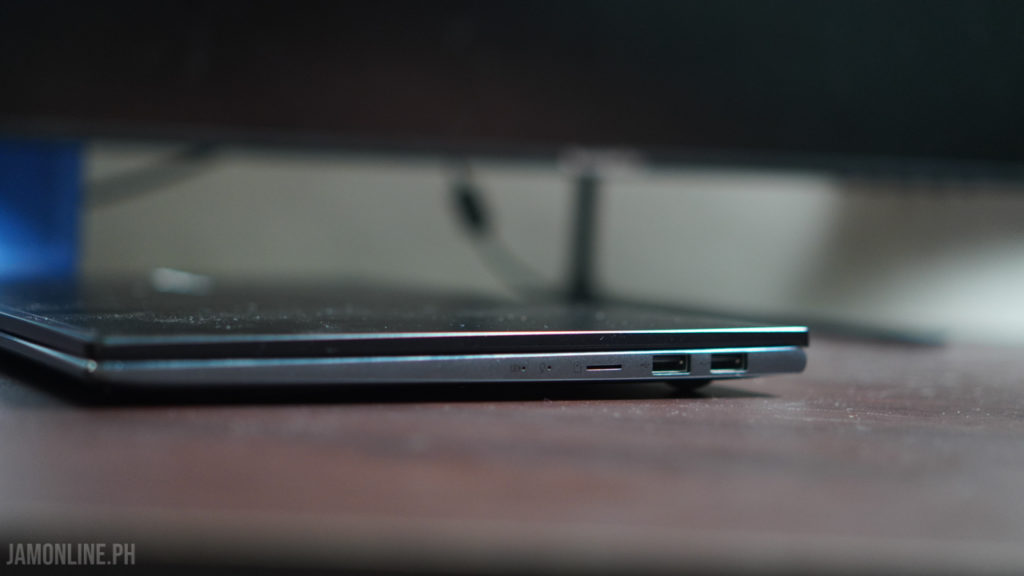 Display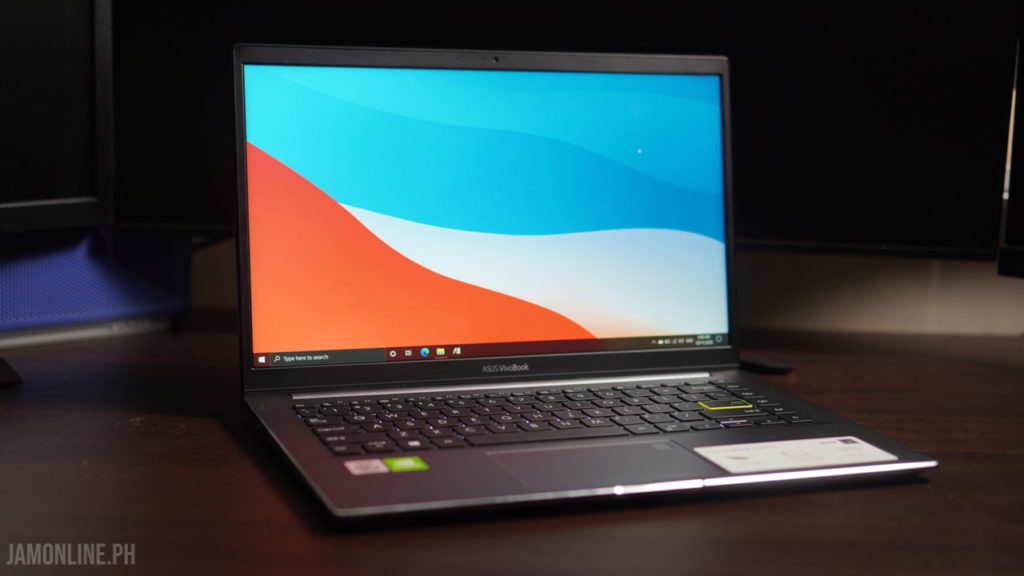 The display is actually one of my favorites in here as the colors in here are pretty fine for its price range. There's the 14" LED-backlit Full HD 1920×1080 16:9 display over here with a frameless NanoEdge display with 85% screen-to-body ratio which is why this notebook feels pretty compact.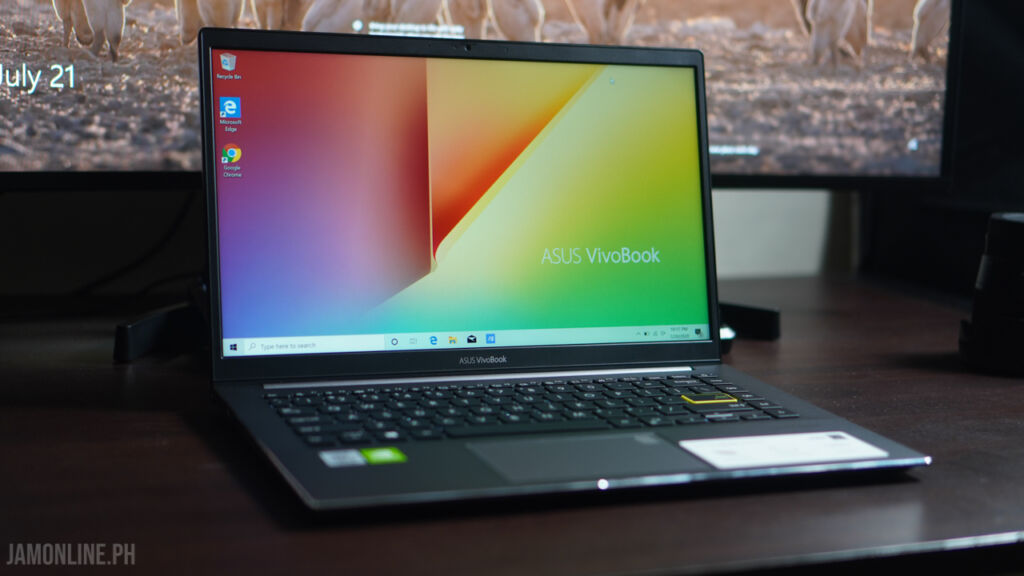 Again, it's a fine display and the viewing angles on this one is great. Using it outside is generally ok and it's bright enough even when I'm using this outside so overall, I'm pretty fine with the display of this notebook.
Keyboard and touchpad
The ASUS VivoBook S14 features a spacious chiclet-style keyboard and boy oh boy, I do love typing on the keyboard of this one. The key travel on the keyboard is fine and it's really responsive in my usage. It's not soft or mushy and it's almost excellent for me. There's a backlit keyboard too which means that I can use the keyboard even when I'm working before bedtime and we do have here three levels of backlit which is really bright.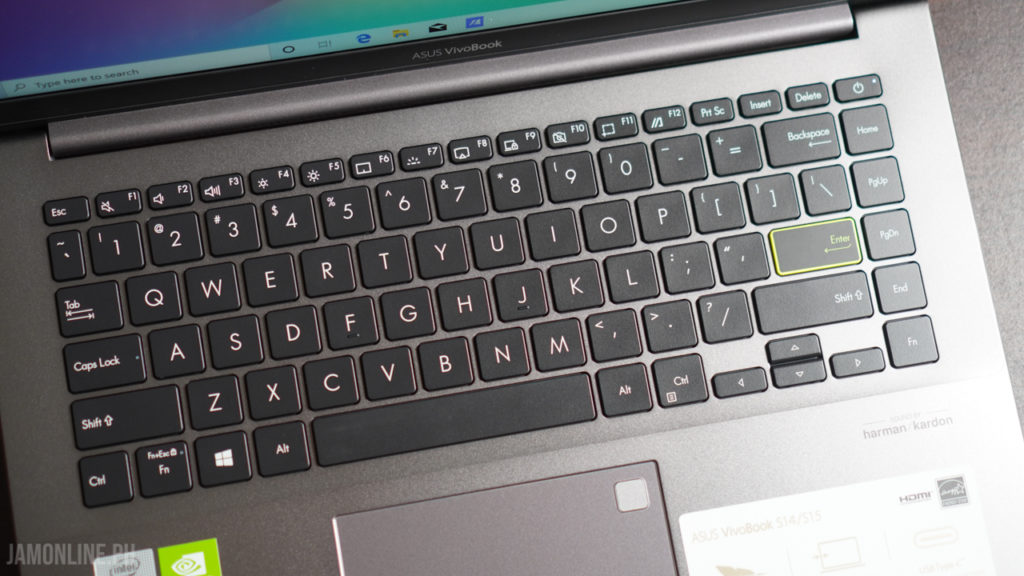 As for the function keys, the default is that you don't need to press the fn button anymore to control the volume and stuff. There's a shortcut button too on the function keys for the snipping tool and also the for the MyASUS app.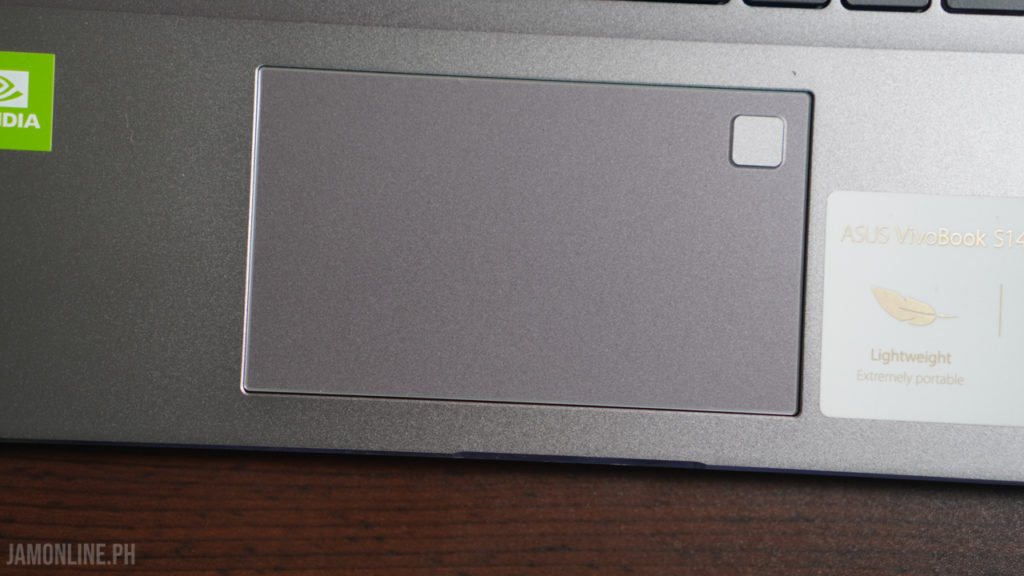 The trackpad of this one hasn't been maximized but space will do just fine. Thanks to the precision drivers, using this one is responsive and in my usage. The fingerprint scanner is also located at this part and it doesn't annoy me that much when I'm using the trackpad of the notebook. Scrolling will do just fine in here and of course, the multi-touch works fine as well.
Software and performance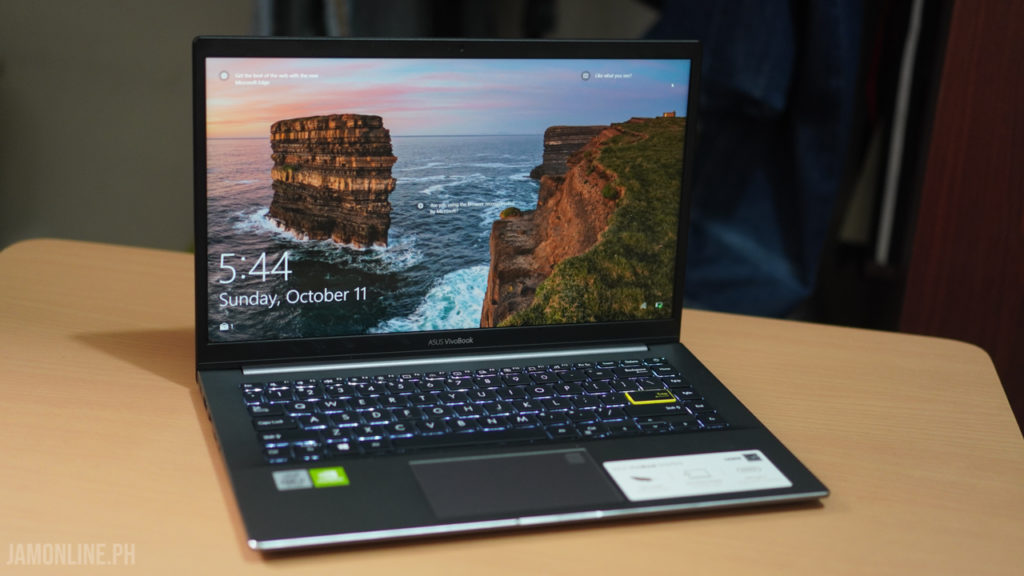 So let's get down to the software and performance of this notebook. Of course, it will come with some pre-installed applications that really bugs me including the McAfee. I still wonder why they include that in most notebooks as this one just annoys me to hell about renewing their subscription status. Anyway, there's nothing much to see as aside from the preinstalled applications that you wouldn't use.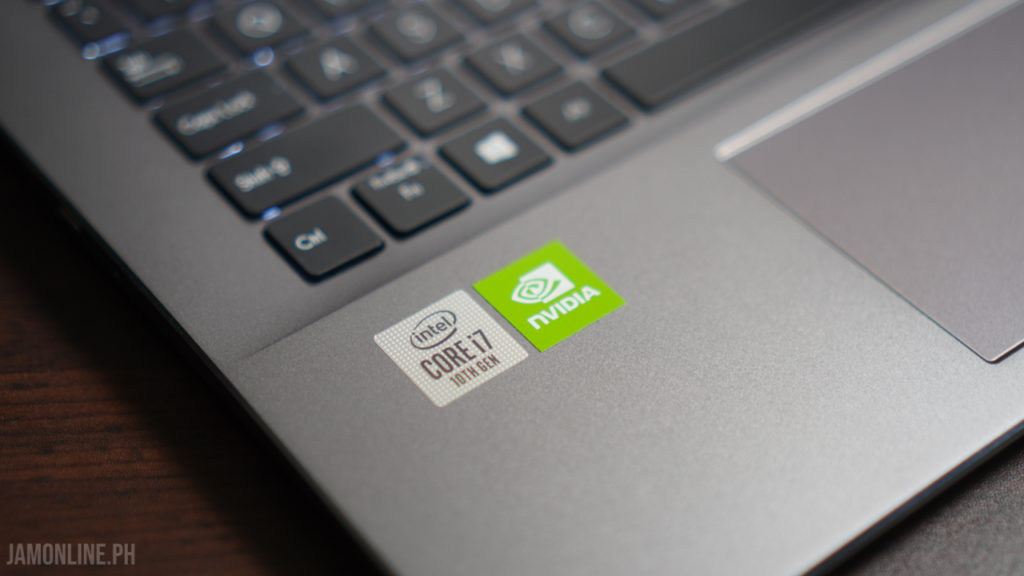 As for the performance, the ASUS Vivobook S14 S433 that we're reviewing right now comes with an Intel Core i7-1065G7 CPU which is also known as Ice Lake and it also comes with Nvidia GeForce MX350 GPU for some of that casual gaming on the notebook. Thankfully, I'm pretty happy with the performance that we got on this one and I'm happy that they've used Ice lake for this one instead of Comet Lake that has a slower performance.
In our benchmarks, the ASUS VivoBook S14 has performed pretty well. Check out the benchmarks that we got on the notebook below: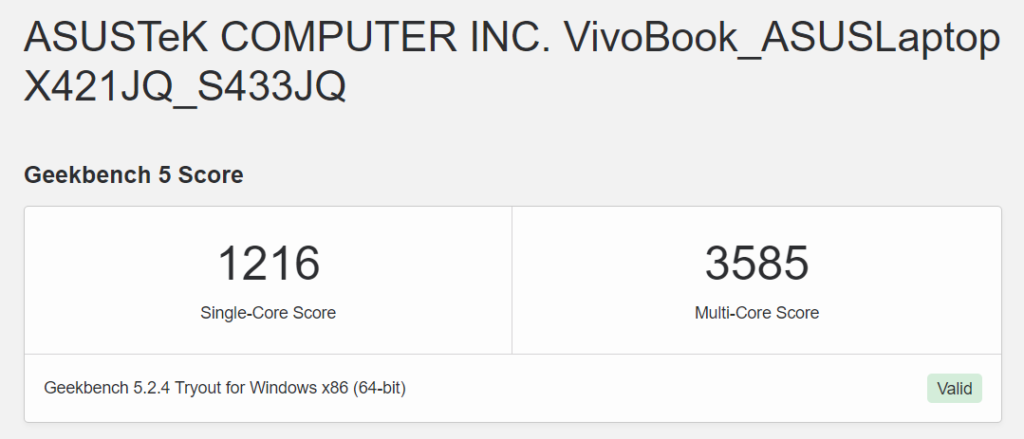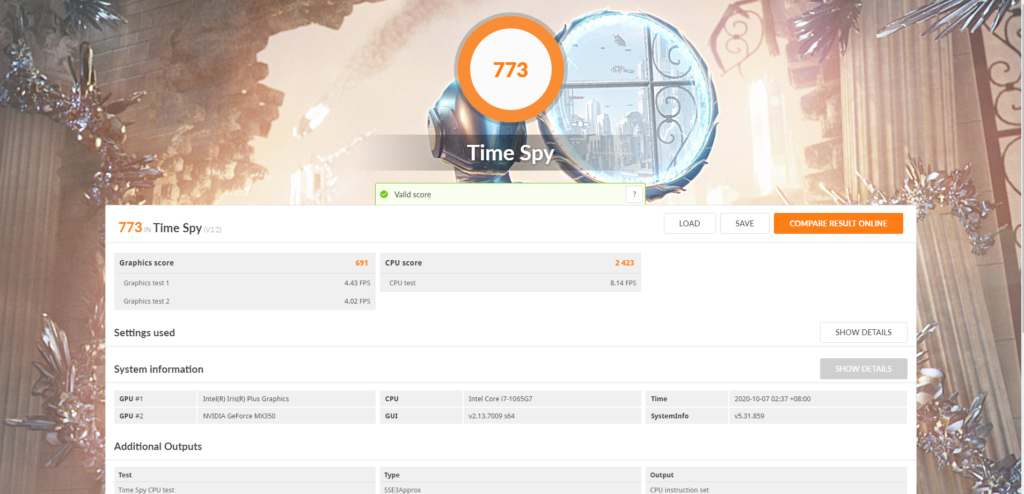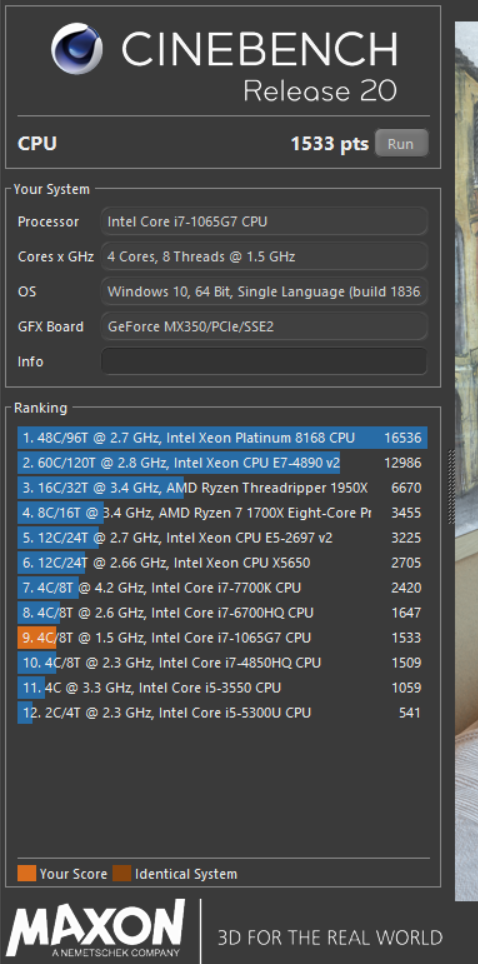 Those are pretty respectable scores especially for its price range which makes the notebook perfect for those people who are looking for a notebook that they can use for work and also for school especially at this time of pandemic.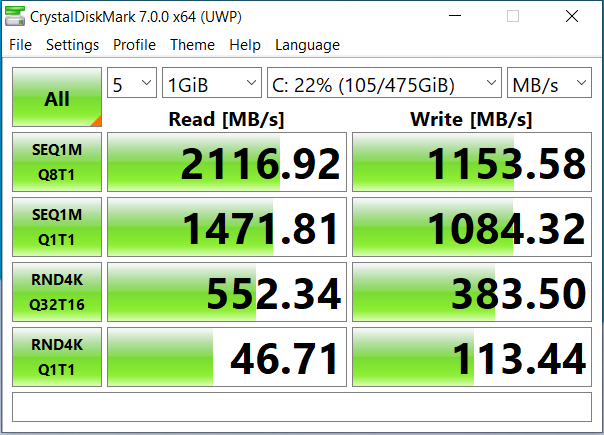 As seen in the Crystal Disk Mark, this one has pretty respectable speeds for the SSD and the notebook just scored fairly at Cinebench R20.
As for gaming, the ASUS VivoBook S14 S433 can play some games just fine but of course, do not expect too much for this one. Yes, it might be able to play some of the latest games in the market but be sure to tone it down to the lowest settings.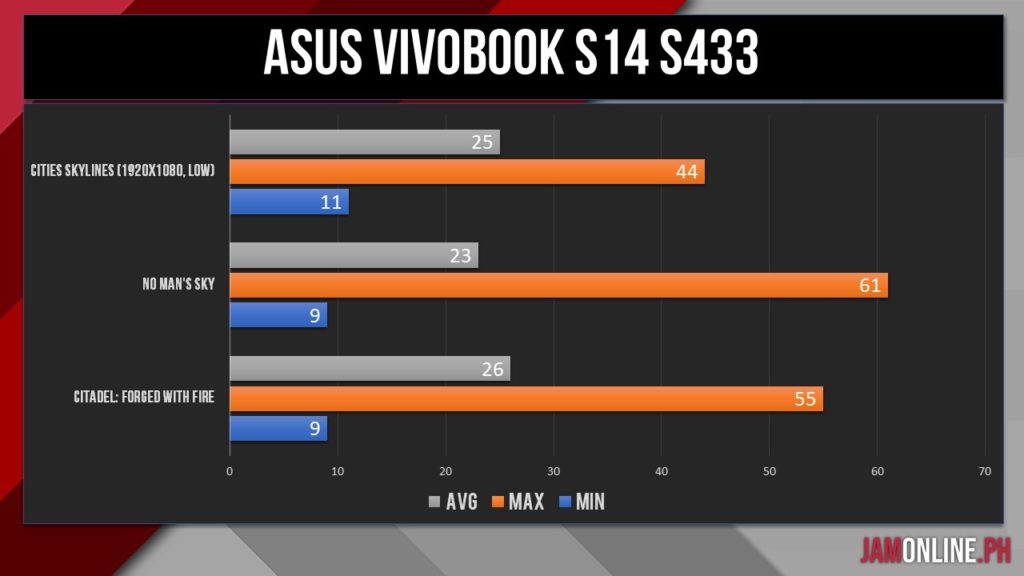 In our gaming test, we've tried playing games like Cities: Skylines which is a CPU heavy game and also No Man's Sky and the notebook didn't had any problems running Cities Skylines but if you tone down the graphics settings while No Man's Sky will be only playable if you lower the resolution and also the graphics settings of the game. As for the not so demanding game called Citadel: Forged with Fire, the VivoBook S14's prowess was perfectly fine for this one.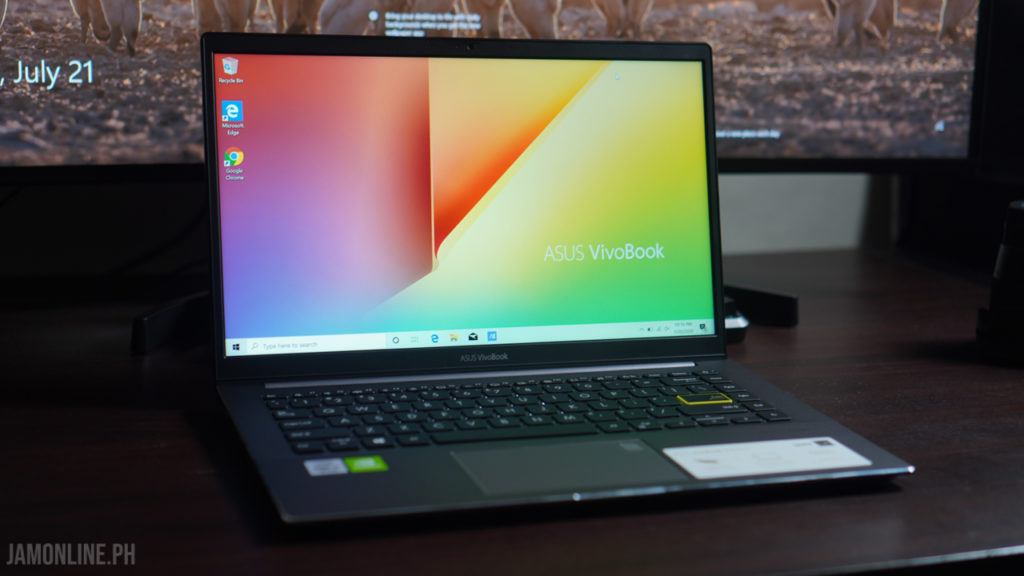 Overall, the notebook is not made for gaming but if you want to play some casual games and you just want to run games at not so high settings then the ASUS VivoBook S14 won't be a problem for you.
Surprisingly, the VivoBook S14 handled the heating pretty well on this one. It heats up moderately but not to the point that the notebook becomes too hot to use and as for the fans, it's barely audible when it starts up when gaming so really, I'm not worried about this one.
Verdict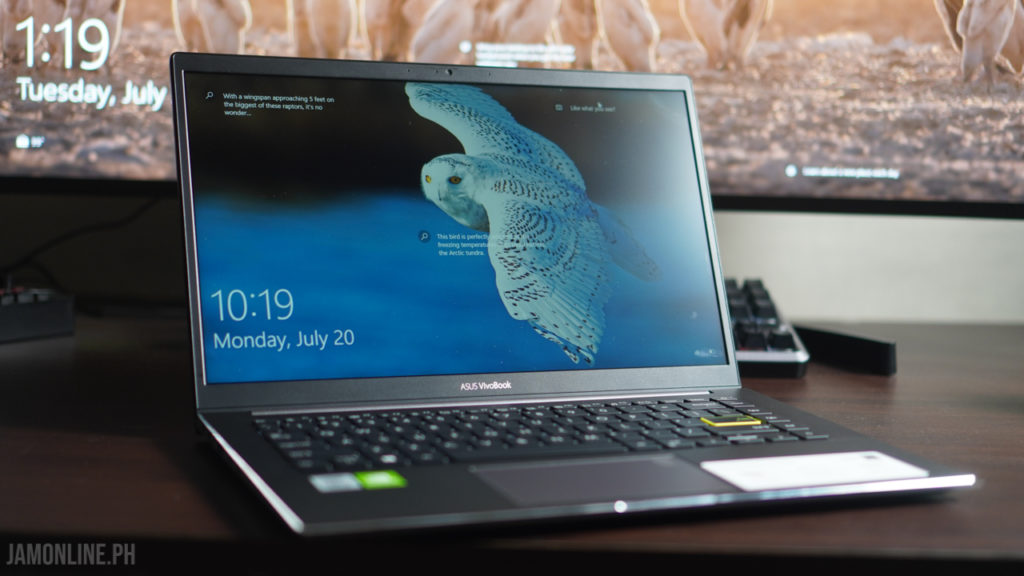 The ASUS VivoBook S14 S433 is a notebook that is definitely interesting. We got here a pretty design and the solid build quality that people would surely love. The Intel Core i7-1065G7 is pretty powerful too compared to Ice Lake but it might get some competition compared to the Ryzen processors.
The ASUS VivoBook S14 S433 is now available and it starts at Php49,995.