Last year, Infinix made some buzz in the Philippine smartphone market when it had a comeback by introducing promising budget smartphones. Looks great on paper, our team spent a lengthy period with the brand's Hot 10 device to see if it can really deliver.
But before we dive into our in-depth review, let's have a quick recap of its key specs.
INFINIX HOT 10 KEY SPECS:
Android 10 with XOS 7
6.78-inch HD+ (1640 x 720) IPS display
2.0GHz MediaTek Helio G70 octa-core processor
Mali-G52 GPU
4GB RAM
128GB internal storage, expandable via microSD
16MP main + 2MP macro + 2MP depth + AI lens rear cameras
8MP selfie camera
Rear-mounted fingerprint scanner
3.5mm audio jack
microUSB
4G LTE
WiFi 802.11 a/b/g/n/ac
Bluetooth 5.0
5,200mAh non-removable battery, 10W charger
Colors: Amber Red, Moonlight Jade, Ocean Wave, Obsidian Black
INSIDE THE BOX…
Unboxing the Infinix Hot 10 would leave an impression that it was really designed for gamers who are looking for cheaper alternatives. Why? It comes with a FREE coupon code for PUBG Mobile, making sure that users will truly enjoy playing games the first time they use the device.
It is also packed with a complete set of accessories, including earphones, a 10W charger, a microUSB port, a SIM ejector tool, a free clear case, and user-guide documentation. Meanwhile, its free screen protector isn't pre-applied, hence, users have to manually put it on the screen.
For us, we had to repeatedly apply it as we kept on messing it up. This made us think that users who cannot apply it properly might have to buy at stores, which could be a hard task, considering that not all shops offer accessories that are compatible with Infinix devices. And when fortune doesn't permit, they have to use their phone without a screen protector—an unideal situation for gamers as they are always tapping the screen for a long time.
DESIGN AND HARDWARE
At its price point, the Infinix Hot 10 managed to showcase a trendy design, although its back panel is only dressed with plastic. It is available in different color variants: Moonlight Jade, Ocean Wave, Amber Red, and Obsidian Black. Our team got the Obsidian Black model, which we prefer the most for it has a simple yet sophisticated look.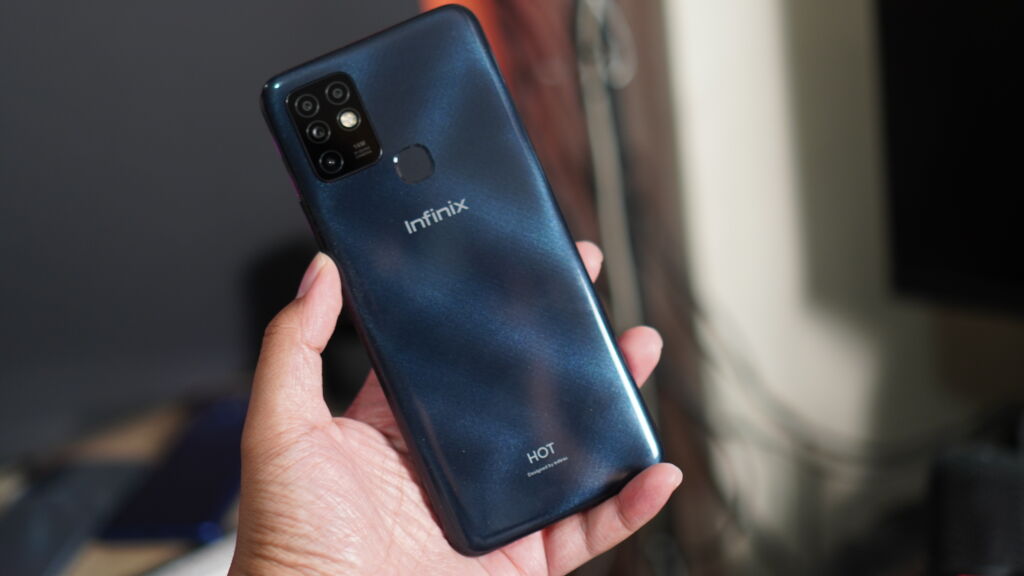 The Infinix Hot 10 also features a glittery panel that has geometric patterns when light strikes, making the phone more appealing. However, it has a fingerprint- and smudge-magnet body, requiring us to wipe its back panel every now and then.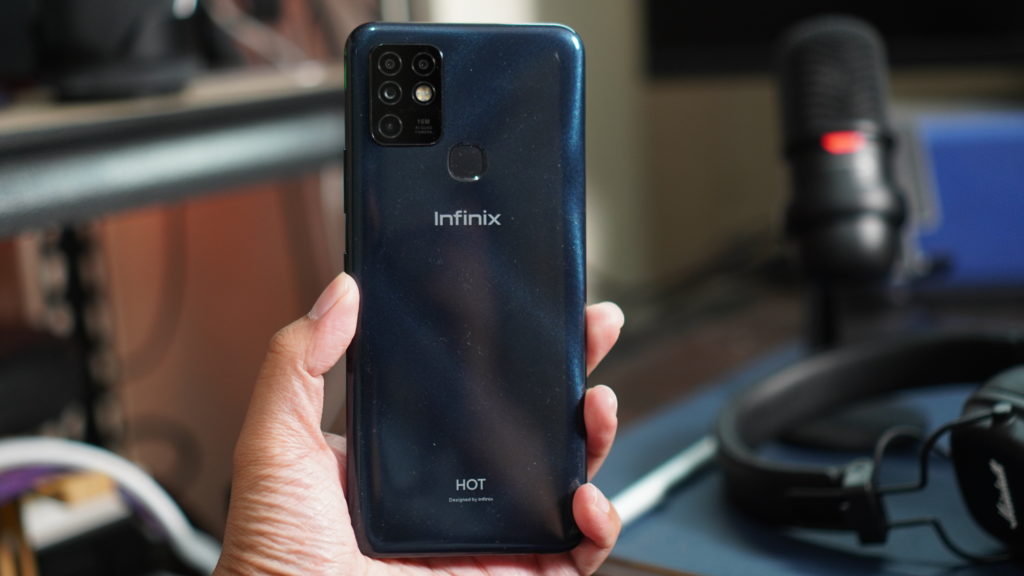 Aside from its quad-rear camera, you will also find its fingerprint scanner and some brandings on the back of the device. For us, it's quite outdated to see a rear-mounted fingerprint scanner. It's kinda thing of the past.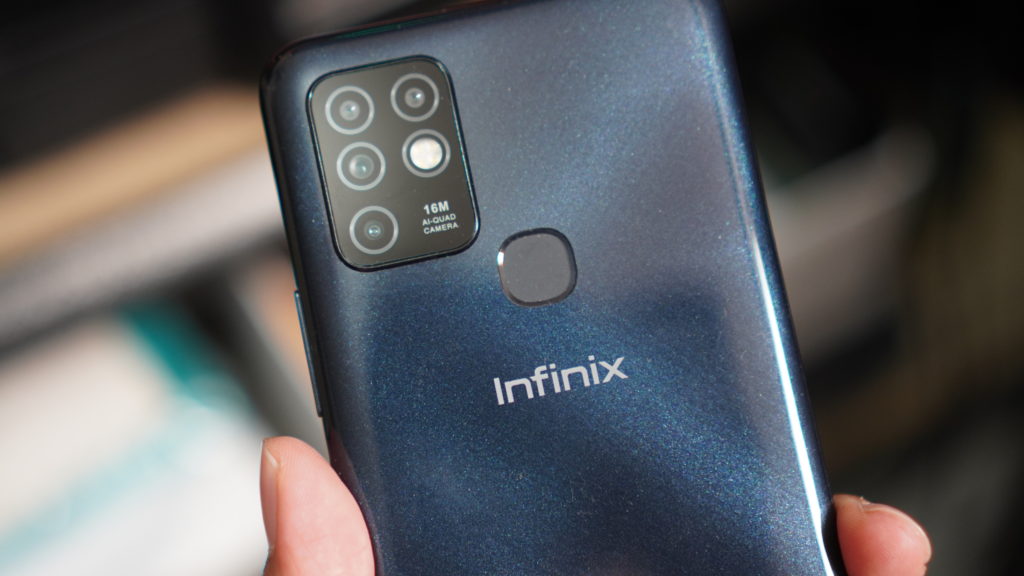 Flip the phone on its front and you'd see its massive display, which we will talk about later.
Just like other trendy smartphones, the Infinix Hot 10 has a punch-hole camera, mounted on its screen to offer a larger display. It also features a LED notification indicator and an earpiece on the top of the screen. Its LED notification indicator is a plus factor for us, considering that only a few new smartphones have this feature.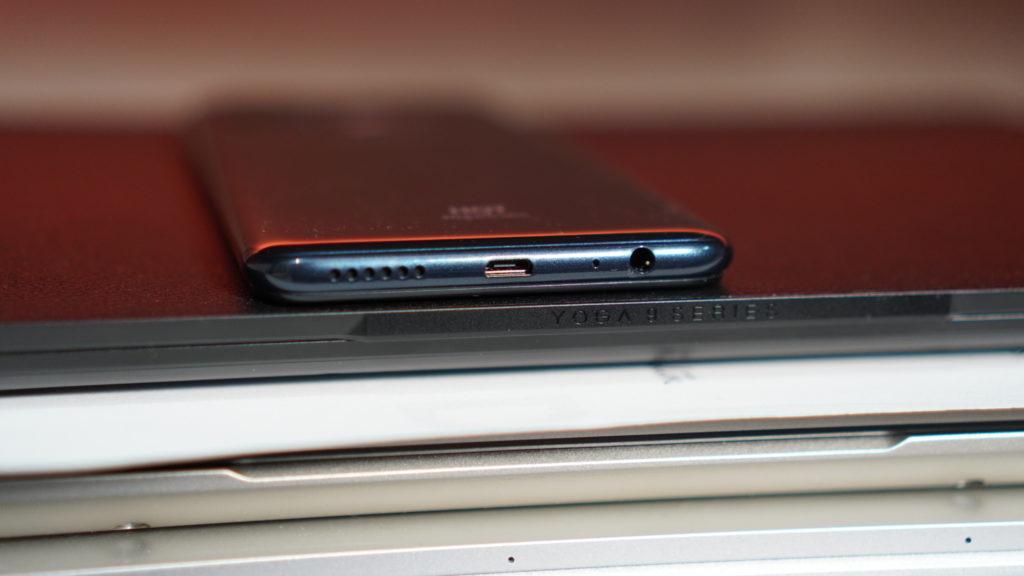 Its card tray that can accommodate two nano SIMs and microSD card is located on the left side of the phone, while the volume controls and lock/power button are sited on the right cheek.
On the bottom, you have the 3.5mm audio jack, microUSB port, microphone, and loudspeaker grilles.
We're impressed that one-hand usage is still possible even if it sports a large and heavy body. In fact, we never had a hard time reaching all the keys. However, a different scenario might happen to people who have smaller hands.
GOOD VIEWING EXPERIENCE
Now, let's talk deeper about its huge display.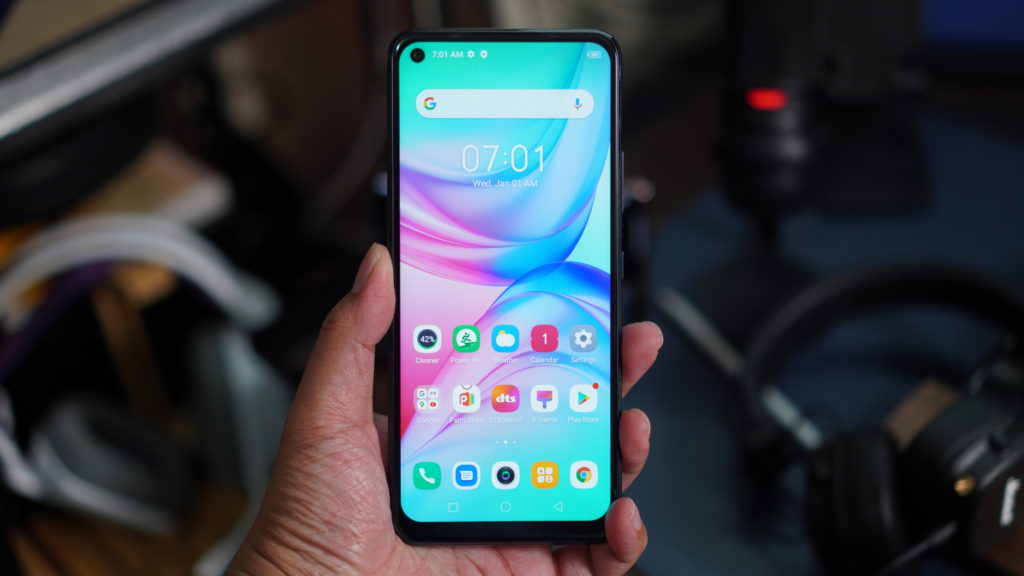 Infinix equipped the Hot 10 with a massive 6.78-inch screen. So, for people who believe that size really does matter…then, yes, this device is worth considering!
We've seen other devices at this price point that offer better quality, sharpness, colors, and contrast, but still, the Infinix Hot 10 does a fine job of delivering a good viewing experience when streaming movies or even when playing games.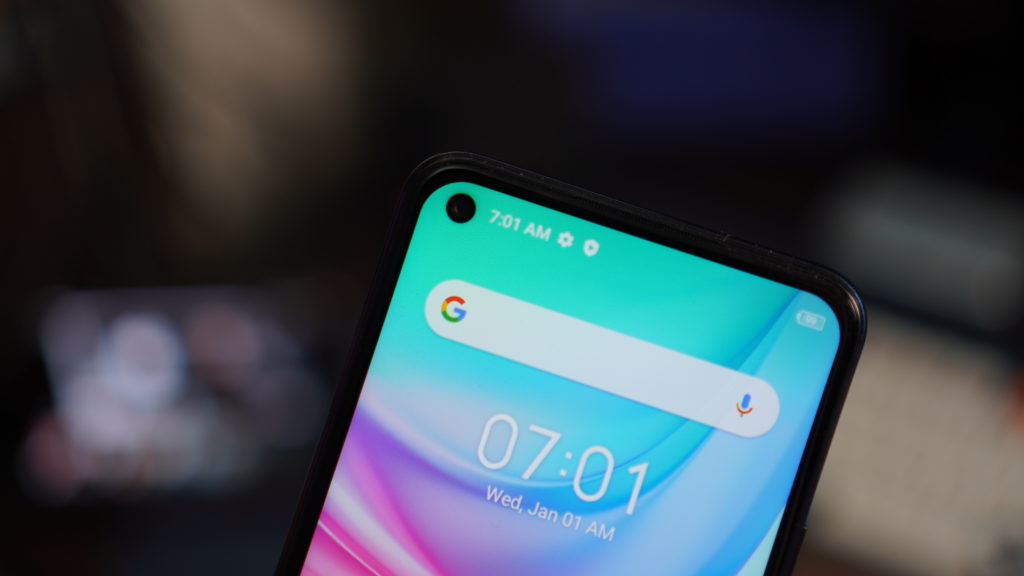 We just hope that Infinix didn't settle for an HD+ 1640 x 720 resolution because it is underwhelming, and you could easily spot the difference between its quality and other devices flashing a better resolution.
LONG BATTERY LIFE
To say long is an understatement.
The Infinix Hot 10 sports a whopping 5,200mAh battery that can surely last longer than its rivals at this price point—or even when compared to more expensive smartphones. In fact, it is the most impressive thing that it can deliver.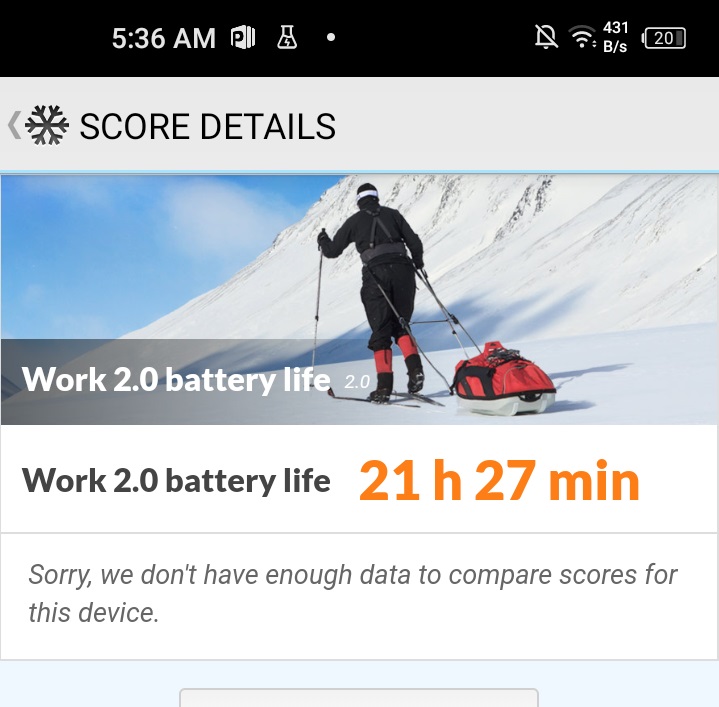 As our daily driver, it can normally last up to 16 to 20 hours. Our mobile activities include social media browsing, basic communications, surfing the net, watching videos on YouTube, and casually playing games (max 3 hours a day). On weekends, when we used it heavily, it can accompany us for up to 10 hours.
We also ran it on PCMark Work 2.0 battery life test, and it scored 21 hours and 27 minutes.
There's a downside. Since it doesn't have a fast-charging solution, it always took us 3 hours and 20+ minutes to fully charge the phone from 10% to 100%. In fact, it would even take an hour to charge it from 20% to just 50%.
Still, we won't complain considering its price and enormous battery!
DECENT PERFORMANCE, PERFECT FOR CASUAL GAMERS
Infinix armed the Hot 10 with a MediaTek Helio G70 octa-core processor, paired with Mali-G52 graphics. It is also loaded with 4GB of RAM, too. With these decent specs, it is more than enough to support our daily mobile tasks and satisfy our casual gaming activities.
The Infinix Hot 10 is also geared with a large 128GB storage. However, it comes pre-installed with multiple apps, such as games, Google apps, and more. This leaves users with just 114GB of internal storage. Good thing, these apps can be uninstalled if you wish to.
INFINIX HOT 10 BENCHMARK SCORES: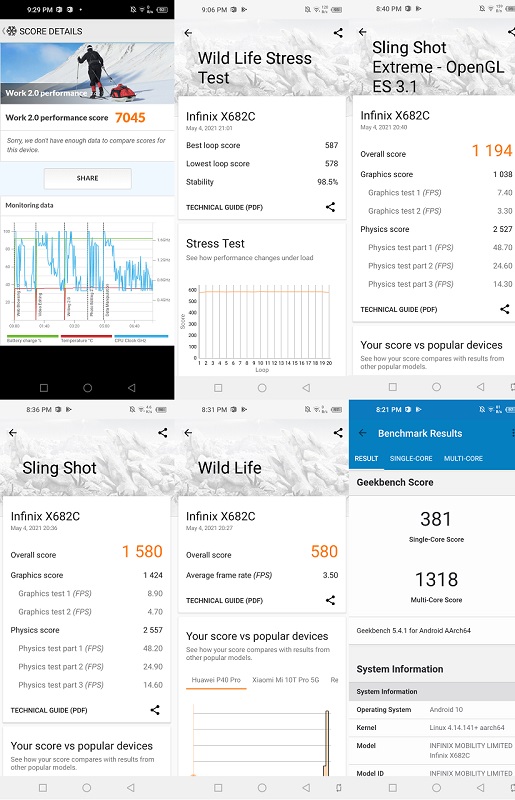 As mentioned, the Infinix Hot 10 is a great alternative for casual gamers who don't want to spend too much bucks on their smartphone. During our tests, we played popular mobile games, such as Call of Duty Mobile and Mobile Legends: Bang Bang. For a smooth and ideal experience, we put its game settings at low to medium levels.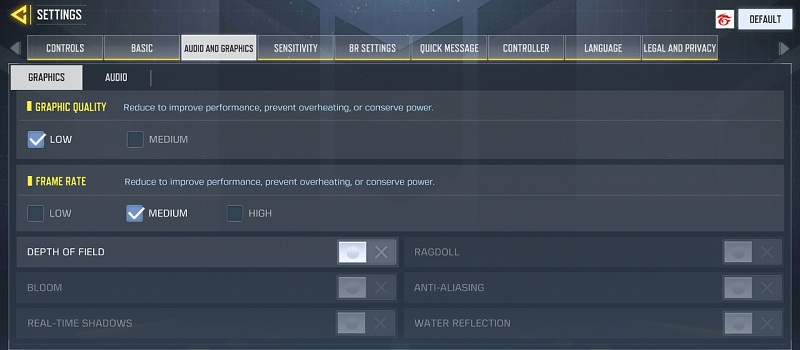 Overall, we never had a problem with the phone when it comes to handling our daily mobile tasks, which include heavy social media browsing. Lags weren't noticeable, even when shifting from one app to another.
SOFTWARE AND USER EXPERIENCE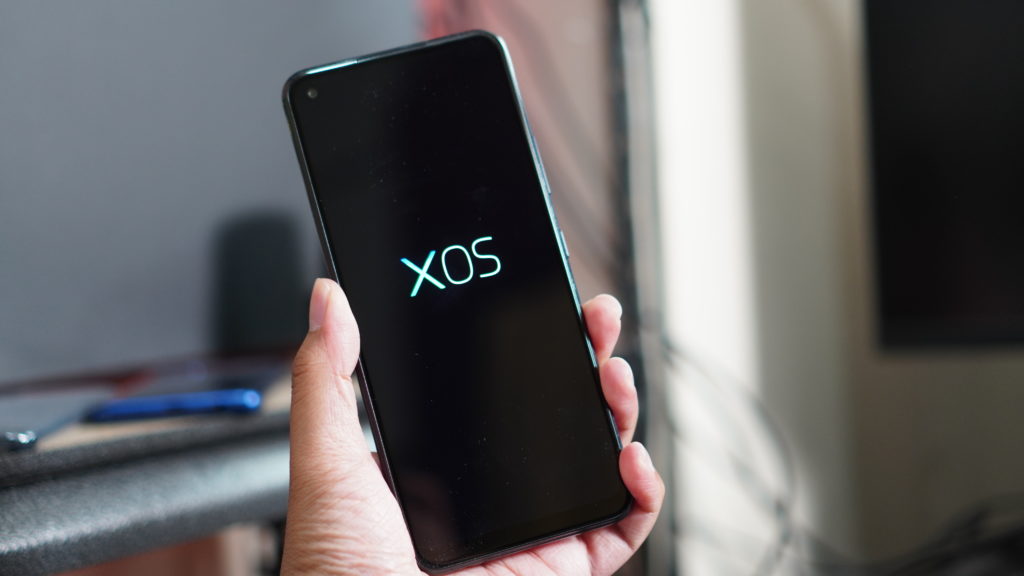 The Infinix Hot 10 operates Android 10 with XOS7 skin. Unlike other budget smartphones with a stock Android look, this unit has so many things going on—which is kind of a messy style, if we would describe it.
It has a control center, a notifications tab, and quick access to apps. You can also organize your apps in its multiple home screens by creating folders.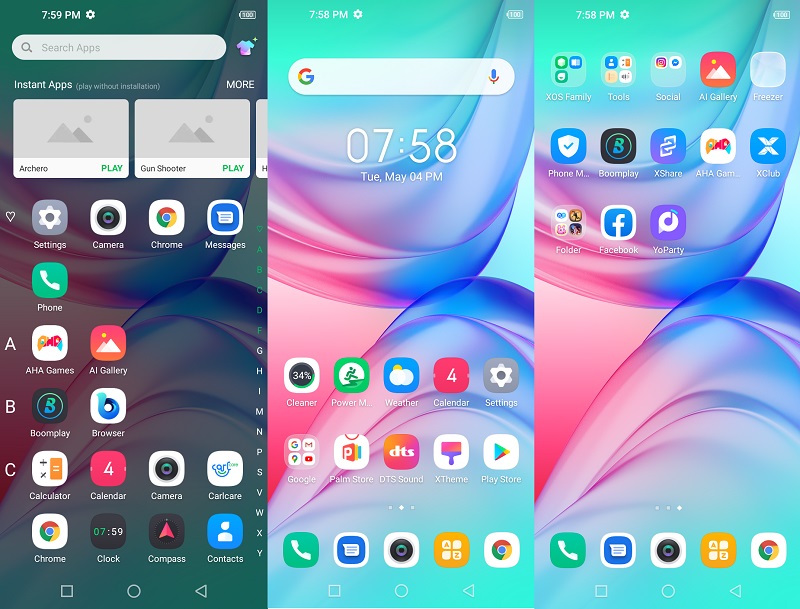 Meanwhile, swiping up from the home screen will bring you to its app drawer. This section has a Search Apps tab on the top part, while it also displays your most recent or most visited apps. Then, other apps are arranged alphabetically.
However, what seems to be the most interesting about it is that Infinix loaded the phone with the Palm Store app, which will let you download some of Google Play-banned apps.
Other notable offerings include its Game Mode and Game Anti-Addiction features.
For security, it has a responsive fingerprint scanner and Face Unlock technology. It's just disappointing that the latter is slow to recognize my face when trying to unlock the phone.
QUAD REAR CAMERAS ON A BUDGET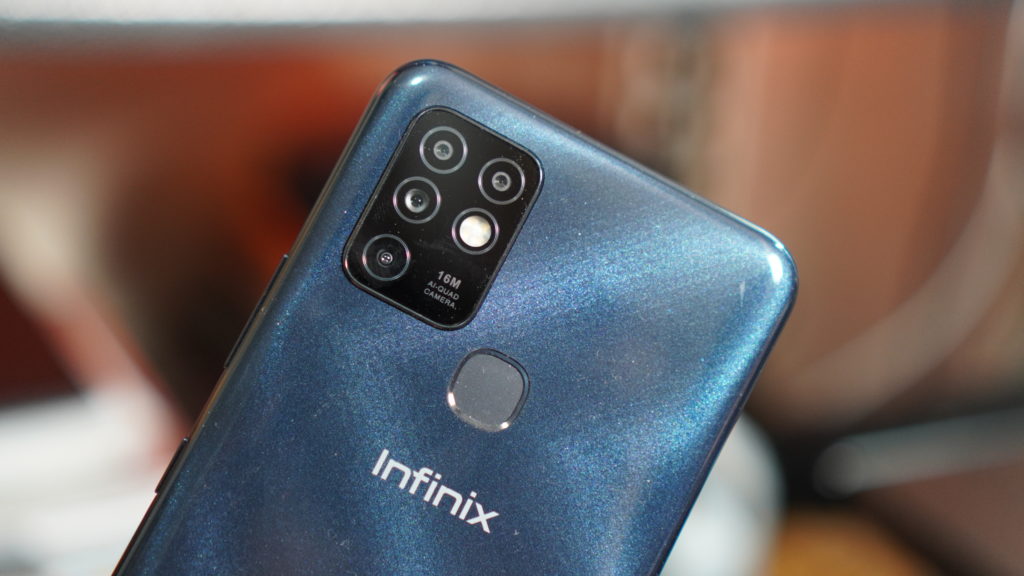 On paper, the Infinix Hot 10 is surely an attractive phone. It has a quad-rear camera setup, consisting of a 16-megapixel main shooter, 2-megapixel macro lens, 2-megapixel depth sensor, and an AI lens. Apart from its main camera, the other shooters are not of great use. We can't help but wish Infinix just coupled its 16-megapixel main camera with a decent lens, which could be an ultra-wide, better macro or depth sensor.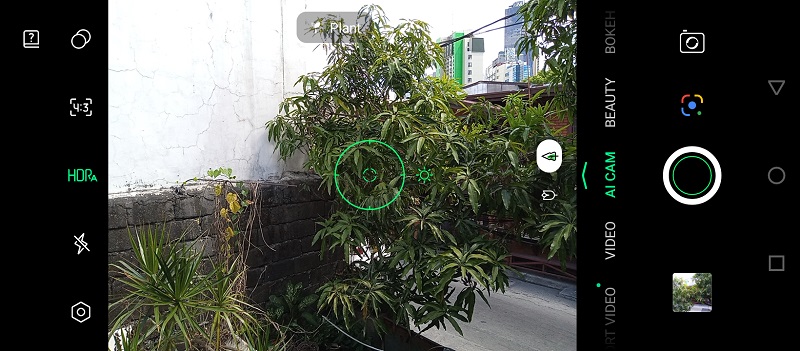 The device can take good photos when shooting outdoors with great lighting. However, the images would become too soft with too many noises indoors. Its sharpness isn't that good, as well. We're not a fan of its bokeh, too, as it has an underwhelming performance.
Good thing, it exceeded our expectations when capturing photos at night, but, of course, we've seen better.
For selfies, its 8-megapixel camera didn't disappoint nor impress us.
If we could put this more simply, we'd say that the Infinix Hot 10 isn't for consumers looking for a budget phone with good camera offerings. That's it.
Here are some of our sample shots:
VERDICT: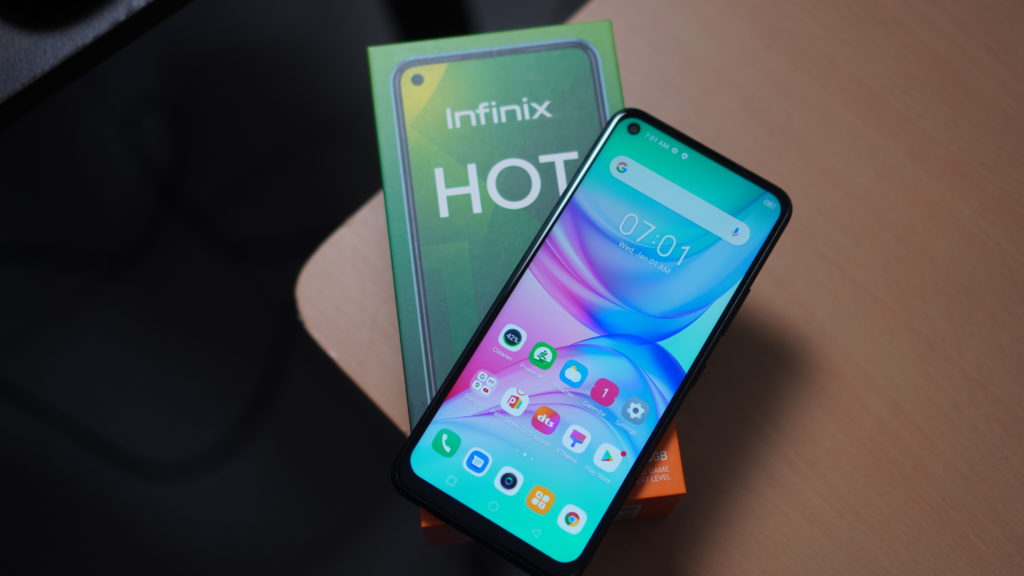 The Infinix Hot 10 is a great smartphone for people who are always on the go but can't stop using their phones for social media and other stuff. It's also a good option for those who love streaming movies and playing games.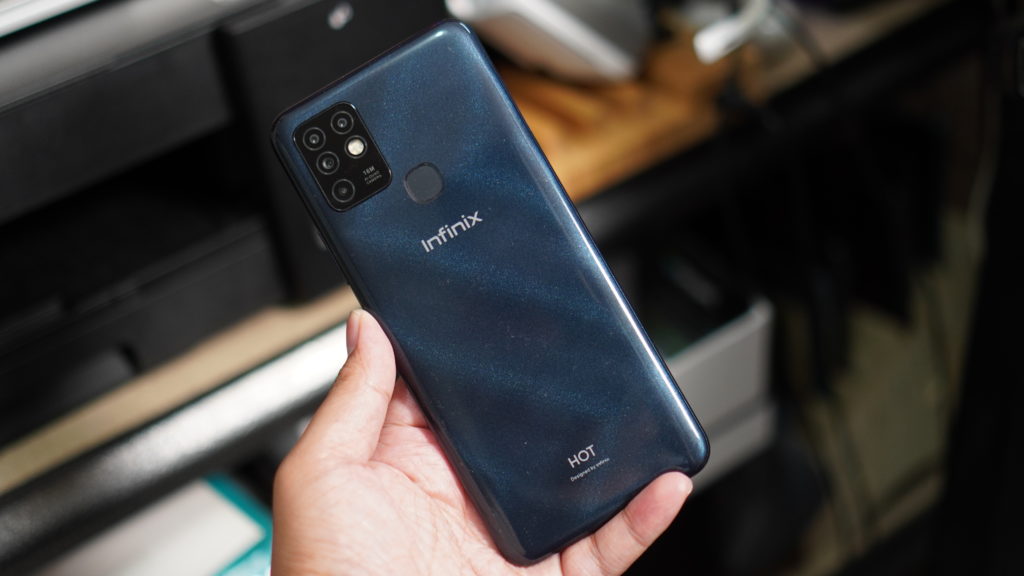 However, if you're looking for a camera phone at its price point, consider getting other devices that focus on that feature.
The Infinix Hot 10 has an SRP of Php6,990. Meanwhile, it is now priced on its official Lazada and Shopee stores for only Php5,990.
So, is it a yay or nay? Let us know what you think in the comment section below.