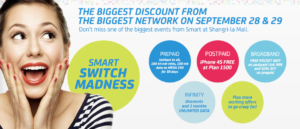 Even that girl on that photo was shocked of Smart's Madness Sale
So you're planning on switching to Smart or getting a new phone from Smart? Well, I think this is the best time to do that because Smart is having their Switch Madness Sale! So what's up with their Switch Madness sale? Well, you could get a lot of devices whether it is postpaid or prepaid at a much lower price. The Smart iPhone 4s is also at sale which will be free at Data Plan 1500 and All-in Plan 1800. Pretty interesting right? There are other Android devices that are on sale too! Check out the break for more info.

If you want some smartphones from Smart but you don't want that lock-in period then here are some of their interesting devices that are on sale but without that lock-in period.
Sony Ericsson Xperia Ray – P7,700
Blackberry 9780 – P14,750
Samsung E1080 – P400
HTC Sensation – P14,100
Those are just some of the devices that are on the list. Some of the perks that you can get in the Smart Switch Madness sale is the price down on Smart Bro devices. Just show your non-smart wireless broadband device and you could get these discounts:
50% Off Power Plug-It at only P625
50% Off Rocket Plug-It Chic at only P1,175
50% Off Pocket WiFi at only P1,945
Oh and you could get a free MicroSim on your 3G/4G tablets too. Yeah, just show your 3G/4G capable tablet and you could get a free MicroSim.
Anyway, if you are very interested on getting one of these devices then you should check out Shangri-La Mall tomorrow and on Saturday (2-Day sale, duh). If you want to know some of their postpaid and prepaid promos then
check out their website here
---
Subscribe to JAM Online to get the latest news about tech and other stuffs
Enter your email address:
Delivered by FeedBurner
---