Acer Philippines' #MakeYourGreenMark campaign garners a prestigious Red Dot Award for Advertising, accompanied by an impressive haul of 11 other accolades in this year's Brand and Communication Design category. This victory establishes a remarkable milestone for Acer, as it claims the highest number of wins in this renowned competition.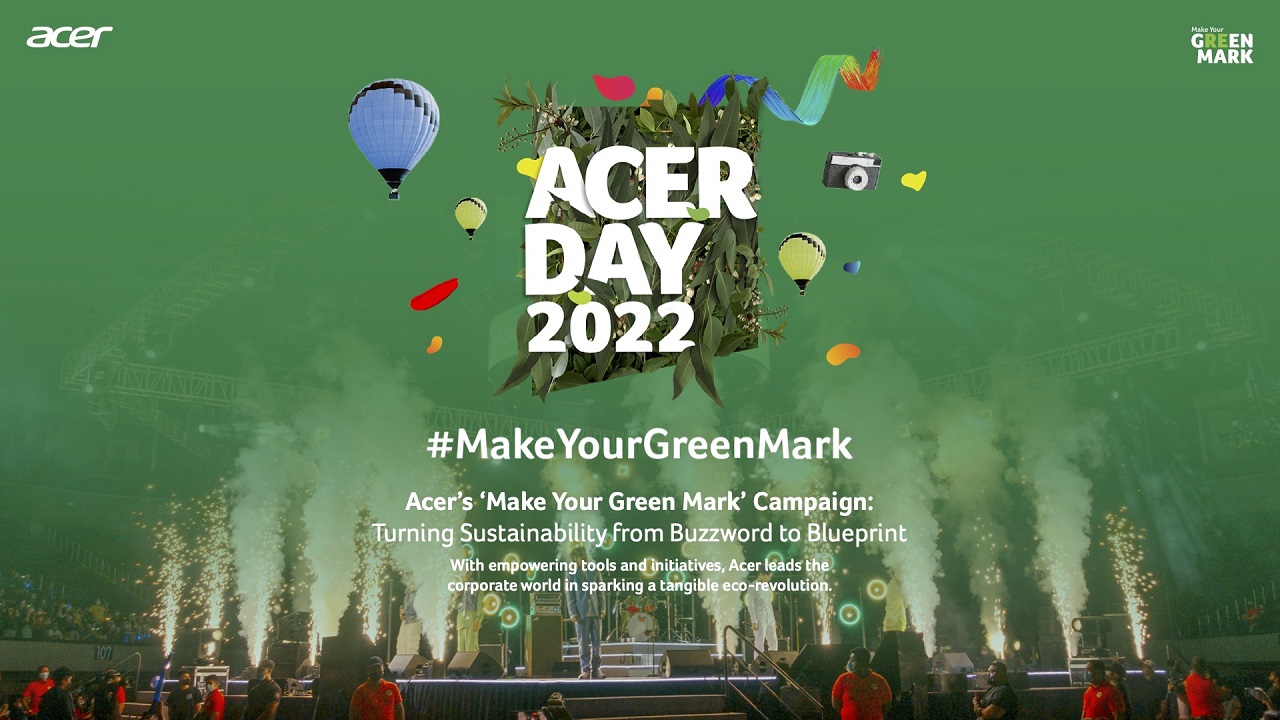 A Breakthrough Campaign for Sustainability
The Acer Day #MakeYourGreenMark campaign stands out for its impactful call to action, weaving Acer's sustainability message into a tapestry of innovation, corporate social responsibility (CSR) initiatives, and engaging events. This holistic approach has effectively propelled Acer's mission to promote a greener future.
A Global Movement with Local Impact
At the heart of the campaign, Acer orchestrated a collaboration involving 18 global ambassadors hailing from seven Asia Pacific regions. This united front of advocates powered the #MakeYourGreenMark campaign, amplifying Acer's message to a vast global audience. The outcome was a trailblazing campaign that not only reshaped the trajectory of worldwide sustainability initiatives but also solidified Acer's unwavering dedication to a more eco-conscious future.
A Concert That Matters
Acer Philippines played a pivotal role in this success story by orchestrating the "Green Mark" concert, which starred a lineup of renowned Filipino artists. In an innovative twist, fans earned their tickets through eco-friendly acts such as contributions to The Green Earth Heritage Foundation and donations of plastic for The Plastic Flamingo. This event marked a milestone in environmental commitment, uniting fans and artists in support of a greener cause.
A Remarkable Impact
The "Green Mark" concert was a resounding success, drawing an audience of 15,000 both in-person and online. The event's global reach extended to over 714 million people, leaving a lasting impression. Beyond the concert's entertainment value, it also yielded tangible results. The campaign raised an impressive amount exceeding Php1 million, earmarked for planting 5,401 trees to aid forest rehabilitation efforts. Additionally, over 20 metric tons of plastic were donated, destined for transformation into sustainable construction materials.
Amplifying Green Initiatives
Acer's innovative #Acer21DayChallenge played a pivotal role in galvanizing environmental awareness. Supported by Acer and Predator ambassadors such as Sarah Geronimo, SB19, and Alodia Gosiengfiao, this movement gained remarkable traction. Notably, the initiative reached an astounding 6.5 million users in the Philippines. Its resonance was amplified by the viral influence of TikTok, showcasing the power of creative engagement in propelling global efforts toward a greener tomorrow.
Recognizing Excellence in Design and Communication
For nearly three decades, the renowned Red Dot Award: Brands & Communication Design competition has served as a prestigious platform for designers and companies to showcase their projects to a discerning international jury. This competition honors the creativity and achievements of these campaigns and their creators, elevating brands and projects within the global design community.