In a highly anticipated announcement, Apple unveiled iOS 17, a significant update that aims to make the iPhone even more personal and intuitive. With an emphasis on enhancing communication, sharing, and user experience, iOS 17 introduces a range of new features and improvements.
Revamping the Phone Experience
The Phone app receives a major overhaul with personalized Contact Posters, allowing users to express their individuality. Customization options include unique appearances for incoming calls, such as eye-catching typography, font colors, and beauty treatments for photos or Memoji. Furthermore, Contact Posters will now be available for third-party calling apps, ensuring a consistent and personalized calling experience across the board.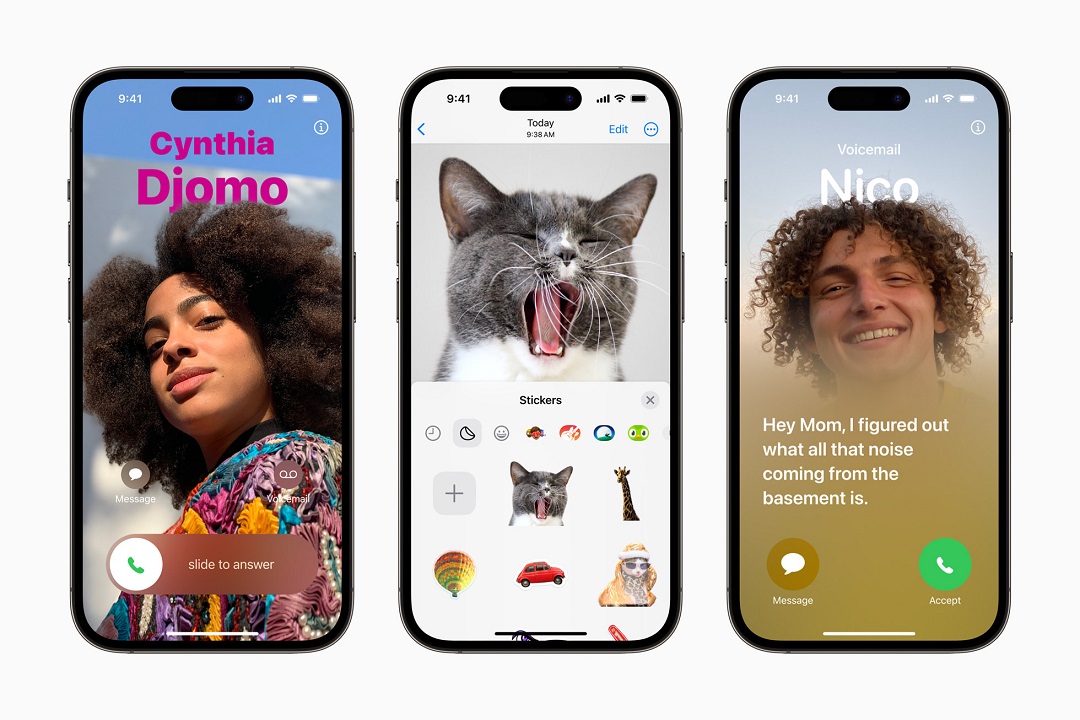 Empowering FaceTime with New Features
FaceTime, Apple's popular video calling service, gets a boost with the addition of audio and video messages. Now, when users call someone who is unavailable, they can share messages that can be enjoyed later, fostering seamless communication. FaceTime calls also become more expressive with the introduction of Reactions. Users can add lively effects like hearts, balloons, fireworks, and laser beams to make their video calls more engaging. These effects are not limited to Apple's built-in FaceTime app and can be utilized by third-party video calling apps as well.
Expanding Communication Horizons with Messages
The Messages app receives significant updates in iOS 17, including an all-new stickers experience that introduces fresh emoji stickers and the ability to create Live Stickers by extracting subjects from photos. Adding to the excitement, Live Stickers can be brought to life with captivating effects. A new drawer in the keyboard simplifies access to a user's stickers, ensuring seamless integration across the entire iOS ecosystem.
Moreover, iOS 17 enhances communication within Messages by introducing an expandable menu for iMessage apps, making them easily accessible with a simple tap. The search functionality is also enhanced, providing more powerful and precise results through search filters. With the introduction of a catch-up arrow, users can effortlessly pick up where they left off in a conversation while replying to messages becomes even more convenient with inline swiping on text bubbles. Additionally, users can now share their location in real-time within the conversation, and audio messages are automatically transcribed for easier consumption.
Streamlined Sharing with AirDrop and NameDrop
AirDrop, Apple's popular file-sharing feature, receives new enhancements in iOS 17. With the introduction of NameDrop, users can effortlessly share contact information by simply bringing their iPhones together or by combining an iPhone and Apple Watch. This intuitive gesture can also be used to share content or initiate SharePlay, allowing users to enjoy music, movies, or games together when their devices are in close proximity.
Enhanced Autocorrect and Intelligent Input
Autocorrect receives a comprehensive upgrade in iOS 17, powered by a transformer language model utilizing on-device machine learning. This advanced language model enhances word prediction, improving typing accuracy and efficiency. The autocorrect feature now offers predictive text recommendations inline, allowing users to add complete words or sentences with a simple tap of the space bar. The update also refined the dictation, leveraging a new speech recognition model for enhanced accuracy.
StandBy: Glanceable Information and Personalization
iOS 17 introduces StandBy, a new feature that enhances the iPhone's usability when set down and charged. StandBy provides a full-screen display of glanceable information, making it perfect for placement on a nightstand, kitchen counter, or desk. Users can personalize their StandBy experience by selecting from a range of beautiful clock styles, favorite photos, or widgets, including Smart Stacks that surface relevant widgets based on context.
StandBy also supports Live Activities, allowing users to display Siri, incoming calls, and larger notifications on the screen. When using MagSafe for charging, StandBy remembers the user's preferred view. Users can easily access StandBy by tapping the screen, and it is always available for iPhone 14 Pro with the Always-On display.
Journal: Reflect and Practice Gratitude
To help iPhone users appreciate life's moments and improve their well-being, iOS 17 introduces Journal, a new app designed for reflection and gratitude journaling. Journal utilizes on-device machine learning to provide personalized suggestions for journal entries, intelligently curating them from recent activities such as photos, people, places, and workouts. Scheduled notifications help users develop a journaling habit, and users can lock the app to protect privacy with on-device processing and end-to-end encryption. Developers will also be able to add journaling suggestions to their own apps using the new Journaling Suggestions API.
Additional Features in iOS 17
iOS 17 brings several other notable features and improvements to enhance the overall user experience. Some of these include:
Enhanced privacy protections in Safari's Private Browsing mode, including advanced tracking and fingerprinting prevention.
The ability to share passwords securely with trusted contacts through iCloud Keychain.
New mental health features in the Health app, such as logging daily moods, accessing depression and anxiety assessments, and regional resources.
Offline maps in Maps, allowing users to download specific areas and access turn-by-turn navigation even without an internet connection.
AirTag sharing with up to five other people, enabling friends and family to track items through Find My network accessories.
Collaborative Playlists in Apple Music, making it easier to listen to music with friends.
On-device intelligence for easier content sharing with AirPlay, learning user preferences and supporting televisions in select hotels.
Powerful new features for AirPods, including Adaptive Audio, Personalized Volume, Conversation Awareness, and improved call controls.
The ability to view up to 30 days of activity history across various home accessories in the Home app.
Grocery list grouping in Reminders to simplify shopping, with customizable item grouping preferences.
Visual Look Up in paused video frames, allowing users to identify objects and subjects within photos and videos.
Improved Siri activation with the simple command "Siri," enabling users to issue multiple commands without reactivation.
Enhanced accessibility features, including Assistive Access, Live Speech, Personal Voice, and Point and Speak.
Availability
The developer beta of iOS 17 is now available for Apple Developer Program members, while a public beta will be accessible next month. The new software features will be provided as a free software update for iPhone Xs and later models in the fall. However, it's important to note that features are subject to change and may not be available in all regions, languages, or on all devices.
For more information about iOS 17 and its features, interested individuals can visit the official Apple website.
Source: Apple Newsroom