Thinking of a perfect gift for your loved ones this coming valentine's day? Good news!
ASUS and Republic of Gamers (ROG) Philippines announced its bundled with love valentines promo, giving consumers a chance to score up to Php14,000 worth of exclusive bundle items and discounts.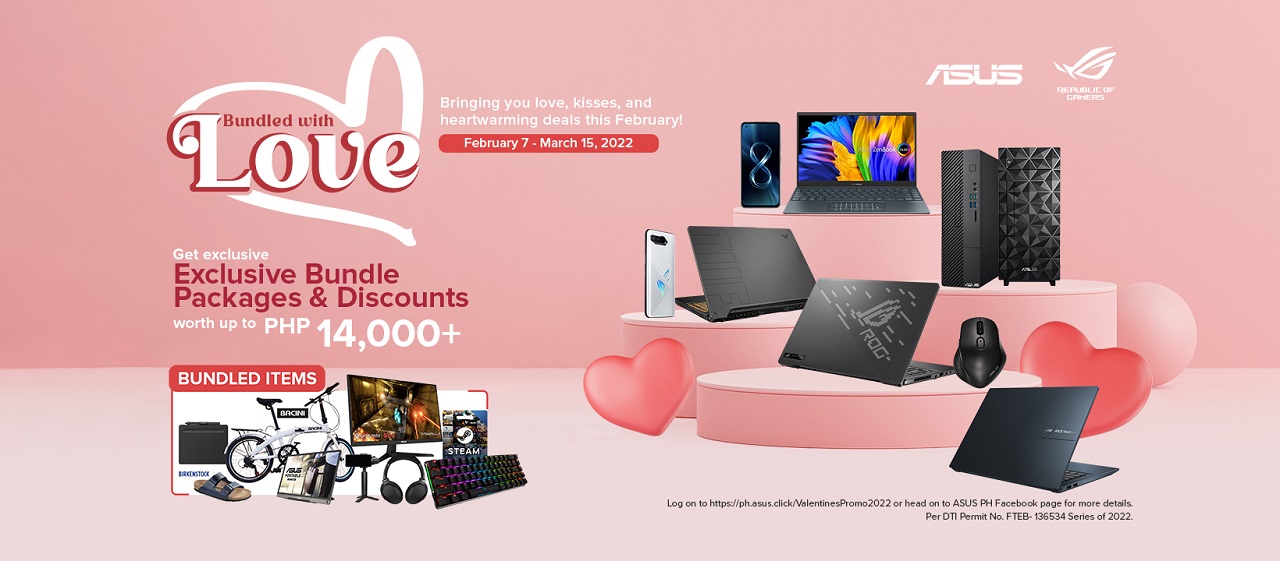 Participating products include select devices from Zenbooks, Vivobooks, Zephyrus, Strix, desktops, ROG Phone, Zenfones, and more.
Here are some of the details: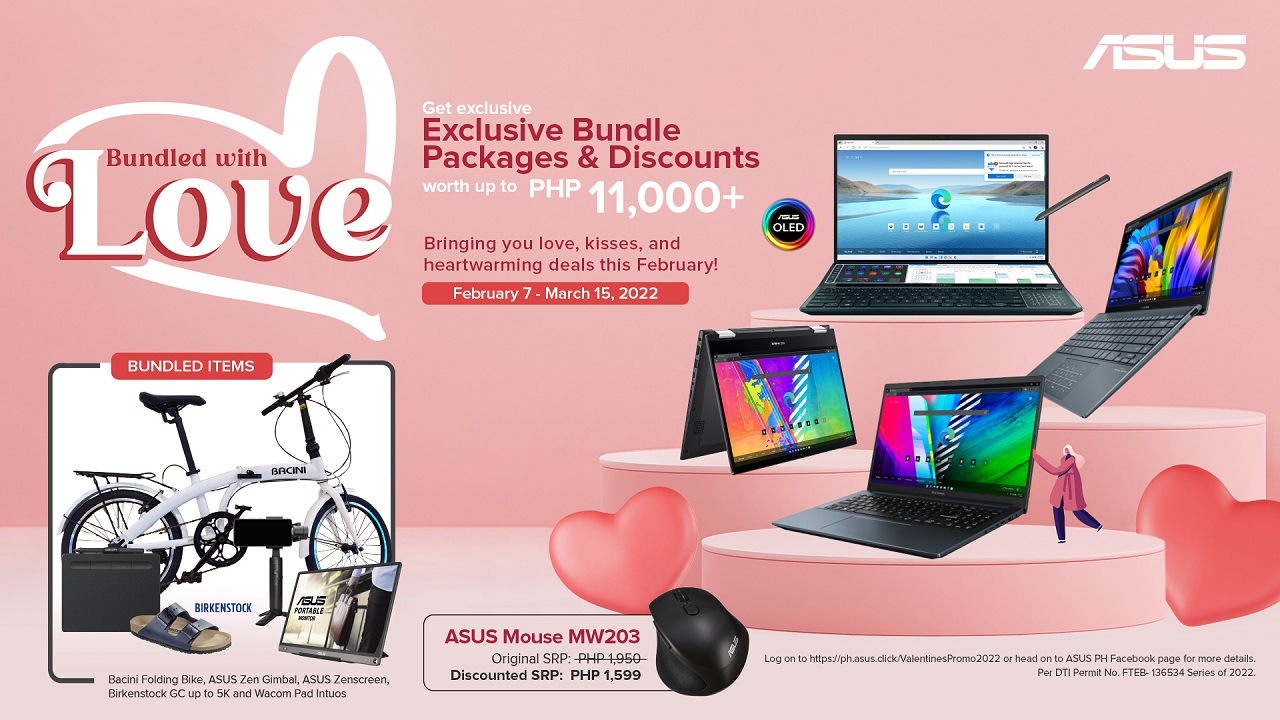 ASUS bundled items
Receive a Bacini foldable bike worth Php11,990 for each Zenbook Pro Duo 15 OLED purchase
Get a free three-month Adobe Creative cloud subscription with ASUS Zenbook Pro Duo 15 OLED, ASUS Vivobook Pro 14 OLED, and ASUS Vivobook Pro 15 OLED
Score a Wacom Pad Intuos worth php6,300 with a free three-month subscription to Corel Painter Essentials 8, Corel Aftershot, and Clip Studio Paint Pro for each purchase of the Vivobook Pro 14/15 OLED
Get an ASUS Zen gimbal, ASUS Zen screen, or a Birkenstock e-voucher for every ASUS Zenbook or Vivobook laptop purchase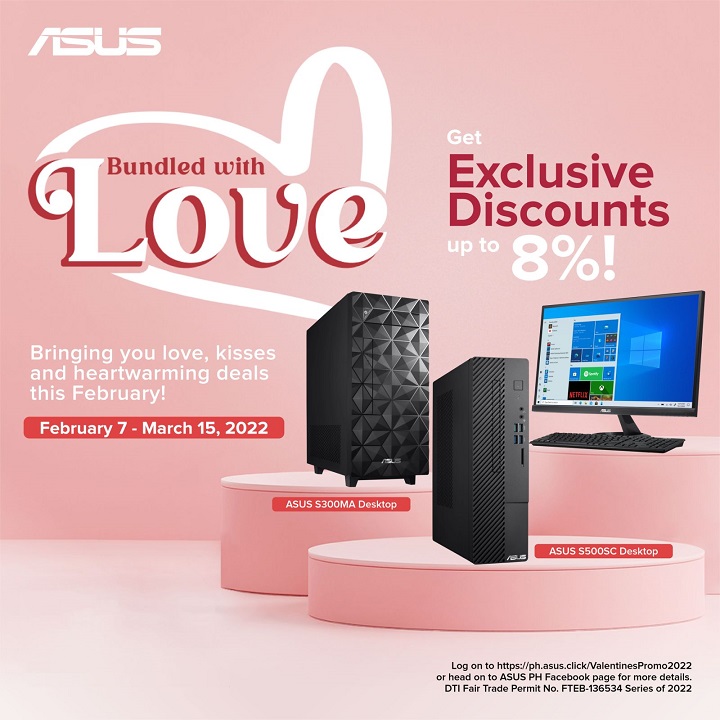 Special Price Cut for ASUS Desktops
S300MA-310100056T
SRP: Php32,490
VDAY Price: Php30,990
S300MA-51040F051T
SRP: Php35,990
VDAY Price: Php34,990
S300MA-51040F052T
SRP: Php37,990
VDAY Price: Php36,990
S500SC-310105024T
SRP: Php28,995
VDAY Price: Php27,615
S500SC-511400021T
SRP: Php33,995
VDAY Price: Php32,615
S500SC-511400009TS
SRP: Php43,995
VDAY Price: Php40,495
S500SC-511400011WS
SRP: Php43,995
VDAY Price: Php40,995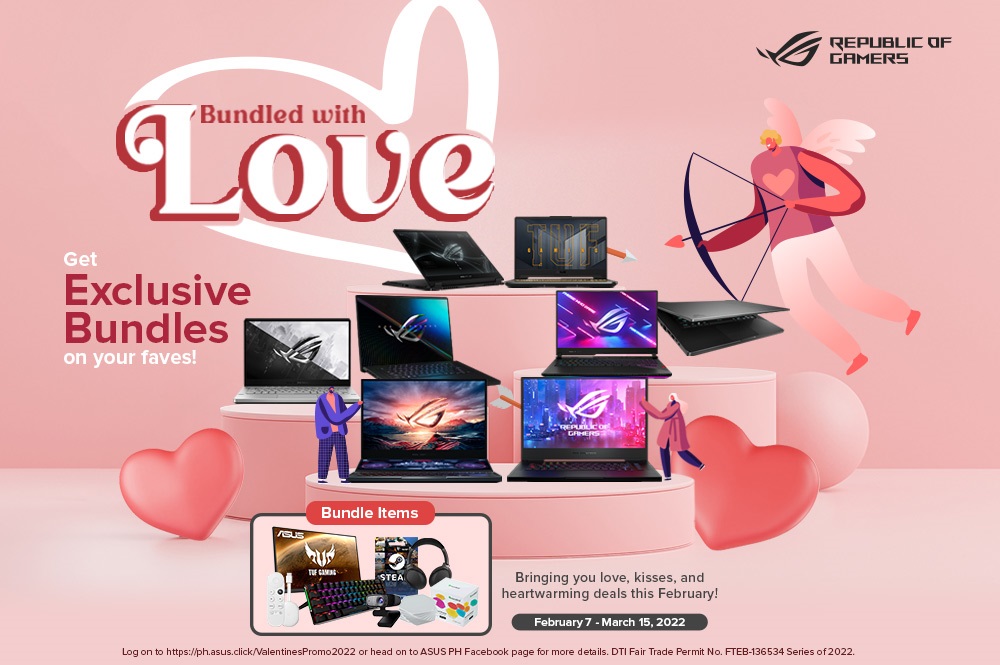 ROG Bundled Promo
Rog Zephyrus Duo
Models: GX551s/GX550lxs
Bundle: Nanoleaf Shapes Hex White 9pk
Bundle Worth: Php12,000+
Rog Zephyrus S15/S17
Models: Gx703/Gx502
Bundle: ROG Strix Go Wireless Gaming Headset
Bundle Worth: Php11,250+
Rog Strix Scar 15/17
Models: G733/G533/G732
Bundle: TUF Gaming Monitor VG249Q1A
Bundle Worth: Php12,700+
Zephyrus M15/M16
Models: GU603/GU502
Bundle: Rog Falchion Wireless Mechanical Gaming Keyboard
Bundle Worth: Php7,695+
Zephyrus G14/G15
Models: GA503/GA401/GA502
Bundle: Nanoleaf Triangle Mini Starter Kit
Bundle Worth: Php5,000+
Rog Flow X13
Model: GV301
Bundle: ASUS Wecam C3 + ROG Falchion Wireless Mechanical Gaming Keyboard
Bundle Worth: Php10,190+
Rog Strix G 15/17
Models: G513/G713/G512/G712
Bundle: Google Chromecast with Tv 4k
Bundle Worth: Php3,395+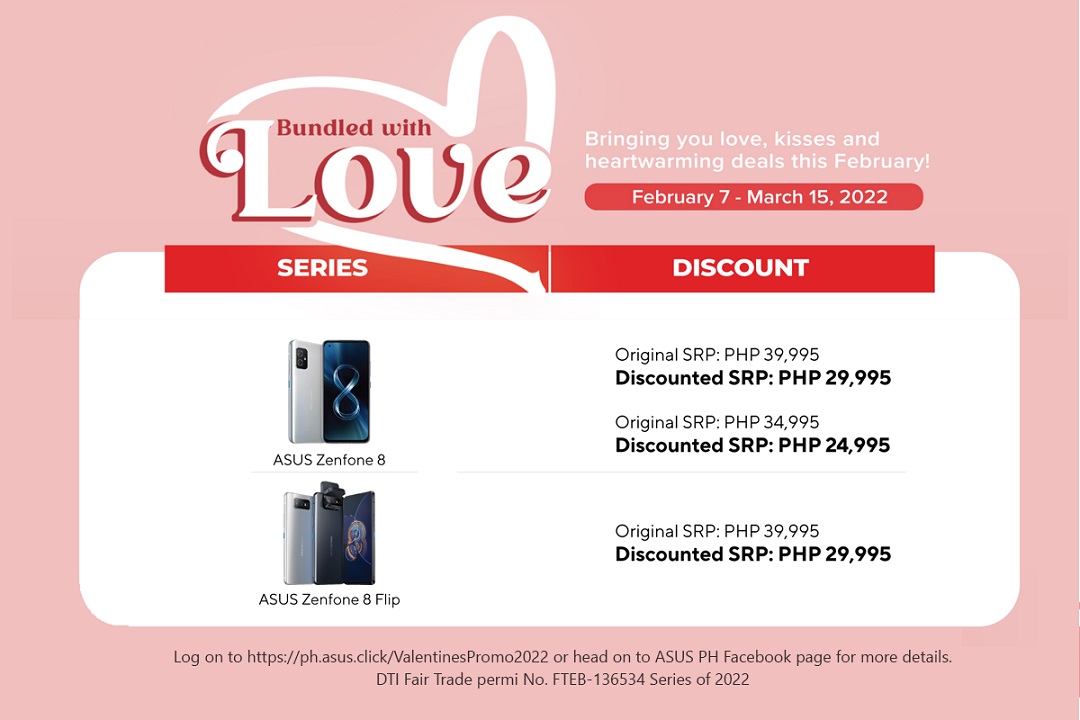 Meanwhile, The ROG Phone and Zenfone devices are also available for the promo.
Check complete details here.
The Bundled with Love Valentines promo of ASUS is running until March 15, 2022.
So, are you getting one?
Let us know what you think in the comment section below!