Smart Communications, Inc. (Smart) launched its best-unlimited data offer, the UNLIFAM 999 promo.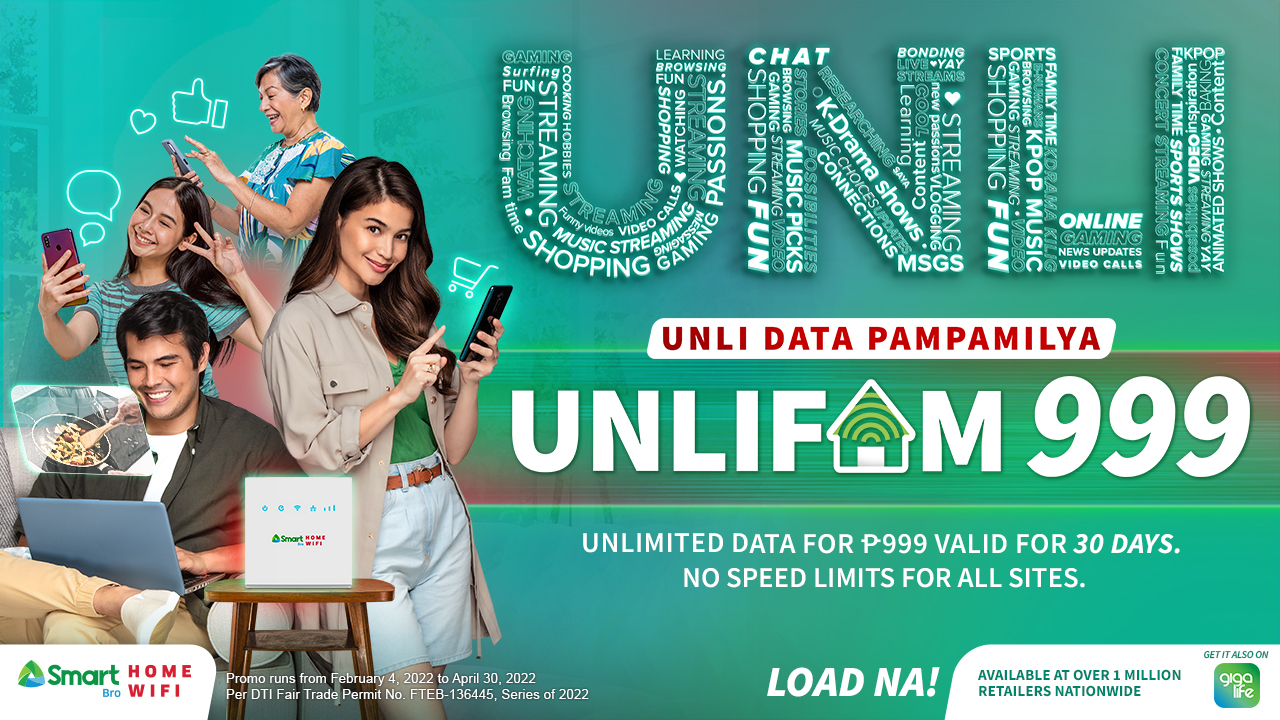 The UNLIFAM 999 promo offers unlimited data with 30-day validity. In addition, Smart announced that it has no restrictions, data-capping, or speed-throttling.
It also covers all connectivity needs, allowing subscribers to use it for productivity, entertainment, gaming, and more. Users can also maximize it for binge-watching ultra-high definition videos or getting in touch with their loved ones through super-fast video calls.
To register, consumers have to log into the GigaLife App and choose UNLIFAM 999 under the available data offers. Users can also connect their Smart Bro and PLDT Home WiFi devices to the GigaLife App. This gives them a chance to earn GigaPoints and redeem exciting rewards.
How to link your Smart Bro or PLDT Home WIFi device to the GigaLife App:
Download the GigaLife App;
Connect your smartphone to your Smart Bro or PLDT Home WiFi device;
Open the GigaLife App and enter the mobile number of your Smart Bro or PLDT Home WiFi device;
Add your primary smartphone number as a secondary mobile number to receive important messages about your account;
Input the One-Time Pin (OTP) sent to your primary phone number; and
Wait for the GigaLife enrollment confirmation.
Smart's UNLIFAM 999 promo is now available at the GigaLife App for all users of Smart Bro Home WiFi, PLDT Home WiFi, Smart Bro Prepaid SIM, and Smart Bro Rocket SIM.
Meanwhile, Smart revealed that the UNLIFAM 999 promo would soon be available at accredited Smart retailers nationwide.