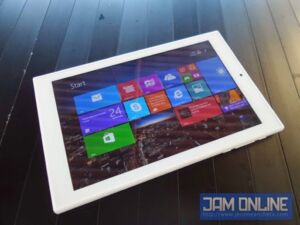 Cherry Mobile not only announced their first Windows Phones but they also announced their newest tablets running on Windows. And no, Cherry Mobile Alpha Play isn't running on Windows RT, that's why you'll be able to play games and run apps that are also available in the desktop. Check out my review of the Cherry Mobile Alpha Play below.

Construction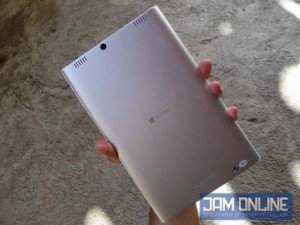 When I first saw the Cherry Mobile Alpha Play, one thing that I really like in it was the aluminum back because it feels very tough and solid. Unlike other Windows tablets, the front doesn't exhibit a Windows button that's why this tablet looks like an Android tablet.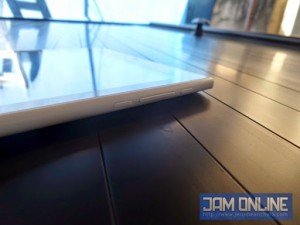 The buttons are placed at the side of the tablet and until now, I'm still confused which is the power button. Below the tablet is where you can find the ports. You can expand the storage of the tablet via Micro SD or if you want to use your flash drive, you can do that via USB OTG and you don't have to look for the USB OTG for USB 3.0 because it already came with the box. Unfortunately, external hard disk doesn't work on the Cherry Mobile Alpha Play. There's also a mini-HDMI port on this tablet so you could connect this tablet to your TV or monitor.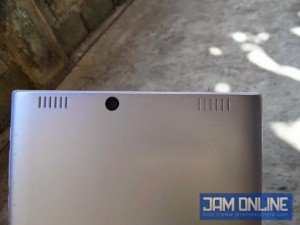 The speaker grills of the tablet are placed at the back but unfortunately, the audio quality isn't that good and it wasn't that loud so I suggest you guys to always bring with you your earphones if you're planning on watching a movie or even playing a YouTube video.
Display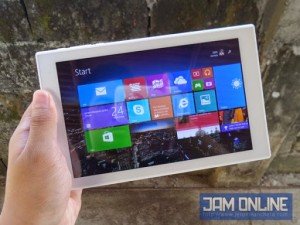 8" isn't the smallest display for a tablet but it is definitely the best size if you're looking for a portable tablet and yes, using the Cherry Mobile Alpha Play in one hand is still comfortable thanks to the thin bezels and the lightweight design. There's a 1280×800 resolution on the 8" display and it doesn't disappoint. The colors aren't washed out and the display is visible even at direct sunlight. Not bad for a P7,999 tablet.

Software and Performance
Cherry Mobile Alpha Play is running on Windows 8.1 with Bing. Since this device has 16GB of internal storage only, there are no pre-installed 3rd party apps on the tablet. Speaking of storage, this tablet comes with a very small free space so I really recommend you guys to get a MicroSD card in where you can install your apps and games.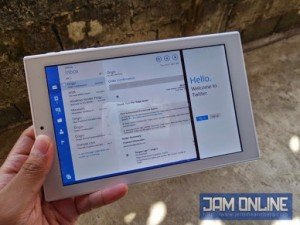 Since this tablet is not Windows RT, you could run legacy Windows apps and games on this tablet but of course, you could also run and snap Windows 8 apps that are available in the Windows Store. Another thing that you'll love in this device is the free Office 365 subscription and 1TB of Onedrive storage for 1 year but of course, you could install a 32-bit version of Microsoft Office 2013 on this device.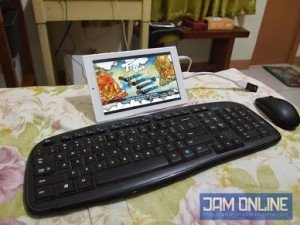 Cherry Mobile Alpha Play is powered by 1.33 GHz Quad-Core Intel Atom Z3735D with a 1GB of RAM. The performance of this tablet is very close to the ASUS Transformer Book T100 that I've reviewed before but this one is slower. Since I have a very limited storage on this tablet, I was only to play a few games. Some of the games that I've tried are CS:Go, Red Alert 2: Yuri's revenge, Naruto Shippuden Ultimate Ninja Storm 3 Full Burst, and Hearthstone. I've installed NBA 2k14 but I wasn't able to run it on this tablet.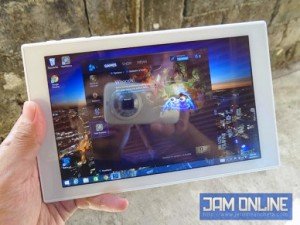 Battery Life
The battery of this tablet isn't really that long. At average use, I could use this tablet for 4-5 hours before it fully drained its juices but if you're using it for gaming, expect that this tablet would last for 2-3 hours.
Camera
Tablets aren't really made for heavy camera usage but the Cherry Mobile Alpha Play has a 5 MP BSI Rear Camera and a 2 MP front camera. The quality isn't really that good compared to smartphones but considering its price, I wouldn't complain. It's also nice to see a BSI camera on a tablet ;).

Verdict
If you're into tablets focused to productivity and a little bit of Windows gaming, you might want this device. It might have flaws but the Cherry Mobile Alpha Play is a great Windows tablet for its price but you probably have to buy a MicroSD card to suffice its measly 16GB storage. Cherry Mobile Alpha Play is one of the most affordable Windows 8 market right now at P8,000.