It has been 2 weeks since I borrowed the Cherry Mobile Orbit. Well, Some of my first impressions were wrong. It has been a useful Android device and I fondly love it for some time. Cherry Mobile Orbit combines the two features that most people want, Dual sim and Android. And do you know the other thing I like about this phone? , This phone is affordable.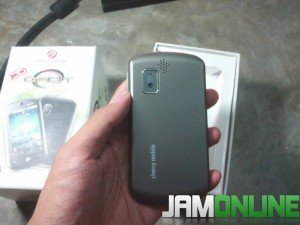 Cherry Mobile Orbit's back
Body, Camera and Construction
The Cherry Mobile Orbit looks like an ordinary smartphone. The body is made up of plastic and it is not that solid compared to other Android phones but it does the job well (And we'll discuss that later). I got no problems when holding the Orbit, It is comfortable and it weighs just right thanks to the plastic body. The 4 capacitive Android buttons are placed below the screen and I don't have any problems with that. There are call and end call buttons below those 4 capacitive buttons and I rarely use them but I had no problems with that but they should have remove that. The phone would have been sexier if they remove those 3 buttons below. I like the combination the gray and black color of the review unit I got.
The camera is a bit okay. The 5 megapixel camera records VGA Videos and the image samples are good but not excellent. Here are some images taken using the cherry mobile orbit:
The colors produced were good but there are a lot of noises produced even though I shot this picture at around 6 AM which is very bright.
Here's a video sample of Cherry Mobile Orbit
For some unknown reason the video is a bit pinkish and I don't know why. By the way, this VGA video is at 11.70 fps and has a format of .3GP, which is a bit disappointing.
Android, Apps and Dual Sim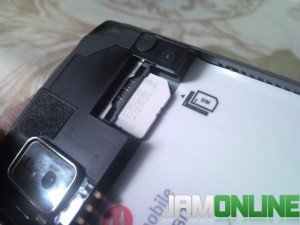 This is where you insert those sims. Not hot-swappable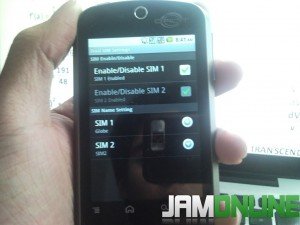 You can name your SIM cards
Android Froyo powers the Cherry Mobile Orbit that I used. I didn't experience any crashes but there are a lot of slowdowns that I experienced maybe because of the processor. There are built-in apps by Cherry Mobile including Messenger, shop and music but I rarely use those apps. I use the phone mostly for Facebook, Google+ and Twitter. Yeah, Android market offers a lot of apps for the Orbit. But if you're looking for a game that requires some GPU's magic powers, yeah you can download them but don't expect to play it nice on the Orbit. Another thing that I love in orbit is the pocket wifi. You can use the phone to make it a hotspot. BTW, this phone has HSDPA inside. The thing that set this phone apart from other Android phones is the Dual Sim/Dual Standby feature. You can even rename your sim to anything that you want.
Unboxing and Hands-on


Verdict
Cherry Mobile Orbit is one of the few Android Dual sim phones out there. If you are looking for an Android phone that has Dual sim feature, I suggest that you pick this one. It has a 528 MHz processor, HSDPA, Wifi, 5 Megapixel camera and the unique dual sim feature in an Android. It has a SRP of PHP 9,999.
More pictures of Cherry Mobile Orbit
Rating: 8/10
---
Enter your email address:
Delivered by FeedBurner
---