In the scorching heat of summer, staying cool and comfortable becomes a top priority. Cherry has come up with the perfect solution to beat the heat wherever you go—the Cherry Portable Neck Fan. This compact and lightweight device is designed to provide a refreshing breeze, keeping you cool and relaxed during your daily activities.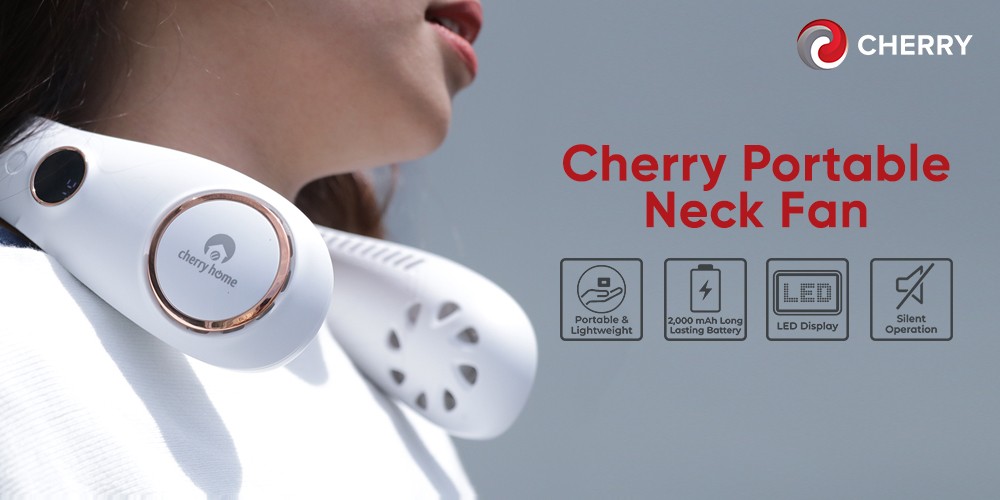 A Convenient Cooling Companion
The Cherry Portable Neck Fan is a must-have accessory for anyone seeking relief from the heat while on the move. With its portable and lightweight design, you can carry it around effortlessly, making it ideal for outdoor adventures, running errands, or simply enjoying a leisurely walk in the park. The fan's unique design allows the cool wind to circulate over your face, neck, and shoulders, providing instant relief from the sweltering heat.
Not everyone prefers the same level of breeze, and that's where the Cherry Portable Neck Fan stands out. It offers a customizable experience with its three-level wind speed settings. Whether you prefer a gentle breeze or a more powerful gust, you can easily modify the intensity to suit your personal preference. Stay in control and enjoy the perfect balance of comfort and cooling.
Meanwhile, the new Cherry Portable Neck Fan not only keeps you cool but also adds a touch of style to your outfit. Its unique design features an LED display wrapped snugly around your neck, making it a fashionable accessory. The LED display enhances its aesthetic appeal and allows for easy visibility of the fan's settings, ensuring a seamless user experience.
The device also has a rechargeable battery that can be conveniently charged using a micro-USB charger. This ensures that you can enjoy hours of cooling without the hassle of constantly replacing batteries. Moreover, the fan operates silently, allowing you to immerse yourself in any activity without being disturbed by unnecessary noise.
Pricing and Availability
Priced at Php799, this portable cooling companion offers a refreshing breeze whenever and wherever you need it.
For more information and to purchase the Cherry Portable Neck Fan, visit Cherry Shop PH at www.cherryshop.com.ph.
Stay cool and beat the heat with this innovative and stylish accessory from Cherry!