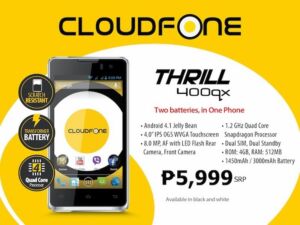 Another smartphone with a big juice has been unveiled today. It's the CloudFone Thrill 400qx. So what's inside? it has a 3000 mAh battery inside with an extra 1450 mAh battery. I know I know, you read that right. There are 2 batteries inside the box. Obviously, the 3000 mAh battery would require more space that's why there are 2 back covers inside. So yeah, you could choose whether you want it to be slim or fat but with more juice. The CloudFone Thrill 400qx has a 4″ screen with a 1.2 GHz Qualcomm Quad-Core Snapdragon processor. Why don't you just check out what's inside the phone after the break.
CloudFone Thrill 400qx Specifications
1.2 GHz Qualcomm Quad-Core Snapdragon
4.0″ IPS OGS WVGA Scratch resistant display
512 MB RAM
4 GB Internal Storage with MicroSD Card slot
HSDPA
8 MP Rear AF Camera w/ LED flash and VGA front camera
Dual Sim
3000 mAh & 1450 mAh battery
Android 4.1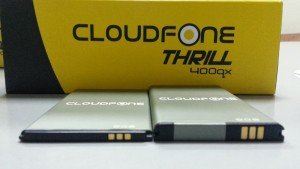 1450 mAh versus 3000 mAh
I'm very happy that CloudFone released another Android smartphone that packs a big battery life. It's a rare sight to see smartphone with a long battery life. The CloudFone Thrill 400qx is very affordable too at P5,999. But if you're into a larger screen then feast your eyes on the CloudFone Thrill 530qx.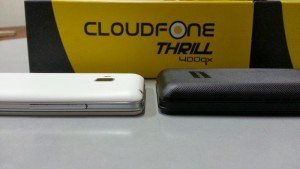 1450 mAh versus 3000 mAh