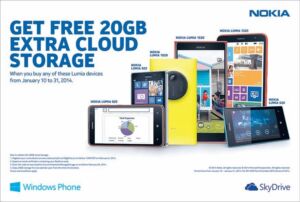 Are you worried about your files getting lost or deleted accidentally? Well, you might want to save it in the cloud like Skydrive. Why? Not only you have a back up online but you can also download the files wherever you are as long as you're connected to the internet. If you're planning on getting a Nokia Lumia, better get one soon because they'll be offering an additional 20 GB storage above the 7 GB storage that you'll get from your Skydrive storage. Want to know more about it? Check it out after the break.
When you purchase a Nokia Lumia 1520, Nokia Lumia 1320, Nokia Lumia 1020, Nokia Lumia 925, Nokia Lumia 920, Nokia Lumia 625 and Nokia Lumia 520 from participating Nokia Stores and retailers starting January 10 to 31 2014.
To avail the extra 20 GB of free SkyDrive storage, you must register brand new Nokia Lumia on the online claim page at www.nokia.com/ph-en/20gbfree/redemption/ four (4) days from the day of purchase (no later than 12 MN PST on February 6, 2014). A redemption code with instructions will be sent back to you upon verifying their registration. Customers will then have until February 28, 2014 to redeem their free 20 GB of extra space at https://skydrive.live.com/options/ManageStorage. The extra 20 GB of SkyDrive storage will start on the day of redemption and will last for one year.
Awesome news, right?