vivo announced its Summer Blowout Promo, giving consumers a chance to win a new Y15A smartphone and Php10,000 cash prize.
For every single-receipt purchase of any vivo phone in any participating concept store and kiosk, consumers are eligible to play the summer blowout game for a chance to win exclusive vivo freebies.
Here's how to join vivo's Summer Blowout Promo:
In stores, look for the box of ping pong balls to play.
Each customer can pick one ball per turn with their eyes closed.
If the customer chooses the ball with better luck next time, the customer doesn't get a prize.
If the customer gets the blank ball or better luck next time during the first pick, they will still have another chance to pick. But succeeding empty balls will be considered a loss.
A maximum of 3 turns per customer only
Note: Customers must fill-up the online customer form
Read full details here: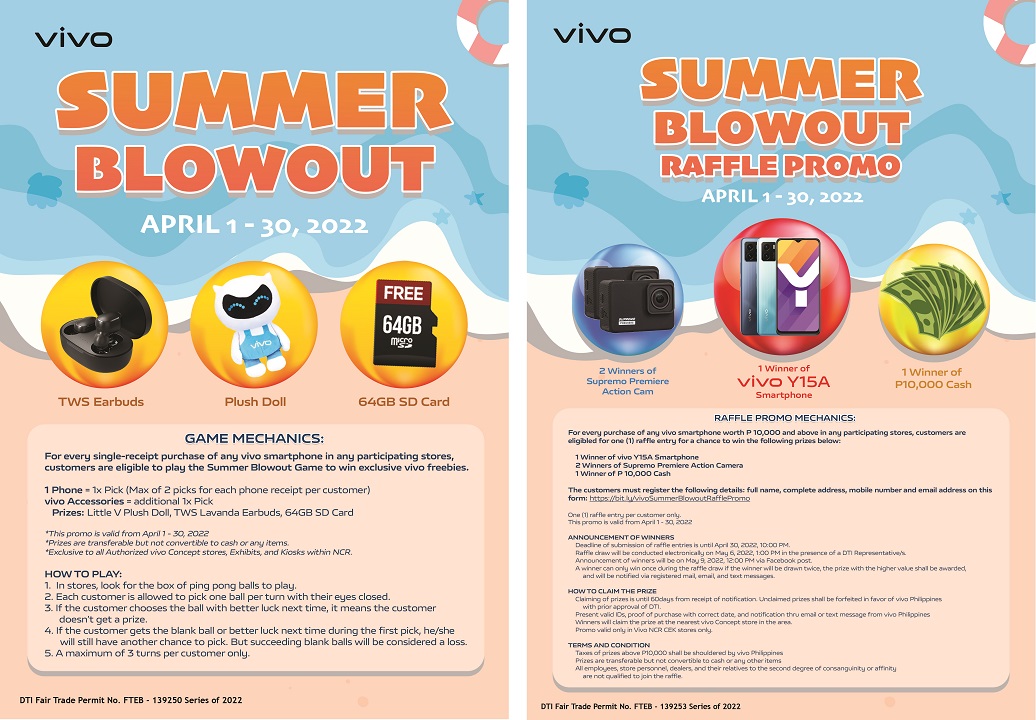 Meanwhile, consumers get one entry for every purchase of any vivo phone worth Php10,000 and above. Participants have the chance to win the following prizes:
1 winner of vivo Y15A smartphone
2 winners of Supremo Premiere Action Camera
1 winner of P10,000 cash
After getting a raffle entry, you will need to register your details on this form.
Consumers can submit their raffle entry until April 30, 2022. Then, vivo will announce the winners on May 9, 2022.