ASUS Philippines will be offering another promo again this Christmas where you can get holiday bundles worth up to Php53,000 and even up to Php196,000 for ASUS for business. Buyers of selected ASUS notebooks from ASUS concept stores, ROG concept stores, and ASUS authorized resellers nationwide can get awesome items from ASUS including ZenScreen, Projector, and headsets!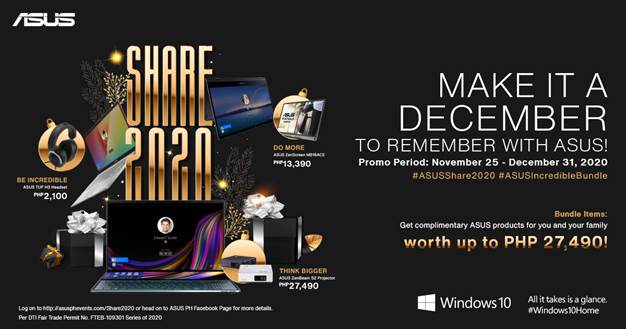 This year, ASUS Philippines will be having a promo until December 31, 2020 and they can get either the ASUS ZenScreen Portable Monitor, ASUS ZenBeam S2 Projector, or the ASUS TUF H3 headset. For ASUS products you can get these products if you buy the ASUS notebooks at the following price range:
ASUS Laptops worth PHP 30,000-PHP 59,000 will receive ASUS TUF H3 Headset worth PHP 2,100
ASUS Laptops worth PHP 60,000- PHP 99,000 will receive an ASUS ZenScreen Portable
Monitor worth PHP 13,390
ASUS Laptops worth PHP 100,000 and up will get the ASUS ZenBeam S2 Projector worth
PHP 27,490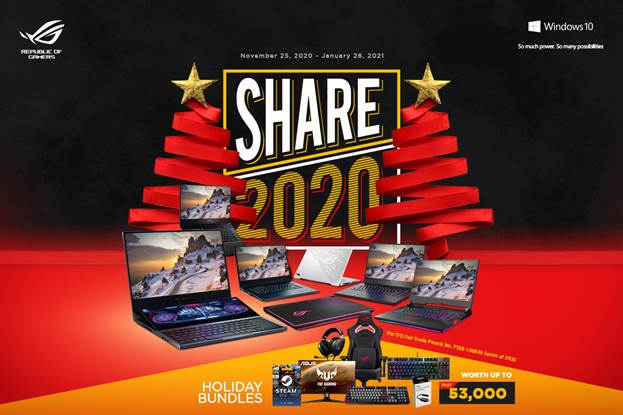 For ASUS ROG and TUF Gaming products, you can get freebies of up to Php53,000 with the ASUS ROG Zephyrus Duo 15 leading the pack and it will come with an ASUS ROG Chariot Core gaming chair that is worth Php18,000. Aside from that, there's a holiday bundle set that sums up to Php53,000! Some of the cool freebies includes Steam credits and even a brand new TUF Gaming monitor inside.
You can check out the mechanics over here: https://bit.ly/ROGShare2020_Mechanics
You can redeem the freebies here: https://bit.ly/ROGShare2020_Redemption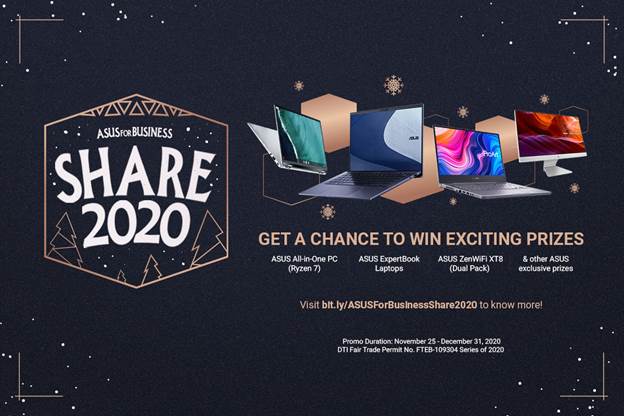 While for those people who'll buying an ASUS for business notebooks, they'll be getting promos too for the Share 2020 promo in the ASUS Expert Series official store in where you can buy Chromebooks and AiOs.
There will be up to Php196,000 worth of prizes at the ASUS Expert Series official store from January 1, 2020 up to December 31, 2020. To know more about it, you can check out the promo here: bit.ly/ASUSForBusinessShare2020