The popularity of foldable smartphones has soared in recent years, with brands launching their devices worldwide. A comprehensive study by Counterpoint reveals that global shipments of foldable smartphones are anticipated to reach an impressive 55 million units by 2025, underlining the remarkable strides made by global smartphone brands in this dynamic industry.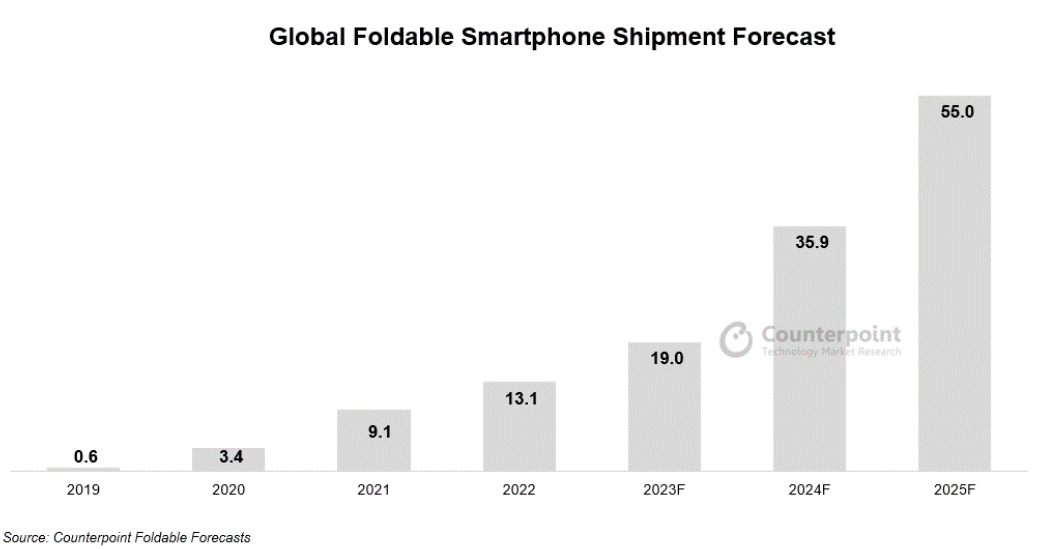 The Expanding Foldable Smartphone Segment
According to Counterpoint's data, global foldable smartphone shipments are on a robust growth trajectory, with a projected Compound Annual Growth Rate (CAGR) of 114% from 2019 to 2025. By 2025, these shipments are forecasted to reach an astounding 55 million units, quadrupling the figures from 2022. The continuous expansion of the market is driven by smartphone brands' contributions through product diversification, technological innovation, and competitive pricing. In 2022, China led the global foldable smartphone market with a commanding 26% share, experiencing a remarkable 199% Year-over-Year (YoY) growth in foldable smartphone shipments.
OPPO's Role in Elevating the Global Foldable Smartphone Market
OPPO has played a pivotal role in the global success of foldable smartphones. The introduction of the OPPO Find N in 2021 revolutionized the foldable user experience, seamlessly integrating foldable devices into users' daily lives. OPPO's commitment to innovation extends beyond software. The OPPO Find N2 Flip, the brand's first flip foldable, boasts the industry-leading Flexion Hinge, ensuring minimal creasing even after over 400,000 folds. With a cover screen measuring 3.26 inches in a vertical orientation, this innovative form factor also enhances user experience.
Meanwhile, the Find N2 Flip also introduced 44W SUPERVOOC, the fastest charging capability among flip phones, recharging its 4,300mAh battery to 50% in just 23 minutes. The groundbreaking features of the OPPO Find N2 Flip contributed to capturing approximately 15% of the foldable smartphone market share in China, rising to 22% when considering the OPPO Find N2.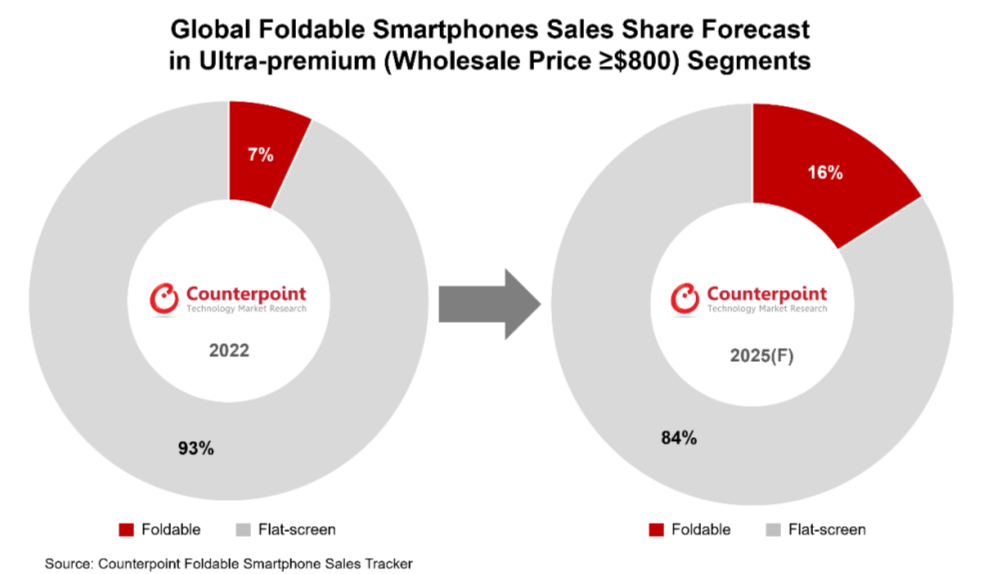 Expanding Foldable Smartphone Market and Future Prospects
The ultra-premium segment is expected to witness foldable smartphones more than doubling their sales share globally, from 7% to 16% by 2025. This signifies substantial potential in the premium smartphone sector, prompting global tech brands to broaden their presence in international markets. The APAC region also experienced a 50% YoY growth in foldable shipment share from 2021 to 2022, reflecting rising demand for such devices. OPPO's Find N2 Flip, for instance, was exceptionally well-received in APAC markets like Thailand, capturing up to 55% market share in its first month.
The Evolution of Foldable Smartphones
The evolution of foldable smartphones is also evident through several generations of development. The upcoming generation is poised to surpass traditional flagship devices in performance and market share, fueled by consumer demand and smartphone brands' global expansion efforts. OPPO, a pioneer in this sector, continues to lead with innovative products and software enhancements that redefine the foldable smartphone landscape. OPPO's latest clamshell foldable, the Find N3 Flip, launched in the Chinese market on August 29, 2023, is set to elevate the next generation of foldable smartphone innovation and will soon reach global markets.