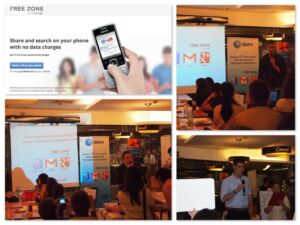 (Top R) Mr. Derek Callow, (Low left) Mr. Peter Bithos and Xian Lim
Google must be your next favorite website next to Facebook or Twitter. And today, surfing rates are getting cheaper and cheaper that's why we tend to use our mobile phones for checking our social media accounts. Last Thursday Globe and Google invited us on their event at Greenbelt 3 and launched Free zone. So what's this Free zone thing from Google and Globe? Basically, you can now browse your Gmail, Google+ and even search in Google without charge via libre.ph. Yep. Google Search and Gmail for free. You don't a special phone or a postpaid phone just to do this. All you need is a phone that is capable to browse the internet.
This service from Google and Globe is really great. It's the first in the world and I think this service is great especially for those people who are just using their mobile phones for browsing their Gmail and doing some research at Google search. But there's a catch in this promo from Globe and Google. If you search using Free zone, you can access the first page of websites from the results for free. But if you click any link in the site, you'll be redirected to a page in where Globe will ask you to subscribe to a data plan to continue. But if you feel that you need to search for more then just go back to the Google search page and click another result for free. So yeah, the first page of the results are the only thing that is free.
For Gmail, you can check your e-mails and even send e-mails but they'll require you to subscribe to a data plan when you want to upload and download a file. Yeah, since attaching files would mean more bandwidth needed to them. But on Google+, you can check photos and share some things to your circles.
If you want to try it out, be sure that you're using the mobile data of your phone and you should be on Globe (Duh!). On your mobile browser, just visit libre.ph and just log-in to your Google account if you have one and then you can access the Free zone. This offer is already available to all Globe and TM subscribers nationwide until March 31, 2013. Try it out now 🙂
---
Subscribe to JAM Online to get the latest news about tech and other stuffs
Enter your email address:
Delivered by FeedBurner
---